Problem
I accidentally deleted or lose an important email in your AOL account. Can I get them back? How to retrieve aol mail?
The answer is definitely YES!
Once you accidentally deleted an email, it will be kept in the "Trash" for 7 days and you can easily recover it from there. If the email has been deleted for more than 7 days, there are still ways to recover it but the methods vary. Let's go through those methods about how to recover permanently deleted emails from aol on iPhone, Windows, and Mac devices.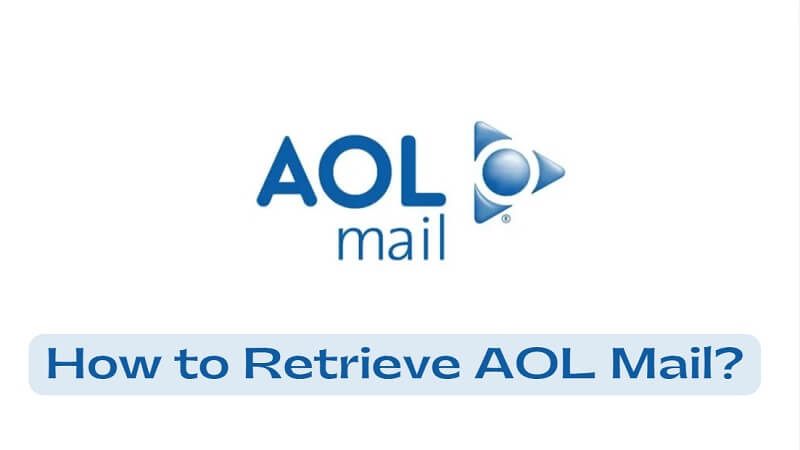 Part 1: Overview of Recovering Deleted AOL Email
Many people love using AOL for their emails. But whether you are using AOL or any other email service, there is one risk that remains the same - deleted emails. Unfortunately, accidentally deleting the wrong email is not a difficult thing to do and isn't uncommon.
When this happens it can strike panic - especially if that email contained important information or data. In some cases, you may be able to search in the "deleted files" portion to recover your deleted email for AOL, but in other cases, it may have reached the "permanently deleted" phase.
The good news is, even if something is "permanently deleted" from your email, it's not permanently deleted. With the help of the proper recovery solutions, you can retrieve deleted AOL emails. Here are a few methods you can use to do that.
Part 2: 2 Ways to Recover Permanently Deleted AOL Emails [Easiest]
If you have deleted an important email over 7 days, or if you find you have permanently deleted an email you need now, you may need to use another method of recovery. This brings us to our next topic - how to recover AOL emails that have been permanently deleted.
2.1 Retrieve Deleted Emails from AOL Server
If you are using the AOL web-based service, your mail data will be saved on its server. Once you have permanently deleted an important email, the easiest way is to contact the support center to get the mail data back. And this is the only way to retrieve the deleted emails. However, this service may be only available to paid members. If you are using the free version of AOL mail, you need to upgrade your account first.
2.2 Recover Permanently Deleted AOL Emails with Mail Recovery Software [Editor's Choice]
Some users prefer to add an AOL account to Outlook, and if that's your situation, you won't be able to recover the deleted emails from the AOL server. The only way is to get them back through a Mail Recovery Program. AnyRecover is such a program that will help you retrieve your lost AOL emails.
Features of AnyRecover:
It uses an all-around scan and deep scan to ensure the permanently deleted AOL emails can be found.
You can preview the found email before you decide to recover it. This is totally free.
Apart from emails, it can recover other file types like documents, photos, videos, etc .
The program can also recover data from external devices and crashed computers.
It is compatible with both Windows, MacOS and iOS, even the newest Windows 11 and iOS 17.
Note: It's recommended not to write data to your computer after accidentally deleting the AOL emails, otherwise your mail data will be overwritten and lost forever. AnyRecover allows you to scan and preview data freely, you can download the program to check whether it can find your deleted emails first.
Here's how to use AnyRecover to recover deleted AOL emails:
Step 1: Launch AnyRecover. Choose a location where your mail data are stored.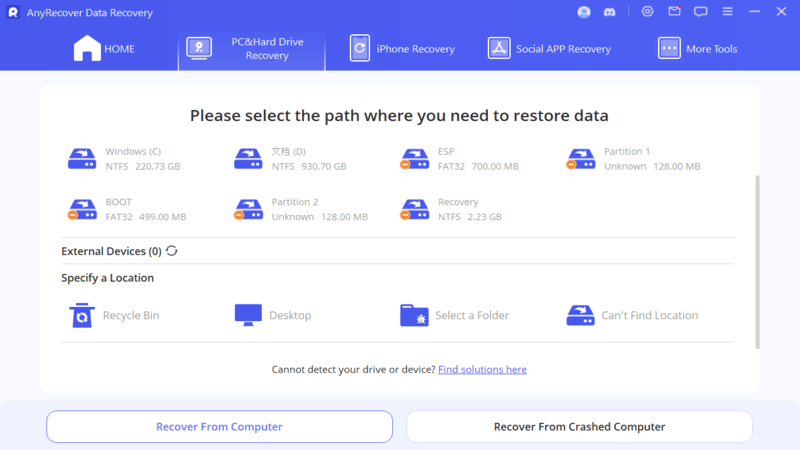 Step 2: After selecting the location you want to recover the deleted AOL email, hit "Start" button. The program will start an all-around scan and deep scan on your selected location. You can pause to locate the targeted files or stop them during the scanning process.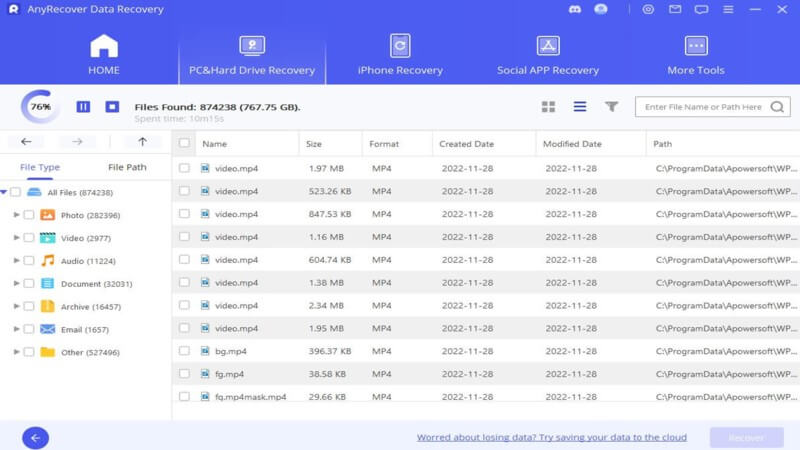 Step 3: When the scanning process is finished, all files will be listed. Preview the file you wish to recover and then select "Recover".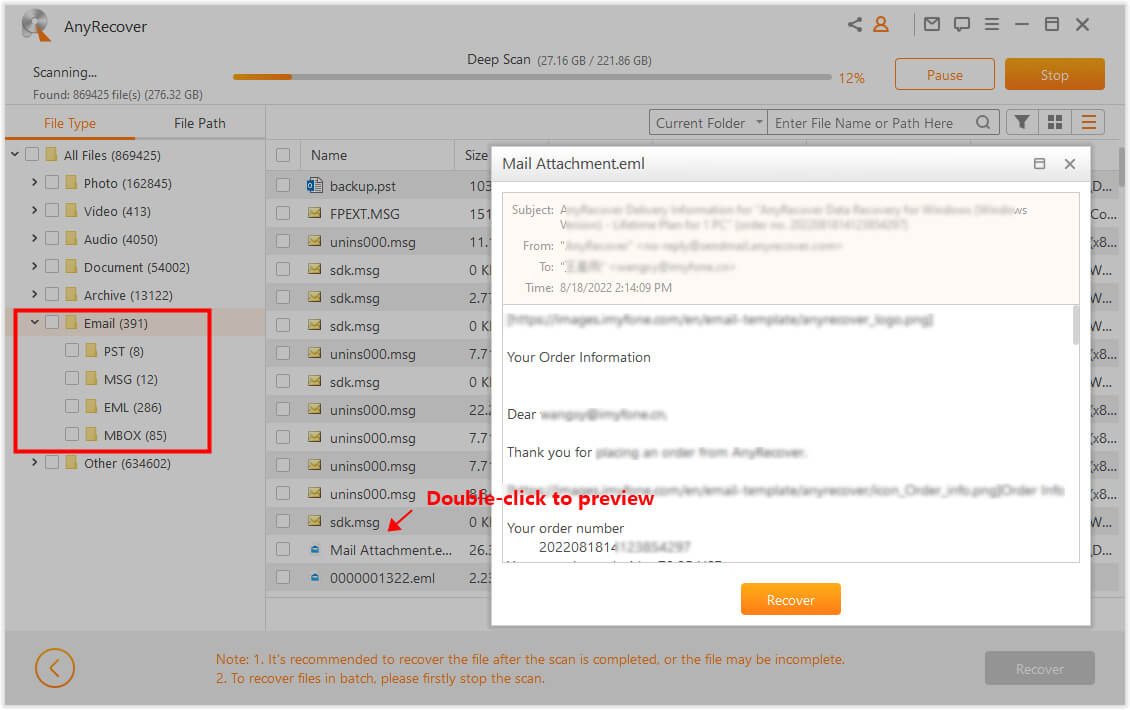 Note
After the recovery completes, it requires you to manually import the deleted AOL emails into Outlook if you want to use them again.
And that's it! Once the recovery process is completed you will have your deleted email back! With the help of AnyRecover software you can regain access to all of your deleted AOL emails in just 3 steps. The process is quick, easy, and simple enough for anyone to do.
Part 3: How to Recover Deleted AOL Emails within 7 Days
When you first delete an AOL email, it doesn't usually go directly to the "permanently deleted" phase. Unless you have selected to permanently delete the file yourself, it should stay in your recently deleted, or "Trash" folder for 7 days.
So if you've deleted your email in less than 7 days, this is great news! Recovery at this stage is extremely simple and can be done directly from your AOL mailbox. Here's how to do it:
Step 1: Go to AOL.com and log in to your AOL account using your account name and password.

Step 2: Once in your email, look to the left-hand panel and click on the "Trash" icon. Here you will see any of your emails that have been deleted in the past 7 days.

Step 3: Checkmark the box next to the email that you would like to recover.

Step 4: Above the email you will see an "Action" button. Click on it and under "Move to:" select "Inbox".

Step 5: Go to your inbox and find your email.
Bonus: Tips About How to Retrieve AOL Mail
When it comes to recovering emails from your AOL account, the key is not to panic. If you panic, you will just become stressed out - and that won't help anyone. Again, we're here to reassure you that your emails can be recovered with the right software. In the meantime, here are some additional tips for recovering deleted emails:
Tip 1: Always check your "Trash" folder first. You might not even need to use a specialized retrieval program. If your email was deleted recently, there's a good chance it is still in your trash folder (refer to Part 2 of this guide).
Tip 2: The best way to recover deleted emails is to prevent them in the first place. Always read emails before you delete them to make sure that they don't contain any important information. Only delete them if you are certain you will not need them in the future.
Tip 3: Create alternative folders: If you aren't sure whether or not you will need your email later down the road, but also don't want to store it in your inbox, you can always create additional folders for storage. Create a "may need later" folder, or a "for later use" folder and transfer your emails there instead of deleting them.
Conclusion
In this guide, we've presented three possible ways how to retrieve aol mail. Always remember to try to get back the deleted data as soon as possible, or the deleted data will be easily overwritten.
Download AnyRecover today and enjoy your free trial to get back your precious emails!

AnyRecover Key features include:
Adopts all-round scan and deep scan simultaneously, which ensures high success rate and fast running speed
Recovers data in various situations including from emptied Recycle Bin, formatted SD card and crashed computer.
Restores lost data from any storage devices, like USB flash drives, HDD/SSD, and digital cameras.
Supports more than 1000 file types, including documents, pictures, videos, emails, and audio files.
Never overwrite your files while recovering data.
Enables users to preview all the scanned data and selectively recover desired data.