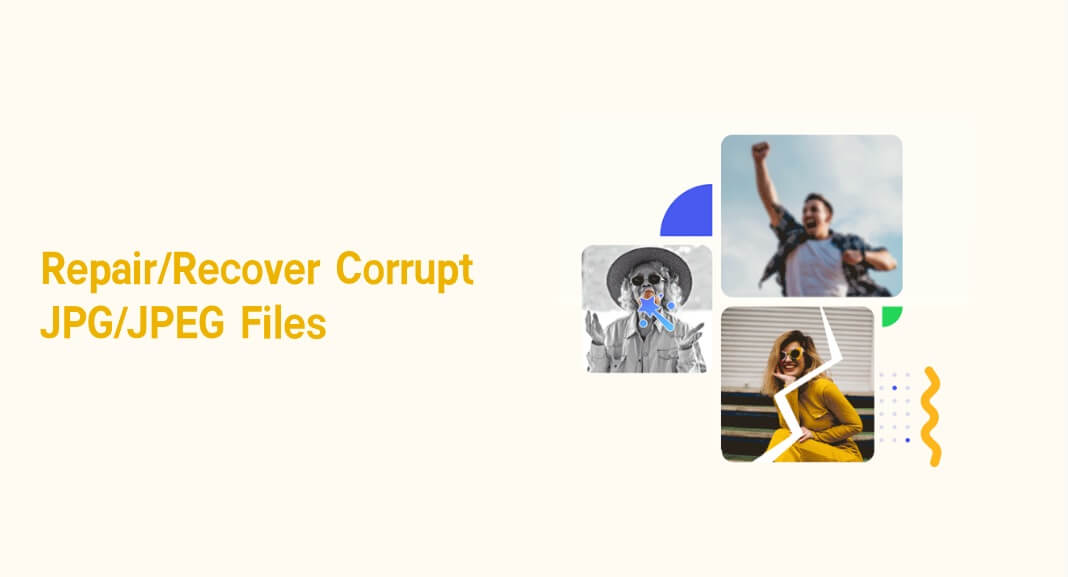 Ever had to endure a similar problem like the above case? It is normal to have your deleted images corrupted after restoring them. There are various reasons why this can happen - either your PC crashed, or the files have been overwritten after recovery. You've got nothing to worry about.
In this guide, we'll show you different ways you can fix corrupted JPG on Windows/Mac/iOS/Android quickly.
Part 1. Can You Fix Corrupted JPG/JPEG Files?
Of course you can fix corrupted JPG/JPEG files. You may have encountered various issues of JPEG corruption as presented below, but you are still able to do JPG/JPEG repair from changing the formats of corrupted JPG/JPEG files to using a professional JPG/JPEG repair/recovery tool.
Scenarios of JPG/JPEG Files Corruption
You can't open the file as it says the file is damaged or corrupted.

The Header of the JPG/JPEG file gets corrupted.

The JPEG file appears incomplete or its colors get dim.

The file becomes corrupted once you open it while virus scanning is going on.

If you saved your JPG/JPEG files on a hard drive, which is corrupted, you see corruption on your files, too.

Tip
If you are trying to repair or recover your corrupt photos quickly without any drawback, then you might need to stop using the storage device after the files are corrupted. If you continue using the storage device after file loss, what you might get is a bunch of overwritten files which makes the task of recovering corrupt files more strenuous.
Part 2. How to Repair/Recover Corrupted JPG/JPEG Files in 4 Ways
Here are the most effective and proven ways to repair corrupted JPG/JPEG files.
1. Use a Professional File Repair/Recovery Tool
If you've tried running a CHKDSK scan or used the error-checking tool and still can't repair the corrupted JPG/JPEG files, we recommend you use a reliable image repair software like AnyRecover to do the JPG/JPEG repair. AnyRecover is a dedicated file recovery tool that recovers any type of corrupted files with a 98% recovery rate and the fastest speed. What's more, it works with the latest Windows 11, Mac, iOS, and Android OS.

Features of AnyRecover:
Restores JPG/JPEG files under numerous situations like corruption, virus attack, unknown damage, and more.
Recovers your corrupted/lost JPG/JPEG files from any PC or storage devices including external hard drives, SD cards and digital cameras.
Supports 1000+ formats of all types of files including images, audio, email, video, office documents, etc.
Repairs your corrupted JPG/JPEG files with a 100% safety rate, not overwriting the original data and not damaging the original quality.
Recover permanently deleted photos from gallary,iPhone iCloud is supported.
How to Repair Corrupted JPEG Files for Free:
Step 1. Launch AnyRecover on your computer and select repair corrupted files.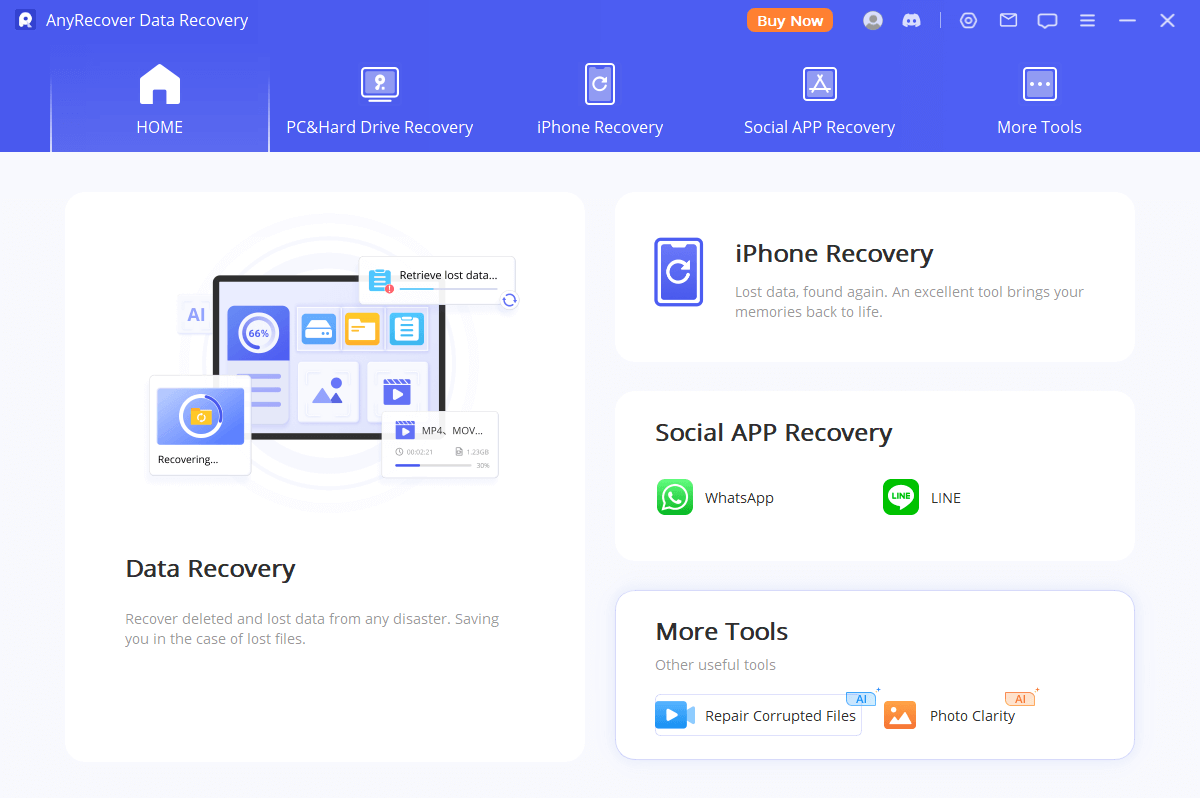 Step 2. After the function is selected, hit the "Photo Repair" button to choose your corrupted files.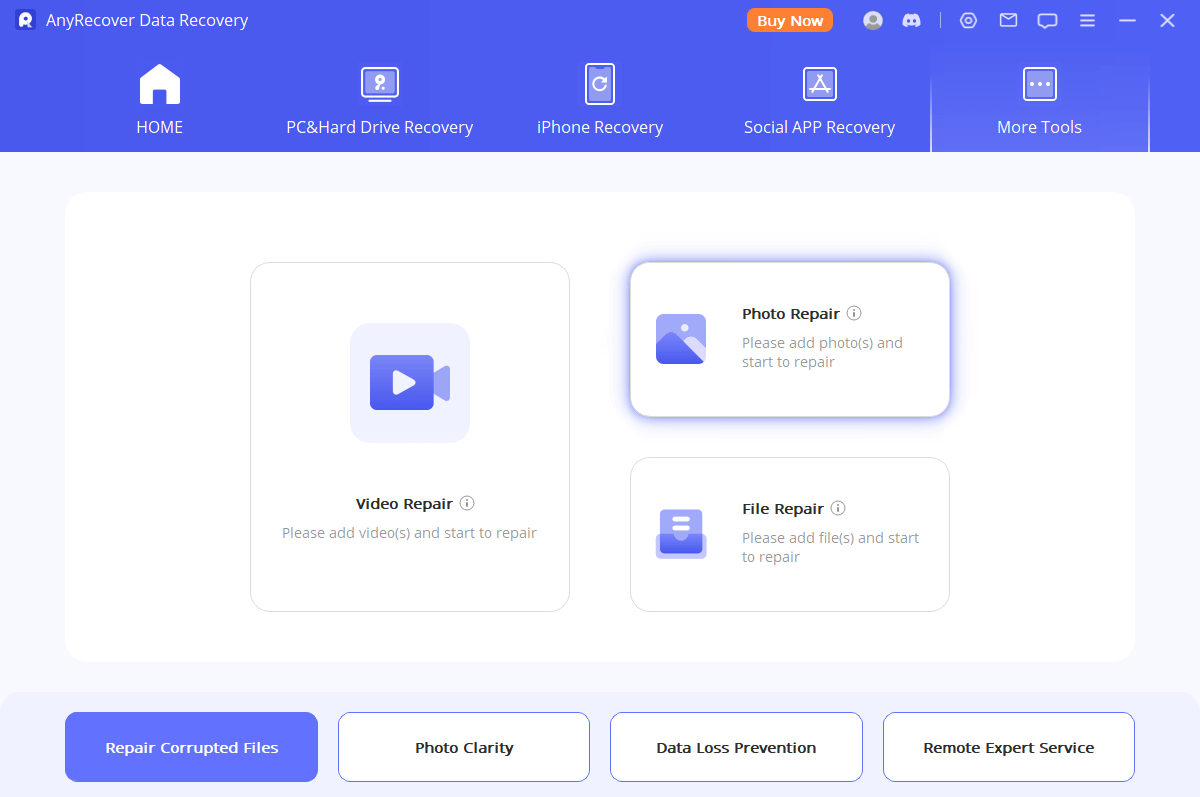 Step 3. Once the ai photo repair is completed, AnyRecover will list all your corrupted JPG/JPEG files, you can choose to export your fixed jpeg files.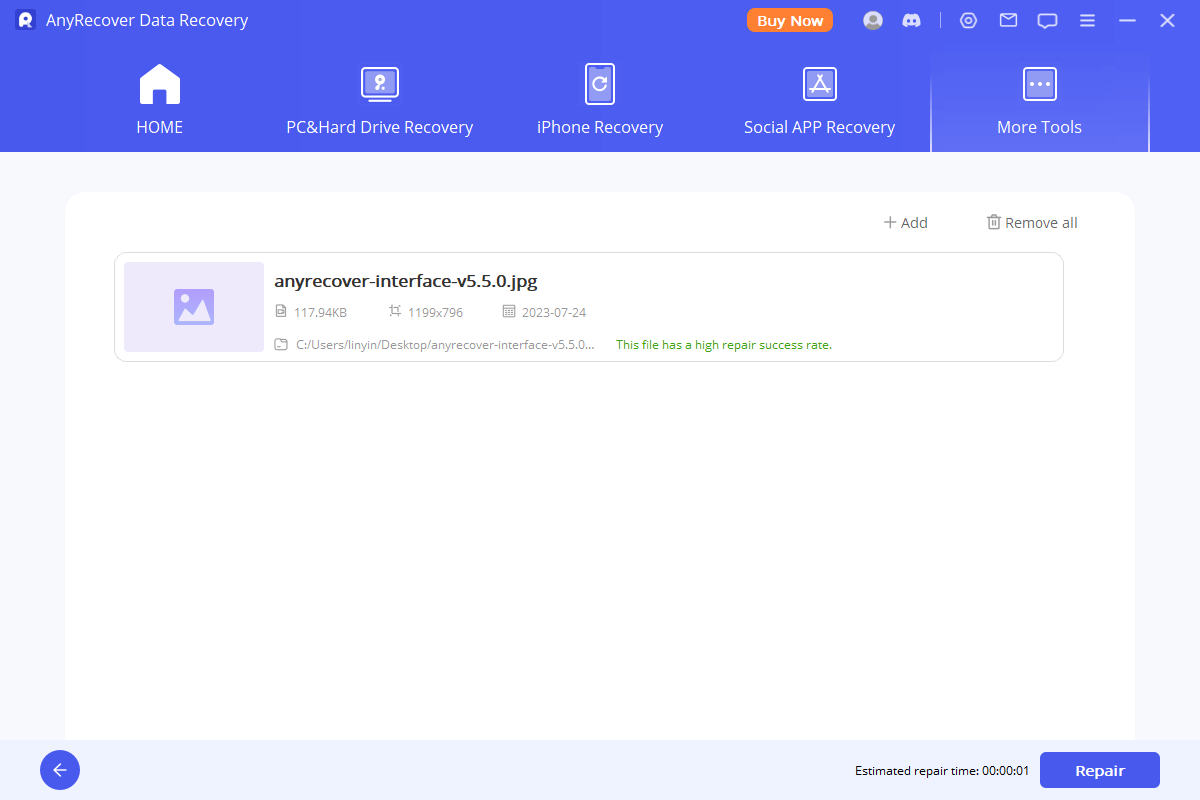 Note
Do not save the files to the location where you deleted or lost the data before.
2. Change the Format
To repair a corrupted JPG/JPEG file, the first thing you could try is to change the format of the JPG/JPEG file.
Import the corrupted file in the Windows 11/10 built-in Paint tool.

Select File and Save As options.

Choose other formats to see if the file gets repaired.
This might work in fixing your corrupted JPG/JPEG image header.
3. Run a CHKDSK Scan
CHKDSK scan is a great option to recover corrupt files as it scans your entire storage device and fix any system errors that it finds. You'll have to back up the corrupt photos to another external drive before running the CHKDSK scan. Use the following steps to run:
Connect the storage device that has the corrupted images.

Press Windows + R and type "CMD".

Then right-click on Command Prompt and click Run as administrator.

Type "chkdsk/r/fX:" where X is the connected drive letter.

Press Enter and wait for the scan to finish.

Then click the up arrow in the taskbar and double-click on the safely remove hardware and eject media icon in the Windows system tray.

Finally, unplug the storage media and connect it again to access the photos.
4. Use the Error-checking Tool
You can also use the error checking tool in your computer to repair corrupt JPG/JPEG files.
Step 1: Go to the File Explorer, and right-click on the connected storage media that contains the corrupt files.
Step 2: Click Properties, go to Tools tab and click Check.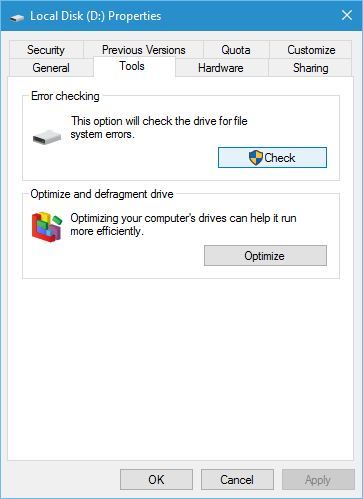 Step 3: Then click Scan Now. If the tool finds any error in the device, it will automatically try to fix it. Then restart the system to view your photos.
Note
It is possible for the files to be still corrupt; in that case, you would need to use recovery software.
Part 3. Reasons for JPG/JPEG File Corruption
JPG/JEPG is the most commonly used image format used by digital cameras and other image capture devices. JEPG file corruption is as prevalent as the corruption of other file types. We've stated above, how you can fix these file corruptions but it's also important to know why your JPEG file gets corrupted in the first place to avoid the need for a fix in the future. Below are the most frequent reasons for JPG/JEPG file corruption.
Viruses or malware have infected the file or storage media.

The storage device where the JPG/JPEG files are saved has bad sectors.

The master boot table or master boot record of your Windows machine is damaged.

The scan of the JPG/JPEG file was not complete or you have improperly edited the structure or encoding of the image.
Conclusion
When you find your JPEG files corrupted, there are viable ways you can recover them as we' ve stated above, especially using AnyRecover to recover deleted photos and AI repair photos/videos/files from iPhone, Win and Mac, you no longer have to worry about how to repair and fix corrupted JPG/JPEG files. We hope you find this helpful.
Covering AI photo restoration, video repair, deleted file data recovery, it's the one-stop software that empowers users to tackle almost any data loss and repair issue, all within a single download.
73 M+

Satisfied users

63 M+

Countries served

190 +

Software downloads