Data loss is always upsetting, but with the advancement in technology, it is now possible to recover deleted or lost data if we have a powerful and professional data recovery software. Such tools are developed after spending a lot of time and hard work, that's why you will have to pay for premium service. However, the cost is absolutely worthwhile in the case of iMyFone AnyRecover, which can recover over 1000 file types and from various devices.
In this article, we will take a look at all the licenses offered by AnyRecover and then decide according to your requirements. A 20% discount will even be provided to make it more affordable for users!
1
Is iMyFone AnyRecover Worth Buying?
The definite answer is YES. There are hundreds of data recovery tools available over the internet, but when it comes to which one is worth buying, the only and best we can recommend to you is iMyFone AnyRecover. This software offers quick and deep scan to ensure a higher rate, and require any tech knowledge, only in 3 steps you will retrieve the lost data back. You can recover your lost data in any of the following scenarios listed below:
Emptied recycle bin.

RAW partitions/drives or lost partition.

Accidentally or permanently deleted Files.

Formatted devices or hard drives.

Even if your operating system crashed and you lost your essential data.
Besides this, AnyRecover is designed with many wonderful features, let's have a look: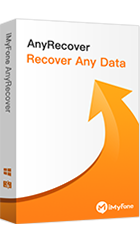 1,000,000 + Downloads
Features of iMyFone AnyRecover:
Recover lost data from any storage medium - SSD, external hard drive, USB drive, SD card, camcorder, digital camera, etc.
Support recovery of 1000+ types of files - Word documents, images, audios, videos, zip archives, and many other file types.
Support both Windows and Mac OS - Fully compatible with Windows 11/10/8/8.1/7/XP and Mac OS X 10.9, 10.11, 10.12, 10.13, 10.14, and 10.15.
Free scan and preview before recovery- AnyRecover allows a free scan and preview of the lost data, and then you can decide whether to recover it.
100% secure and easy to use- AnyRecover is 100% safe to use and quickly get back all lost data yourself.
2
The Price of AnyRecover's Different Licenses
AnyRecover licenses can be purchased by selecting a plan that fulfills your data recovery need. There are three plans available on AnyRecover official website, as listed below:
AnyRecover Standard Version License
The AnyRecover basic version includes all the features listed above. If you are using a Mac OS, you will get this License for one month at $59.95, but if you buy it for a year, you will have to pay only $79.95. For PC Users, AnyRecover Standard License costs $49.95 for one month and only $59.95 for one year.
AnyRecover Pro Version License
Note: In the Pro Version, you can create a bootable drive and recover your data from a compute crash or blue screen of death.
The Pro version only offers a lifetime license, but you can select the number of computers, including 1PC, 2-5 PCs, 6-10 PCs, or unlimited.
Pro version license for AnyRecover costs $89.95 on a single Mac and costs $79.95 for a Windows PC.
AnyRecover Business Version License
The Business License version is for a lifetime, and there is no limit to the PCs and Mac devices used. It costs $499.96 for Mac users, and for Microsoft Windows users, it costs $399.95. You can also get in touch with AnyRecover to create a customized license.
There are a lot of other benefits included when you buy an AnyRecover license as listed below:
Quick and satisfying customer service.
Lifetime regular software updates for free.
30-day refund policy under terms and conditions.
Easy payment method with transaction protected.
All taxes are included, and no hidden charges.
2
Price Comparison with Other Popular PC Data Recovery Tools
The affordable price of AnyRecover is another reason why people prefer to choose this for data recovery. The below table gives a comparison of popular data recovery tools in the market. Let's have an exact look and make decisions by yourself that which one is offering quality data recovery services at the minimum price.
PC Data Recovery Tool

Standard License

Pro License

Business License

iMyFone AnyRecover

$49.95 Single PC 1 month
$59.95 Single PC 1 Year

$79.95 Single PC Lifetime
$99.95 2-5 PCs Lifetime
$159.95 6-10 PCs Lifetime
$399.95 Unlimited PCs Lifetime

$399.95 Lifetime for Unlimited PCs

Easeus Data Recovery Wizard Pro

$69.95 Single PC 1 Month
$99.95 Single PC 1 Year

$99.90 Single PC Lifetime
$499.00 Unlimited PCs Lifetime

$499.00 for Lifetime Unlimited PCs

Wondershare Recoverit

$45.95 Single PC 1 Month
$59.95 Single PC 1 Year
$59.95 Single PC Lifetime

$59.95 Single PC 1 Month
$69.95 Single PC 1 Year
$79.95 Single PC Lifetime

Custom Request
4
Bonus: 20% Off AnyRecover Discount for You
We have compared AnyRecover with other data recovery tools available in the market, and if you are satisfied with the services and price offered by AnyRecover and planning to buy its premium version, here is exciting news: a 20% special discount for you!
Your 20% Off Coupon Code:
ANY-ART-D20
This discount applies to all the plans offered by AnyRecover. Let's learn how to avail of this 20% discount by using the coupon code.
Step 1. Visit the AnyRecover purchase page for Win or Mac, then choose a plan that fulfills your requirements and click on "Proceed to Cart".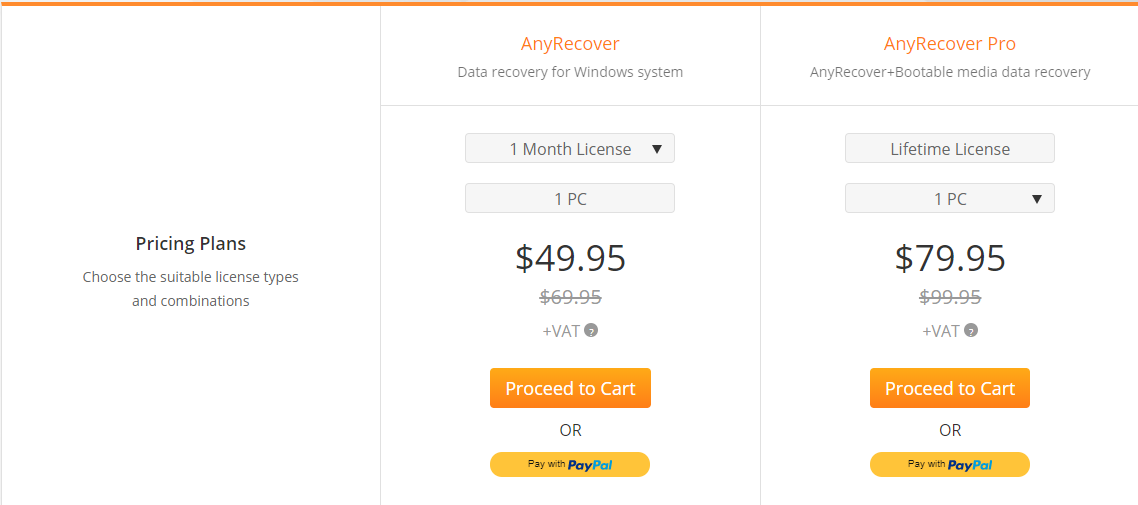 Step 2. In your cart, look for an option named "Redeem Coupon Code" click on it.
Step 3. Copy and paste ANY-ART-D20 into the box and click on the "Update" button next to the box.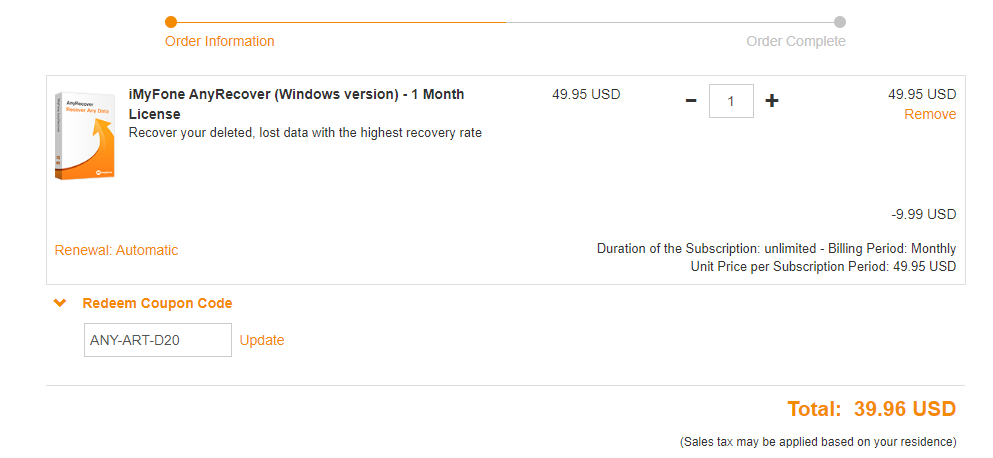 Step 4. Once you click on the "Update" button, you will see the total amount is less than before. Now, enter your payment information finish the payment process, you will get the registration code within minutes.