"I have accidentally formatted my SD card, and all the files are lost, including important audio manager files. How can I recover those files as they were in the original form?"
--A user from Quora
Are you in a similar situation and wondering is it possible to recover data from formatted sd card? You've come to the right place: this guide covers everything you need to know about formatted SD card recovery.
Can I Recover Files after Formatting SD Card?
Whether you have formatted your SD card by mistake, or the SD card was behaving abnormally and the only solution you had was to format it, let's see what happens when you format an SD card. Formatting refers to the process of preparing any data storage device for its initial use. So, when you format an SD card, USB drive, or any storage device, all data will be erased and the storage space is marked as available. In that case, the last thing you want to do is writing new data into your card because this will overwrite the original files and they won't be recovered anymore. So yes, you can recover files after formatting the SD card before they are overwritten.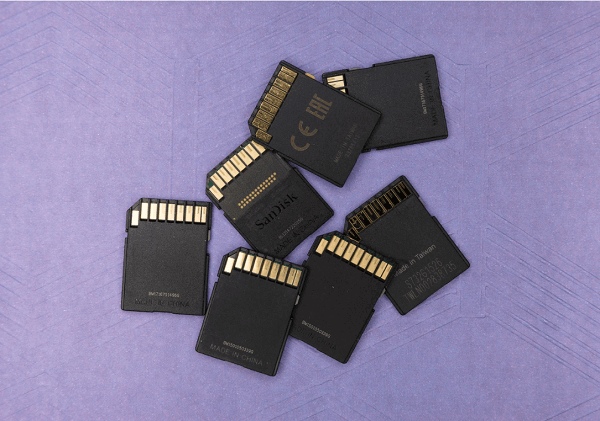 Important rules to follow if you want to unformat the SD card and retrieve data:
Stop using the SD card immediately to prevent further data loss.
Keep the SD card in a safe place until you are ready to recover the data.
Perform SD card data recovery as soon as possible, and use a reliable SD card recovery tool as shown below.
Best Formatted SD Card Recovery Software to Retrieve Your Data
There is no doubt to say that a reliable SD card recovery tool should handle all sorts of file types like office documents, videos and pictures; it should be easy to operate that anyone can recover files from formatted SD card on their own, and it would be incredible if the software is also free to download. Well, AnyRecover meets all these requirements.
If you prefer an efficient and quick way to perform formatted SD card recovery, then AnyRecover SD card recovery software is the best choice for you. AnyReocver has both Windows and Mac versions and is fully compatible with Windows 10/8/8.1/7/XP and Mac OS X 10.9 - Mac OS X 10.15. Recommended by the world's leading media, it adopts advanced algorithms to ensure a high data recovery rate. By now, AnyRecover has gained over 1 million downloads and satisfied customers around the world.
Enjoy more features of AnyRecover:
Recover various files from formatted SD card, including photos, audio files, office documents, videos, zip archives, etc.

Apart from SD card, AnyRecover supports data recovery from camcorders, digital cameras, SSD, external hard drives, USB flash drives, and many other storage media.

Besides formatted device recovery, AnyRecover also helps you to recover data lost due to accidental deletion, emptied recycle bin, lost partition, etc.

100% safe and reliable to use, your data is absolutely safe during the recovery process.

Free scan and preview before data recovery, easy to handle, no tech required.
Only 3 steps to recover formatted SD card:
You can follow the video tutorial or the detailed steps below to unformat SD card easily.
Step 1: Launch AnyRecover on your PC, then connect your formatted SD card to your computer and select the formatted disk you want to recover data from.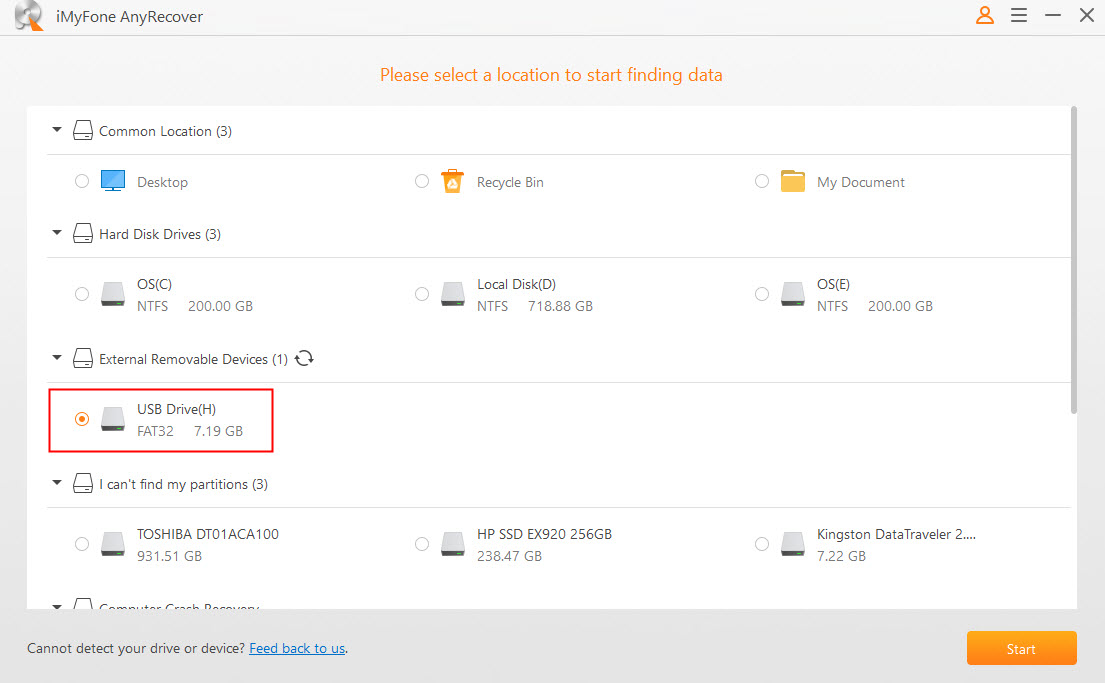 Step 2: Start scanning by clicking on the Start button. You can pause to locate your targeted files or stop it during the process.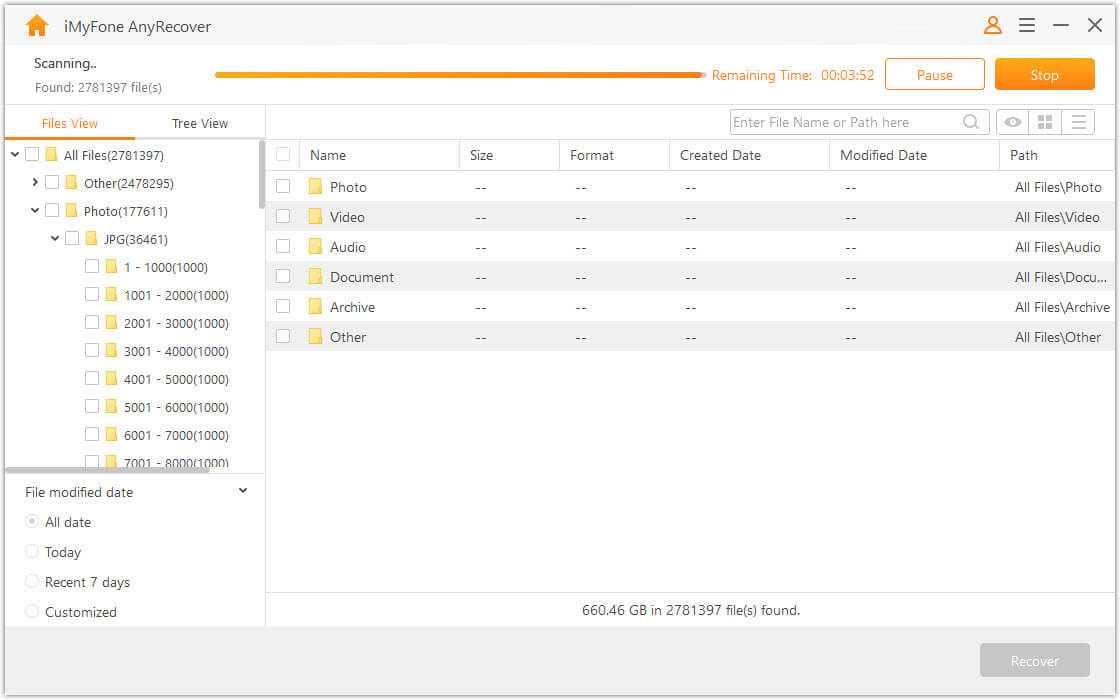 Step 3: After scanning, all your files will be neatly organized in file types, so you can easily locate them. Double-click on a file to preview it and then click on the "Recover" button to get your files back to the SD card.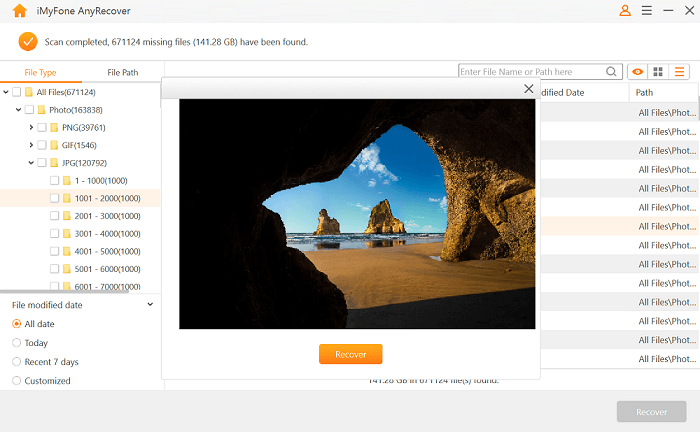 Bonus Tips for Formatted SD Card Recovery
Here we have gathered some tips to format your SD card correctly and prevent data loss while using an SD card.
Format the card in your camera - This will help prepare the SD card to work with the camera hardware.

Keep track of the SD card capacity - Trying to take more pictures than your SD card can store can erase or corrupt some of your images.

Be diligent about creating SD card backups - In the event you lose all data on your SD card, you will need a backup to get it back.

Be prepared for every occasion - Make sure you have a data recovery software like AnyRecover to help you recover your data in the case of data loss via means you have no control over.
Conclusion
If you have formatted your SD card, don't panic. You can recover data from formatted SD card easily. Don't hesitate to try AnyRecover SD card recover tool. It can retrieve all you formatted data in an effective way and guarantees a high recovery rate with its advanced technology. With AnyRecover, you can unformat SD card in just three easy steps!
People Also Ask
1

Can I recover data from formatted SD card using CMD?

When you search online, some may claim to recover formatted SD card for free using Command Prompt, however, this is not true. The attrib –h –r –s /s /d *.* command can only recover hidden files, rather than formatted ones.

chkdsk displays the file attributes for a file or folder, -H is used to turn off the HIDDEN attribute of a file, -R is to change the file protection attribute back to normal, and -S to turn off the SYSTEM attribute.
2

Can I retrieve data from damaged SD card?

Luckily, the answer to this question is YES. You can still take advantage of AnyRecover SD card recovery software to recover data from damaged SD card.