If you use Skype regularly, you already have some important chat histories on the application. If you happen to lose one of the chat histories by mistake – say, via accidental deletion – you would want to know if it is possible to get the lost data back.
Skype history recovery is generally easy. In this article, we will explain when you can recover Skype chat history and then show you how.
When You Can Recover Skype Chat History?
Everything you do on a computer is recorded in one folder or another. So does using Skype. Skype has a database file that it uses to store chat histories. If this database file is still available on your device, skype history recovery should be much easier.
The only time when you may not have the ability to recover your lost skype chats is if the database file is missing and it has already been overwritten. If the database file is missing but it is not overwritten, you can use a data recovery tool to get it back.
Method 1 - How to Recover Deleted Skype Chat History Using SkypeLogView
As we had mentioned earlier on, Skype stores all your chats in a database file. SkypeLogView helps you access the database file quite easily and view your messages. The database file is named main.db. To use the SkypeLogView to access the database file and view your deleted messages, follow the steps below:
Step 1. Download and install SkypeLogView on your device.
Step 2. Launch the application and then open the main.db file.
Step 3. You can use the SkypeLogView browser to locate the conversation/chat that has the messages you had deleted.
What is Included in the Main.db?
When you delete messages from Skype, the application just hides them. However, the tool does not remove them from the main.db. This means that the main.db file will feature both the deleted messages and the messages you currently have on your Skype application.
Where to Find Main.db?
To access the main.db file, you will need to locate this directory: C:\Users\YourWindowsUsername\AppData\Roaming\Skype\YourSkypeUsername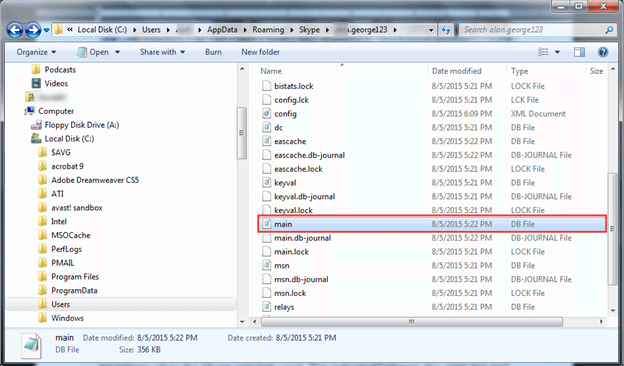 Cons
You need to download and install SkypeLogView on your device.
It is a bit complicated to find the conversion containing the messages you deleted.
It doesn't allow you to preview the history before recovery.
Method 2 - How to Recover Deleted Skype Chat History with the Previous Version
To use this method to get your Skype history back, you will need to follow the steps we have outlined below:
Go to C:\Users\YourWindowsUsername\AppData\Roaming\Skype\YourSkypeUsername.
Right-click on the file that has your username > choose Properties > select the Previous versions tab > highlight the older version and then hit the Restore button. This should help you get your Skype history back.
Note
This method is applicable only if you have enabled "the Previous Version" feature before deleting Skype chat history.
Method 3 - How to Recover Skype History File with AnyRecover
While going through the methods we have described above, you have probably discovered that both methods are relying on Skype history files. This means that if the skype history file is missing; you will not have the ability to recover your lost skype history via the methods described above. If you discover that the history file is missing, you do not have to assume that you have lost your skype chat history forever. It is possible to recover the chat history file. All you will need is a tool known as AnyRecover.
AnyRecover Features: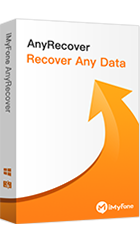 1,000,000 + Downloads
Supports to restore your deleted or missing Skype conversation within a few simple steps, no special skills required.

It's capable of retrieving Skype chats from any storage place of your PC, including external  internal hard drives, and other storage media.

You can use the data recovery tool with both your Mac and Windows computers.

The tool has a free trial version which allows you scan and view the Skype chats. This helps you confirm that the tool can work for you before paying.

You are able to recover 3 files for free.
Do not miss out the opportunity to get AnyRecover with 20% OFF.
How to Recover Skype Chat History with AnyRecover
Below, we have outlined the steps you will need to follow to get your Skype chat history file back. We will be assuming that someone deleted the Skype chat history file by mistake.
Step 1. After installing AnyRecover on your computer, launch it. Choose the "Recycle Bin" option.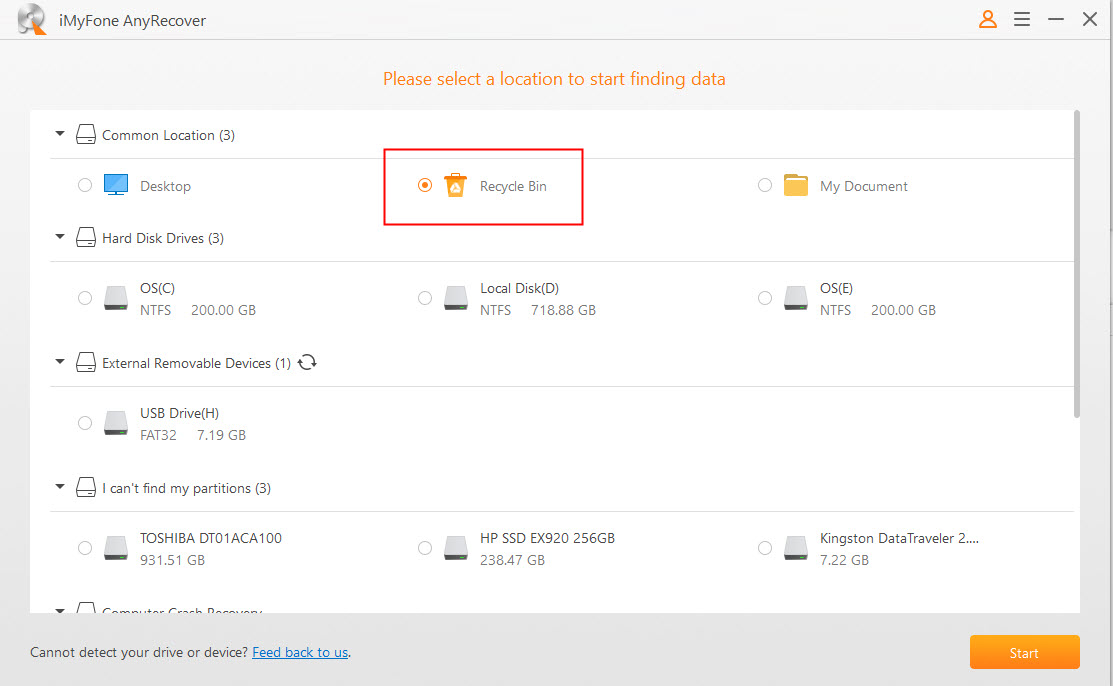 Step 2. Press "Start" button to run scanning process. The program will start an all-round scan on your selected location.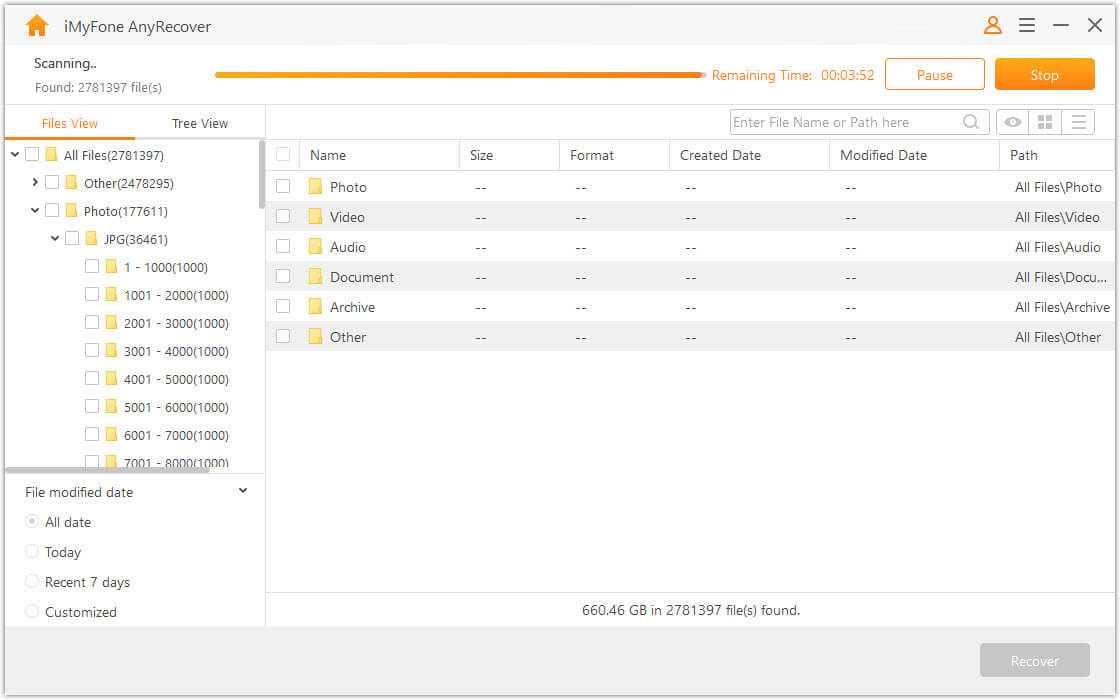 Step 3. After the scan, you can preview the files and choose the ones to get back. To get your files back, hit the "Recover" button.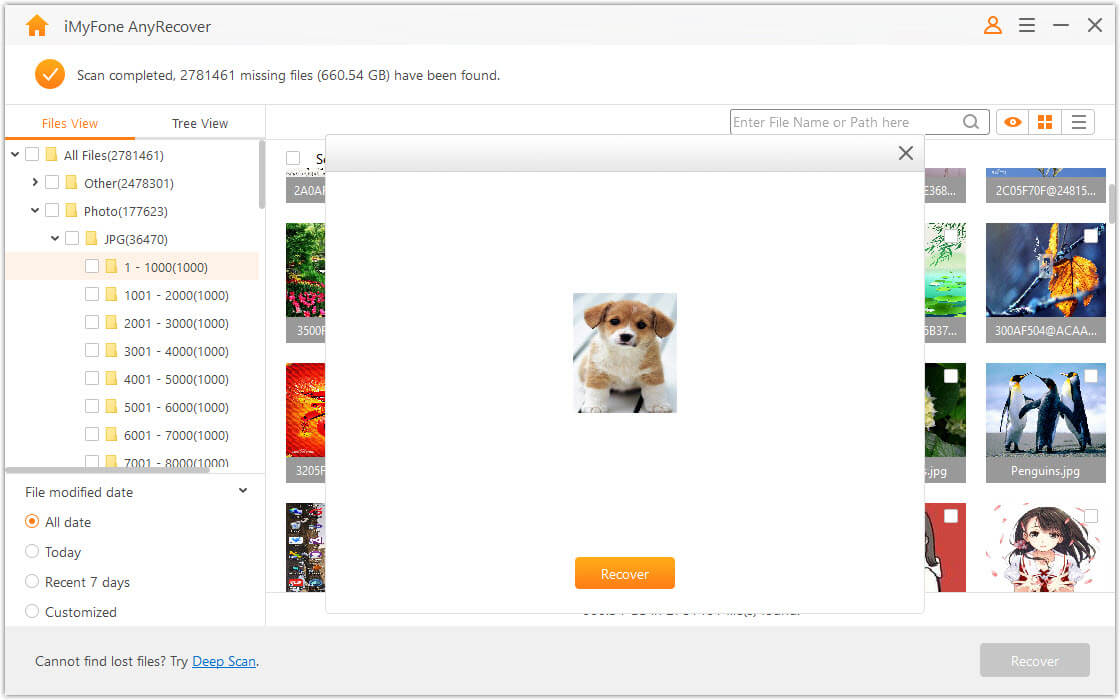 Bonus Tip. How to Retrieve Skype Chat History from Another Computer
Right off the bat, it's worth mentioning that this is complicated. How to recover Skype chat history from different computer can be mindboggling for some individuals but to make this as simple as possible, follow our detailed step-by-step guide below.
Step #1: Open an Explorer window, click "View", and enable the "Hidden items" setting.
Step #2: Go to this file path but replace WinUser with the Windows account name: C:\Users\WinUser\AppData\Local\Packages\Microsoft.SkypeApp\Localstate\
Step #3: Enter your Skype username folder and find a database file called main.db.
Step #4: Copy this file onto a USB flash drive and onto the other computer.
Step #5: Repeat the previous steps on the second computer where you want to have the Skype chats accessible on.
Step #6: Force close Skype and replace the main.db on the second computer with the one we just copied from the first computer.
After you've done this, open Skype and sign in with the same account to access the messages. It may seem like a lot to take in however since Skype chats are saved in local files, this is the only way.
Conclusion:
If you have deleted your Skype history by mistake, you do not have to worry. We have outlined the top methods you can use to recover your Skype history. For the methods lsited in the first section to work, you will need to have the Skype history file on your computer. If the history file has been deleted too, you can use AnyRecover to get the file back. AnyRecover does allow you to preview the lost files for free. This ensures that you pay for the tool only if it can help you.