I bought the Seagate Premium File Recovery Suit at the outrageous price $79.00 to recover the tracks I lost on a DVD and on a flash drive. It was able some of the lost files on the flash drive but was unable to recover the DVD files for which I even bought it in the first place. Please, recommend an alternative software that can recover formatted DVD/CD files.
Data loss can be very painful but using the wrong recovery software for data recovery and end up destroying your device and data can be devastating. When you consider that Seagate has been manufacturing one of the leading hard drives in the world, you may be misled to believe that it's premium data recovery suit will be able to recover everything. That notion is erroneous and far from the truth!
Therefore, within the context of this article, we shall be discussing the functions of Seagate File Recovery for Windows and recommend its excellent alternative.
Part 1: Excellent Alternative and Solution to Seagate File Recovery Suit
If you want a free Windows and Mac recovery essential that empowers you to retrieve any deleted, formatted, lost, or missing file from your computer hard drive, or other types of external storage medium, then choose AnyRecover. This professional data recovery software offers you an all-inclusive data recovery support for the recovery of over 1000 different types of file format for pictures, images, videos, documents, audio files, emails, archives, eBooks, and more. You'll still enjoy the privilege of 100% safe file recovery from devices such as digital cameras, camcorders, memory cards, mobile phones, flash drives, hard drives, etc.

AnyRecover Key features:
Supports over 1,000 types of file format for pictures, images, videos, documents, audio files, emails, archives, eBooks, and more.
Fast, easy to use, and efficient in recovery files that other programs will not detect due to its special file recovery algorithm.
Offers 100% safe data recovery while protecting other files from being overwriting.
Empowers you to recover deleted, formatted, lost, or missing file from your computer hard drive, or other types of the external storage medium such as Seagate with ease.
Supports Windows 11/10/8/7/XP and MacOS
How to Recover Files from Seagate Storage Media with AnyRecover
AnyRecover stands out from various recovery applications for its high success rate and fast recovery speed. Follow the instructions below to recover files from Seagate storage media with iMyFone AnyRecover:
Step 1. Download and install the AnyRecover software on your computer. If you want to recover a lost file from an external device, make sure to connect it to your computer.
Step 2. Choose your external device under the "External Removable Devices" tab.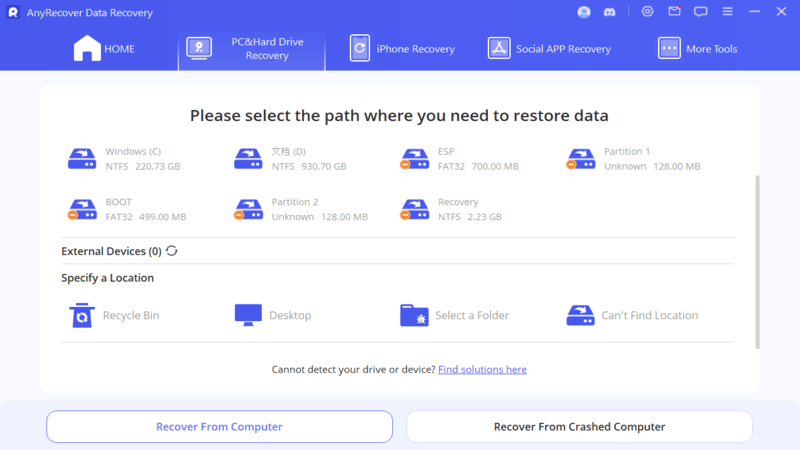 Step 3. Click "Start" to begin the scanning process. You can pause to locate the files you want or stop it at any time.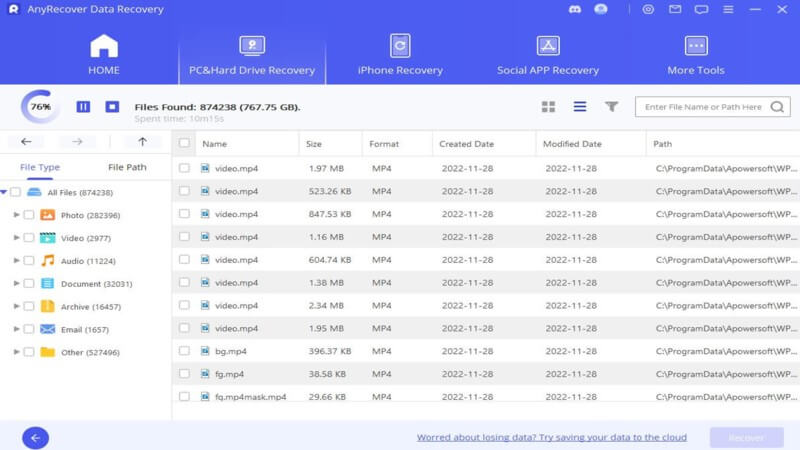 Step 4. After the scan, a result of the detected files will be displayed, you can preview the files before selecting the one to recover.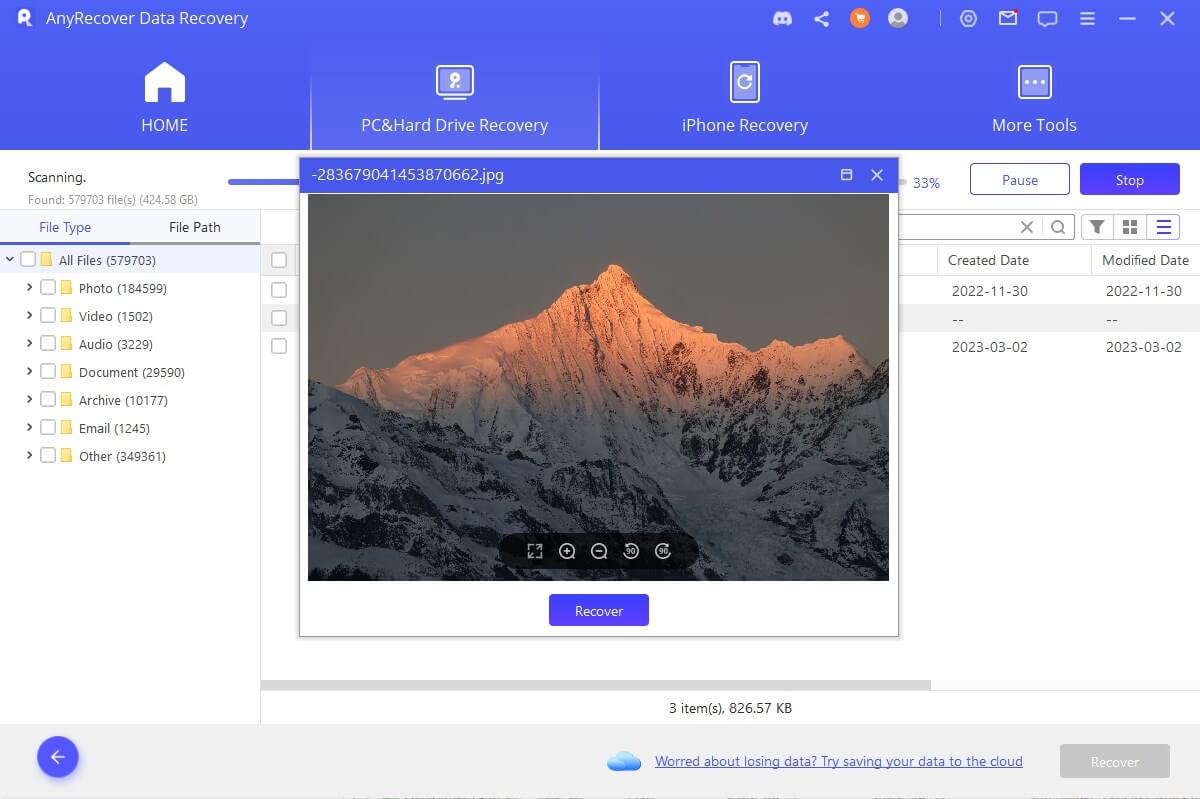 Step 5. From the scanning result, choose the files that you need to get back, then click "Recover" button to start the recovering process.
NOTE:
Ensure you save the recovered file in a different storage media device or location other than where it was lost.
Part 2: Introduction to Seagate File Recovery Software
Seagate Premium File Recovery Suite is a piece of Seagate file recovery software available for Windows and Mac that can recover deleted, formatted, partitioned, and lost files. It's a powerful application that gives many people hope of getting their lost files back, but it has numerous limitations to the type of file it can recover.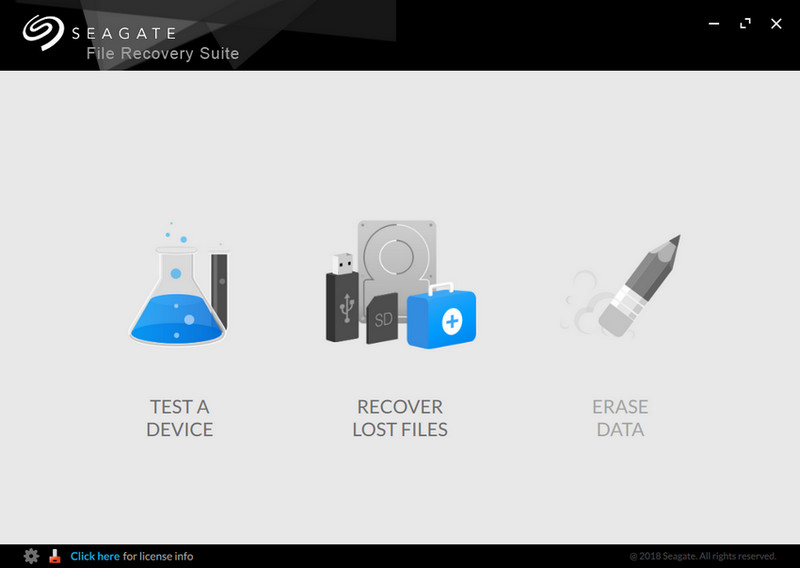 Some of the important features of Seagate File Recovery Suite include the following:
The software developer offers a free trial version before you can acquire a paid version.

It recovers many types of files such as bmp, psd, jpg, png, pdf, doc, docx, xls, xlsx, mp3, wma, wav, mp4, mov, wmv, etc.

It costs $79.99 for a one-year license that only allows installation on 1 system and usable only 24 times. .
Seagate Recovery Suite, this official Seagate file recovery software supports Windows 7, 8.1 and 10 PCs, and works on macOS laptops too.
Part 3: How to Use Seagate File Recovery Software to Recover Data from Windows
Recovering files with Seagate File Recovery Suite takes only 4 steps to complete, and the steps are outlined below:
Step 1. Download and install the software on your PC or Mac, enter "Recover Lost Files" mode and choose a location to start scanning.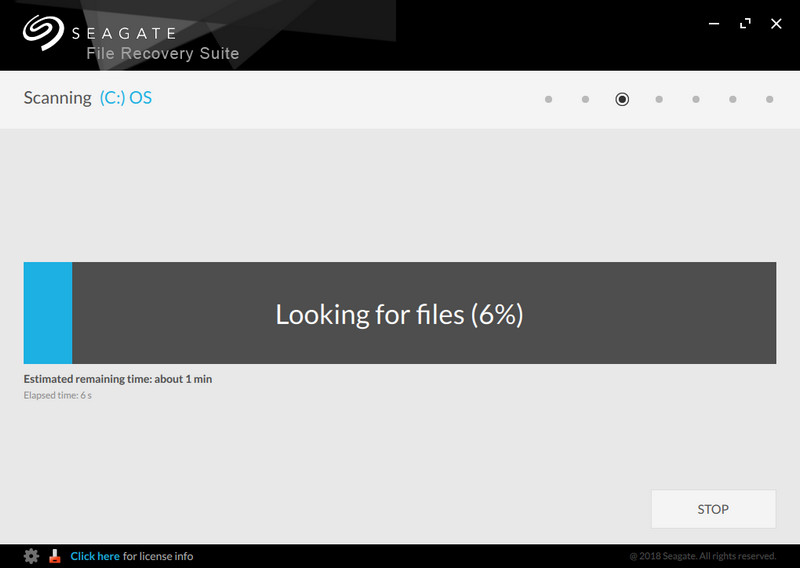 Step 2. Follow the onscreen instructions to preview the missing files.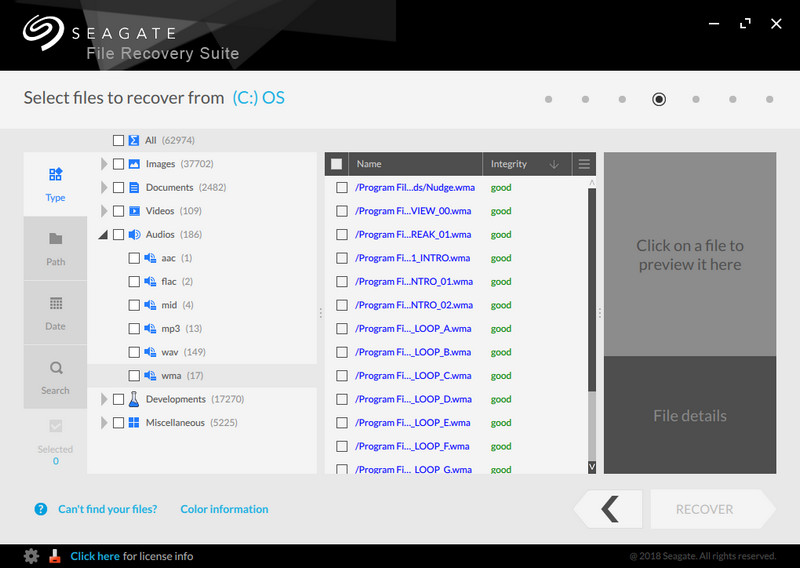 Step 3. Take available steps the software offers to recover the detected/missing file.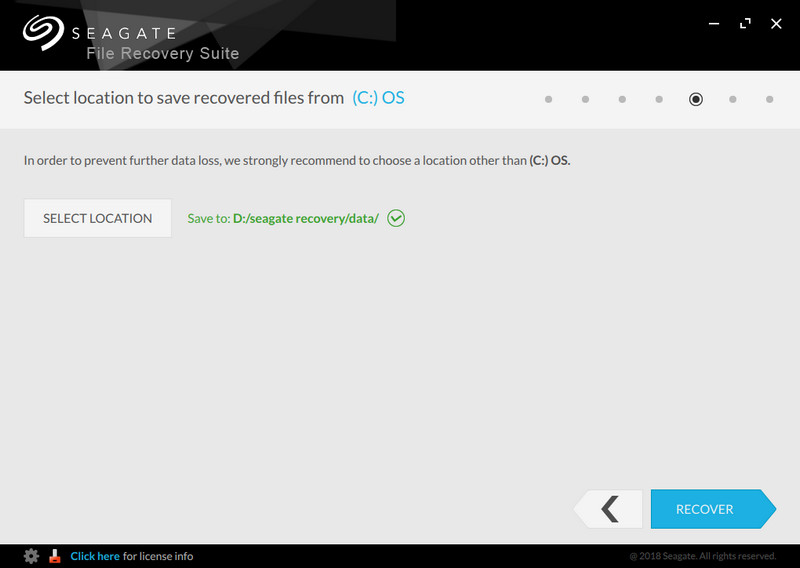 NOTE: If you're unable to find the missing file with this application, then try In-Lab Recovery service.
To know more details on recovering files with Seagate File Recovery Suite software, you can also view a user guide video released by Seagate Technology on YouTube.
Cons and Limitations of Seagate Recovery Suite:
This file recovery software is limited in the number of files it recovers.
Seagate may be looking good but it's a restrictively licensed software; it only allows for file detection on the trial version with no recovery.
Part 4: User Reviews for Seagate Premium File Recovery Suite
The following are the real positive and negative reviews of Seagate premium file recovery suite as it appeared on TrustPilot.
"Everything about doing business with them was top-notch. I really do trust them with my business."
- DBliss, July 2019
"Terrible customer services. They charged £70.00 to recover your data. This should be free service that data is the consumers, not Seagate's."
- Nicole Patrice, June 2019
"My Seagate drive is not working. I called the 800 number. A recording says that the wait time to speak with a tech representative is 10 minutes. After one hour and 40 minutes, I gave up. Such a lack of customer support is disgusting. I will not purchase Seagate products in the future."
- Daniel Kleiner, June 2019
It may interest you to know that 78% of Seagate File Recovery software reviews on TrustPilot rated it 1-star (bad), while only 14% rated this software 14% (Excellent). This simply means that Seagate Premium File Recovery Suite is a No-No for everyone in need of Data recovery software for Windows and Mac.
Conclusion
In summary, we've pointed out that the trial version of Seagate Premium File Recovery software won't let you recover any file, while the premium version is limited to recovering fewer types of file formats. Having seen all these bad sides of Seagate Data recovery software, you may now want a piece of easy and effective data recovery software for Windows, and that brings us to AnyRecover. Therefore, download and install the paid or trial version of AnyRecover to enjoy all the benefits we outlined above.