Are you worried that your HP laptop screen goes black but still running? Do you want to know how to fix it? Keep scrolling down if you said yes.
Sometimes, the issue could be caused by reasons that are mostly technical and only understood by professionals. However, at many times, the issue could also be caused by something as simple as a Windows update. Yes, you read that correctly. Even if after several attempts you do not get the issue resolved, do not panic! We have a few useful tips in this article that you can take help from.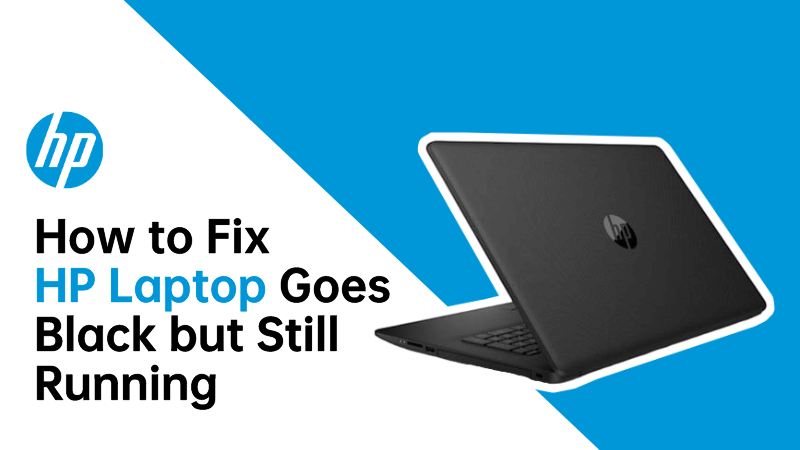 AnyRecover
Support for recovering data from a crashed computer, such as black screen, blue screen, dead laptop, and more.
Part 1: What To do If Your Laptop Turns on but the Screen is Black?
In case you can figure out what is wrong with your laptop screen and it turns on but the screen is still black, here is a list of ways you can try out to get some instant help:
Way 1: Disable Fast Startup
The first thing that you need to do is to disable fast startup from your laptop. This will direct your laptop into not taking any actions that you otherwise would not want it to take.
Here is how you can disable fast startup:
First, you need to press the Window key. Now type in the Control Panel and Press Enter.

Select System and Security > Power Options.

From Choose what the power buttons do, uncheck the Fast Startup option.

Click on Save Changes.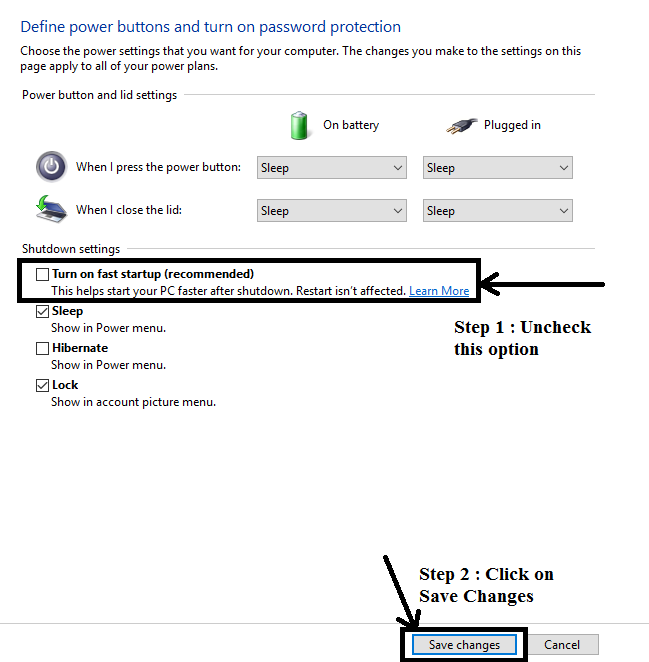 Way 2: Boot into Safe Mode
When you choose to boot your laptop into safe mode, you could follow the steps below and check out whehther then there is wrong with your HP laptop.
Connect a bootable disk to the laptop so as to boot it.

Go to Repair option > Troubleshoot.

Click Advanced options, Startup settings and Restart.

Select Enable Safe Mode with Networking.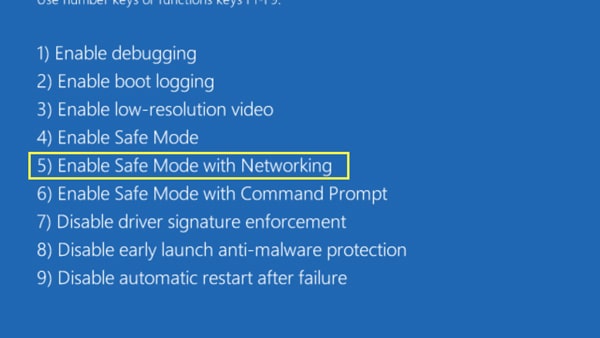 Way 3: Hard Reset HP Laptop
If somehow the above methods do not work out for you, you could try to reset your HP laptop. Make sure you have a backup earlier before you do this so that none of your important data is lost in the process.
Firstly, turn off your HP laptop and remove all external hard drives connected.

Press the Power button for a few seconds and then release it.

Restart your HP laptop to see if the problem is resolved.
Way 4: Utilize HP Emergency BIOS Recovery
Another thing that you can do is to utilize HP Emergency BIOS Recovery feature if your laptop screen goes black but still running.
Connect your HP laptop to a power adapter and turn it off.

When you switch off the laptop, press the Windows + B and Power keys together.

After that, you will hear the beep sound and you are in the BIOS screen.

Then you could revert to the previous version of the BIOS.
Way 5: Restart Explorer.exe Process
If your HP laptop screen still goes black, you need to restart the explorer.exe process. This will help clear any cache that might be intervening with the internal features of the laptop and causing the issue.
Press the Ctrl+Shift+Esc keys to open the Task Manager.

You can click Details tab and then you could see the explorer.exe process.

Choose it and click End Task button at the bottom.

Reboot your HP laptop and go back to Task Manager.

Select File and Run new task.

Enter "explorer.exe" and hit Enter to check if your laptop works normally.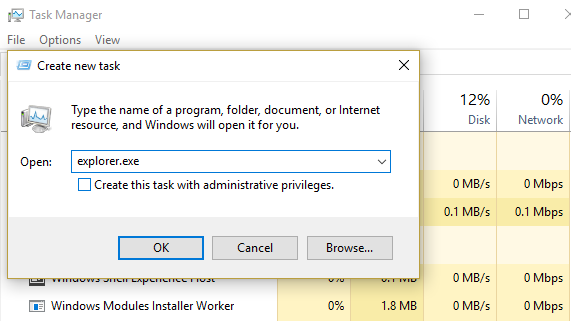 Way 6: Reset the Memory Modules
It is important that you also consider resetting the memory modules of the laptop. Sometimes, when the laptop is in continuous use without its health being checked, the black screen issue can occur.
First switch off your laptop. Then you need to remove the power adapter.

Look for the memory module. Disengage memory modules clips.

Check again if you have disengaged the memory properly or not.

Remove the memory module from the motherboard and reinstall it.
Note
Although this method is able to fix the issue possibly caused by loose memory modules, yet it requires much techniques.
Way 7: Factory Reset HP
When such an issue arises, you can factory reset HP and see if it makes any difference. You can do as follows:
Turn off the laptop and disconnect all devices connected.

Turn it on again and press F11 key. Then the System Recovery screen shows up.

Click Troubleshoot and Reset this PC.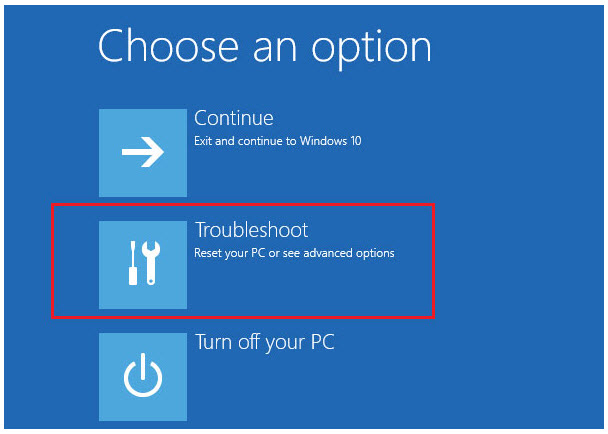 Tip
When you hit on "reset this PC" button, you could choose "keep my files" or "remove everything". If you select the latter by mistake, you could still recover your data after factory resetting the computer.
Way 8: Contact HP Support
If all else fails, you can always contact HP support and explain the issue at hand in detail to get better help. You can go through the FAQs section of its official website and see what type of problem you are facing.
Part 2: How to Recover Data from Your HP Laptop with Black Screen
When you get here, I'm sure you have successfully resolved your problem of HP laptop goes black screen but still running. Once you use your working laptop again, do you find that some of your important files on it disappear? Well, it's not surprising as hp laptop black screen often lead to data loss.
But don't worry, as we are here to help you get lost data back. To achieve that, the professional data recovery software -- iMyFone AnyRecover is still recommended, which is developed to recover up to 1000 formats of files like photos, videos and emails in various scenarios including virus attack, computer crash, lost partition and emptied recycle bin.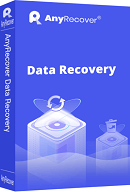 Key Features:
As an all-in-one data recovery software,it supports recovering data from Windows (including windows 11), Mac and iPhone/iPad devices.
Support recovering data from crashed laptop, sudden deletion, power failure, hard drive crash..
100% safe, it recovers all files in its original form without overwriting them.
Easy to use, it supports previewing files before data recovery.
Come and Try to Recover Files by Following the 3 Simple Steps!
Step 1 Download AnyRecover for Win or Mac on your computer and launch it. Choose the location where you want to perform data recovery and click Start button.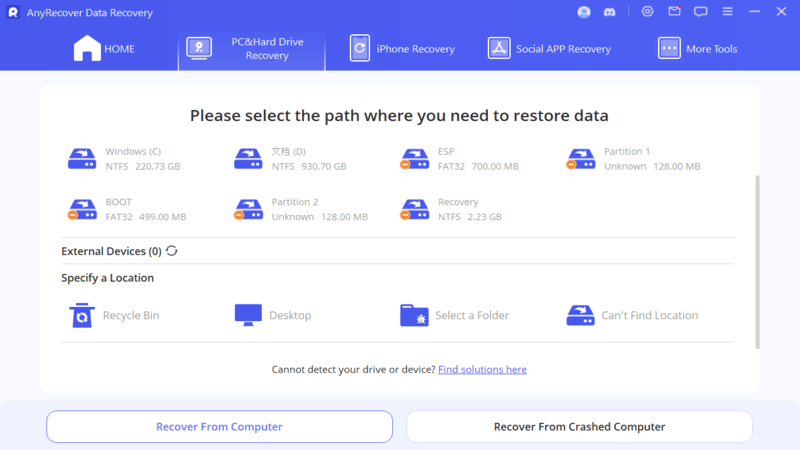 Step 2 After selecting the location, the program will start deeply scanning your files lost. Wait until it is finished.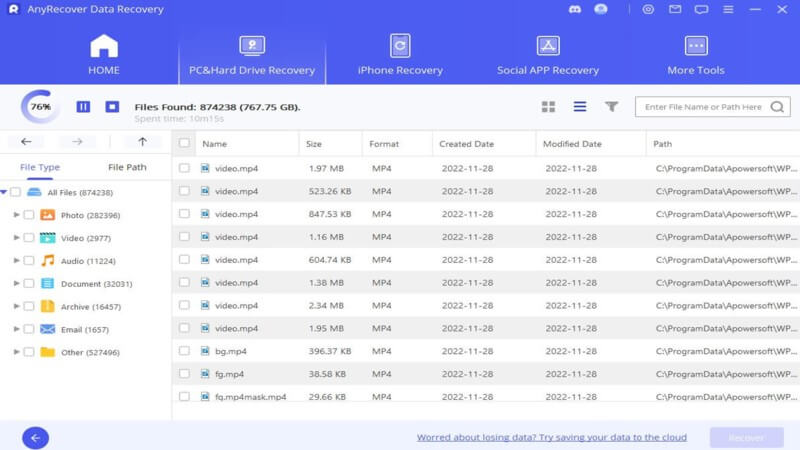 Step 3 Finally, all files you lost will be shown on the screen, you could selectively preview and recover them or get all of them back by hitting on the Recover button.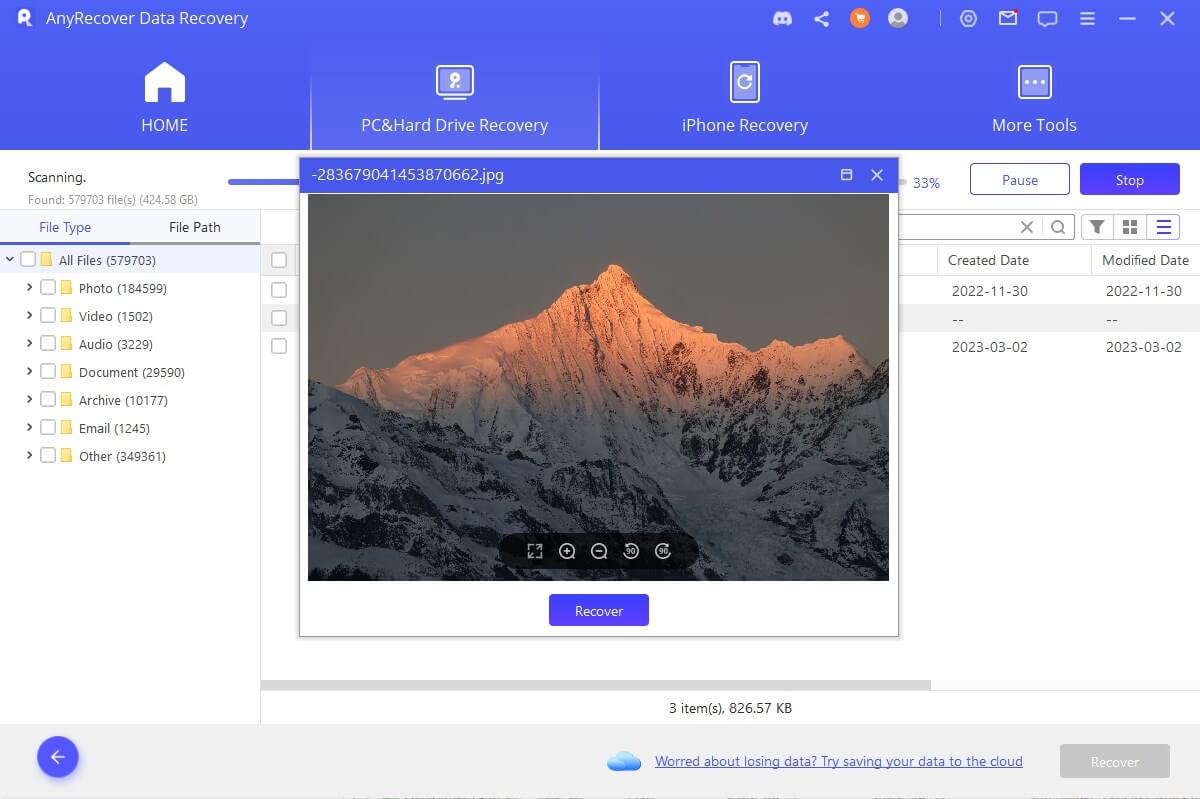 Part 3. Easiest Way to Fix a Computer Screen Going Black But Still Running
If your operating system can't run properly or the system disk is corrupted, you can also use Anyrecover to restart your computer from a USB bootable drive and get your data back.
Step 1. Create a bootable disk
Launch AnyRecover, choose " Data Recovery" and click "Recover from Crushed Computer".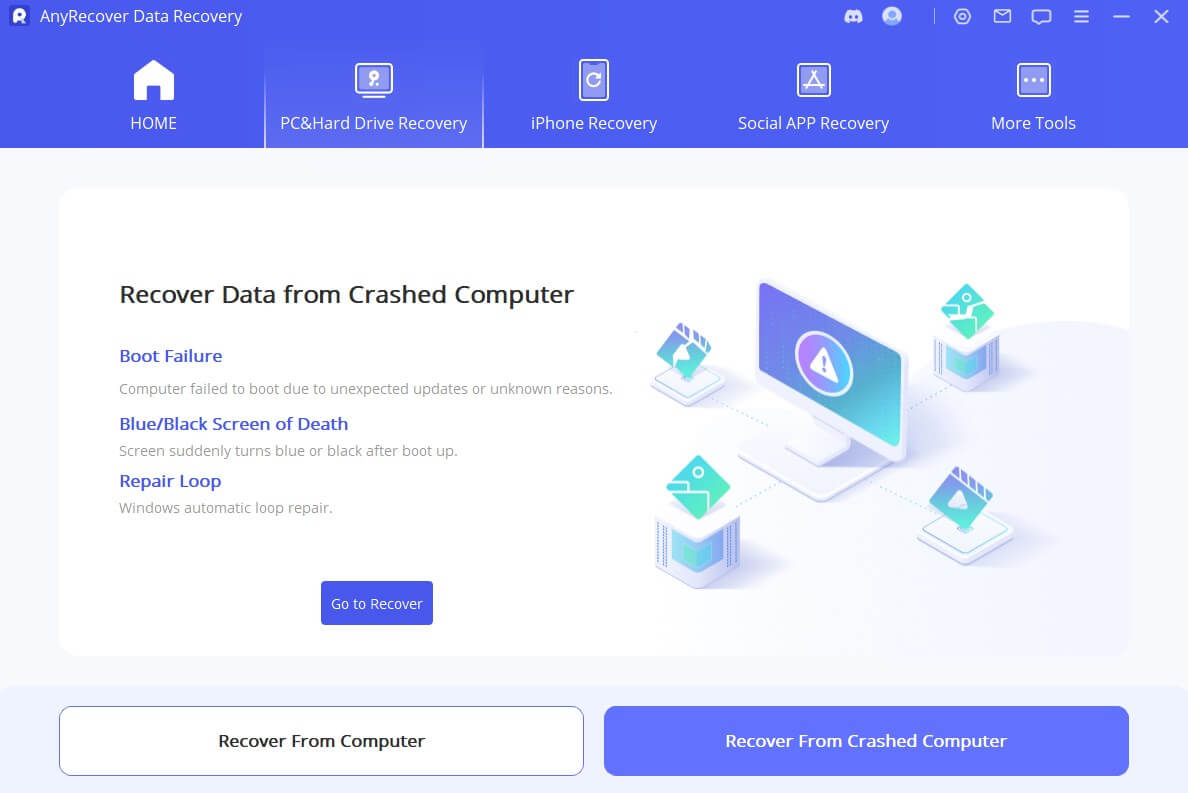 Select an empty USB to create the bootable drive and then click "Create".
Step 2. Boot your pc from the bootable USB
To resolve the issue, connect the bootable disk to the PC that is not booting and modify the computer's boot sequence in the BIOS settings.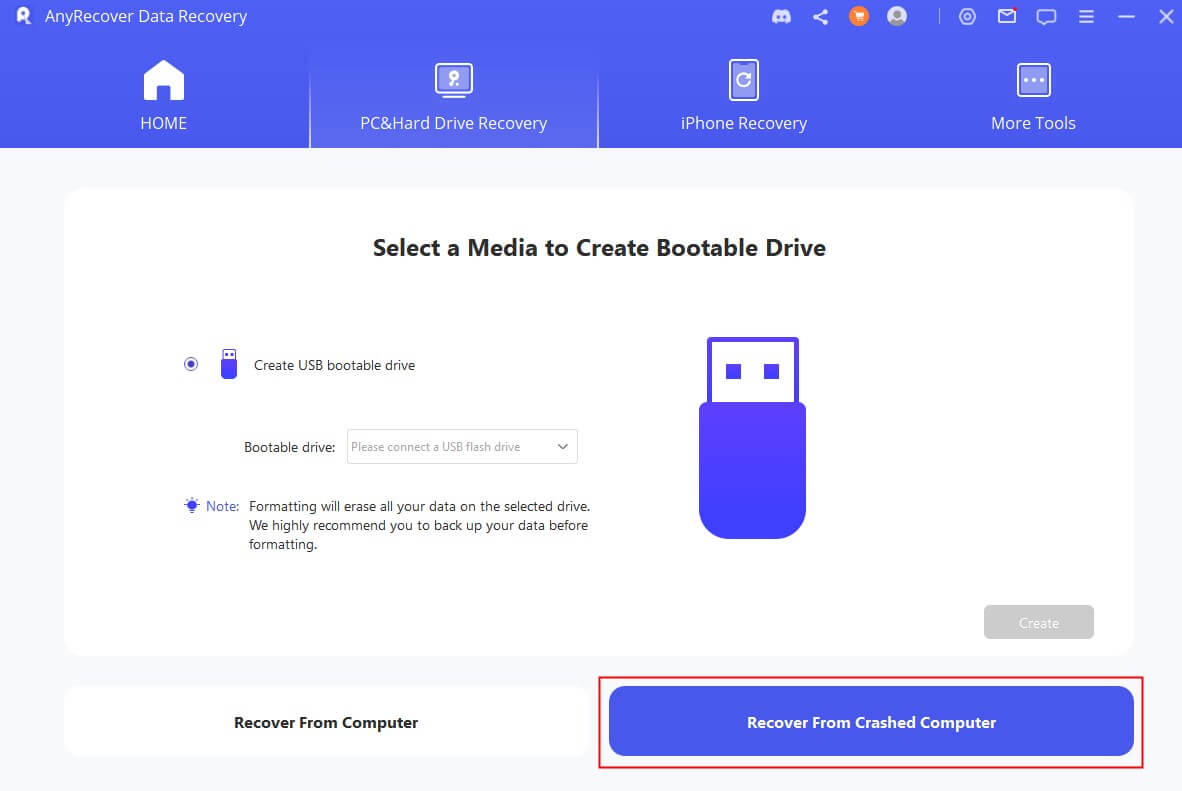 Step 3. Recover data from a crashed PC
By following the steps above, your crashed computer will become bootable now. You can then recover files from the computer with AnyRecover data recovery tool.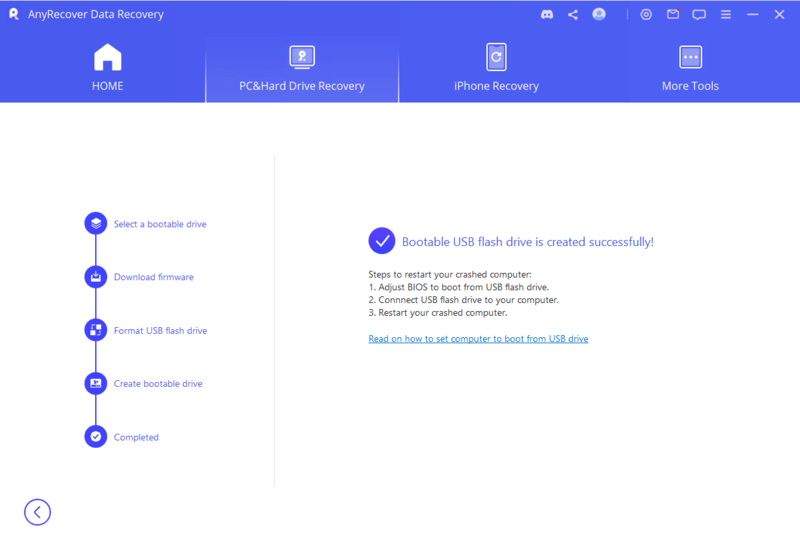 FAQ: Why Is Your Laptop Stuck on a Black Screen?
If your HP laptop screen goes black but still running, then there are 6 reasons that you can probe into to get to the actual issue.
Your HP laptop might be booting. It is normal when the HP laptop is booting, the screen may go black and you would feel like you cannot move. In such a case, it is important that instead of moving the cursor continuously, you focus more on the sound of the laptop. If you do not hear any sound then there might be a different reason for the issue.

Some issue with the operating system. If you find out that the HP laptop was actually booting but still the screen goes black, there might be an issue with the operating system. In such a case, you need to look for a corrupt file that might be causing harm to the operating system. You can restart your hp laptop and see if it makes any difference. If the issue persists, you might even have to erase the hard drive and reinstall a new Windows.

Check your power setting. While your laptop screen goes black but still running, there could be a high chance that there is something wrong with your power setting. You need to check the brightness of your laptop and also the overall power setting. You also need to check if your laptop is on a power-saving mode or not. If it is then that might be the reason. In case of low brightness, increase the brightness of your HP laptop.

Check the external display. If you feel there is something wrong with the external display of your laptop which is causing the issue then you should try connecting it to another monitor to see if the issue gets resolved or not. If it works fine on the external display then you know that the real trouble is with the LCD of your laptop. If there is an issue with the external display then you will probably have to get your graphics card changed.

Make sure the laptop is not overheated. Sometimes, the HP laptop goes black but still running due to overheating. In most cases, when this happens, the laptop would go off making the screen look black.

Look for a hardware issue. If you have come all the way scrolling down to this point, this means that there is a hardware issue with your laptop that you need to get checked and fixed.
Conclusion
For your HP laptop to not face the black screen issue again, you must keep a close check on the health of your computer and get it checked before such an issue arises. Moreover please remember that you could always get your lost data and files back to your computer with the powerful AnyRecover tool. It is definitely worth of being tried (even in Windows 11). Finally, did you find this article useful? Let us know in the comments below.