Dell is perhaps one of the most famous computer manufacturers in the world, especially when it comes to laptops. They make an excellent range of products and devices, which is why they have been a world leader in the industry for decades. Despite being a good quality brand, things can sometimes go wrong. It's not uncommon to see people asking how to recover data from Dell laptops, or how to retrieve data from Dell laptop hard drives. Knowing how to perform Dell data recovery is vital if your files go missing.
In this article, we will be looking at why data loss occurs on Dell laptops, as well as exploring how to recover data from Dell laptop hard disks so that you can get your files back on your Dell laptop! And the methods introduced can be applied to all Windows version, even the newest Windows 11.
Possible Reasons for Data Loss from Dell Laptops
There are several reasons why your Dell laptop may lose data from the hard drive. Below are 4 of the top reasons why you may experience data loss from Dell laptops.
Human error: Believe it or not, human error can be a big factor in losing data from Dell laptops. People can mistakenly delete important files and data, which then gets overwritten when they save new files or applications to their laptops. Once this data is overwritten, it's lost for good.

Hard drive re-partitioning: Sometimes people wish to re-partition their Dell laptop hard drive to either install another operating system or organize their files. Re-partitioning can result in data loss, as the process can wipe data in an instant. Once that happens, your data is lost forever.

Hard drive failure: Ever noticed your hard drive making weird noises? When a hard drive is on its way out, it will often make clicking noises or run slowly. These symptoms are a sign that something is wrong. When that happens, it's time to backup your data and get a new hard drive. If you continue to use the hard drive, it may break permanently, resulting in the permanent loss of your data.

Lack of data backups: People often forget to create regular backups of their data. If you have a recent backup of your data on another storage device, you can quickly and easily restore all of your data in just a few clicks, even if you install a new hard drive or solid-state drive to your Dell laptop.
How to Recover Data from Dell Hard Drive
If you've experienced data loss on your Dell laptop and you need to get your files back, then you will need to perform Dell data recovery. This process is sometimes tricky; however, there is one method that's the easiest and most efficient way of recovering data from your Dell laptop. The best method of Dell hard drive recovery is to use a piece of software called AnyRecover. AnyRecover is a data recovery tool that allows you to restore any deleted, lost, or corrupted files from your Dell laptop.

1,000,000 + Downloads
Features of AnyRecover
Recover over 1,000 different file types, including photos, videos, music, emails, documents, and many more.

Quickly and efficiently scans your Dell hard disk to find any lost or deleted files for recovery.

Compatible with many different types of storage mediums, including all Dell hard drives, solid-state drives, USB drives, SD cards, and more.

100% safe to use and trusted by over half a million users worldwide to recover their essential data from their Dell laptop.

AnyRecover has the highest success rate of any Dell data recovery software on the market today.

Support all versions of Windows and macOS, including the latest Windows 11.

Here is an AnyRecover 20% OFF Coupon Code, do not miss it out.
Steps about how to retrieve your lost, deleted or formatted files from Dell laptops:
Step 1. Select the hard drive on your Dell laptop where your important data and files were lost, then click on the "Start" button.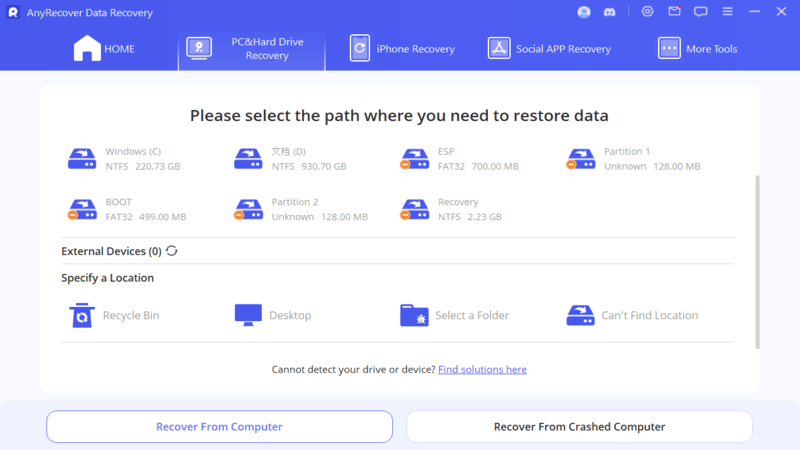 Step 2. The software will perform an all-round scan to find as many lost files and data as possible on the selected Dell hard drive.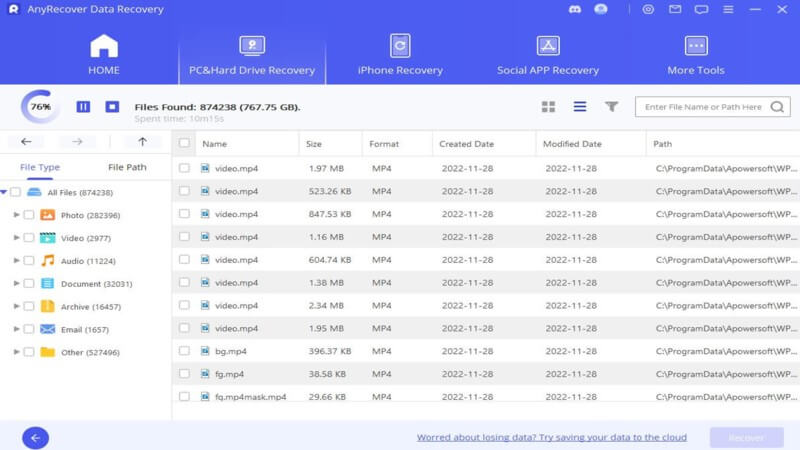 Step 3. Once the scan has finished, you will see the recovered files and data on your screen. Select the files that you wish to recover and then click "Recover" to complete the process.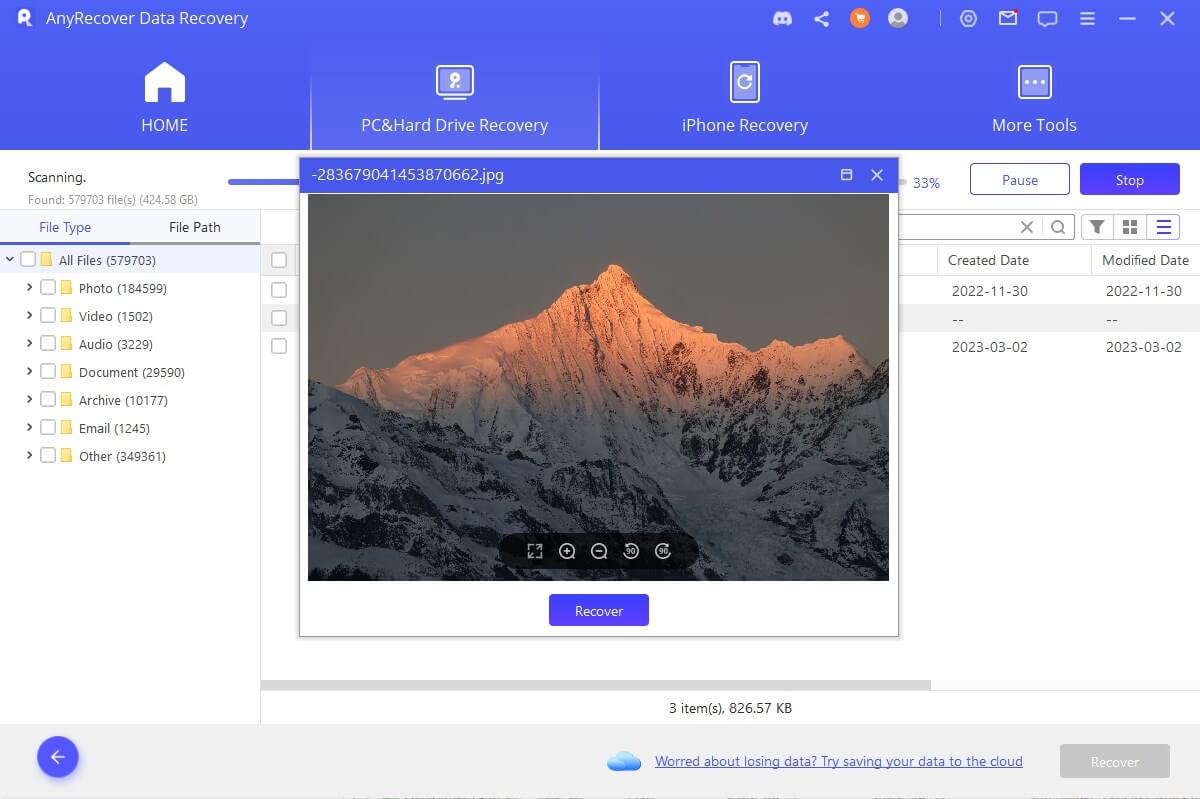 Bonus: Tips to Avoid Dell Laptop Data Loss
In an ideal world, data loss wouldn't happen, but unfortunately, we do not live in an ideal world. That's why it's crucial to take preventative measures to help avoid Dell laptop data loss in the first place. Below are several tips you can do to prevent losing data from your Dell hard drive.
Tip 1: Perform regular backups of your data and store them in a different location (i.e., a USB drive or external hard drive).
Tip 2: Install an anti-virus or anti-malware application to guard your hard drive from malicious software, such as ransomware.
Tip 3: Keep your operating system and applications up-to-date with the latest updates and patches.
Tip 4: Run regular chkdsk scans to identify potential problems before they arise.
Tip 5: Keep an eye on your laptop's operating temperature, as overheating can result in physical damage to your hard disk.
Tip 6: Do not use your computer if you have lost files! See the explanation below!
If you discover data lost from your Dell laptop, or if you've accidentally deleted some files, please stop what you're doing immediately! To have the best chances of Dell data recovery you must reduce the chance of the original data being overwritten.
In short, when data is deleted from your laptop, it isn't immediately permanently deleted. It's essentially hidden from the operating system, until the space is needed by new data. Once new data or files are saved, your Dell laptop will then overwrite the original data. This is permanent and you will have a lower chance of recovering your data.
Conclusion
Hopefully, you are not unfortunate enough to run into issues with data loss on your Dell laptop. However, it's certainly a common occurrence that many people experience. From reading this article, you now know the reasons behind why data loss from Dell laptops happens, and you also know how to recover data from Dell laptop hard disks.
But remember, it's always best to avoid data loss from occurring in the first place. Use the bonus tips provided here to ensure your Dell hard drive is in good working order. Always take action if it seems like your hard drive is on its way out by either repairing or replacing it. Taking regular backups of your data is perhaps the best way to protect your Dell laptop from data loss.