"I have been using my Dell Inspiron laptop for more than three years now. Sometime last month, I turned on the system, but it couldn't get past the splash screen. I had to force shut down the PC."
"On powering the laptop back on, it greeted me with the error: Internal hard disk drive not found. I took it then to a repair shop, and they said it's a Dell laptop hard drive failure, I have to replace the hard drive."
"Since then, I've been struggling with different fixes with no success. I don't want to lose my files there. It's a Windows 11 laptop; what do I do to fix this Dell laptop hard drive failure without losing my data? I need help please."
You are not alone if you have ever encountered the above issues. Don't worry. Next we'll talk about how to fix "Dell hard drive failure". Continue to read to know more details.
Dell Laptop Hard Drive Failed, What Should We Do?
Although you may see signs, no one knows for sure when exactly they will experience Dell hard drive failure. You wake up one morning and try to boot your computer, and then you see a BSOD or some other error showing that your hard drive has failed.
That is the same awful experience for every Dell hard drive failure. What do you do when this happens? Your first course of action should always be to diagnose the situation.
Diagnose Dell Laptop Hard Drive
You can diagnose your Dell laptop using either the built-in or online diagnostics tools, such as the following below.
Diagnose Dell Laptop Hard Drive Failure Using the ePSA and PSA Diagnostics
If the PC does not boot into Windows or connect to the internet, perform ePSA diagnostics. This built-in utility tests the functionality of your hardware prior to loading Windows.
Here is how to access the ePSA and PSA diagnostics:
Step 1: Boot your laptop, and when you see the Dell logo on startup, press the F12 key.
Step 2: Now, select "Diagnostics" from the next menu.
Diagnose Dell Laptop Hard Drive Failure Using SupportAssist Online
When you are unable to boot into Windows as well as connect to the internet, use the online SupportAssist diagnostics. This utility works in the Windows environment and tests high-level functions of the laptop's components.
Here is how to access this tool:
Step 1: Visit the Dell Support website.
Step 2: Next, type in your "Express Service Code" or "Service Tag" number.
Step 3: Finally, select the "Diagnostics" tab.
If you cannot use these utilities because you are unable to boot the laptop, another excellent service is the Dell Preboot Diagnostics.
Backup and Restore Important Files and Data from Failed Dell Laptop
The moment you notice signs of a Dell laptop hard drive failure on your computer, you must back up your data on the drive. Do this because you can never tell when the drive will stop working. If the hard drive fails completely, you may not be able to back up your data again.
After backing up your data and repairing or replacing the drive, you will then need to restore the backup. In this section, we will show you the quickest and most reliable way to restore data on your hard drive.
Restore Data from Failed Dell Laptop with AnyRecover
AnyRecover Windows Data Recovery is a popular desktop application that handles the entire restoring processes expertly. I recommend this software because, unlike others that need your drive to be fully healthy, AnyRecover can restore data from even damaged drives. Also, it does not matter the cause of your Dell laptop hard drive failure; this tool will recover the lost files.

1,000,000 + Downloads
Key Features of AnyRecover:
AnyRecover can restore data not only in cases of Dell laptop hard drive failure; it can recover data lost in any scenario.>
This program efficiently backs up and recovers data of all the most popular formats (over 1000 file types).
It has a record-high recovery success rate of over 98% and achieves this thanks to its robust Deep-Scan algorithm.
Also, this program will not overwrite existing files in the destination folder for the recovery.
Backing up your data and recovering with AnyRecover requires no technical expertise. The program is easy-to-use and beginner-friendly.
It is compatible with Dell laptops, as well as computers of other models.
AnyRecover also supports both Windows and Mac operating system, including the newest Windows 11.
Steps to Restore Data with AnyRecover
Step 1: Select the Location
The first step is to specify the directory that contained the missing data.
This could be your desktop, Recycle Bin, local disk, or any internal or external drive. After this, click "Start" below.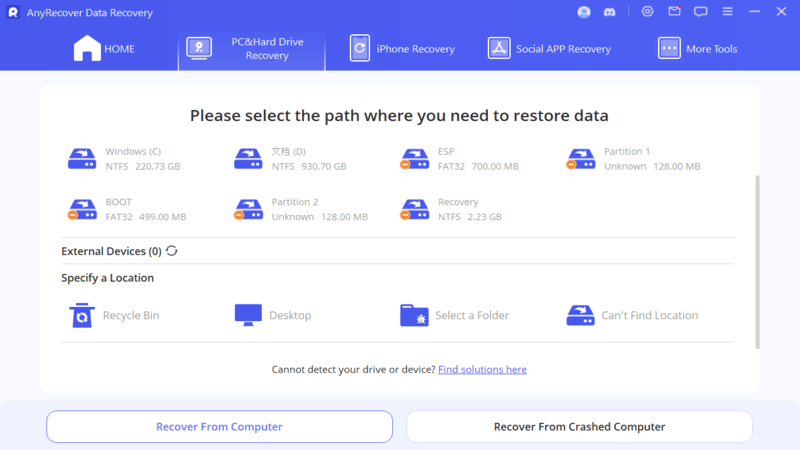 Step 2: Scan the Location
When you click the "Start" button, AnyRecover begins to scan the chosen location for missing files.
On completion of the scanning, all the files that the program finds will be displayed on your screen.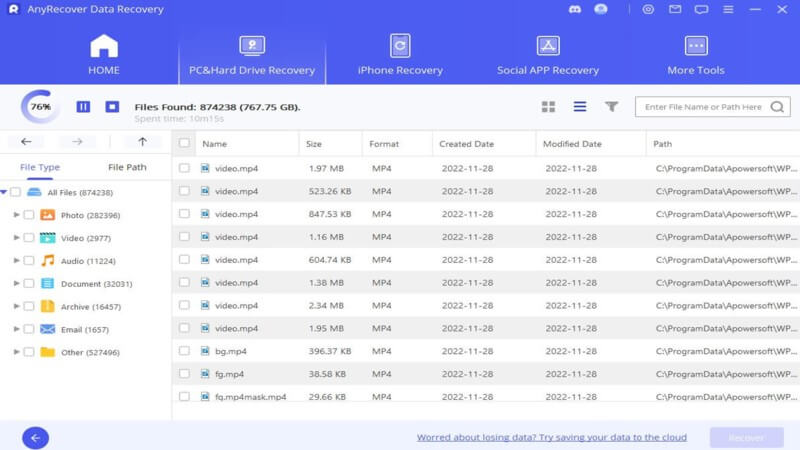 Step 3: Preview and Recover Your Lost Data
From the displayed items that AnyRecover discovers, you can now select what you want and recover them. But before the recovery, this program allows you to preview the files by simply clicking on them.
When you are sure of the files you wish to recover from the list, click the "Recover" button to finalize the process and get back your data.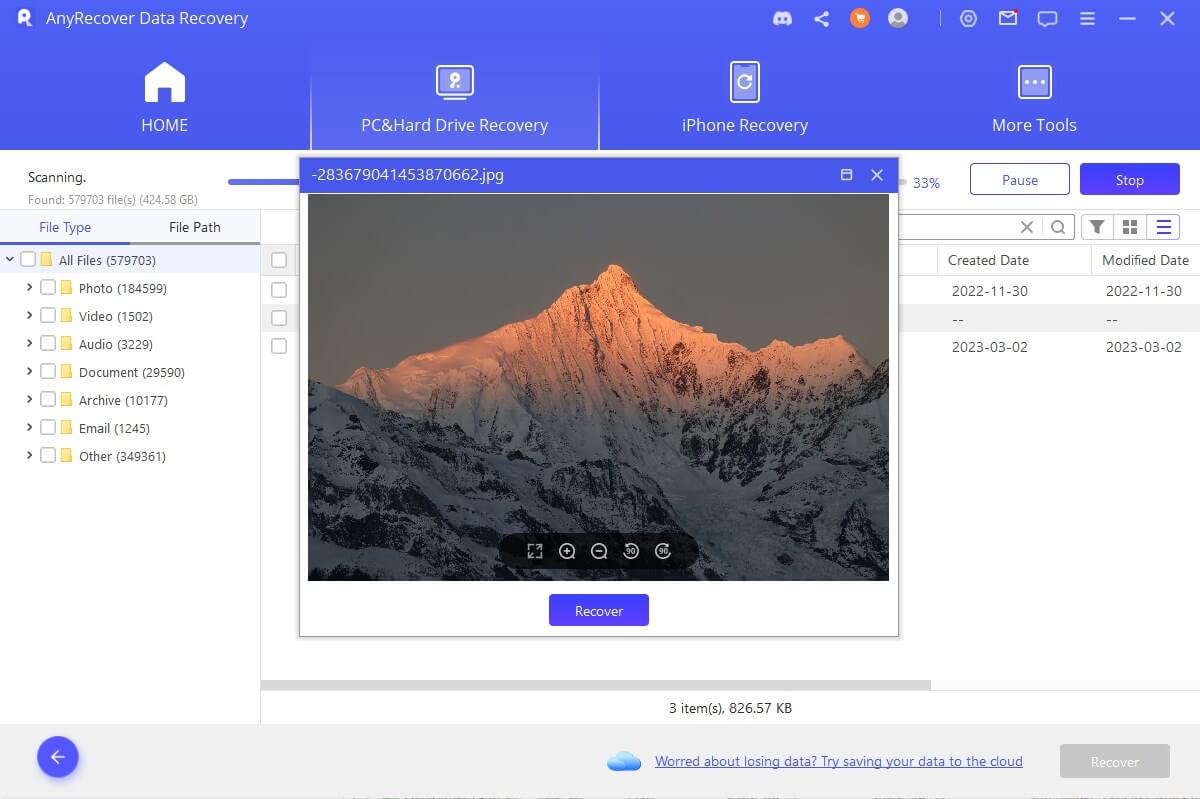 Replace or Upgrade the Failed Hard Drive
Now that you know how to back up and recover your data, you are set to either replace or upgrade your failed hard drive. Some Dell hard drive failures cannot be repaired, especially when it was as a result of physical impact or aging.
In this case, your only options are to either replace the drive or upgrade it. Download the specific service manual for your system from this official Dell page.
Common Hard Drive Issues You Should Know
Troubleshooting Dell hard drive failure is tricky because it can be caused by several issues. If you can back up and restore your data, then a hard drive upgrade is the easiest way to repair your laptop when it crashes. However, so many more problems do not require this extreme measure. Some of these that you should know are listed below.
Your laptop fails to boot into the Windows environment.
Windows gets locked up, throws errors, or freezes frequently and unexpectedly.
The hard drive makes loud noises when in use.
In the course of running the hard drive diagnostics, the disk fails or/and shows an error.
The operating system does not detect your hard drive.
Conclusion
Dell offers you options for diagnosing your Dell hard drive failure. However, in severe cases, you may need to replace or upgrade the disk.
Before doing anything else, it is essential to back up your drive, so that you don't lose any data. Do this using AnyRecover Data Recovery Software, as explained here. AnyRecover also lets you recover files if you lose any data.
Give Anyrecover a try and see if it is right for you!