If you are a Windows user, then you know that sometimes you have to reinstall the Windows system in order to solve certain issues e.g. corrupted Windows system files, corrupted Windows registry, fail to remove virus/spyware, etc. However, sometimes reinstalling Windows results in loss of your important files. Fortunately, you can recover those files after reinstalling windows via some methods.
1
Recover Files after Reinstalling Windows with AnyRecover
Using a professional data recovery software is one of the best ways to recover old files from hard drive after reinstalling Windows. It is recommended that you use AnyRecover for this purpose. AnyRecover features advanced data scanning and recovering algorithms and can recover virtually all kinds of files quickly and efficiently.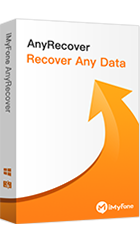 100,233,123 Downloads
Features
Recover files that are lost/deleted due to Windows reinstallation, virus/spyware, hardware failure, and/or other reasons.

AnyRecover can recover files of virtually all types including photos, archives, videos, documents, emails, etc.

User-friendly software interface and fast data scanning algorithm.

Preview specific recoverable files so that you can recover them selectively.
Wanna make a little bit saving on getting AnyRecover, there is no need to search anywhere else, as you've in the right place.
Your 20% OFF AnyRecover Coupon Code: ANY-ART-D20
Steps to Recover Files after Reinstalling Windows
Step 1. Launch iMyFone AnyRecover. Run it and select a disk under the "I can't find my partitions" tab.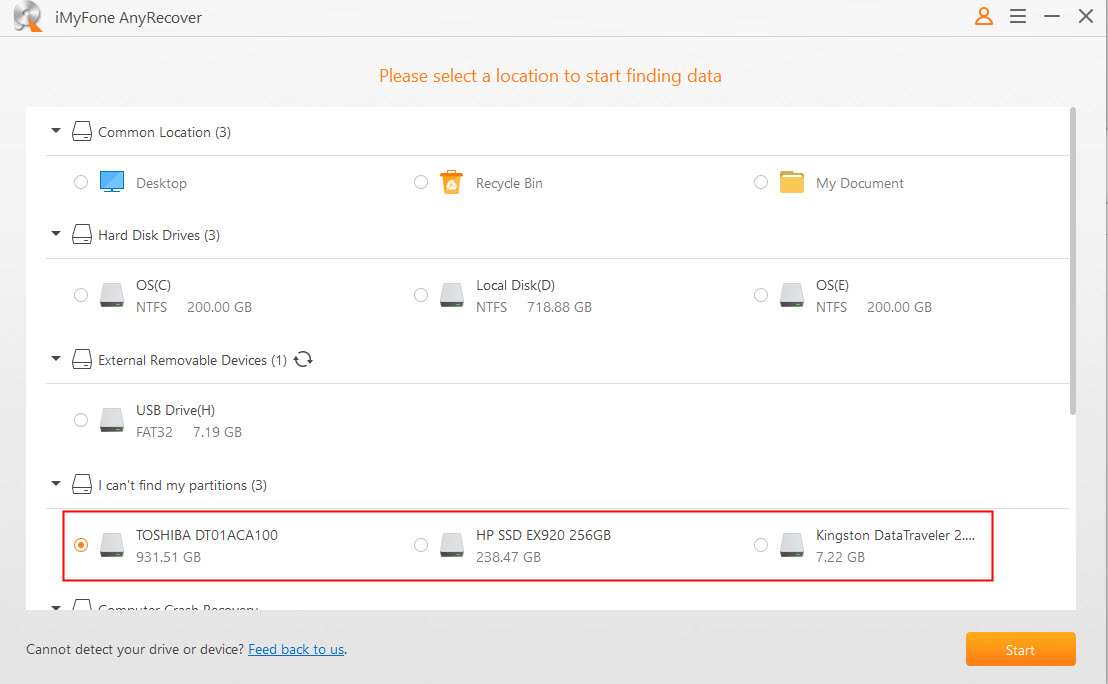 Step 2. Select a partition and click "Scan" to start finding data.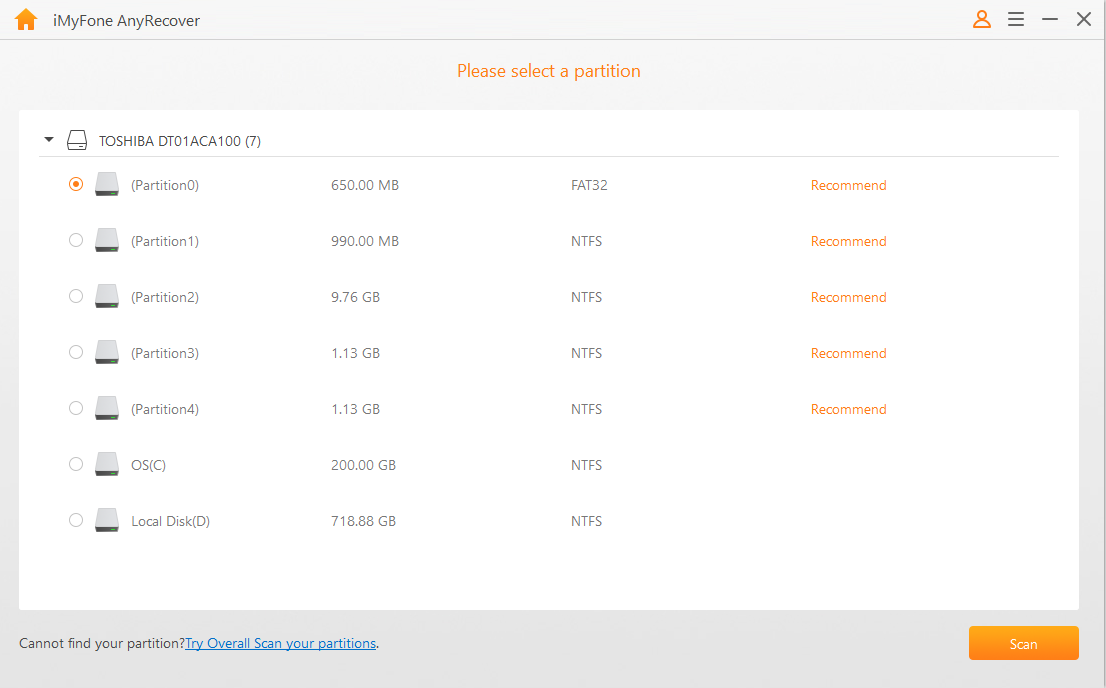 Step 3. It will begin an all-round scanning process. It will take a few minutes to scan your selected partition.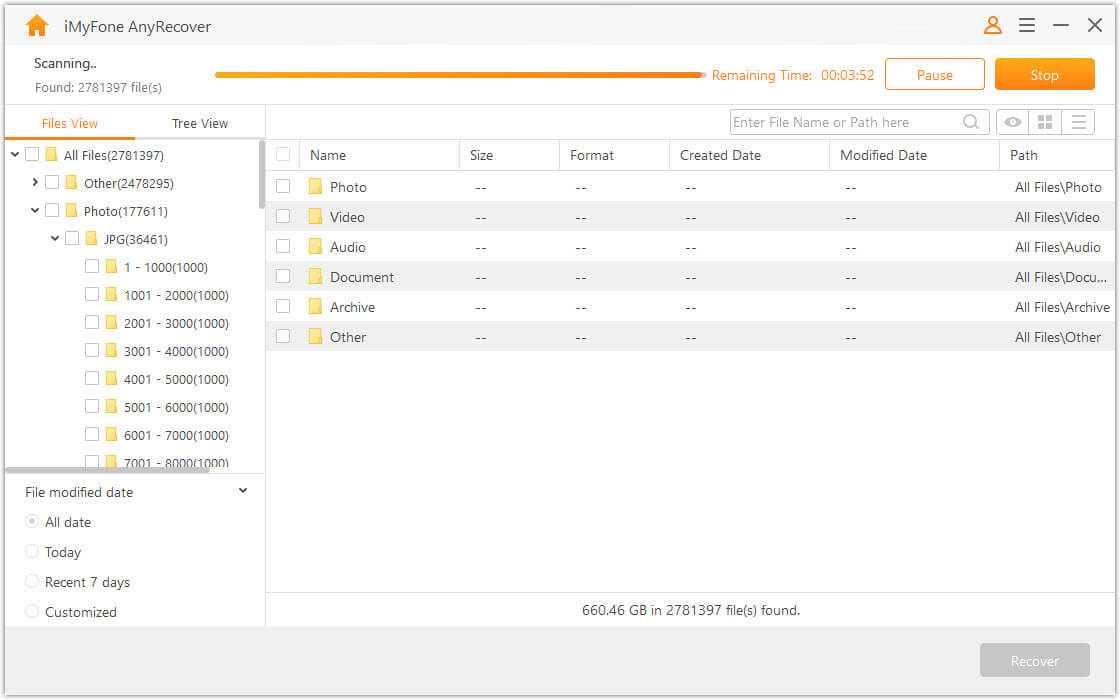 Step 4. Once it finishes, you can check and preview the found files. Then you can get you lost files back by clicking on "Recover" button.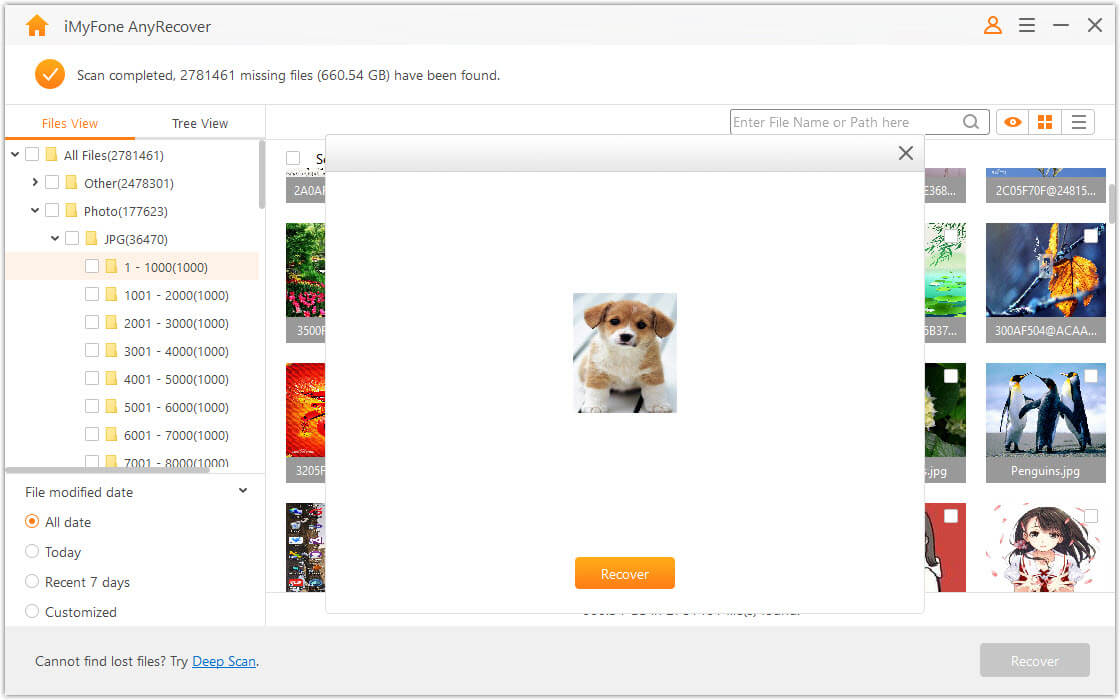 Tips for Successful and Efficient Recovery
Save the recovered files in a different location otherwise they may become irrecoverable.

Once you have started the recovery process, don't interrupt it.

Preview the files that you wish to recover, it will save time and storage space as you will only recover the files that you need.
2
Recover with Windows Backup File History
Windows automatically creates backups of your files from time to time if you have enabled the File History feature. When needed, you can use this feature to restore files or folders that you want from the backup location. File History also allows you to restore your files from external storage mediums such as a network drive or a USB.
Steps to Recover Deleted Files after Reinstalling Windows
The process of recovering files via Windows Backup File History is pretty straightforward.
Step 1. Open Start Menu > Settings > Update & Security.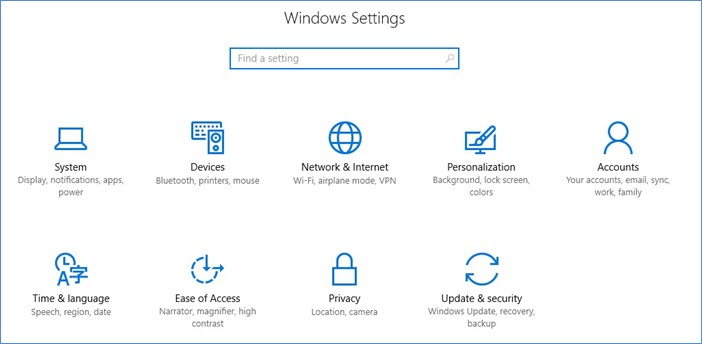 Step 2. Once there, look for the Backup option. Under that section, you can either recover your files with File History or Looking for an Older Backup option.
Step 3. Finally, target the lost files and  restore them by following the on-screen instructions.
Note:
The File History feature of Windows can back up only certain types of files such as videos, desktop folders, music, photos, as well as offline files of OneDrive available on your system.

You should have enabled the file history feature before losing files.
3
Recover Through System Restore Point
Another method to recover files after reinstalling Windows is by using the System Restore Point feature of Windows. A restore point in Windows is the feature that allows you to restore certain files to an earlier point. Windows automatically creates the restore point for files that are changed frequently.
Steps to Recover Old Files after Reinstalling Windows
Follow these instructions to recover your lost/deleted files through system restore point:
Step 1. On your Window PC, open Control Panel and click on Recovery option.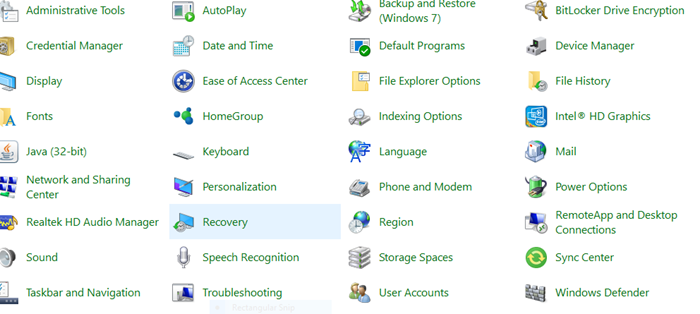 Step 2. Now select the Open System Restore option.

Step 3. Select a restore point and click Next. Then click Finish when prompted to complete the restore process.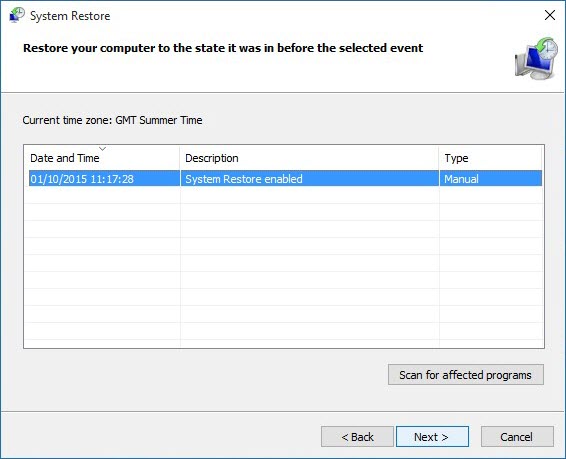 Note:
This feature must be enabled in order for it to automatically create system restore point.

You need to turn the system protection on.
Keep in mind that never create backups on the same drive that contains your Windows operating system. This is because when Windows is reinstalled, the partition containing the Windows gets formatted. You'd better to store data on other partitions of your hard drive. If possible, use external storage medium for backups such as external hard drive.