One of the many reasons for unexpected data deletion is deleted hard drive partition. System crash, malware, or some other factors can cause the hard drive partition to get deleted and when that happens, all the files stored on that partition also get deleted. You should use a partition recovery tool for recovering data. Hetman Partition Recovery is one of them.
In this article we will conduct a full review on Hetman Partition Recovery and even offer a better option when it is not working.
Part 1. Hetman Partition Recovery Review
Hetman Partition Recovery is a reliable data recovery tool that has been specifically designed to recover lost/deleted data from a deleted partition. As mentioned above, when a partition gets deleted, all the data stored on it also gets deleted. Hetman Partition Recovery allows you to recover that data. The software currently supports NTFS and FAT disk types. It is capable of recovering the original file and folder structure.
Cons
File scanning speed is relatively slow when compared to some other data recovery softwares.
Although there is a step-by-step wizard for recovering files, the tool is quite complex when you use all-manual mode (which may be often needed for deep recovery).
Pros
Recover deleted data of any file type with no exceptions. Supported file types include archives, photos, documents, music, videos, and more.
The tool is equipped with advanced data scanning algorithms that allow you to recover data successfully even in the most difficult cases.
Recover lost/deleted data from healthy, unreadable, and corrupted devices. The tool can also restore information from deleted volumes and formatted disks.
Recover deleted data from most storage mediums including flash drives, memory cards, MP3 players, hard drives, digital cameras, and more.
Although there is a step-by-step wizard for recovering files, the tool is quite complex when you use all-manual mode (which may be often needed for deep recovery).
Part 2. Best Hetman Partition Recovery Alternative in 2022 (Windows 11 Supported)
Although Hetman Partition Recovery is popular, it has its flaws.
Hetman Partition Recovery didn't solve your problem perfectly? Now you should give the best alternative data recovery tool AnyRecover a try.
Just like Hetman Partition Recovery, it allows you to recover lost/deleted files with ease. There are so many outstanding features of AnyRecover as opposed to Hetman Partition Recovery. And it works with the latest Windows 11 OS.

Features
Advanced deleted/lost data scanning and recovering capability thanks to the combination of 25 different analytical technologies.
Lightning fast scanning speed. Recover your deleted files quickly with advanced and unique technology.
Preview your lost partition data before selecting and recovering it. It makes selective data recovery easier.
Advanced partition scanning of AnyRecover allows the software to scan your partition byte-by-byte and reconstruct all its pieces to find the known file structure.
An exclusive, advanced, and powerful technology to help you scan and recover your lost/deleted files on partitions very quickly.
Instructions to Use AnyRecover
STEP 1Launch the software on your PC and select Can't Find Location.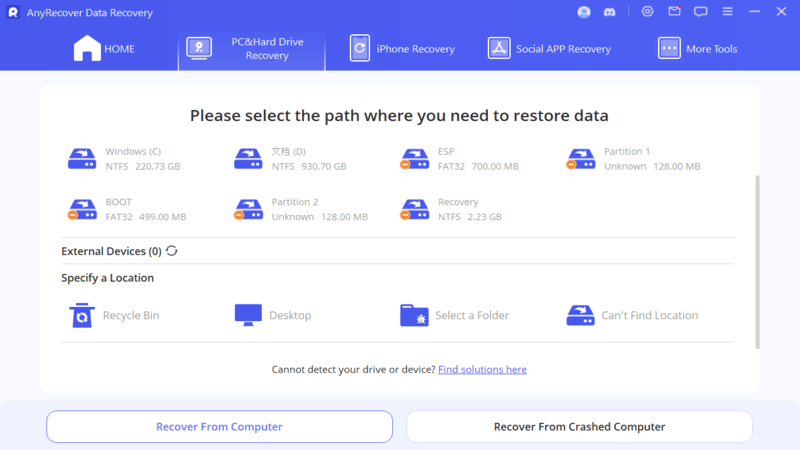 STEP 2After that, choose the partition from which you want to recover data from and click "Scan"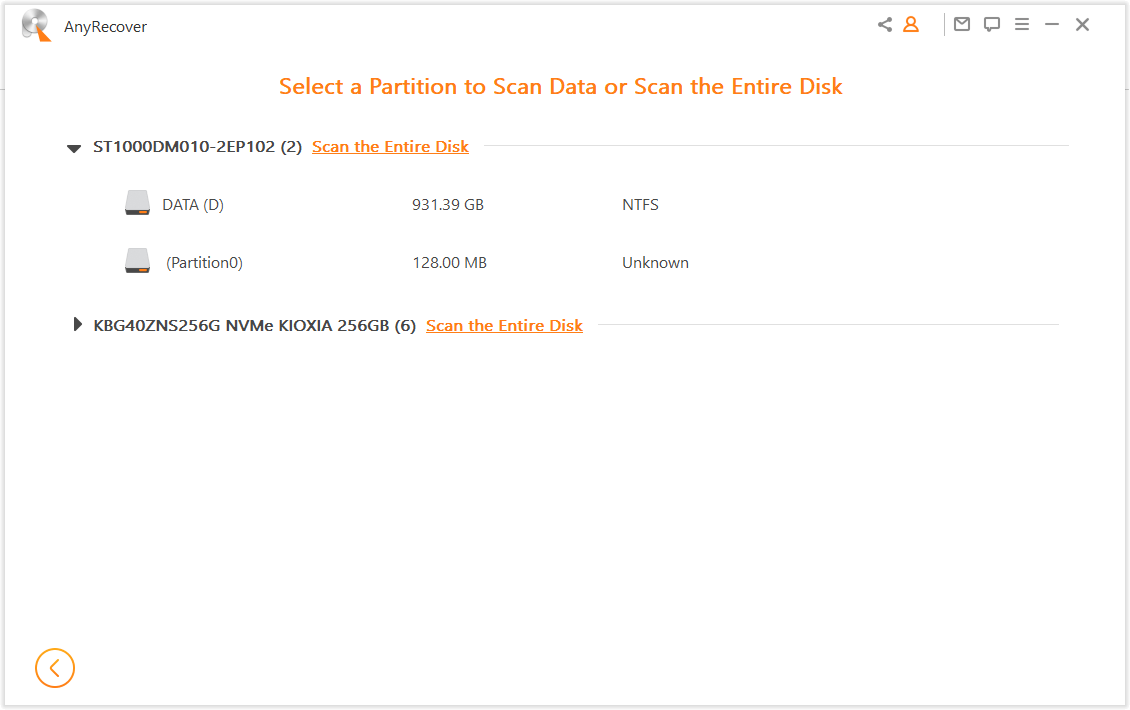 STEP 3It will begin an all-round scanning process. It will take some time for scanning.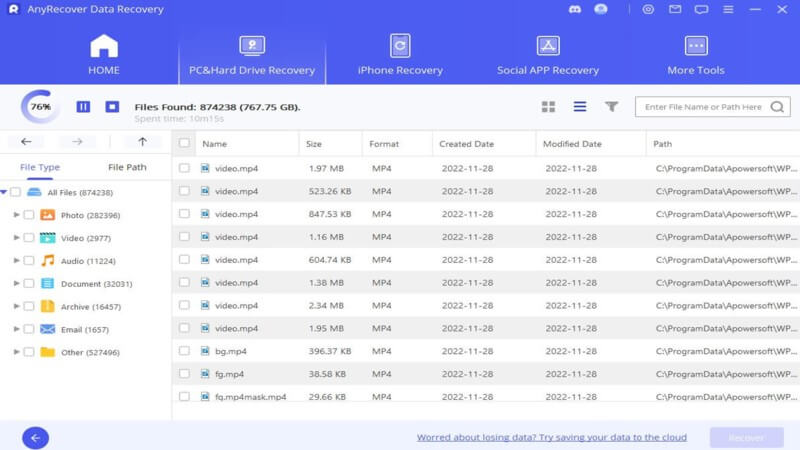 STEP 4 In the scanning results interface, select all the files or some specific files to start the partition recovery.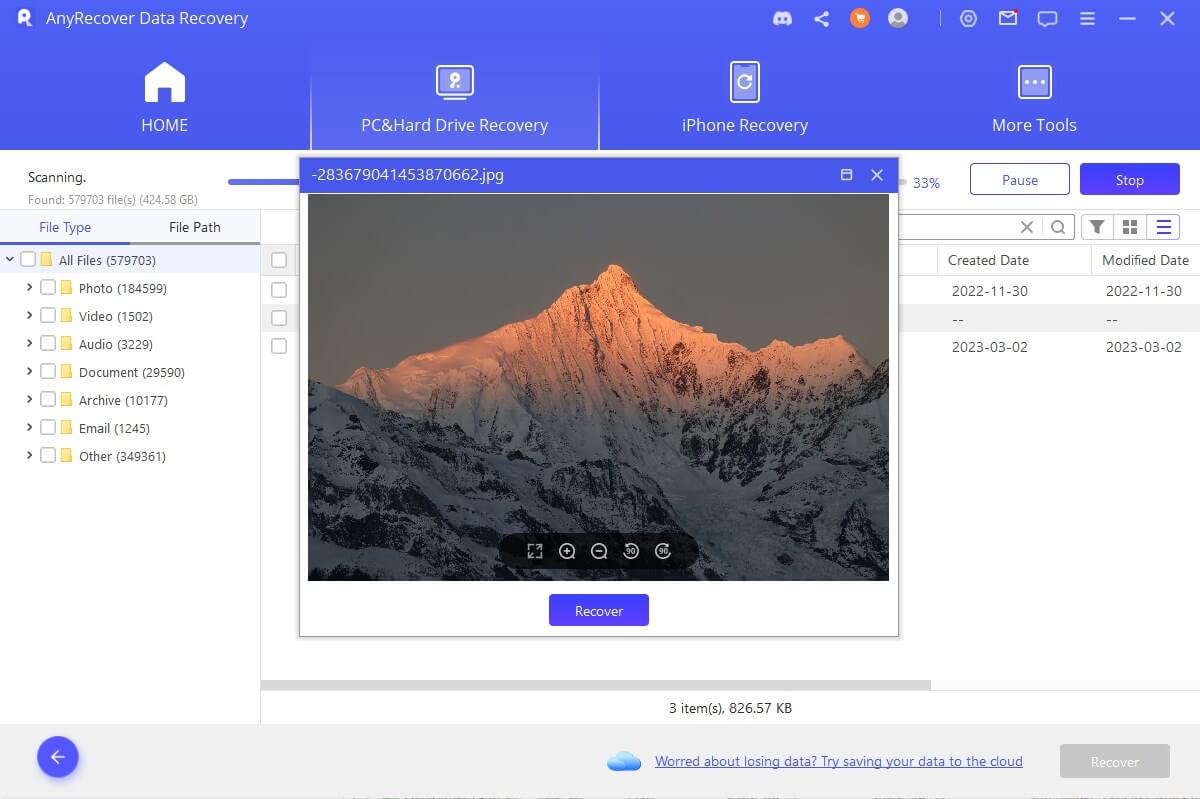 Bonus: Common Reasons That May Cause a Partition to Get Deleted/Lost
There are many factors that may cause a partition to get deleted/lost. Following are some of the common reasons:
Bad Sectors: If there are bad sectors on your hard drive, they may prevent your partition from being recognized by your operating system.
Data Corruption: A malware, virus, or faulty disk operation could damage the partition table, leading to a lost partition.
Power Outages: A sudden power failure can corrupt data or affect the drive's operations in a way that can make a partition lost/inaccessible.
Accidental Deletion: This is another primary reason for lost/deleted partition as it's not uncommon for users to delete a partition by mistake.
Don't forget to give AnyRecover a try and see if it is right for you! Download now for free deep scan, preview, and Recovery!