We have seen many people seek for solutions for the error 0x80010135. Most of the time, it occurs when Windows Explorer or WinZip encounters a file path exceeding the maximum of character limit. And today we have a complete list of solutions to this problem, let's check out.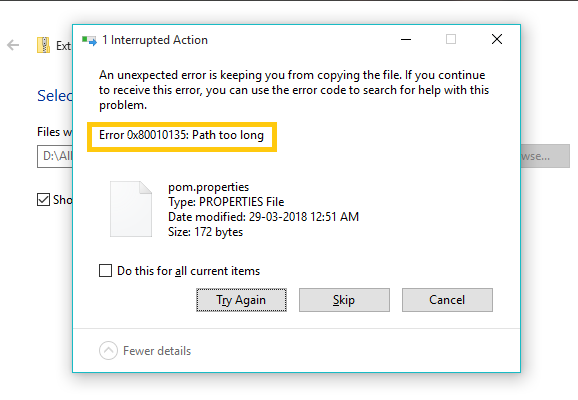 Part 1: What Causes Error 0x80010135: Path Too Long?
There are plenty of reasons behind the path too long error while extracting a zip file, and we need to figure out the reason first to find the suitable solution.
The file path exceeds 260 characters - the Windows 32 API library cannot support file path with over 260 characters.
Incorrect or unsuccessful installation of software has left invalid entries in the Windows system.
Computer malfunction or virus attack.
Improper system shutdown due to power failure or Windows 11 update.
Accidental deletion of necessary system file or entry.
Part 2: How to Fix Zip File Extraction Error 0x80010135?
There are a few things you can do to fix the path too long error while extracting a zip file. Here's a detailed troubleshooting guide.
1. Extract the Archive File to the Root Folder
Step 1: Rename the zip file to a shorter parent name.
Step 2: Copy and move the file to the C: partition or a folder in disk C. The aim is to extract the file to a root folder to make the pathway shorter.
Step 3: Finally, extract the zip file in the folder in the C partition, and check out if the error has gone away. If the error does not go away, proceed to method 2.
2. Use an Alternative Zip File Extraction Tool
While built-in Windows utility can work well in compressing and decompressing zip files, sometimes the error 0x80010135 arises because the tool cannot handle a particular zip format.
In such case, a third-party tool might walk you through the error. An alternative such as 7-zip or WinRAR works well with most archive file formats. 
3. Enable Long Path Support in Windows
Another effective way to fix the path too long error 0x80010135 is to alter the Windows 260 character limit. And here's a step-by-step guide on how to get it done:
Step 1: On the search bar, key in Regedit and launch the Registry Edit app.
Step 2: On the left side, navigate to HKEY_LOCAL_MACHINE > SYSTEM > CurrenControlSet > Control by using the arrow.
Step 3: Scroll down and click FileSystem.
Step 4: Now, on the Window on your right, identify the LongPathEnabled.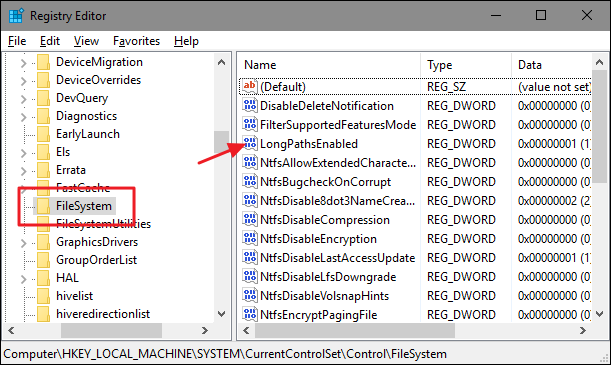 Step 5: Then, double-click on it, and a new small window will pop up. On that Window, change the value from 0 to 1 in the Value Data box and click the OK tab.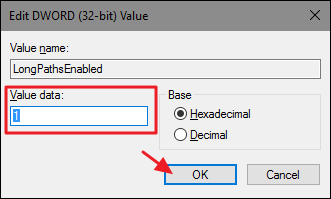 Step 6: Now close the Registry Editor and restart your computer, the Error 0x80010135 path too long error shall be solved.
4. Update the Driver
Outdated drivers might be an underlying cause for the error 0x80010135. Therefore, updating your drivers might be an excellent bet to solve the problem. To do so, you'll need to launch the Update Driver Software Wizard.
Step 1: Type Device Manager in the search bar and launch the application.
Step 2: Then head over to the Network Adapters and double click on it.
Step 3: In the drop-down list, find and right-click on Realtek Pcle GBE Family Controller. And select Update Driver Software to execute the update.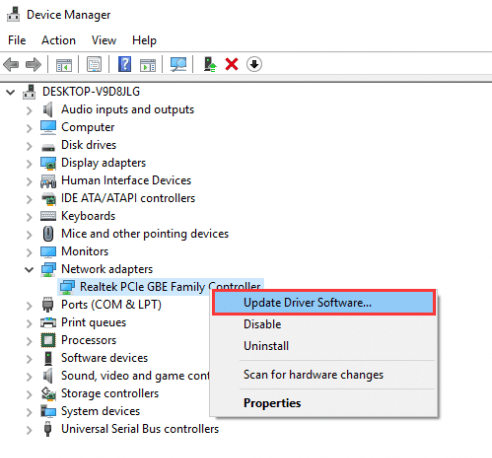 Extra Tip: How to Recover Deleted/Lost Zip Files Quickly
Zip format is pretty essential as it compresses large files without compromising quality or originality. This saves space and makes file sharing more easy and convenient. However, sometimes zip files might get lost due to various reasons, which is upsetting because they contain tons of crucial data compressed.
When such trouble finds you, you don't have to worry too much now as there is a powerful data recovery tool to help you through. AnyRecover is the best data recovery solution you can fully rely on. Trusted by over a million users, this program is 100% safe and requires only simple steps to get all your lost data back. Besides, it's perfectly compatible with both Windows and Mac system.

Key features of AnyRecover
All-in-one data recovery solution: whether you've lost files due to accidental deletion, formatted drive or even system failure, AnyRecover will get your data back.
High recovery rate: all-round and deep scan ensures a full recovery.
Recover from any storage device: SD card, USB flash drive, HDD, CF card, digital camera, etc.
Support 1000+ file types: videos, Office documents, images, archives, PDF files, and more.
Preview before recovery: preview first to recover the files you need exactly.
Frial trial available: recover 8 files for free without size limitation.
Great compatibility: Compatible with both Windows and macOS, including the newest Windows 11.
Step 1. Download and install AnyRecover on your PC. Launch the software, select a location to recover data and click the "Start" button.
Step 2. The program will perform an all-round scan on the selected location. You can pause, resume or stop the scanning anytime you want.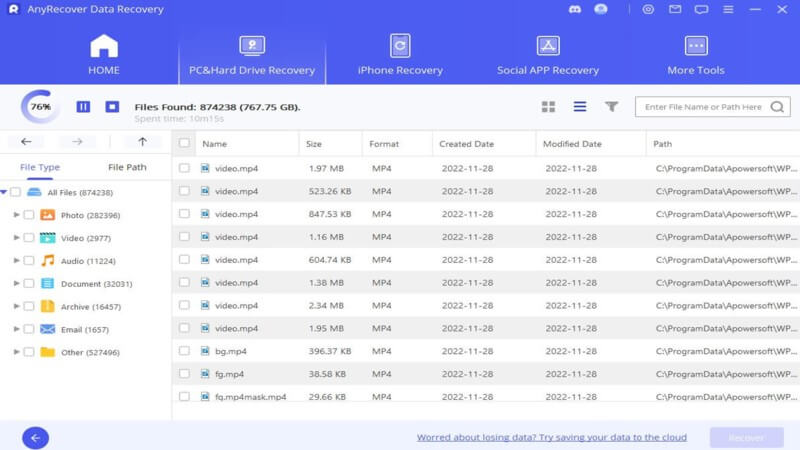 Step 3. When the process finishes, all the recoverable files will be listed. You can then preview and recover what you want by clicking the "Recover"button.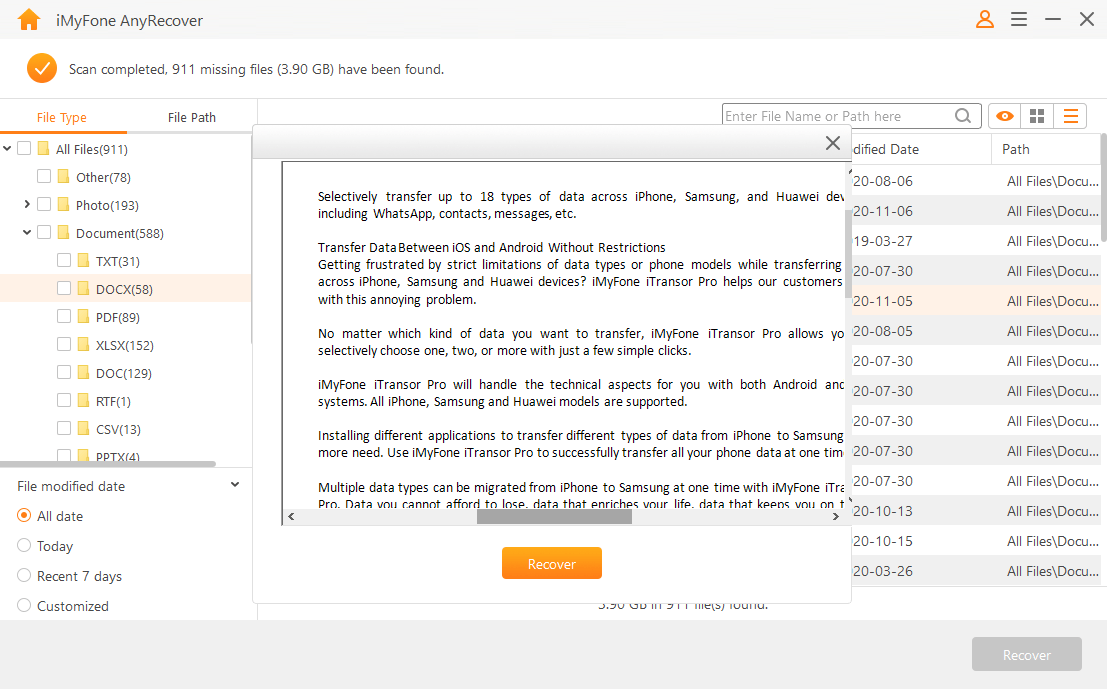 Final Words
By now, you should be able to solve error 0x80010135 with the fixes listed above. If the underlying problem is a system file error and you end up losing data, don't hesitate to use AnyRecover - the best data recovery program ever to get all your data back, in an easy but effective way.