Accidentally deleting your most valuable photos, videos or music on your phone can be traumatizing especially if you do not know how to recover the data. In fact, it is not easy to recover the deleted data without the help of a professional technician and this might cost you some considerable amount of money. Most people choose to use data recovery software, and Asoftech Data Recovery is one of them. But is Asoftech the best choice for you? Read this article before using Asoftech Data Recovery.
1
Asoftech Data Recovery Review
What Is Asoftech Data Recovery?
Asoftech data recovery is an easy-to-use data recovery software that is designed to help those people who have unintentionally deleted their data files, formatted their flash drive containing very important data, emptied the Recycle Bin or those who have restored their phones and want to recover their data. This software can help you recover deleted files from secure digital devices, memory stick, USB hard drives, Zip, Compact Flash, Smart Media, just to mention but a few.   
Features of Asoftech Data Recovery Software
1. Recover data files even when emptied from the Recycle Bin

2. Data files recovery after accidental format or reinstallation of windows

3. Disk recovery even after a hard disk crash

4. Recover data from RAW hard drives

5. Get back your files after a partitioning error

6. Recover your lost data files as a result of Trojan or virus infection, unexpected system shutdown or software issue.

7. Recover your emails, video, music, documents, and photos
Cons of Asoftech Data Recovery Software
1. Doesn't support Mac, If you own a Mac computer, then this is not a software program you should think of downloading or installing. This is because it does not support Mac computers. This software is designed for Microsoft Windows computers. Therefore, if you want to recover deleted files on your Mac computer, then consider using a different software.

2. It doesn't have a money-back guarantee. This is where this software fails miserably. The developers of Asoftech software program do not offer a money-back guarantee on their software. This basically means that you will be buying the product at your own risk and if it does not help you solve your problem, then you have no one to blame or a way to get your money back.

3. The website looks not authoritative. When you take a good look at the website, it looks quite unprofessional and hurriedly put together. It does not look authoritative and lacks professionalism. You might not even know that it is a website for a data recovery software. For those who are keen enough, you will realize that the website even lacks real customer reviews about the product.
2
Best Asoftech Data Recovery Alternative
AnyRecover is the ultimate data recovery software that is designed to let you recover all sorts of data loss. It is very easy to use and uses a unique data recovery algorithm to recover unlimited data. This software can recover lost or removed files on each and every kind of storage medium including memory sticks, memory cards, external and internal hard drives and many more.
Features of AnyRecover
1. AnyRecover offers a free license for data recovery making it the best free hard drive recovery software.

2. This software lets you restore lost, deleted, corrupt or formatted files from any type of hard drive.

3. With AnyRecover, you can recover over 1000 file types including videos, photos, documents, audio files, emails, templates, notes, and so on and so forth.

Use AnyRecover to recover all your lost hard drive files that are corrupt, formatted or deleted easily without the help of a technician.
Steps to Recover Deleted Data
Step 1: Install the software program. Download, install and launch the iMyFone AnyRecover software on your computer.
Download NowComing Soon
Step 2: Launch the program. Start AnyRecover software program and then choose the Deleted Files Recovery mode.
Step 3: Scan the files. Choose and set the path of data location where you want to recover the deleted files and then choose the file types you want to recover. Once you have done that, simply click on the Scan button. This will prompt the software to initiate a scanning procedure to locate and find the deleted data files.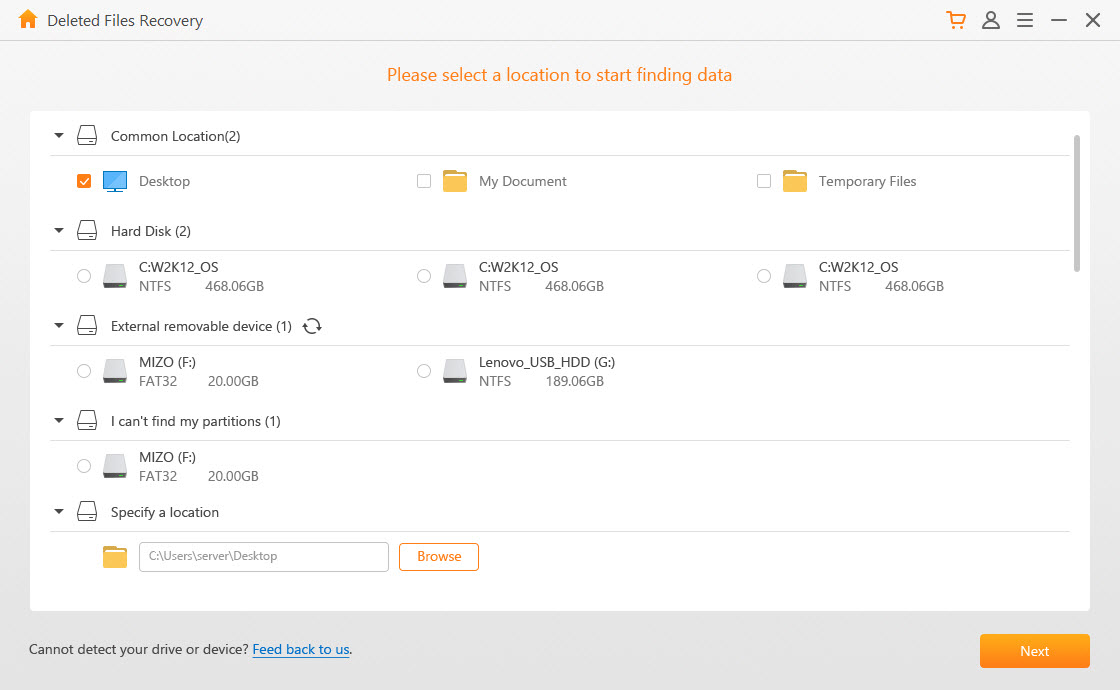 Step 4: Recover your lost files. Once the scanning process is complete, the software will display the retrieved files for you to preview them. You can choose the files you wish to recover and then click on the Recover button.