Accidentally deleting your most valuable photos, videos or music on your phone can be traumatizing especially if you do not know how to recover the data. In fact, it is not easy to recover the deleted data without the help of a professional technician and this might cost you some considerable amount of money. Most people choose to use data recovery software, and Asoftech Data Recovery is one of them. Is Asoftech a great tool to solve your data loss problem? Read on and find out what to expect about Asoftech Data Recovery.
1
Asoftech Data Recovery Review
What Does Asoftech Data Recovery Do?
Asoftech data recovery is an easy-to-use data recovery software that is designed to help those people who have unintentionally deleted their data files, formatted their flash drive containing very important data, emptied the Recycle Bin or those who have restored their phones and want to recover their data. This software can help you recover deleted files from secure digital devices, memory stick, USB hard drives, Zip, Compact Flash, Smart Media, etc.   
Features of Asoftech Data Recovery Software
1. Recover data files even when emptied from the Recycle Bin

2. Data files recovery after accidental format or reinstallation of windows

3. Disk recovery even after a hard disk crash

4. Recover data from RAW hard drives

5. Get back your files after a partitioning error

6. Recover your lost data files as a result of Trojan or virus infection, unexpected system shutdown or software issue.

7. Recover your emails, video, music, documents, and photos
Cons of Asoftech Data Recovery Software
1. Doesn't support Mac. If you own a Mac, then this is not a software program you should think of using. This software is only designed for Microsoft Windows computers. Therefore, if you want to recover deleted files on your Mac, maybe look elsewhere.

2. It doesn't have a money-back guarantee. This is where this software fails miserably. The developers of Asoftech software program do not offer a money-back guarantee on their software. This basically means that you will be buying the product at your own risk and if it does not help you solve your problem, then you have no one to blame neither a way to get your money back.

3. The user interface of the software and the official website may need some updates.
Note
You may wonder if there's a better solution to help solve your data loss problem? Read on to find a better choice :)
2
A Better Alternative to Asoftech Data Recovery
AnyRecover is a powerful data recovery software that is designed to let you recover all sorts of data loss. It is very easy to use and uses a unique data recovery algorithm to recover unlimited data. This software can recover lost or removed files on each and every kind of storage medium including memory sticks, memory cards, external and internal hard drives and many more.
Features of AnyRecover
1. Fast and thorough scan performance.

2. High recovery rate and user-friendly interface - - easy to use, gets the job done!

3. 100% secure and computer-friendly - - won't overwrite your data or carry virus to hurt your computer.

4. 8 files without size limits in the free trial - - can't hurt to give it a go, eh?

5. Perfect compatibility - - works well on Windows 11/10/8.1/8/7/XP, macOS 11.0/10.15/10.14/10.13/10.12, and Mac OS X 10.11 ~ 10.10.

6. A dedicated team of tech support and customer support at your service - - got any questions? Just contact our support team!

7. More powerful features are on the way to meet our users' needs...
Easy Steps to Recover Deleted Data
Step 1: Download and install AnyRecover on your Windows computer or Mac.
Step 2: Launch the program and choose the partition where the deleted data was. Click "Start" and the software will run Quick and Deep Scan.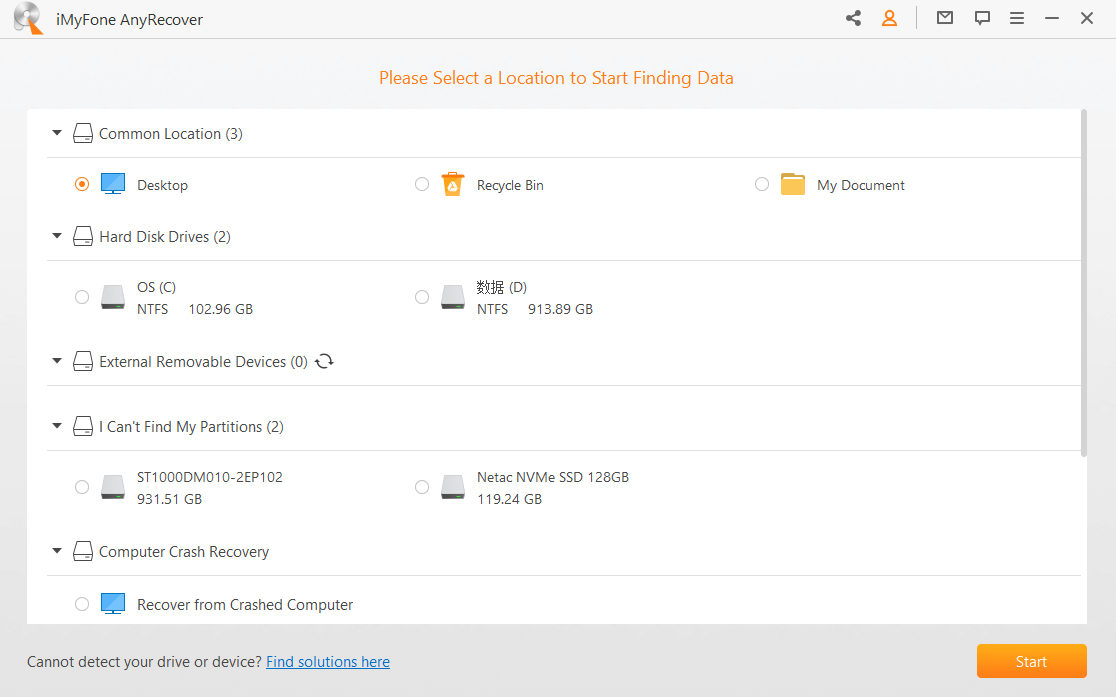 Step 3: Select target files once the scan completed. All the files found in the partition are categorized by File Type or File Path. You can also use the search box or the Status and Modified Date filters to help you locate specific files quickly.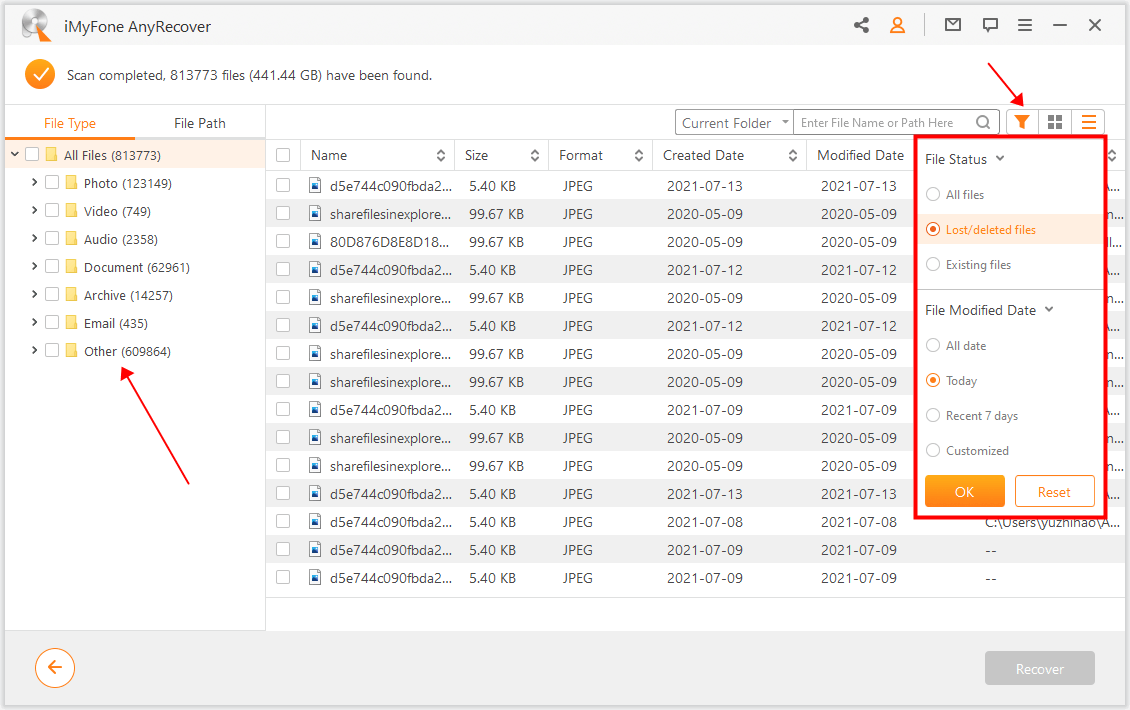 Do you know that you can preview the file before recovering it simply by double-clicking on it?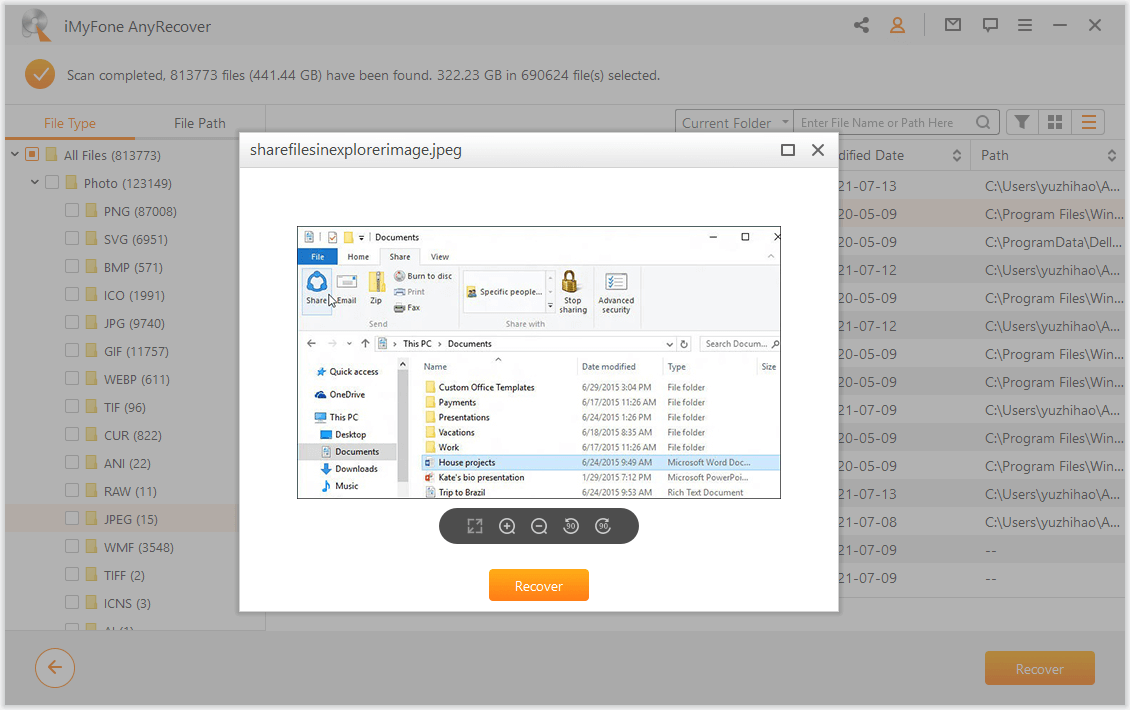 Step 4: Click "Recover" and choose the partition where you'd like to save the recovered files. Then those files will be restored and packed in the folder nice and easy.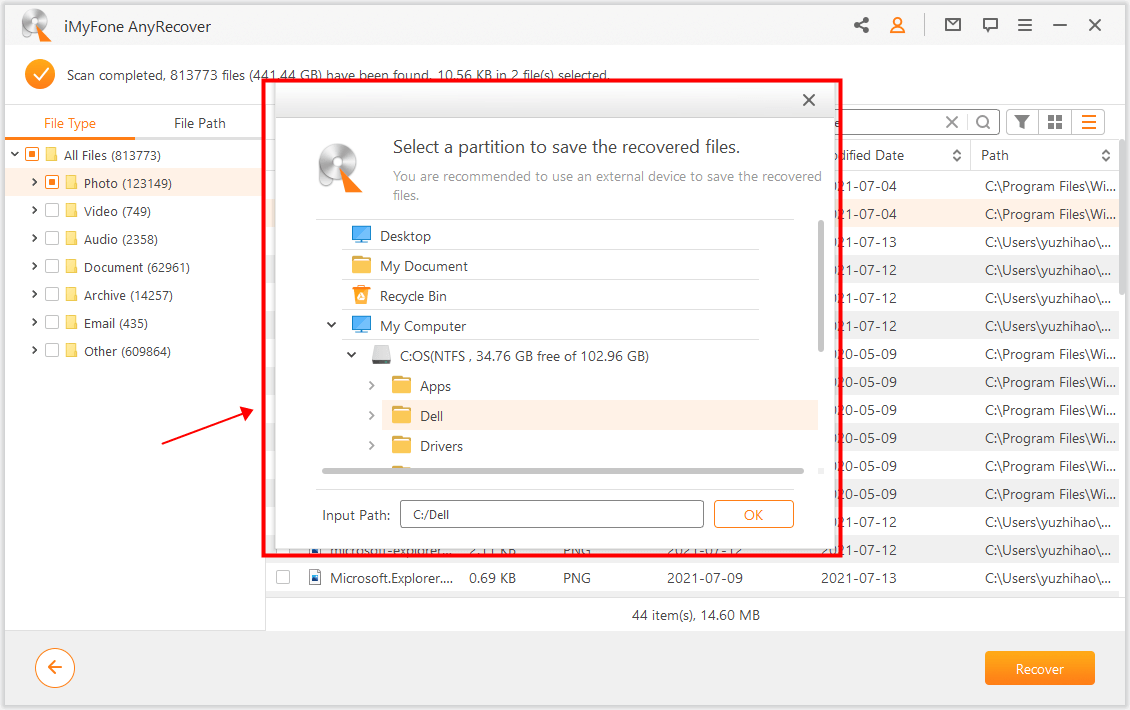 Note
You are advised to save the files to a different drive, or even an external drive to avoid permanently writing over the lost data.
We hope you find our article helpful. Don't hesitate to reach out to us if you have any question :)