Sticky Notes is a popular Windows desktop application that allows you to make different notes and access them whenever you want. However, just like any other type of content, there is a possibility of losing your important notes. In such cases, you will need a reliable way to recover sticky notes on your computer.
1
Recover Sticky Notes on Windows 11/10/8.1/8/7/XP
One of the best ways to recover deleted files (including Sticky Notes) is to use a data recovery software. A data recovery software can help you recover your lost files quickly and safely. It's much more simple than any manual methods. AnyRecover is one of such powerful and easy to use software. This powerful recovery software has six modes, making the sticky notes recovery highly convenient for you.

2,061,704 Downloads
Features of AnyRecover:
Recover virtually any kind of file, including documents, videos, archives, Sticky Notes, music, photos, and more.

Recover your Sticky Notes regardless of how they got deleted, such as system crash, hard drive format, virus/malware attack, hardware failure, etc.

Preview your Sticky Notes before recovering them. This feature makes selective data recovery easier.

100% safe. When you recover files via AnyRecover, your existing data remains untouched so there is no risk of data overwriting.

Free trial version is great for testing the capabilities of the software before buying the full version.
Steps to Recover Deleted Sticky Notes
Step 1. First, download AnyRecover from the following link.When the software is ready to use, select the location for scanning.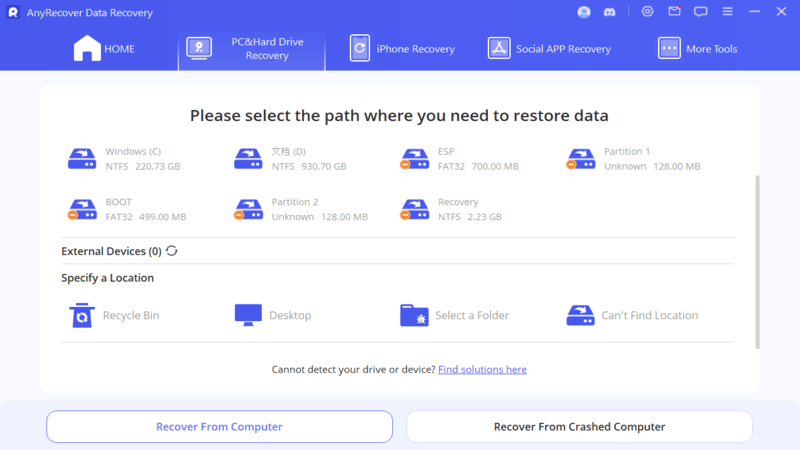 Step 2. After the location is selected, hit "Start" button to start the scanning process.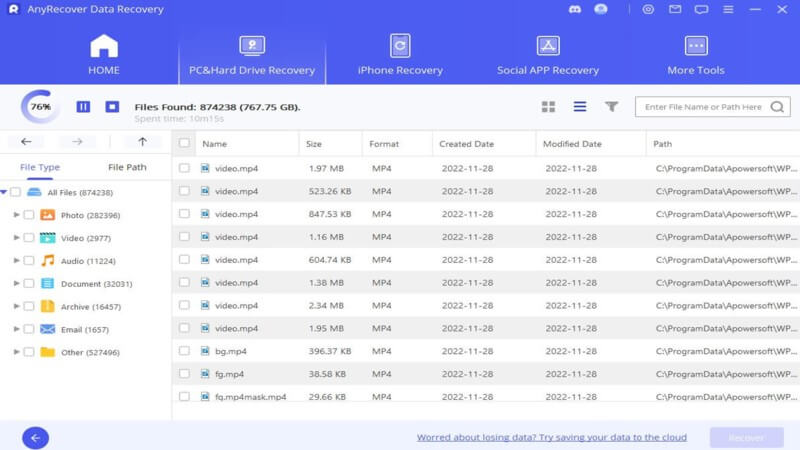 Step 3. It will show all your deleted files after scanning, choose what you want and click on "Recover" button to get your deleted Sticky Notes back.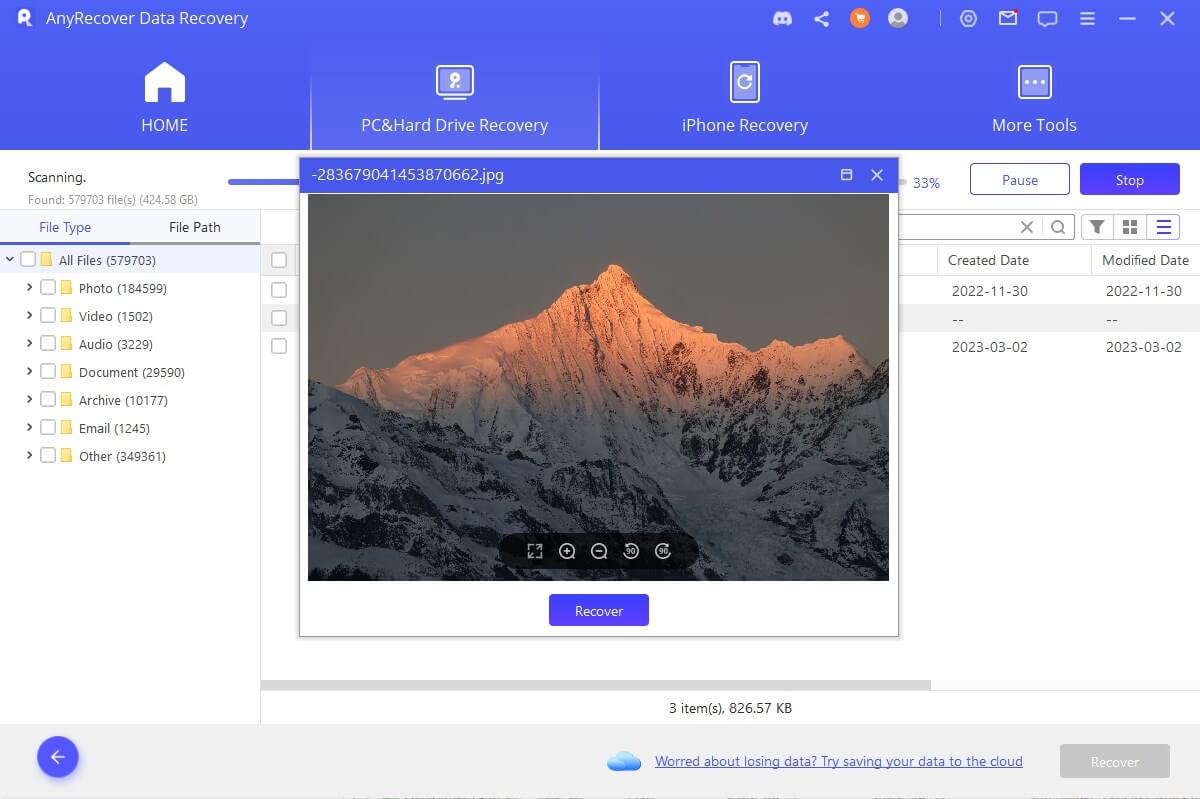 Pros:
You can preview your lost sticky notes before recovering them.
The process is as easy as 1-2-3 and can be finished within a few minutes.
2
Recover with StickyNotes.snt File
This is another method to recover deleted Sticky Notes. Although it is relatively time-consuming process, it may help you recover the notes you want with ease. The process is pretty easy.
Steps to Recover Deleted Sticky Notes
Step 1. On your Windows PC, open the Run prompt using Windows key + R key at the same time.
Step 2. Once it is opened, run this command "%AppData%\Microsoft\Sticky Notes\" to open the Sticky Notes folder.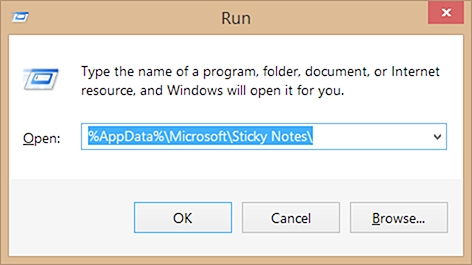 Step 3. Now find the StickyNotes.snt file in this folder. This file contains information about the deleted notes. Once you have found it, right-click on it and open it via a text editor like Notepad, WordPad, MS Word, etc.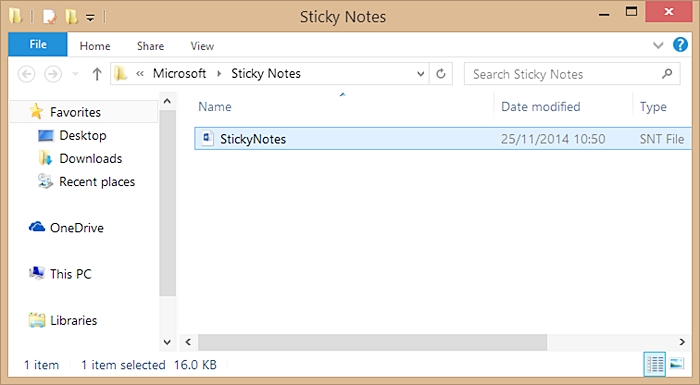 Step 4. The editor you use to open the file will ask you to decode it. Use the on-screen instructions to proceed.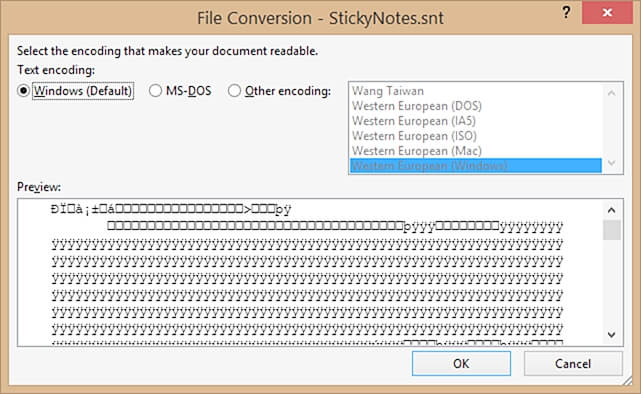 Step 5. Next, filter your data manually as it would be a cipher text. Once you do this, you will be able to recover your desired Sticky Notes.
Cons:
The process is a bit complicated and time-consuming.
Bonus Tip 1: Back Up Sticky Notes to Avoid Data Loss
To avoid the frustration of having to recover your accidentally deleted Sticky Notes, you should create backups. Windows allows you to back up and restore your Sticky Notes. The process to do this is quite easy.
Step 1. Open the Run command and paste this to navigate to the folder: %LocalAppData%\Packages\Microsoft.MicrosoftStickyNotes_8wekyb3d8bbwe\LocalState
Step 2. Next, find and copy the plum.sqlite file and paste the file to your desired folder for backup.
Bonus Tip 2: Enable Delete Confirmation for Sticky Notes
Since accidental deletion is the primary cause behind the loss of important Sticky Notes, it is recommended that you enable delete confirmation for Stick Notes to decrease the risks of data loss.
Step 1. Open the Registry Editor on your computer.
Step 2. Once it is opened, navigate to Current user > Software > Microsoft > Windows > Current Version > Applets and then find the Sticky Notes folder.
Step 3. Click on that folder and change the value of PROMPT_ON_Delete from 0 to 1. You can do this by double-clicking on the value. After this, delete confirmation for Sticky Notes will be enabled.

Conclusion
Based on the above, it is obvious that the problem of how to recover sticky notes on computer can be resolved through these 2 methods. Just choose one method that will be comfortable for you. However, give AnyRecover a try which is convenient for you to recover the sticky notes.
Start a deep scan for free right now!