Have you ever experienced the gut-wrenching feeling of accidentally deleting or losing an important Keynote presentation? It's a situation that many of us have found ourselves in at some point. Whether it's due to a computer crash, accidental deletion, or simply forgetting to save the file, the thought of losing hours of hard work can be overwhelming. Fortunately, there are several methods available for recovering deleted or unsaved Keynote files for PC.
In this guide, we will explore the best ways to recover your Keynote files and get you back on track with your presentation in no time. So, if you're facing the dreaded prospect of losing your Keynote files, keep reading to find out how to recover them.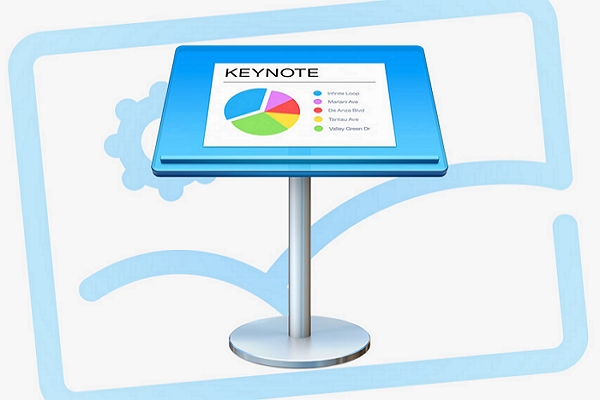 Part 1. Recover Deleted Keynote Files for PC(Mac&Win)
Way 1. Using AnyRecover
If you want to find an all-in-one solution to tackle the problem that lost leynote files, AnyRecover is a perfect candidate. It is the most Cost-efficient Tool to recover data from Mac, Windows and iOS devices. As a dedicated file recovery tool for Mac, this program can easily recover any type of file including Keynote files used on Mac or from other external devices, such as SD Card, USB Drive, SSD and HDD.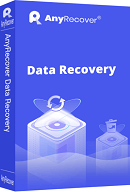 Key Features:
Get back your Keynote files no matter how you lost it: emptied trash, accidental deletion, partition error, system crash, formatted device, etc.
All-in-one data recover tool helps you retrieve data from Mac, windows, iPhone/iPad devices.
Support over 1000 types of files: photos, videos, audio, documents, emails, other files.
Absolute security is guaranteed; no overwriting or damage to the original data.
Fast scanning and recovering speed; simple operating steps.
How to recover deleted Keynote files using AnyRecover:
Step 1: Download, install and launch AnyRecover on your Mac. Choose a location to recover deleted Keynote files and click "Start" .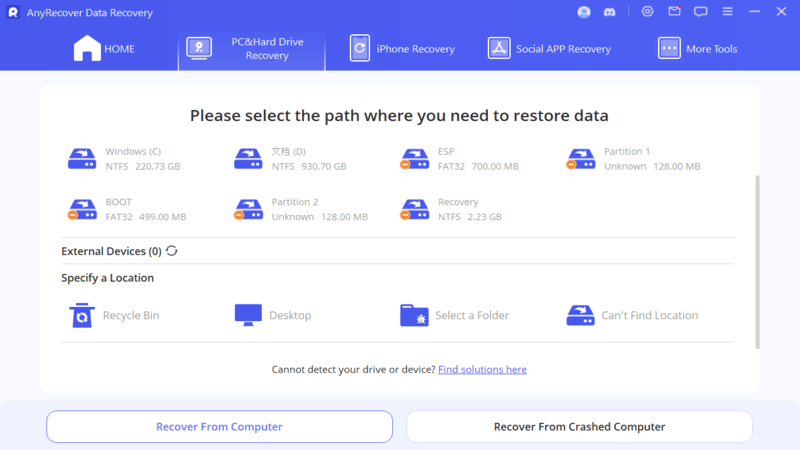 Step 2: Wait for the program to finish the scanning process. It won't take too long and you can stop and resume it anytime you want.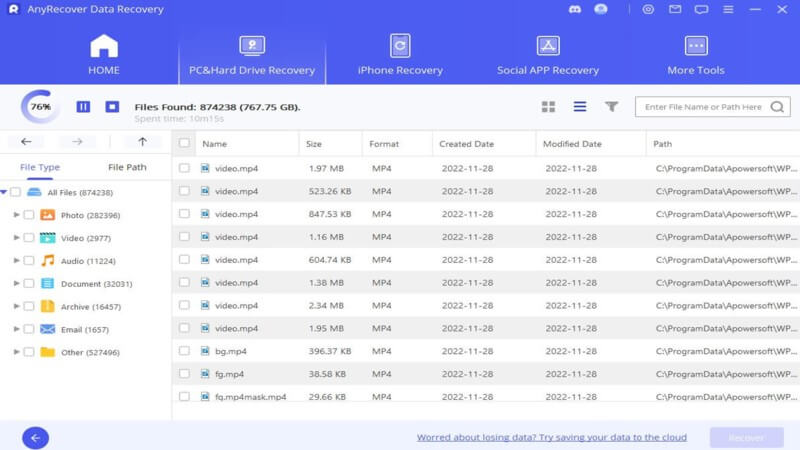 Step 3: Preview the files, choose what to recover and click the "Recover" button.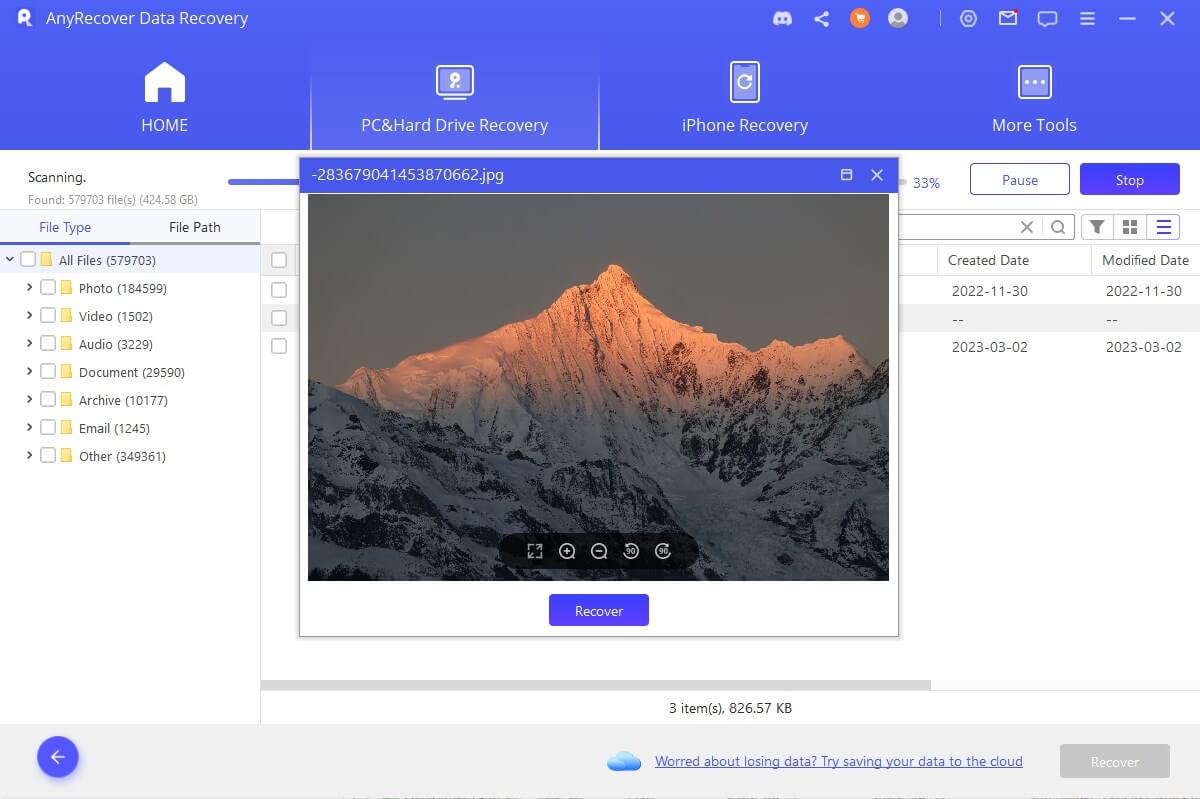 Way 2. Via iCloud
You can also recover deleted Keynote files from iCloud within 30 days of the deletion, as shown below.
Step 1. Log in to iCloud and head to the Account Settings . In the Advanced section, select the "Restore Files" option.

Step 2. Select the Keynote file that you want to restore from iCloud.
Step 3. Finally, click the "Restore File" button.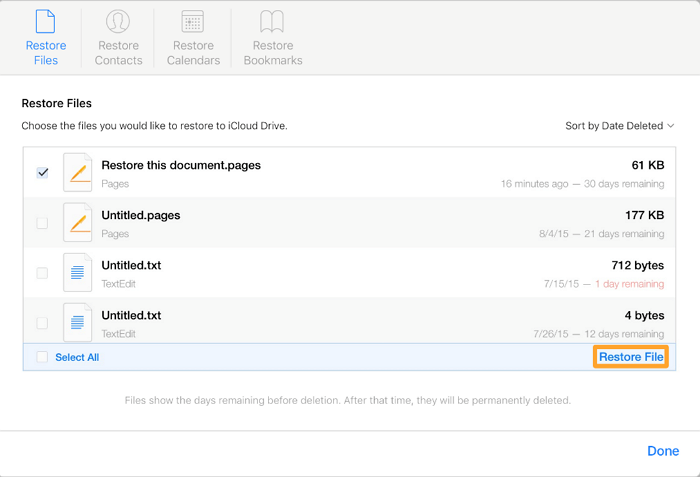 Note
The default storage space in iCloud is only 5 GB and you need to pay to get more space to store more files and therefore increase the chances of success recovery for future use.
Way 3. With Time Machine
If you have permanently deleted a Keynote file, Mac still offers a free alternative to recover it - through the Time Machine feature. It is a Mac utility that allows users to back up files from Mac to a hard drive so that the lost/deleted/unsaved files can be recovered in the event of a serious data loss catastrophe. As long as you have enabled Time Machine on your Mac, this method will work for you.
Step 1. Open the folder where the deleted Keynote was stored before, then click the Time Machine icon on the menu and choose Enter Time Machine .

Step 2. Here, from all the backup files available, locate the Keynote document you want to recover. Preview it and confirm to restore it.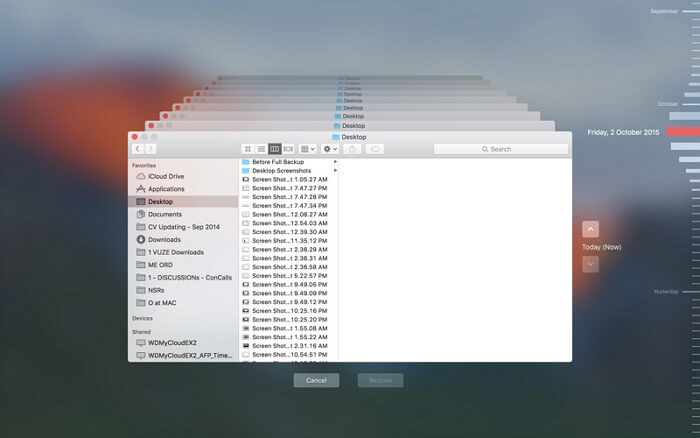 Note
Time Machine automatically replaces the old data with new data when it runs out of backup space.
Way 4. From Trash Bin
Trash is the Mac equivalent of Recycle Bin in Windows systems. When you delete files, they won't get permanently deleted at once but rather go to the Trash first. You can therefore recover them from Trash as follows.
Step 1. Navigate to the Trash bin on your Mac.
Step 2. Find the target deleted Keynote files. To quickly locate the deleted files, change the item arrangement and choose how you want to sort the deleted files.
Step 3. After locating the target deleted Keynote files, simply right-click on that particular file and select the "Put Back" option.
Step 4. When a selected Keynote file is put back, the original folder where this keynote file was initially saved will be opened. You can now open the Keynote file, work on it, and save the changes.
Note
If a Keynote file disappeared after you emptied the Trash or Trash automatically deleted the file permanently after it stayed there for more than 30 days, then you are not able to recover it with this method.
Part 2. Recover Unsaved Keynote Files
Way 1. From Autosave Folder
Like several other systems, Mac has an auto-save feature that makes it possible to retrieve files if you accidentally quit. This is true for Keynote files as well. By default, Mac's autosave feature is enabled unless a user chooses to disable it.
Step 1: Start by opening Finder on your Mac. Head to the "Go" and then select the "Go to Folder" option.
Step 2: In the displayed folder path field, enter the following autosave folder location: "~/Library/Containers/com.apple.iWork.Keynote/Data/Library/Autosave Information" . Click the "Go" button below it.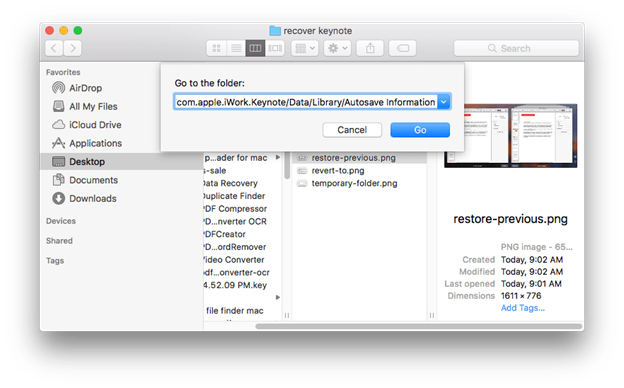 Step 3: Locate the unsaved Keynote document, open it with iWork Keynote then save it.
Note
The auto-save feature will only work if the target file was saved properly with a name.
Way 2. From Temporary Folder
Alternatively, you can recover the unsaved Keynote presentation from a temporary folder as follows.
Step 1: As usual, open Finder on your Mac, then head to the Applications section and choose Utilities .
Step 2: Now open Terminal on your Mac and input the command "open $TMPDIR" . Confirm to run the command.
Step 3: Locate the Keynote file in the displayed temporary items and save it properly again.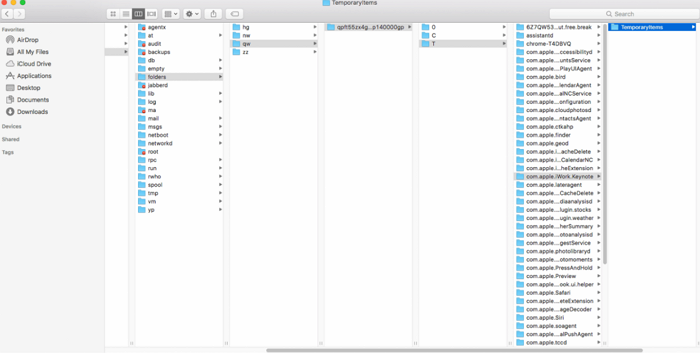 Part 3. The Causes and Solutions for Keynote Couldn't Read the File
There could be several reasons why Keynote is not able to read your file. Here are some common reasons why Keynote may not be able to read a file:
Compatibility issues: Keynote may not be able to read your file if it is not compatible with the version of Keynote you are using or the operating system you are running. For example, if you are using an older version of Keynote, it may not be able to read files created in a newer version. Similarly, if you are trying to open a Mac-specific Keynote file on a Windows computer, Keynote may not be able to read it.
File corruption: If the file is corrupted or damaged, Keynote may not be able to read it. File corruption can happen due to several reasons, such as an incomplete download or transfer, a virus or malware infection, or a hardware failure.
Insufficient permissions: If you do not have sufficient permissions to access the file, Keynote may not be able to read it. This can happen if the file is stored in a restricted location or if your user account does not have the necessary privileges.
Keynote software issues: If there are bugs or glitches in the Keynote software, it may not be able to read the file. Additionally, conflicts with other applications or system settings can also cause issues with Keynote.
Here are a few steps you can take to troubleshoot the issue:
Check file compatibility: Make sure that the file is compatible with the version of Keynote you are using and the operating system you are running.
Repair the file: If the file is corrupted or damaged, try repairing it using file repair tools or software. There are several tools available online that can help you repair damaged files. Highly recommend using Anyrecover to fix corrupted keynote files. Aside from recovering data,Anyrecover supports repairing damaged files.
Check permissions: Make sure that you have the necessary permissions to access the file. If not, try changing the file permissions or copying the file to a location where you have the necessary permissions.
Check for software updates: Make sure that you have the latest version of Keynote installed on your computer. If not, try updating the software to the latest version.
If none of these steps work, you may need to seek additional help from Apple support or a technical expert.
Part 4. FAQ about Keynote Files Recovery
1. What is keynote?
"Keynote" refers to Apple's presentation software, which is part of the iWork productivity suite. It is used to create visually appealing and interactive slideshows for presentations and events. Keynote offers tools for designing and formatting slides, adding multimedia elements, and exporting presentations to various formats. "Keynote" can also refer to the main speaker at an event who delivers the keynote address, setting the tone for the program.
2. Does keynote autosave files?
Yes, Keynote automatically saves files. Apple has an auto-save feature that automatically saves Keynote files when you quit without saving the changes. When you first saved the Keynote document in a folder and named it, the autosave feature takes over thereafter to save you from manually saving the changes. The version of the document is saved at least once every single hour.
Therefore when you close a Keynote document accidentally, you can go back and revert to the previous latest version. A user can browse through several of these versions and revert to the very version they need. This auto-save feature is enabled by default, and users can choose to disable it. But it's suggested that you should make sure you enable it for future use of recovering unsaved Keynote files.
3. How to view Keynote Presentation on Windows/PC?
In Windows 11/10/8.1/8/7/XP, you can open a Keynote file using Microsoft PowerPoint or the free LibreOffice Impress application. Other apps may open it but may not use the original features of the Keynote presentation. Microsoft PowerPoint will allow you to save the file in PPT or PPTX format while LibreOffice gives ODP and ODPX.
Conclusion
This article has given you a detailed while clear guide on how to recover Keynote files with ease. You can try those methods above one by one to see if they work for you and which one you like the best.
A high-quality tool is capable of yielding twice the result with half the effort. AnyRecover for Mac provides the most convenient and effective fix to problems concerning deleted/unsaved Keynote. For any other data loss issues, this tool will also help.
Just download it and have a try!