Hi AnyRecover, my notes disappeared from Mac after update. Can you help me find them back? Any help would be greatly appreciated!
One of the things that can easily get Mac users worried about is missing or deleted notes. This could be as a result of upgrading your mac OS, accidentally deleting notes or whatever might be the cause. Notes can be really precious and of great value. This would ordinarily make any user want to recover the notes back without undue stress. This article would go into step-by-step explanation on how to recover notes on mac after update or in other cases.
4 Methods on How to Recover Notes on Mac
1

Recover Deleted Notes on Mac Using Software

AnyRecover for Mac is a data recovery tool that can be used in recovering deleted files, formatted data or any form of lost data (malware attack or virus, power outage). It has an incredible 98% recovery rate and can recover data from your SD card, hard drives, various Mac models like MacBook Pro, MacBook Air, etc.

It goes without saying that your best bet to recover your deleted notes on Mac is AnyRecover. This software has been tested, still being trusted and used by the best of professionals.

Get AnyRecover with 20% off now, recover notes on Mac in a few clicks.

Here is your 20% off coupon code: ANY-ART-D20
How to Undo Deleted Text in Notes on Mac?
Download, install and launch AnyRecover program on your Mac, then carefully follow the steps explained below:
Step 1. Select a Location
The AnyRecover software will display several recovery locations for you. You can choose the suitable option according to your need.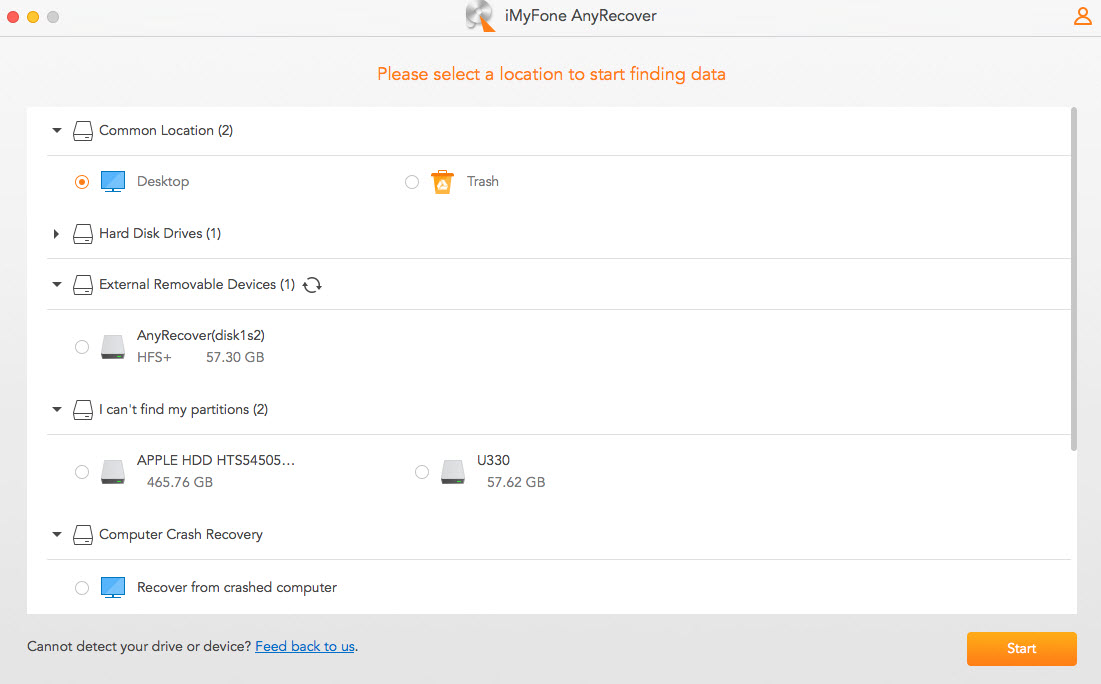 Step 2. Scan the Selected Location
AnyRecover will begin scan on the selected disk. It may require some time depending on the size and quantity of files on the disk. You can also pause or stop the scanning process once you found the files you want.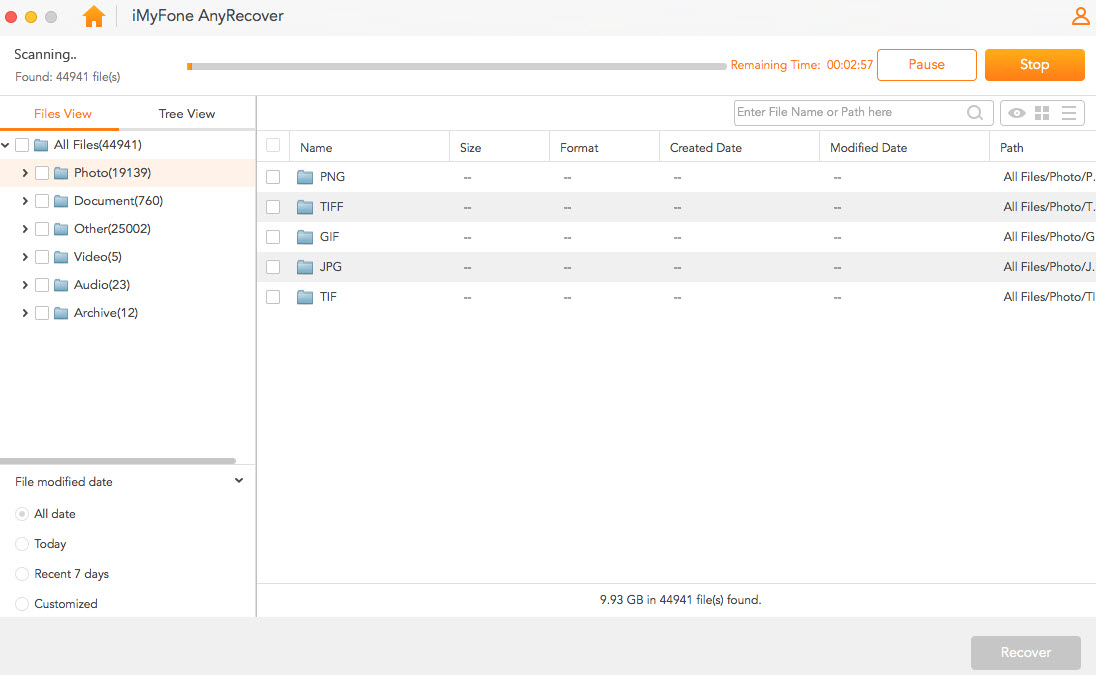 Step 3. Preview and Recover
After scanning, you can now preview the notes and select the files you want to recover, then click on "Recover" button.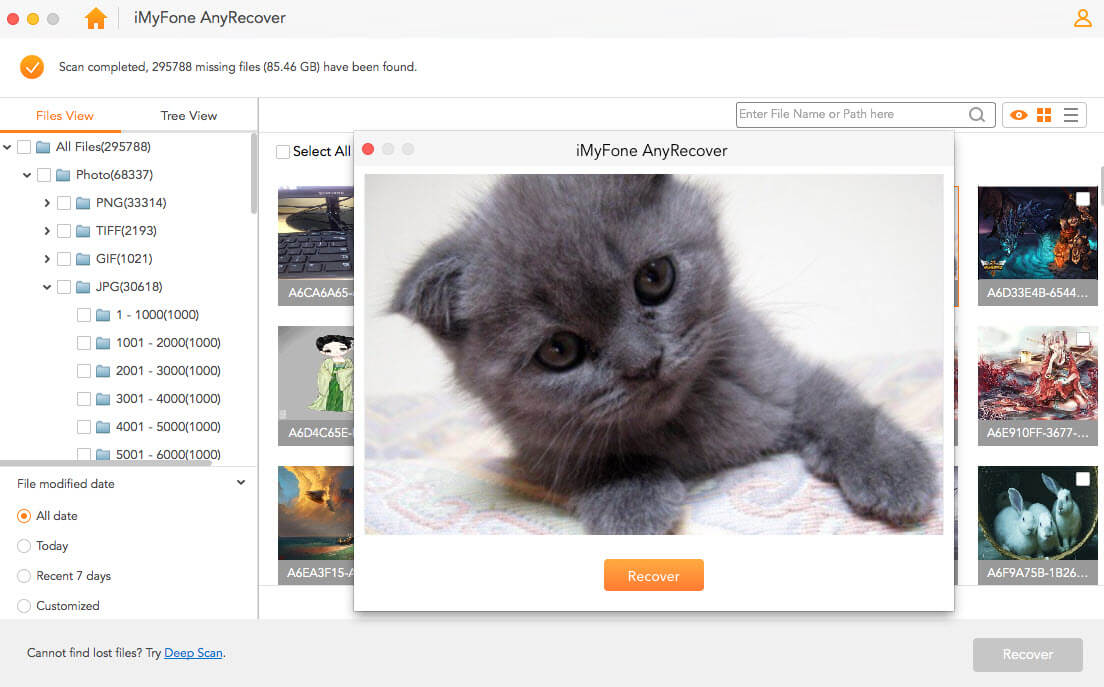 Note: To avoid overwriting your lost files, stop using your computer immediately after the notes disappeared from mac.
2

Recover Deleted Notes on Mac from Recently Deleted Folder

Deleted notes can also be restored to your Mac directly from Recently Deleted Folder. Thus, if you follow this procedure immediately after you observe the missing notes or delete them, you should still be able to get them back. Here's how:

Step 1: Open your Notes app on your Mac, click on Recently Deleted.

Step 2: Here you'll find your deleted notes, then drag the deleted notes from Recently Deleted folder to another folder in the sidebar.

Cons:
You can't find your deleted notes on the recently deleted folder 30 days after you delete them, as the program only keeps stuff for 30 days after deletion.
3

Recover Your Deleted Notes from Trash on Mac

Another method to restore your missing notes is recovering from Trash on MacBook, even if the notes were subsequently emptied amongst other files from the trash. The Quick action tool enables Mac users to recover files from being permanently lost.
How to Recover Your Deleted Notes from Trash on Mac
If the trash bin has not been emptied, the notes can be easily restored.
Press "Command-Z" or click "Edit" from the menu and select "Undo" from the dropdown options.

If this does not work, you can got the trash bin and restore your notes by clicking the "Put Back" button or dragging the files onto your desktop.
Note:
If the files have been emptied from your trash, you may recover your notes using the AnyRecover software or the Time Machine.
4

Restore Deleted Notes on Mac from the Time Machine Backup

The Time Machine was created with the Apple OS X operating system as a backup software application which creates a backup for all your files in an external hard drive. All backed up files with Time Machine can be restored including your lost notes (assuming they were regularly backed up).

Here are detailed steps you can follow to restore notes from Time Machine backup:

Step 1: Click on Finder > System References > Time Machine.

Step 2: Check the box next to Show Time Machine in menu bar. Then select the option "Enter Time Machine" from the Time Machine menu.

Step 3: Locate a version of the Notes storage folder that just precedes your deletion using the timeline on the edge of the screen.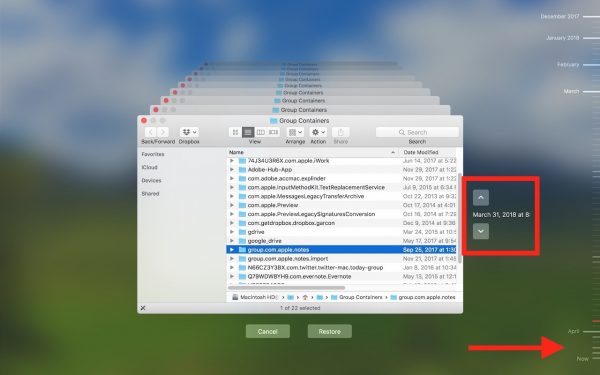 Step 4: Click Restore to restore the selected notes. Your missing notes should reappear once you launch the Notes app.
Note:
You can restore deleted notes from time machine backup only if you have backed up your files via time machine before deletion.
Frequently Asked Questions about iMyFone AnyRecover
1. Can AnyRecover Restore Deleted Files without Any Backup?
After the files were deleted, they are just hidden and we can't see it. However, AnyRecover can discover and retrieve them no matter you have backed up them or not.
2. If I Emptied Trash on Mac, Can I Get Deleted Notes Back?
Even if you emptied the trash on your Mac, these deleted or emptied files still exist on your Mac. With an advanced deep scan algorithm, AnyRecover can go deep into the data structure to retrieve them back.
3. Can I Recover Files Deleted A Long Time Ago?
AnyRecover can recover any lost files only if the allocated memory space of these files were not overwritten by new data. Please kindly notice that the data recovery depends on the availability of allocated memory space on the files but not the date of their deletion.
Conclusion
If you discovered that your notes disappeared from MacBook Air/MacBook Pro after update or you deleted them intentionally or accidentally, do not be scared, it is not a fatal blow to your precious collection. This article goes into detail and simplifies the procedure you can follow to recover the deleted notes. AnyRecover Data Recovery Software is the recommended tool for perfect results because of its high recovery rate and a free trial version exists for new users.