There is no doubt that you would want to take down important notes while surfing the web or exploring your system. If you're using a Windows computer, it's highly possible that you're a frequent user of the Sticky Notes as they can help in ensuring that you don't miss out on vital details. The problem is that they could easily be deleted by mistake or they may disappear after some time, especially if you're updating the operating system to the newest version, say, Windows 11 and you're experiencing some hiccups, which means you are at risk of losing whatever you must have put in the sticky notes.
Have your Sticky Notes disappeared in your system and you just don't know how they can be recovered? In this post, you'll learn how such challenges can be resolved in the best way possible.
Part 1: How Do You Lose Sticky Notes
The truth about sticky notes disappearance is that there are possible causes. Trying to know all of these will help to put you on a safe side. This will enable you to know how it can be handled. Some of the causes of sticky note disappearance are:
When the close button gets clicked on and sticky note is removed from your task bar.

When you decide to get the text on such sticky note deleted. Deleted texts from sticky notes can't be recovered.

Accidental deletion from your system.
Part 2: How to Recover Sticky Notes Disappeared?
1

Recover Deleted Sticky Notes with AnyRecover

Just as mentioned above, sticky notes are difficult or almost impossible to recover when deleted from a system. This is perhaps where you will need an advanced tool that can make such a recovery process smooth.

AnyRecover is a very useful tool when it comes to recovering not only sticky notes but other types of files. This is due to its features which are very advanced. It has been developed to ensure that your file recovery needs are met completely. Some of its features are:

Key features of AnyRecover:
AnyRecover is utterly developed to recover over 1000 different file formats of photos, videos, documents and emails, etc.
You could also preview your data before recovering it.
This software is developed to recover all the data in its original form without overwriting it.
It is 100% safe and easy to use.
Supports Windows 11/10/8/7/XP and MacOS.
How to Recover Deleted Sticky Notes with AnyRecover
Using AnyRecover isn't complicated as you can easily recover your lost files with the click of few buttons. Below are the steps you can follow:
Step 1: Download AnyRecover, launch it and choose the location that you would want such file to be recovered from by AnyRecover. It could be from your PC external device like USB flash drive, memory card, smartphone and others.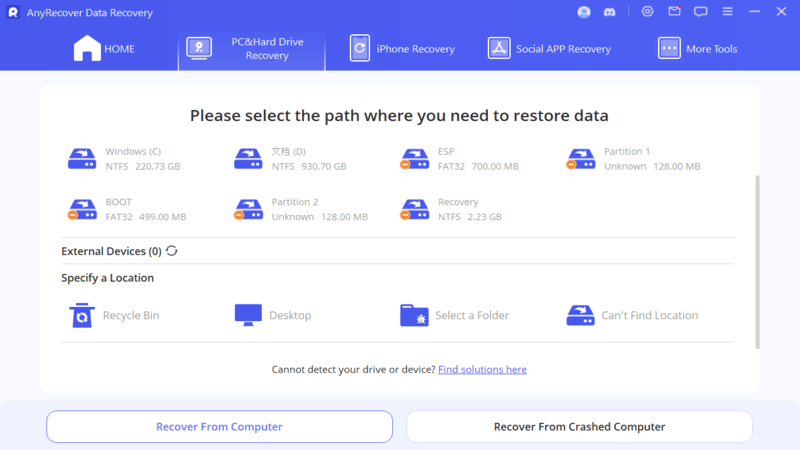 Step 2: After choosing the device, hit "Start" button to start the scanning process.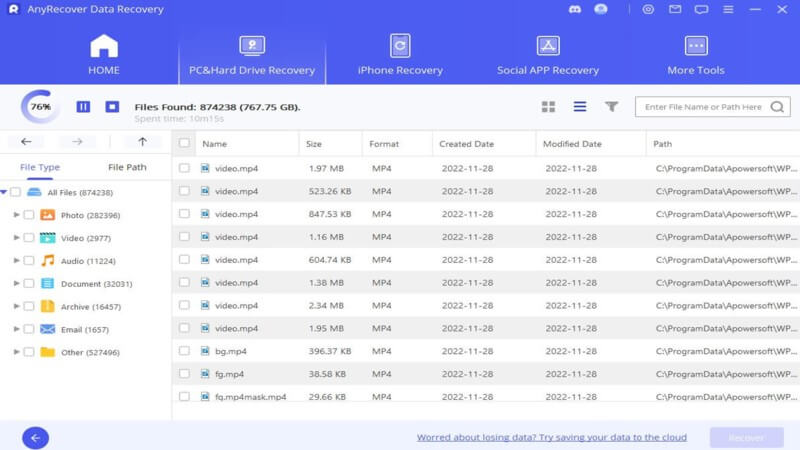 Step 3: Once AnyRecover is through with the process of scanning your device for lost files, it will display files that have been found. Files which have been found can be previewed before hitting the "Recover" button.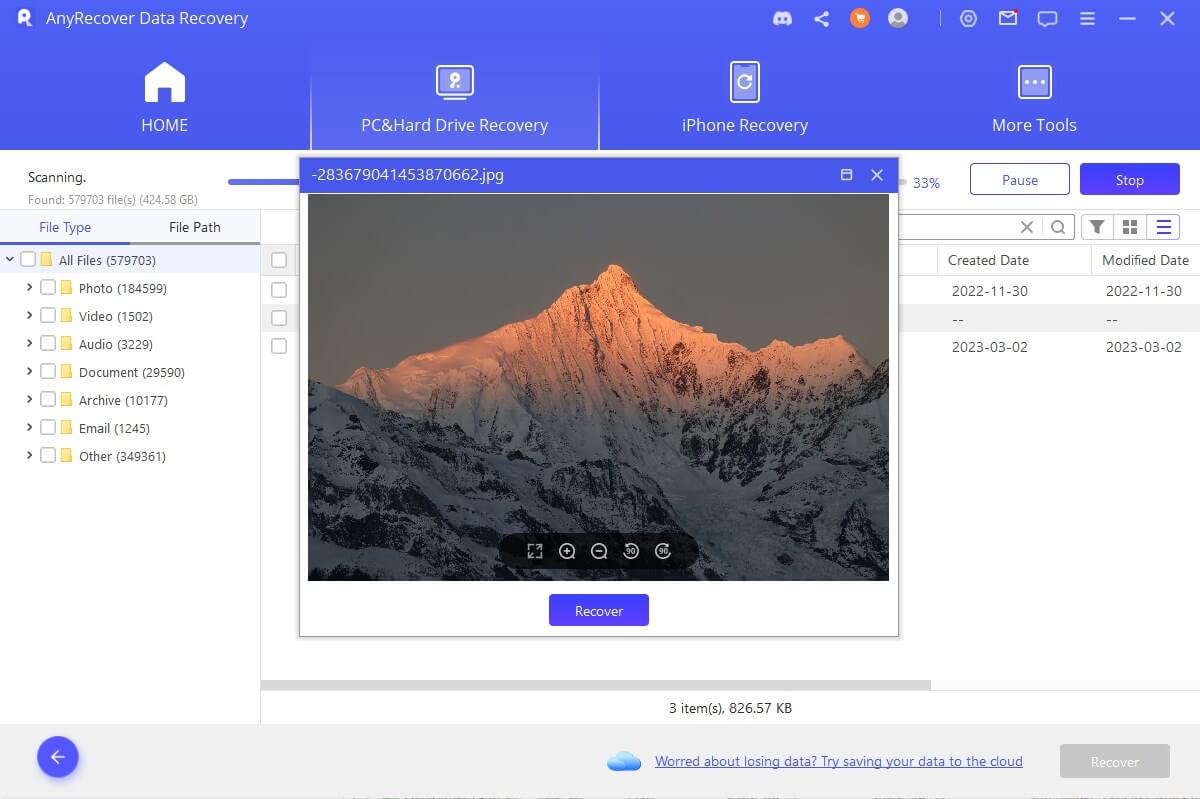 2

Recover Missing Sticky Notes from SNT File

Another method that you can adopt to recover missing sticky notes is through SNT file. It is a simple method once you understand the process. It is a folder where sticky notes can be found in your PC. Below are the steps through which such folder can be located.

Step 1. File explorer should be opened. After that navigate over to C:\Users\\AppData\Roaming\Microsoft\Sticky Notes.

Step 2. StickyNotes.snt file should be located and right clicked on.

Step 3. Restore Previous Version should be selected.
3

Recover Closed Sticky Note from All Notes

This is another method that you can try out whenever you notice that sticky notes disappeared. Although it is quite simple and straightforward, you want to follow the exact steps to ensure that there is no complication.

Step 1. The sticky notes application should be opened.

Step 2. On your task bar, right click stick notes application, then choose "All notes".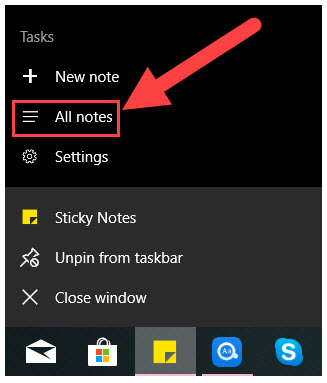 Step 3. A list of various sticky notes is going to show including the one which you've closed before.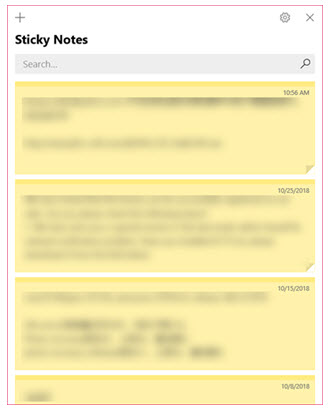 Step 4. Get the sticky note which you would want to be recovered double clicked on. It will display as standalone.
Bonus: How to Create a Backup of Your Sticky Notes?
Creating a backup of your Sticky Note is very easy. This process will help ensure that anytime it can't be recovered, you can use the one that has been backed up in the past. Below are steps to get it done.
Step 1. Run command should be opened. This can be done through Windows + R keys on your keyboard.
Step 2. After %LocalAppData%\Packages\Microsoft.MicrosoftStickyNotes_8wekyb3d8bbwe\LocalState has been typed, the OK button should be clicked on.
Step 3. plum.sqlite file should be right clicked on after which copy will be selected.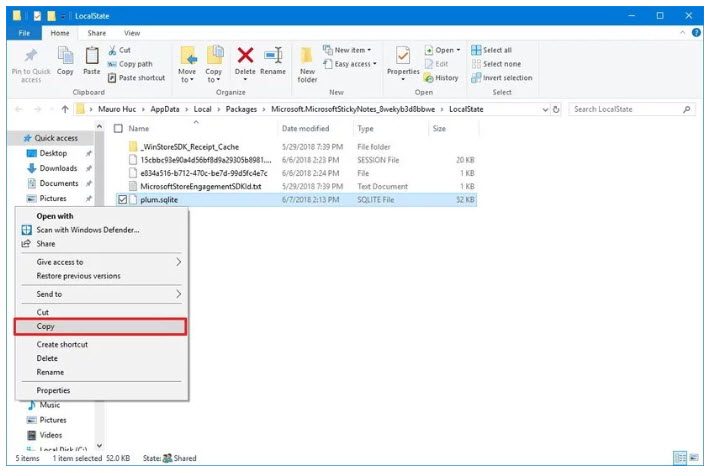 Step 4. Through Windows + E (File Explorer), a folder location should be opened through which the backup can be exported. USB flash drive can be used for this.
Step 5. Inside the folder location, Ctrl + V should be selected.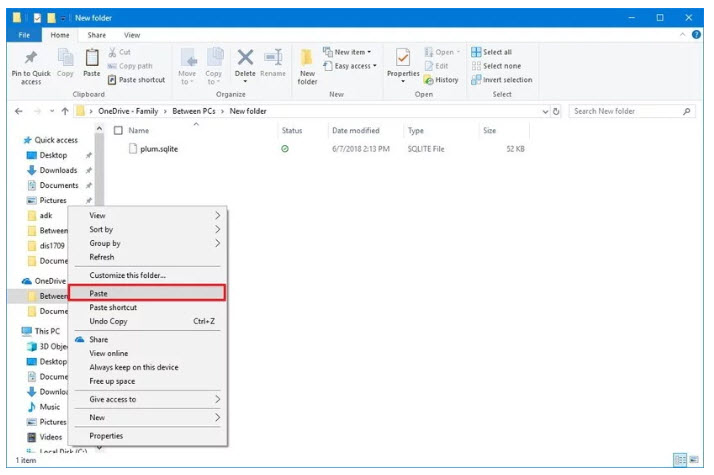 Once these steps have been followed, you will be able to get a backup created for your sticky note.
Conclusion
If your Sticky Notes disappeared in your system, it can be easily tackled with knowledge about the right methods. It should be noted that all of the methods above aren't the same in terms of effectiveness. This is why you may need a tool like AnyRecover to help out in recovering lost sticky notes.
Don't hesitate to try AnyRecover!