Problem
I deleted a file and it is not in the recycle bin. Where do deleted files go if not in recycle bin? How to recover recycle bin deleted files?
Windows users can easily restore those deleted items through Recycle Bin, as in most cases deleted files are stored there before they get permanently deleted. However, many a user also complain that deleted file is not in Recycle Bin.
Where do delete files go if not in recycle bin? In this post, we'll try to explain exactly why deleted files are not in Recycle Bin. Besides, we'll also guide you to recover deleted files. Let's get started!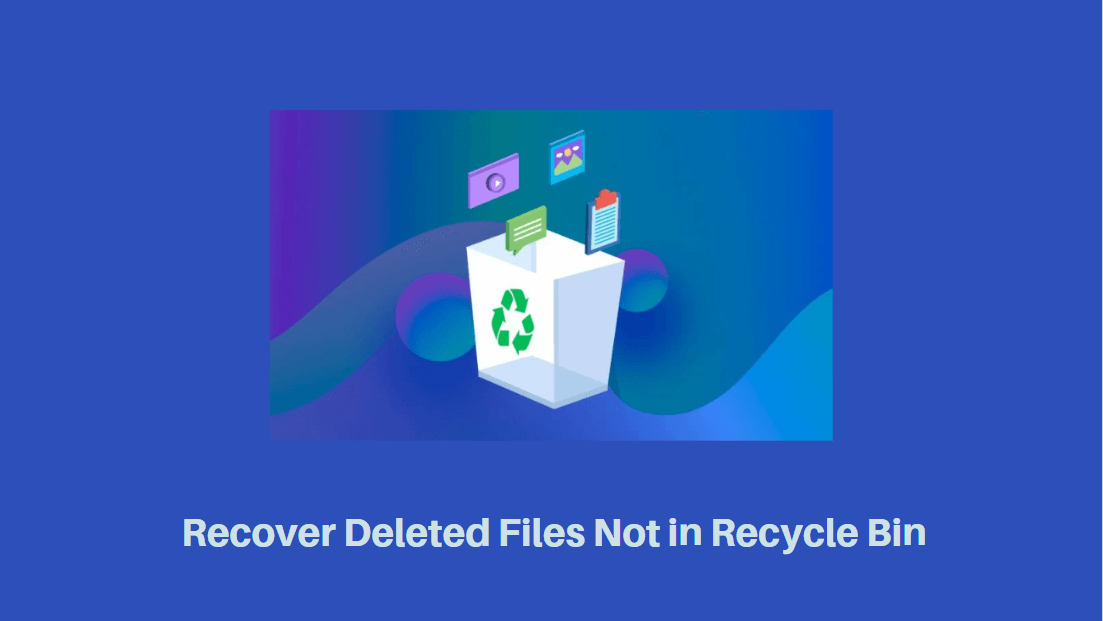 Part 1. How to Recover Deleted Files Not in Recycle Bin
Since your deleted files don't show up in the Recycle Bin, you are unable to restore them directly. But don't give up, one can always find more solutions than problems. In this section, you will learn several methods to find or recover deleted files that are not in Recycle Bin.
1.1 Recover Recycle Bin Deleted Files with Software [Easiest]
To effectively address the problem that deleted files are not in Recycle Bin, here we highly recommend a professional tool -  AnyRecover. As an all-in-one data recovery expert, it supports recovering data from windows/Mac computers, iPhone/iPad devices, SD card, external hard drive, USB drive and more. AnyRecover aims to spare every one of data loss worries.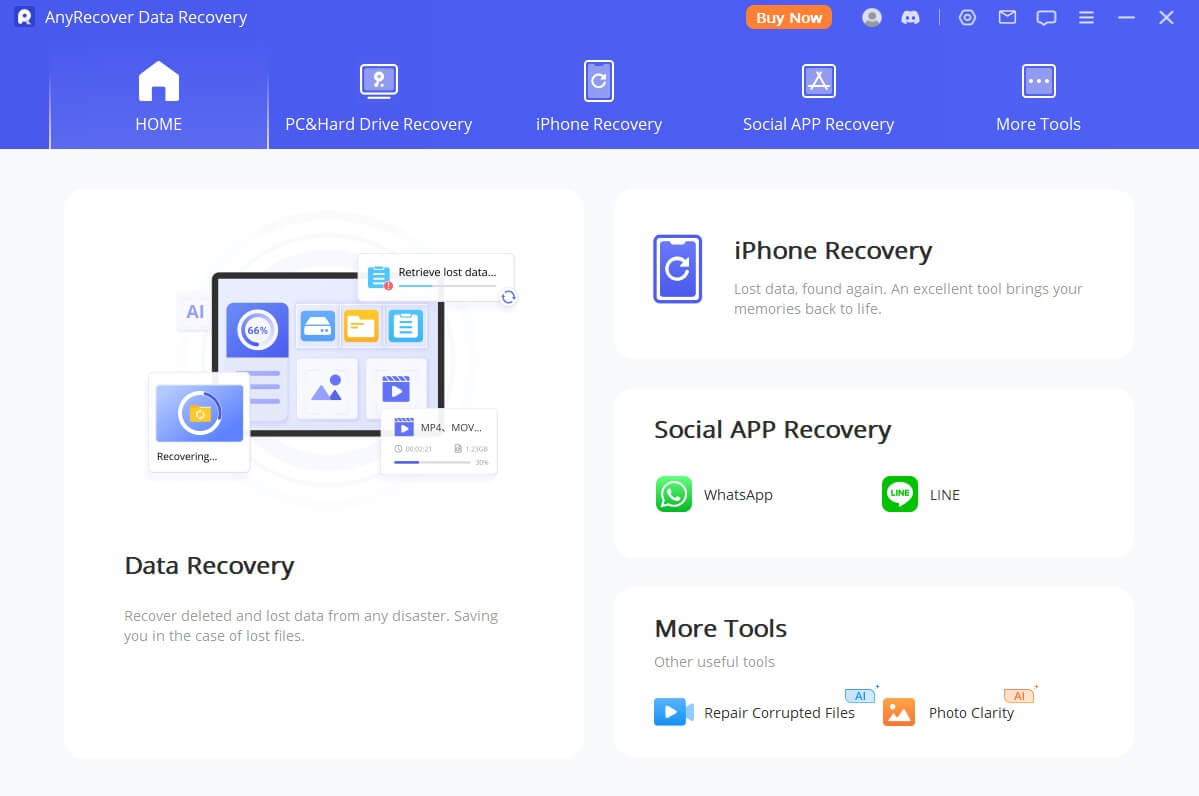 On the one hand, you can use AnyRecover to perform an exhaustive scan on your computer, which will help to find all the deleted files not in Recycle Bin on Windows 11/10/8/7 and Mac, no matter if they're lost, hidden, or even corrupted. On the other hand, if the disappeared files get permanently deleted, AnyRecover is capable of recovering them in an easy and fast way.
In a word, AnyRecover will fix all the annoying issues for you. Let's check more features of it:

AnyRecover Key features include:
Recovers data in 1 click in various situations including from emptied Recycle Bin, formatted SD card and crashed computer.
Restores lost data from any storage devices, like USB flash drives, HDD/SSD, and digital cameras.
Supports more than 1000 file types, including documents, pictures, videos, emails, and audio files.
Besides restoring recycle bin deleted files, effortlessly repair corrupted files is supported, even if they're not in the recycle bin.
Recover data from mobile phones, social apps are supported in the meanwhile. What a one-stop data recovery software!
Adopts all-around scan and deep scan simultaneously, which ensures high success rate and fast running speed.
Enables users to preview all the scanned data and selectively recover desired data so that you can save storage for your computer.
Note
It's recommended to use AnyRecover to recover recycle bin deleted files since it is the only one-stop data-recovery software on the market. You don't need to download various apps to recover different devices.
Step 1. Open AnyRecover and choose a location to recover the deleted files. You can choose "Recycle Bin" or choose a hard disk drive which you have deleted the files from. Then click "Start" to begin the scanning process.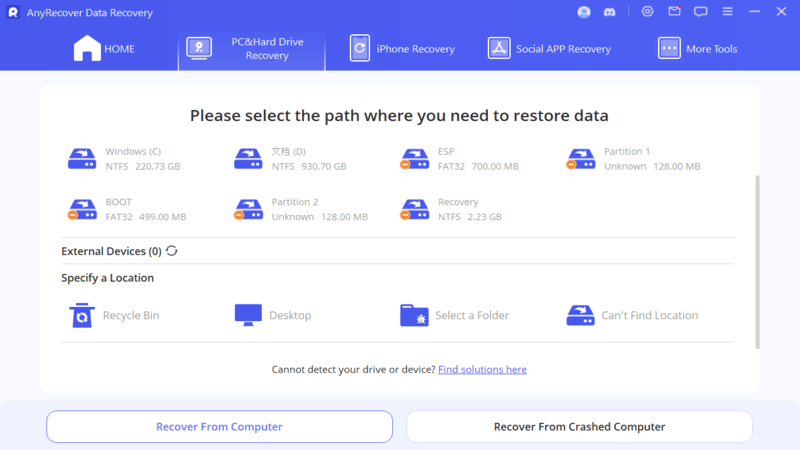 Step 2. The program will begin the all-around scan and deep right away.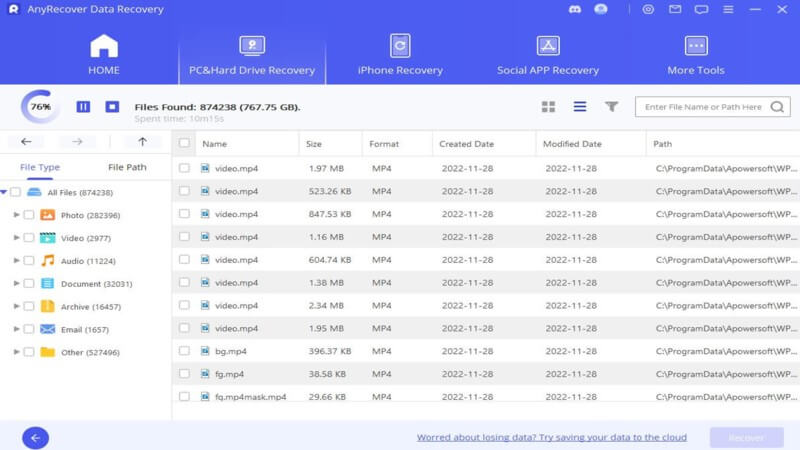 Step 3. Once done, you can use the search feature to find the deleted file. Preview it and click the "Recover" button to get it back.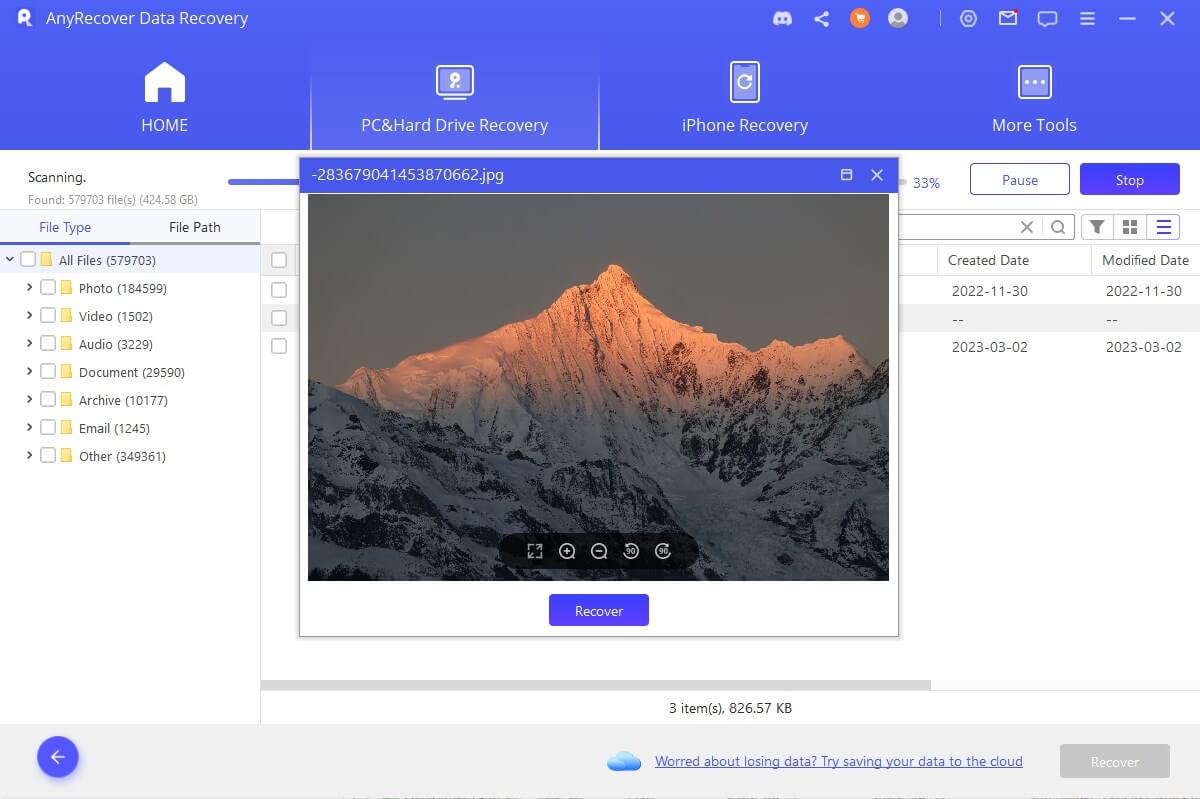 1.2 Retrieve Deleted Files From Previous Versions
First, you can recover deleted files not in Recycle Bin using Windows Previous Versions feature. It creates a restore point that deals with data and settings in a specific past state for recovery.
Step 1: Right-click on the folder where the deleted file was located and click "Restore previous versions". Then a recovery option will appear.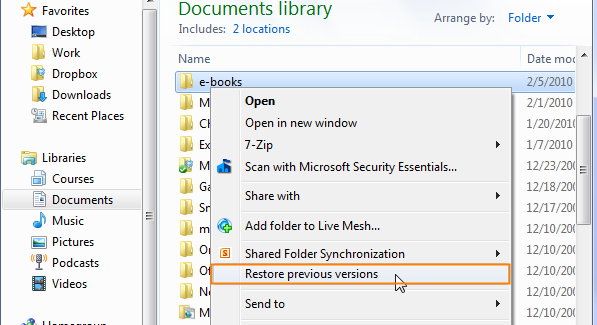 Step 2: From the list of previous versions, select an appropriate one and hit "Restore".
Note
The previous version comes from File History. If you haven't turned on the File History option, previous versions will not be available. Go to Settings > Update & Security > Backup > Back up using File History to enable this option.
1.3 Restore Deleted Folder not in Recycle Bin with Backup
It is suggested to always keep a recent backup of all your important files just in case. Windows Backup helps you do this easily. If you have backed up your data with Windows Backup, you can use it to recover deleted files not in Recycle Bin without much difficulty.
Step 1: Go to  Settings > Update & Security > Backup.
Step 2: In this section, choose "Go to Backup and Restore (Windows 7)".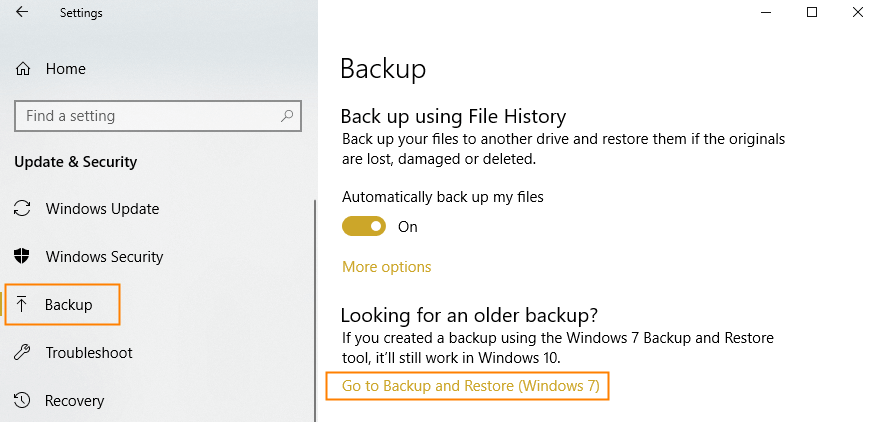 Step 3: Click "Restore my files" to get the work done.
Note
If you haven't enabled the Windows backup function, go to Settings > Update & Security > Backup > Go to Backup and Restore (Windows 7). Click "Set up back-up" from the interface to configure the backup settings.
Here is a video guide to recover deleted files not in Recycle Bin:
Part 2. Why Are Deleted Files Not in Recycle Bin?
The issue that deleted files don't show up in Recycle Bin can be caused by various reasons, such as emptied Recycle Bin, different deleting actions, and improper Recycle Bin properties setting. Now let's check them one by one in detail and then you'll know how to better avoid them in the future.
2.1 Emptied Recycle Bin
Usually, the deleted files/folders will stay in the Recycle Bin and come in handy when you need to recover them. However, if you accidentally empty your Recycle Bin and cause the items to be deleted permanently, then they will be gone forever and get nowhere to be found. If this is the case, there is a possibility that you can get back the deleted files if you have enabled the Windows backup feature. Otherwise, you can only turn to a third-party program for help.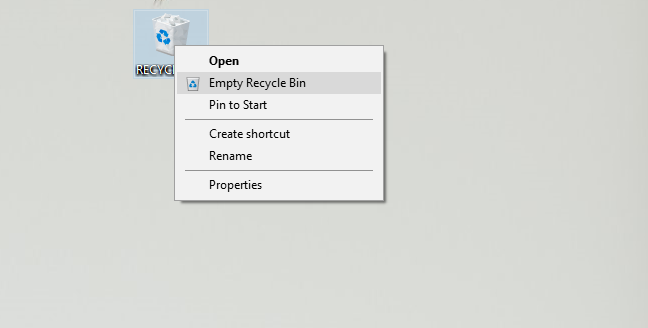 2.2 Different Deleting Actions
If you ordinarily delete files, i.e. selecting the file by left-clicking on it and pressing the Delete button on the keyboard, or right-clicking on the selected file and selecting "Delete", the files will be put in the Recycle Bin without question. While things might go wrong when some different deleting actions are taken.
Some users prefer to use Command Prompt or press Shift+Delete to delete a file. The two actions will bypass the Recycle Bin and permanently erase the files. Therefore, if you are not sure whether you'll need to restore the files in the future, it's recommended not to delete them using Command Prompt or pressing Shift+Delete. Always sending the deleted files to Recycle Bin first can greatly increase the possibility of data recovery for future use.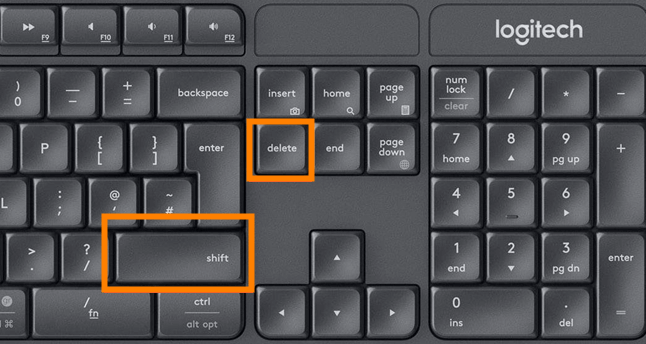 Apart from the two cases mentioned above, one might also find the deleted files not in Recycle Bin as a result of deleting them from some flash drive. It's true that files can be deleted and sent to the Recycle Bin from other HDD partitions, but things are different when it comes to flash drives. Since USB flash drives do not have $Recycle.bin folders, the files you delete from some flash drive won't be sent to Recycle Bin and won't appear in it.
Therefore, if you are not 100% sure that you will never need the file again later, do not risk losing it forever by deleting it from the flash drive. Otherwise, remember to keep a copy in a folder on your hard drive before removing it.
2.3 Improper Recycle Bin Properties Settings
Surprisingly, Recycle Bin itself can be the root cause at times. To verify this, check the Recycle Bin properties settings. Right-click the Recycle Bin icon and navigate to the "Properties" option. Here for each selected location, you can see two setting options.
In fact, the size of the Recycle Bin has a limitation and once its size reaches the maximum, there will be no room for the files deleted afterward. Consequently, the files won't be in Recycle Bin. To avoid this problem to the greatest extent possible, adjust and expand the maximum size of the Recycle Bin to store more deleted files in the "Custom size" section.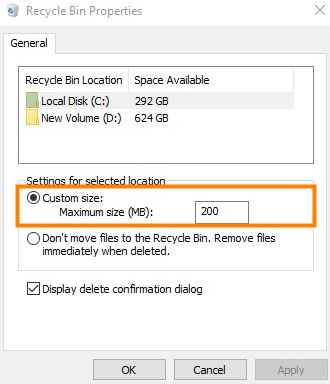 As for the second option that says "Don't move files to the Recycle Bin. Remove files immediately when deleted.", make sure it's not selected. If you do check the option, the files you delete will not appear in  Recycle Bin. Besides, you can check the "Display delete confirmation dialogue" box to better safeguard your file.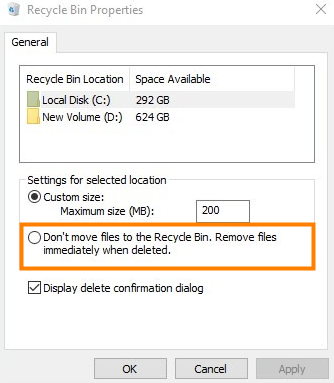 2.4 Hidden Deleted Files
The hidden option may be the one to blame as when the deleted files are hidden, you cannot find them in Recycle Bin as well.
First, open "This PC" in the Windows File Explorer and click the tab "View". Choose the "Options" button and select "Change folder and search options".

Next,  click the "View" tab in the "Folder Options" menu. Under "Advanced settings", select the option "Show hidden files, folders, and drives" and disable  "Hide protected operating system files (Recommended)". Confirm the changes by clicking "Apply".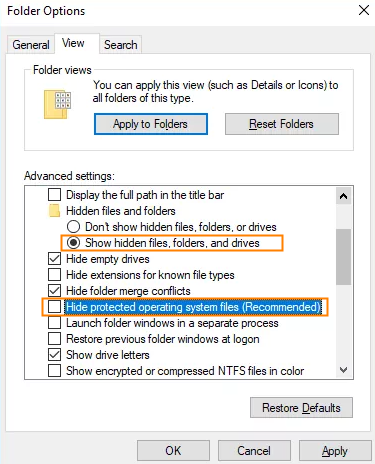 Latsly, restart your PC. Go to the $Recycle.Bin folder in the system disk С:/. Now you should be able to see the hidden deleted files. Check if what you need is there.
2.5 Corrupted Recycle Bin
If the $Recycle.Bin folder is corrupted, it won't keep any deleted files and as a result cause the deleted files to disappear from Recycle Bin. To repair it, you need to reset the Recycle Bin.
Type in "cmd" in the search bar and choose to run Command Prompt as administrator.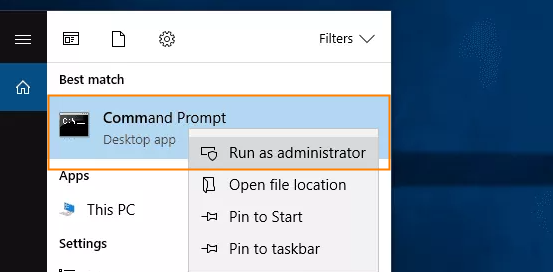 Then enter a command line "rd /s /q C:\$Recycle.bin" in Command Prompt and press the Enter key. Once done, restart your operating system and the problem will be fixed.

Bonus: FAQs About Recycle Bin Deleted Files
Q1: Where did my deleted files go?
When you delete a file, normally it will be sent to Recycle Bin. You can find it by searching Recycle Bin or going to the  $Recycle.Bin folder in File Explorer. 
Q2: Where do delete files go if not in Recycle Bin?
If the deleted files are not in the Recycle Bin, then they might have been permanently deleted. When this happens, the space of the files will be marked as free, and other data can overwrite it. As for other possibilities, check what we've discussed in Part 1.
Q3: Does Recycle Bin delete files?
Recycle Bin doesn't delete files for no reason. Windows users can customize the storage time of deleted files in the Recycle Bin. You can choose to let Recycle Bin delete the files automatically after keeping them for 1 day, 14 days, 30 days, 60 days, or never. However, one needs to note that when  Recycle Bin is full, it won't be able to store more files, and users may not be able to find their deleted files in it. Therefore, expanding the size of your Recycle Bin is quite necessary.
Conclusion
There are various reasons why deleted files not in Recycle Bin. This article explored these reasons and provided solutions for recovering recycle bin deleted files .
Whether you use data recovery software or built-in Windows features, there are options available for retrieving lost data. By understanding these solutions, you can effectively recover important files and prevent data loss.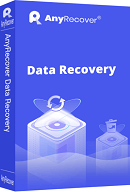 Key Features:
AnyRecover is utterly developed to recover over 1000 different formats of photos, videos, documents and emails, etc.
It is a powerful 4-for-1 one-stop data recovery software for restoring lost files from Windows, Mac, iOS, and social apps effortlessly!
Video and photo restoration function is supported. No corrupted files worry.
You could also preview your data before recovering it.
This software is developed to recover all the data in its original form without overwriting it.
It is 100% safe and easy to use.