Today, we will explore the real reviews of Stellar repair for video, also the ultimate collection of 3 top-rated free video repair software for Windows, Mac, and mobile devices. Repair damaged video files effortlessly with the best video repair tool available for free download. Keep reading.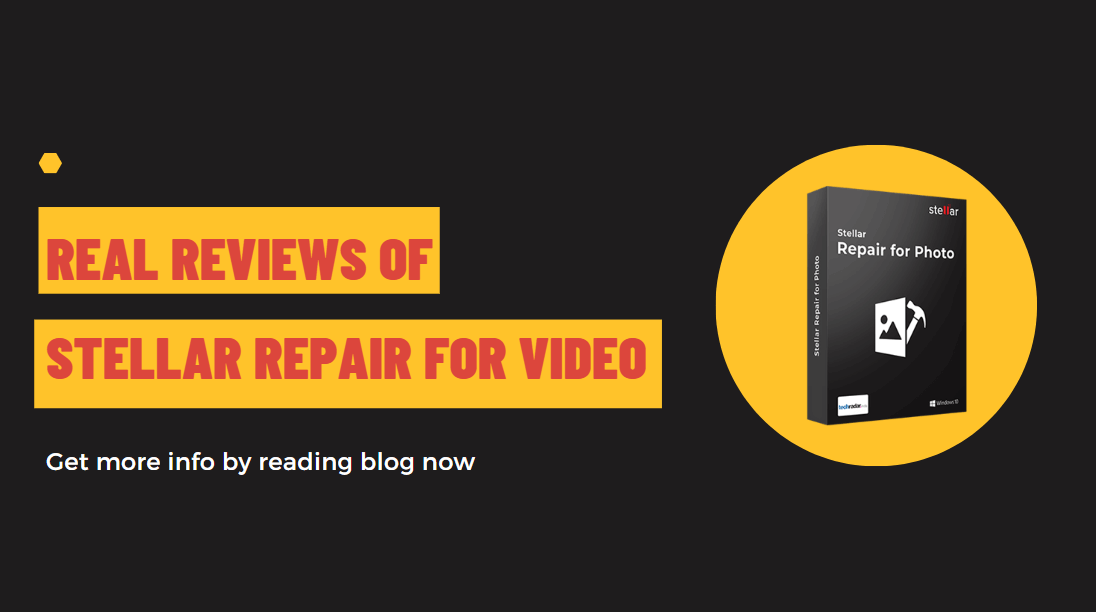 What Are the Causes of Corrupted Videos
Video corruption can occur due to various reasons such as downloading errors, virus attacks, faulty video converters, OS crashes, repeated file deletions, and power supply interruptions.
When video files get corrupted, they become unplayable unless repaired using reliable software. Are you searching for a professional video repair tool to fix MP4 and other format corruptions efficiently? This article will tell you everything.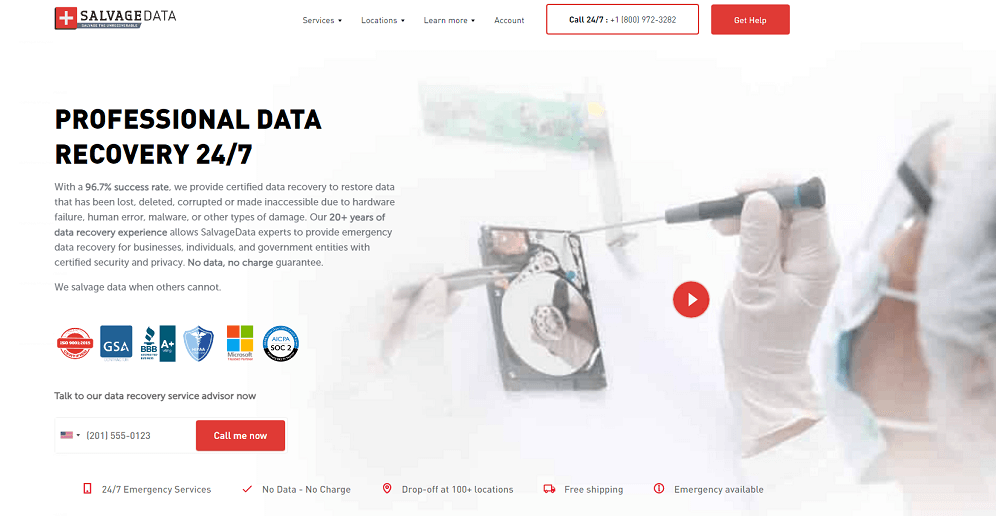 Real Reviews of Stellar Repair for Video
Stellar Repair for Video is a powerful software designed to fix and restore corrupted or damaged video files.This advanced tool supports a wide range of popular video formats such as MP4, AVI, MOV, MKV, and more, ensuring compatibility with various devices and platforms.
Furthermore, the software offers a preview feature, allowing users to preview the repaired videos before saving them, ensuring optimal results. It also provides options for customizing the output settings, giving users control over video resolution, quality, and format.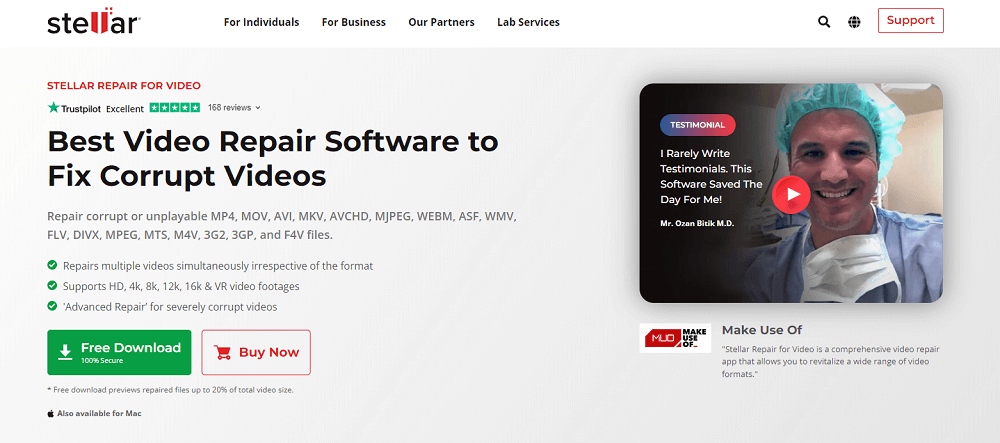 Features of Stellar Video Repair
Repair corrupt or unplayable MP4, MOV, AVI, MKV, AVCHD, MJPEG, WEBM, ASF, WMV, FLV, DIVX, MPEG, MTS, M4V file formats and so on

Repairs multiple videos simultaneously irrespective of the format

Supports HD, 4k, 8k, 12k, 16k & VR video footages

Advanced Repair for severely corrupt videos
Pros of Stellar Video Repair:
Stellar Repair for Video is one of the most recommended tools to fix all kinds of video damages with its powerful functions.
Cons of Stellar Video Repair
It offers a free demo version. In the free version, the preview of only videos of size 10 MB or less is available. Paid version takes $49.99-69.99$.

Tip
If you're looking for an affordable option to recover your videos, consider AnyRecovery. It is the only software in the market that supports data recovery, as well as image, video, and file repair.
AnyRecover is compatible with over 200 devices, including Windows, Mac, and iOS, and supports the recovery and repair of 1000+ file types. It's definitely worth a shot!
Top 3 Alternatives of Stellar Repair for Video
Actually, there are several video repair software options available to choose from. Let's take a look at the top three alternatives to Stellar Repair for Video:
1. AnyRecover Repair Tool
AnyRecover repair tool is a comprehensive software that offers powerful capabilities for recovering and repairing images, files, and videos. With support for over 1000 file types and compatibility with various devices, including Windows, Mac, and iOS, AnyRecover ensures efficient data recovery and repair.
Whether you've lost important files, encountered corrupted images, or experienced damaged videos, AnyRecover provides a user-friendly solution to restore your valuable data and regain access to your cherished memories.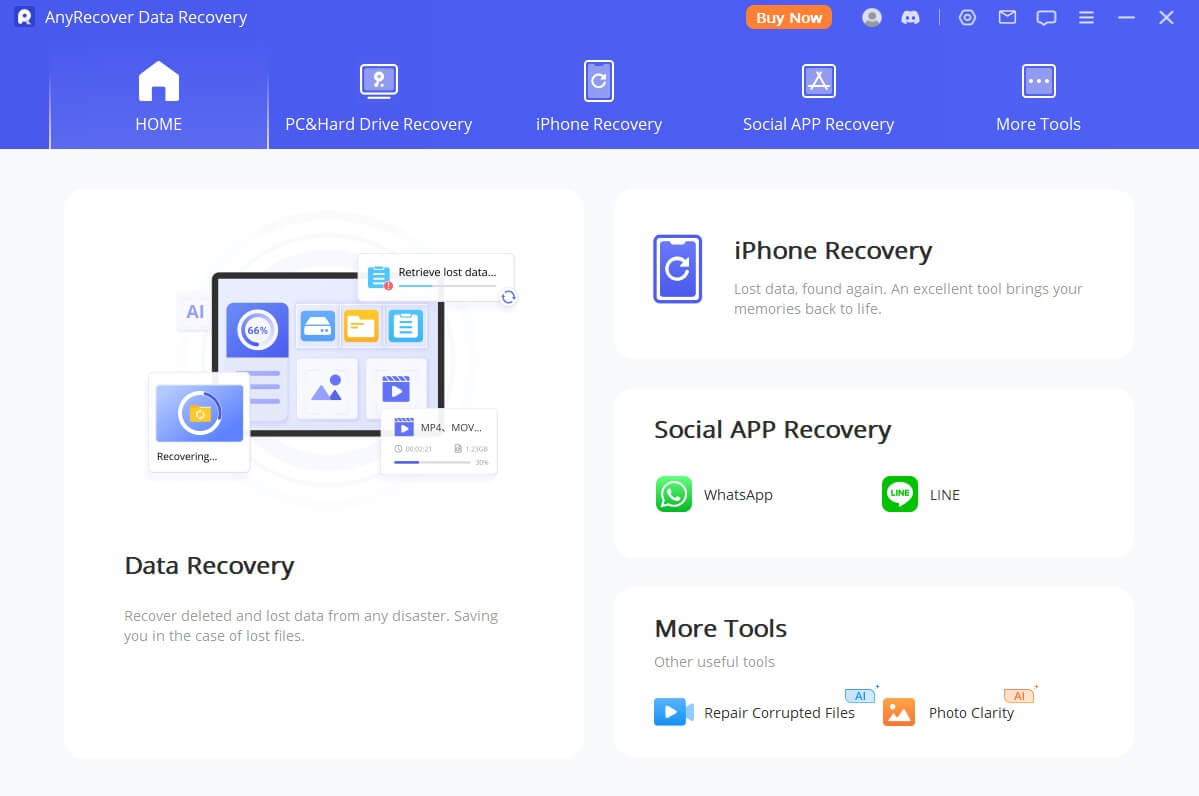 Features of AnyRecover Video Repair
AnyRecover stands out as the only all-in-one software in the market that combines data recovery and repair functionalities.

Recover deleted documents, pictures, videos, emails and other files in 1 click.

Restore deleted files from Recycle Bin, HDD, SSD, USB, SD card, etc.

Advanced AI Repair for severely corrupt videos helps to experience the reliability of AI-powered restoration, bringing your glitch-free favorite videos back to life.
Pros of AnyRecover Video Repair:
All-in-One Convenience: One software, complete functionality. Save computer space and precious time by using a single solution that meets all your needs.
Cons of Stellar Video Repair
AnyRecover for Android need to download another software, but it will reunite in one software soon.
2. EaseUS Fixo
EaseUS Fixo is a trusted software with experience in professional data repair. They will help you repair corrupted videos, photos and files regardless of the level of damage.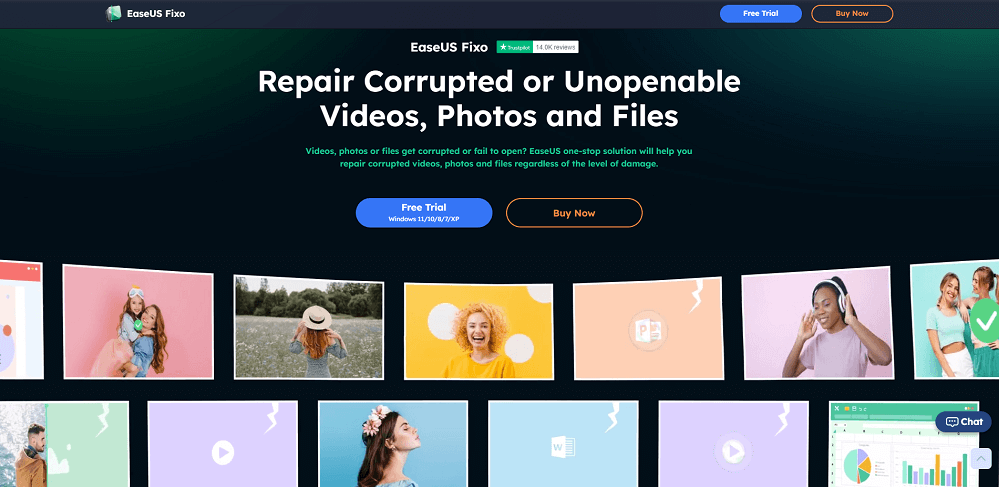 Pros of EaseUS Fixo
EaseUS is a well-established company with a long history, known for producing reliable software products.
Cons of EaseUS Fixo
As with any newly released software, it's common for it to undergo a period of refinement and improvement.
3. Yodot AVI Repair
Effortlessly repair corrupt video files with Yodot AVI Repair, a dependable tool compatible with iPads, iPhones, Windows, and Mac devices. Its intuitive interface ensures a user-friendly experience, making it easy to fix corrupted video files in just a few simple steps.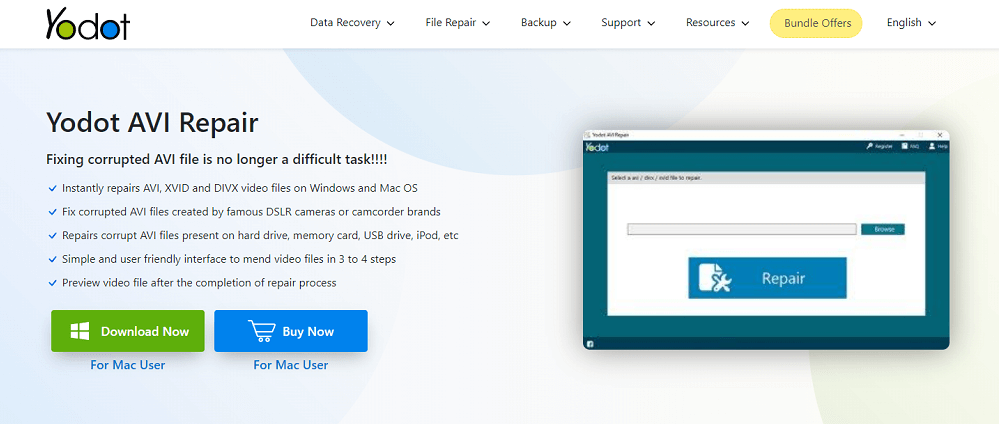 Pros of Yodot AVI Repair
Yodot AVI Repair supports multiple system platforms, including Windows and macOS, ensuring compatibility for a wider range of users.
Cons of Yodot AVI Repair
As for common video file formats, it only supports AVI files.
Conclusion
Discover these video repair software options that effectively fix videos damaged due to various causes. These software can be classified into two categories: the first one being a specific product, and the remaining twelve falling under a different category.
If you have lost or corrupted MP4 and MOV files, don't miss out on the first product, which is a must-have video repair tool.