Developed by Adobe, PDF (Portable Document Format) is one of the most commonly used file formats across the world. However, sometimes your PDF file may get damaged and becomes inaccessible, which results in data loss. We always delete files accidentally or permanently delete files by mistake, most of which include PDF files.
Fortunately, pdf repair can be rectified using appropriate methods and tools. This article will focus on the ways to repair and recover damaged or corrupt PDF files. If you want to find the easiest and most convenient way to recover your deleted or damaged PDF files, you can try AnyRecover directly for its free Version to skip the following mentioned methods.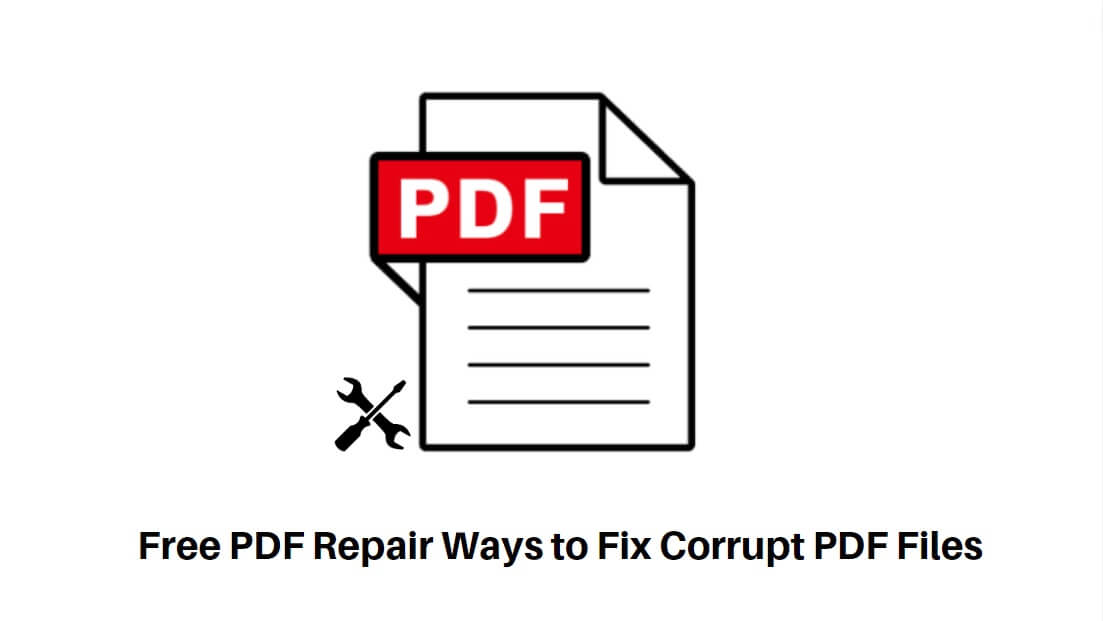 Effective PDF Repair Tool
Anyrecover is an effective PDF repair tool that can easily fix corrupt or damaged PDF files, allowing you to recover your valuable data in a simple and hassle-free way.
Why PDF Files Get Corrupted or Damaged?
There are several reasons why a PDF file is corrupted. Some of which are discussed here.
Weak and poor internet connection: This can lead to incomplete downloads and as a result, files become corrupted. The user is then unable to open the file because the file structure is damaged.

Malfunctioning of a computer system: If your computer system or device is damaged, it can affect your PDF files.

Sudden power breakdown: If the user is transferring or sharing files, the unpredicted shutdown of the system can corrupt the file. Sudden power breakdowns or internal system errors can increase the risk of file corruption.

Virus infection: Virus or other malicious content present in your hard drive or USB can be the source of PDF file corruption.

Using unsuitable application: If any other inappropriate program is used to access the PDF file, it can also cause damage.
4 PDF Repair Ways to Fix Damaged/Corrupt PDF Files
If your PDF file got damaged due to any of the reasons above, basically you can repair it by using appropriate methods and tools. Check out the 4 free ways below to repair damaged PDF files.
1. Try Alternative PDF Reader Utilities
If Adobe Reader cannot access to the PDF file, it is also possible that your file is not corrupted/damaged, but the application you are using to open the file is not working. Try other PDF file reader applications and see whether they are working properly to open the file or not. There are alternative PDF applications other than Adobe Acrobat Reader, such as Foxit Reader and Sumatra PDF.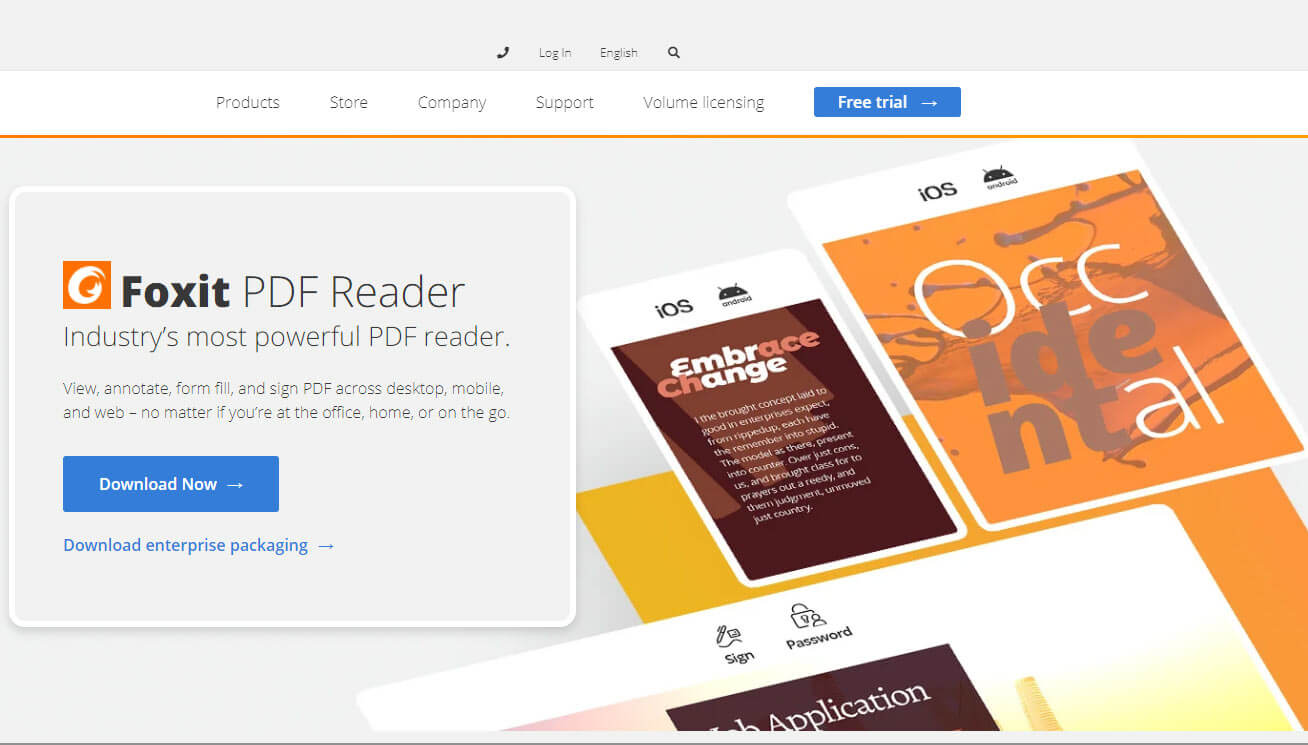 If the problem continues, you are sure that it's a problem with the PDF file. Now read on to try the next method.
2. Repair Adobe Acrobat Reader
Adobe Acrobat Reader is the most popular PDF viewer. But what if there is something wrong with the software that results in the corrupted file? Then it is likely that you can recover the PDF files by repairing the Adobe Acrobat Reader.
1. First, make sure that your Adobe Acrobat Reader is up-to-date. To do this, launch the software and navigate to Help > Check for Updates. If an update is available, install it.

2. Next, navigate to Help > Repair Installation option to repair Adobe Acrobat Reader. The software will automatically check its core files and patch the corrupted ones.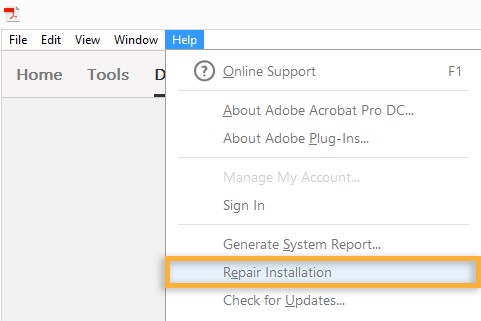 3. Restore a Previous File Version
If repairing Adobe Acrobat Reader didn't solve the problem, then there is another way to fix the corrupted PDF file. In this method, you will need to restore your PDF file to a previous version. Windows has a built-in feature that backs up different versions of the files in case they are needed again. You can restore the previous file version in case the latest version of the file got corrupted or deleted.
1. Navigate to your corrupted PDF file and right-click on it.

2. Now click on Properties. In the Properties section, click on Previous Versions to find the version of the PDF file you need.

3. Next, click the Restore option to restore the selected previous version of the file.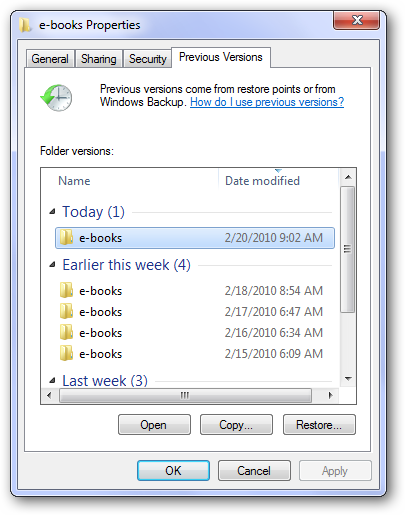 <
4. Use Free Online PDF Repair Tool-AnyRecover
There are many online PDF repair tools available that you can use to repair your corrupted PDF file. These online PDF repair tools are free, so you won't have to worry about any costs to repair your corrupted PDF files. PDF2GO is one such online tool you can use.
1. Visit PDF2GO on your favorite web browser.

2. Upload your corrupted PDF file via the Choose File button.

3. Once the file is uploaded, click the Save Changes button. After this step, your PDF file will be repaired and will become available for download.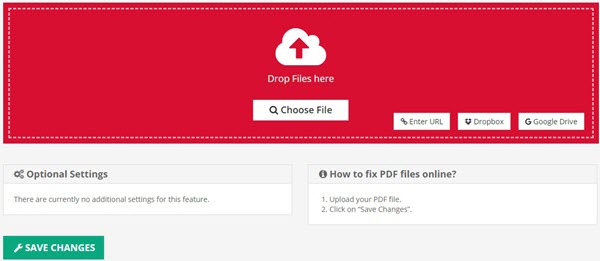 What needs to be reminded is that although PDF2GO can repair your damaged PDF for free, it cannot be repaired and restored for those PDFs that are lost or damaged due to computer crashes, virus attacks, mobile phone flooding, etc. So you need to choose a more powerful data recovery software. Here is an introduction - AnyRecover. It has a good reputation in terms of price, scenario type of data recovery, files that can be recovered, supported systems, and recovery rate.
Part 3. [Easiest and Effective] Repair PDF Files With Recover Software
If the 4 basic methods above didn't work, it's highly recommended to use the professional data recovery software, which not only can restore your corrupt pdf file but also can convert it to the right version you desire. For instance, you can download AnyRecover on your Windows PC, Mac, or iOS, which is relatively easy to recover your PDFs with a high success rate and incredible recovery speed.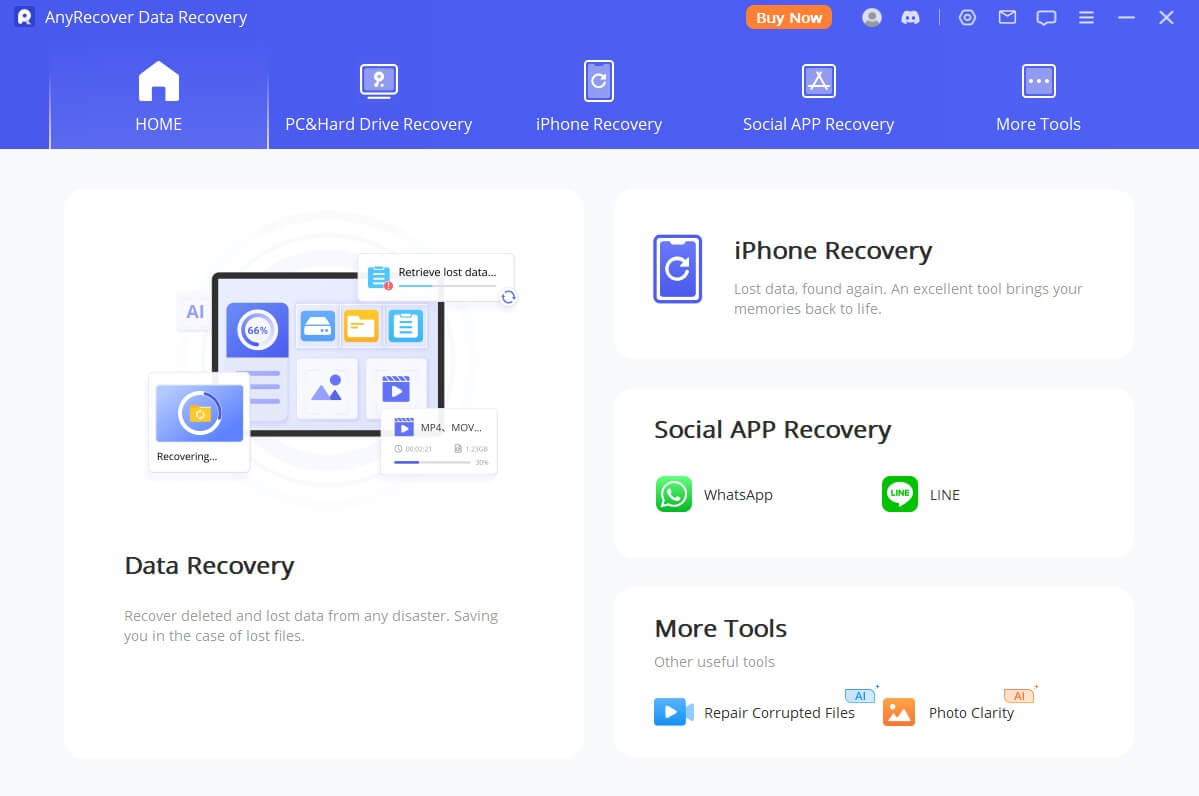 AnyRecover is capable of recovering any type of files, including PDF, Excel files, documents, and emails. The chances of successful data recovery are very high. Start your free trial right now to get your files back!

2,061,704 Downloads
Features of AnyRecover
Recover 1000+ types of files in 3 steps, including PDF documents, Excel, photos, audio, videos, eBooks, emails, etc., via this tool.

All types of storage devices are supported, including internal hard drives, external hard drives, memory cards, USB flash drives, camcorders, digital cameras, and more.

Using AnyRecover to recover deleted, corrupted, or damaged PDF files are 100% safe because this tool does not overwrite existing data during the process.

Recover your deleted files no matter how they got lost e.g., data corruption, virus/malware attack, system crash, OS reinstall, etc.

Preview and selectively recover the lost data before restoring so that you can recover only the desired data.
Start Your Free Trial Right Now:
Step 1 Download the program and run it. Locate the lost file on your hard drive or an external storage device. Hit the Start button.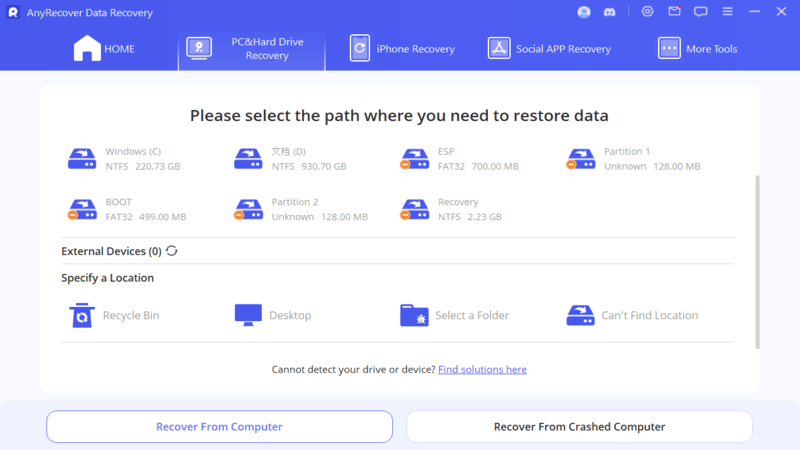 Step 2 The tool will begin searching for lost files in the chosen location.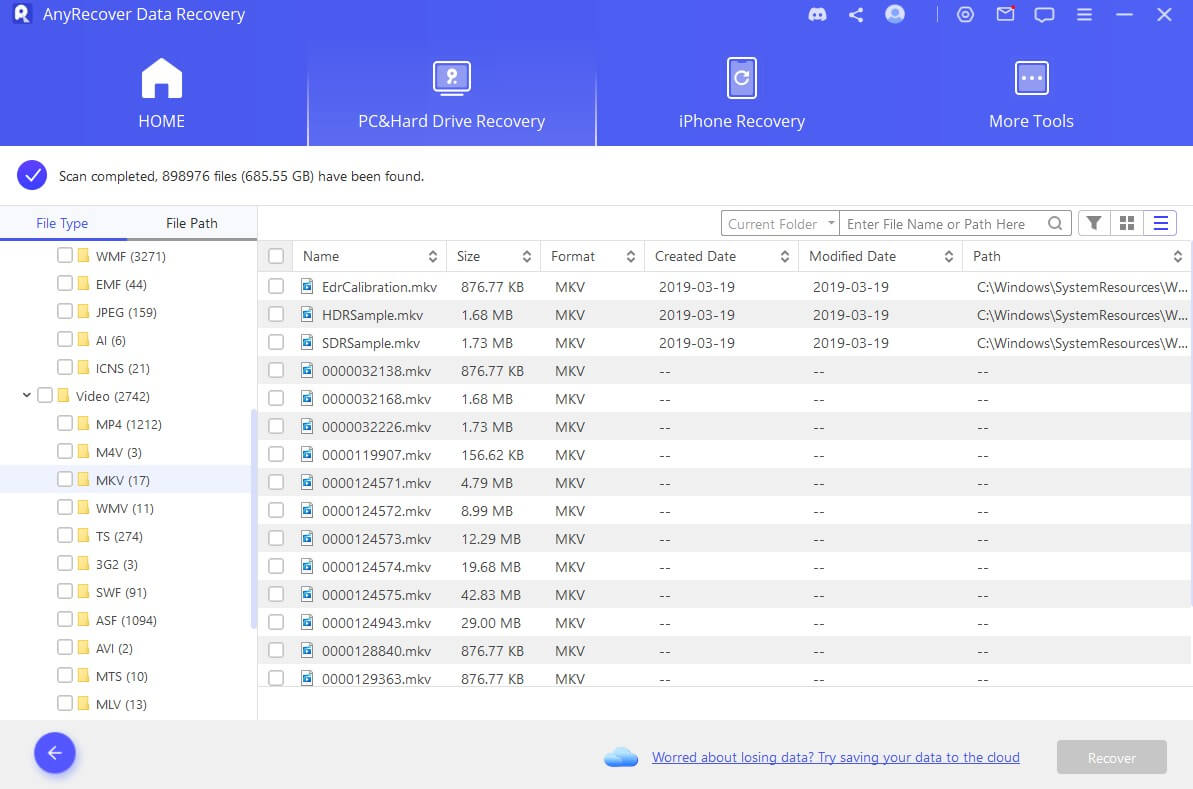 Step 3 A list of files in the directory will appear. Double-click to preview, making sure you are working with the right file. Then click the Recover button. It's done!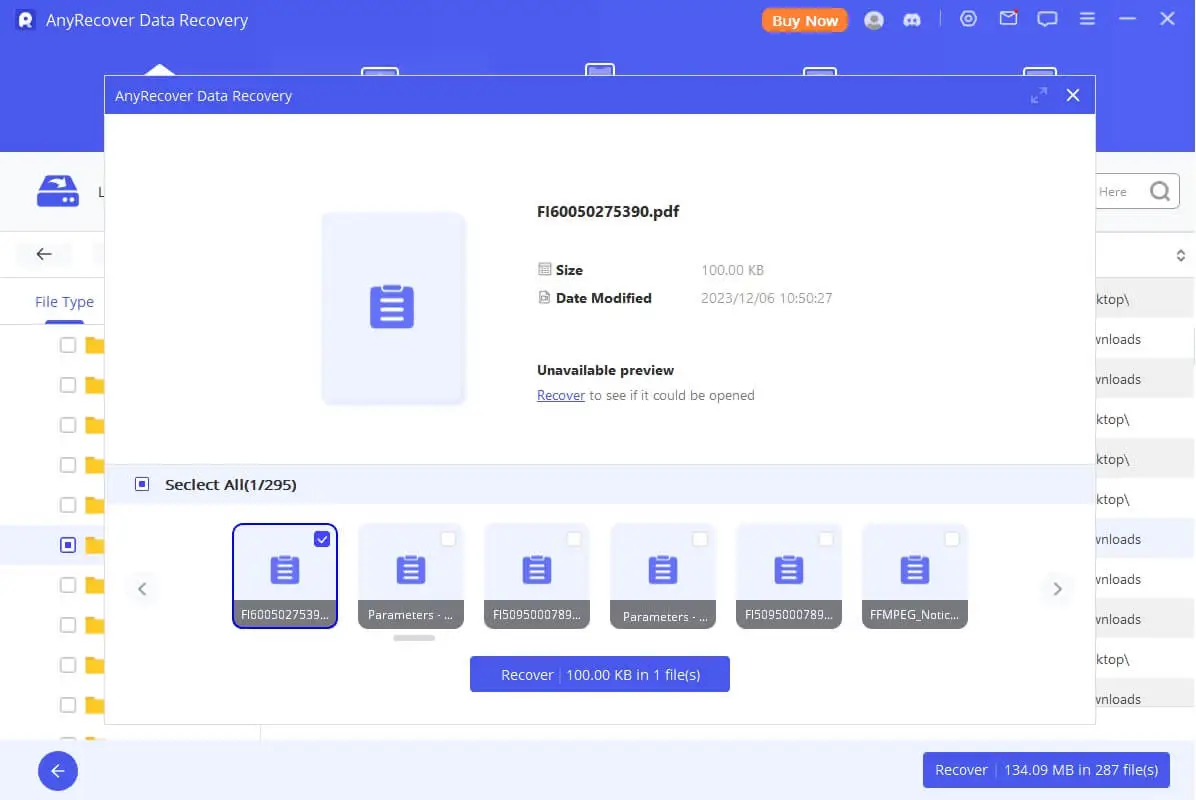 Conclusion
Having your PDF files accidentally deleted or corrupted is extremely awful. Fortunately, solutions are available. If your suffered corrupt PDF file, you could use one of the above-mentioned pdf repair ways to recover it. In case these solutions did not work or the PDFs were lost/deleted, AnyRecover can be extremely helpful to recover PDF files effectively.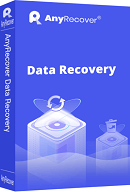 AnyRecover Key Features:
File Recovery: recover over 1000 types of file formats, including photos, videos, documents, and audio files.
Preview Function: The software offers a preview function that allows users to preview recoverable data before they make any purchases.
Quick Scan and Deep Scan: Quick Scan is used for scanning for recently deleted files, while Deep Scan is used for scanning for more difficult to recover files.
Partition Recovery: AnyRecover has a partition recovery feature that allows users to recover data from deleted or lost partitions.
Virus Attack Recovery: making it a useful tool for users who have been affected by malware or other types of computer viruses.
User-friendly Interface: it is easy for users to navigate and recover lost files.
Partition Recovery: allows users to recover data from deleted or lost partitions.
Compatibility: Windows&Mac&Android and iPhone operating systems