PDF (Portable Document Format) is a format introduced by Adobe and it shows the complete document in a single pattern. As  the most commonly used file format across the world, PDF supports large amount of data and information and it is secure. However, sometimes your PDF file may get damaged and becomes inaccessible, which also leads to data loss. Fortunately, this problem can be rectified using appropriate methods and tools. This article will focus on the ways to repair and recover damaged PDF files.
Why PDF Files Get Corrupted or Damaged?
There are several reasons why a PDF file is corrupted. Some of which are discussed here.
Weak and poor internet connection: This can lead to incomplete downloads and as a result files become corrupted. The user is then unable to open the file because the file structure is damaged.

Malfunctioning of computer system: If your computer system or device is damaged, it can affect your PDF file.

Sudden power breakdown: If the user is transferring or sharing files, the unpredicted shutdown of system can corrupt the file. Sudden power breakdown or internal system error can increase the risk of file corruption.

Virus infection: Virus or other malicious content present in your hard drive or USB can be the source of PDF file corruption.

Using unsuitable application: If any other inappropriate program is used to access the PDF file, it can also cause damage.
4 Ways to Repair Damaged/Corrupted PDF for Free
If your PDF file got damaged due to any of the above mentioned reasons, there is no need to worry. You can still repair your damaged or corrupted file by using appropriate methods and tools. Following are the 4 free ways to repair damaged PDF files.
1

Try Alternative PDF Reader Utilities

If Adobe Reader cannot access to the PDF file, it is also possible that your file is not corrupted/damaged, but the application you are using to open the file is not working. Try other PDF file reader applications and see whether they are working properly to open the file or not, there are alternative PDF applications other than Adobe Acrobat Reader.

If the problem continues, you are sure that it's problem with the PDF file. Now read on to try the next method.
2

Repair Adobe Acrobat Reader

Adobe Acrobat Reader is the most popular PDF viewer. If you use this software to view PDF files, then it is likely that you can repair corrupted PDF files by repairing the Adobe Acrobat Reader.
1. First, make sure that your Adobe Acrobat Reader is up-to-date. To do this, launch the software and navigate to Help > Check for Updates. If an update is available, install it.

2. Next, navigate to Help > Repair Installation option to repair Adobe Acrobat Reader. The software will automatically check its core files and patch the corrupted ones.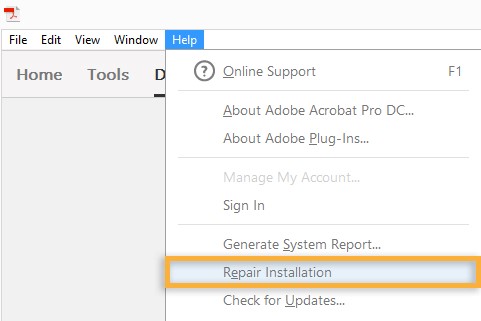 3

Restore a Previous File Version

If repairing Adobe Acrobat Reader didn't solve the problem, then there is another way to fix the corrupted PDF file. In this method, you will need to restore your PDF file to a previous version. Windows has a built-in feature that backs up different versions of the files in case they are needed again. You can restore the previous file version in case the latest version of the file got corrupted or deleted.
1. Navigate to your corrupted PDF file and right-click on it.

2. Now click on Properties. In the Properties section, click on Previous Versions to find the version of the PDF file you need.

3. Next, click the Restore option to restore the selected previous version of the file.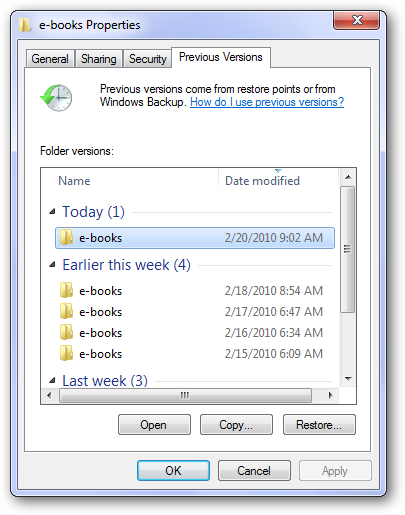 <
4

Use Free Online PDF Repair Tool

There are many online PDF repair tools available that you can use to repair your corrupted PDF file. These online PDF repair tools are free so you won't have to worry about any costs in order to repair your corrupted PDF files. PDF2GO is one such online tool you can use.
1. Visit https://www.pdf2go.com/repair-pdf on your favorite web browser.

2. Upload your corrupted PDF file via the Choose File button.

3. Once the file is uploaded, click the Save Changes button. After this step, your PDF file will be repaired and will become available for download.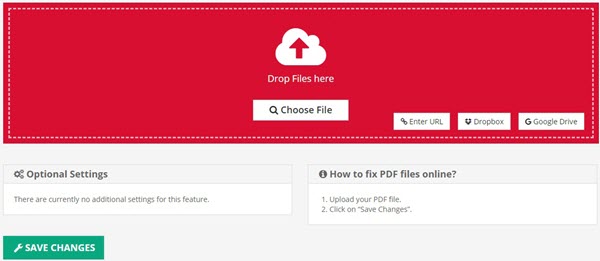 Best Software to Recover Lost PDF Files
If your PDF files got lost/deleted due to some reason, don't worry because it is quite easy to recover them with a professional data recovery software like iMyFone AnyRecover, which boasts of advanced algorithms and amazing recovery speed.
AnyRecover is capable of recovering any type of files, including Excel file, ducement, email and PDF. The chances of successful data recovery are very high.
Features of AnyRecover
Recover any type of file quickly and conveniently. You can recover PDF documents, photos, eBooks, audio, videos, archives, etc. via this tool.

All types of storage mediums are supported, including internal hard drives, external hard drives, memory cards, USB flash drives, camcorders, smartphones, digital cameras, and more.

Using AnyRecover to recover deleted PDF files is 100% safe because this tool does not overwrite existing data during the data recovery process.

Recover your deleted files no matter how they got deleted e.g. data corruption, virus/malware attack, system crash, OS reinstall, etc.
Conclusion
Getting your important PDF files accidentally deleted or corrupted can be a stressful experience. Fortunately, solutions are available. If your PDF file got corrupted, you can use one of the above-mentioned ways to repair it. And if it got lost/deleted, then it is highly recommended that you use iMyFone AnyRecover to recover PDF files effectively.