The ZIP file format is widely used for archiving files and is commonly attached to emails for file sharing. Additionally, it is a popular choice for packaging and distributing software.
Unfortunately, ZIP archives can sometimes become corrupted. When this happens, you will typically encounter an error message stating that Windows cannot open the file because the archive is corrupt or invalid. As a result, the files within the corrupted ZIP file become inaccessible. Fortunately, there are several methods available to potentially repair a corrupted ZIP file in Windows 10,11 and Mac systems.
Part 1. Why Zip File Corrupt?
ZIP files can become corrupted due to various reasons. Some common causes of ZIP file corruption include:
File transfer errors: If there are any interruptions or errors during the process of transferring or downloading a ZIP file, it can lead to corruption.
Virus or malware infections: ZIP files can get infected by viruses or malware, which can alter or damage the file structure, resulting in corruption.
Improper compression or extraction: If there are errors or issues with the compression or extraction process of a ZIP file, it can lead to corruption.
Storage device issues: Problems with the storage device where the ZIP file is stored, such as bad sectors or physical damage, can result in file corruption.
Software or system glitches: Software or system errors, crashes, or conflicts can cause ZIP files to become corrupted.
It's important to note that while these are common causes, ZIP file corruption can occur due to various other factors as well.
Part 2. How to Fix a Corrupted Zip File with AnyRecover?
Anyrecover - File Repair is a top-notch software solution for repairing ZIP files. With its professional capabilities, AnyRecover boasts an impressive success rate of nearly 100% in fixing corrupted Zip files. In just a matter of minutes, you can utilize AnyRecover to restore your damaged ZIP files to their original quality.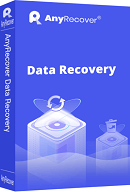 Key Features:
Effortlessly restore and repair damaged files due to various levels of corruption, such as blank files, files that fail to open, unrecognizable formats, unreadable content, and altered file layouts.
Supports the repair of a wide range of file formats, including PDF, Word, Excel, PowerPoint, ZIP, and Adobe files.
With an exceptionally high success rate, the software flawlessly repairs corrupted files while preserving the integrity of the original content.
You can repair an unlimited number of files, regardless of their size, without any restrictions.
The software is compatible with Windows 11/10/8.1/8/7/Vista/XP and macOS 10.10 to macOS 13, ensuring widespread accessibility.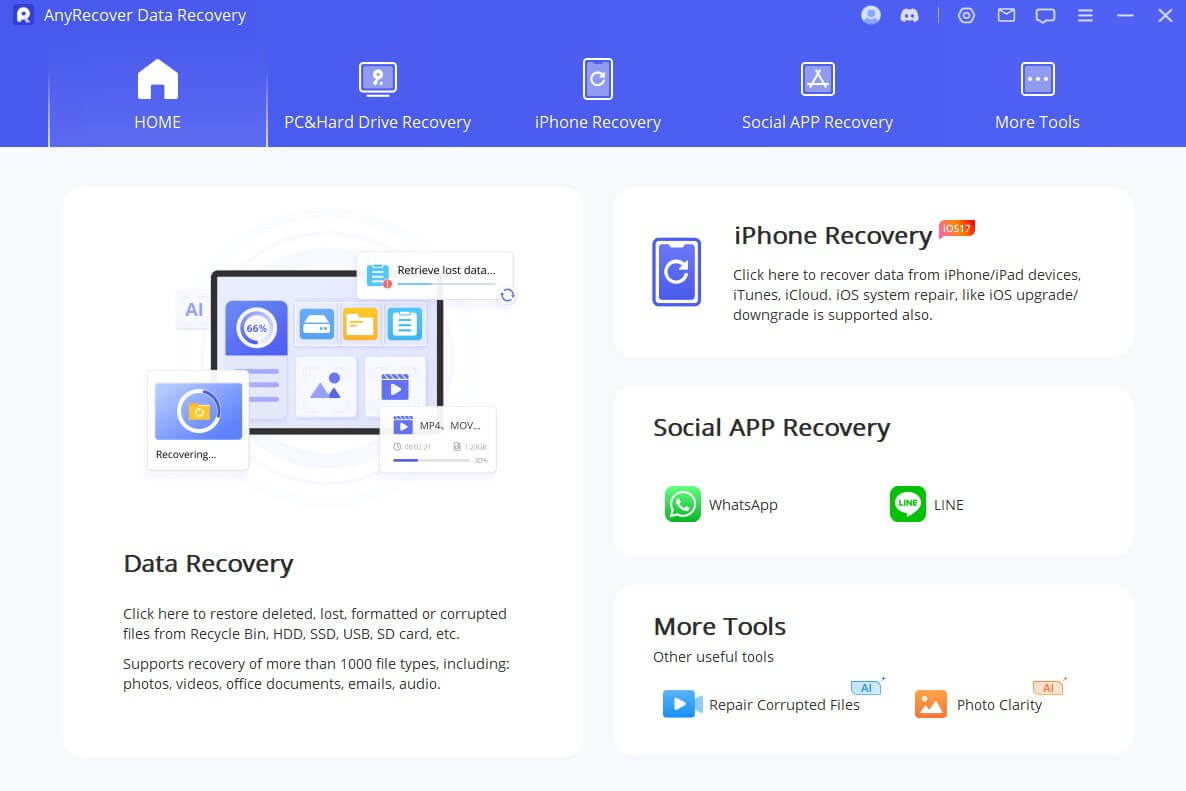 Part 3. How to Repair Damaged Zip File With WinRAR?
WinRAR is an alternative software for extracting archives that also offers the capability to repair corrupted ZIP files. Unlike WinZip, WinRAR includes a convenient built-in option called "Repair archive" that allows you to fix corrupted ZIP files. Although WinRAR is not available as freeware, you can make use of its free trial package, which grants you 40 days of usage. Here is a step-by-step guide on repairing a corrupted ZIP file using WinRAR:
Step1: To begin, access the WinRAR homepage and locate the "Download WinRAR" button. Proceed by selecting the second option available for downloading WinRAR. Once the download is complete, open your browser's Downloads tab. From there, click on the winrar-x64-611.exe file listed in the tab to initiate the setup wizard for WinRAR. Finally, within the WinRAR 6.11 setup wizard, choose the "Install" option.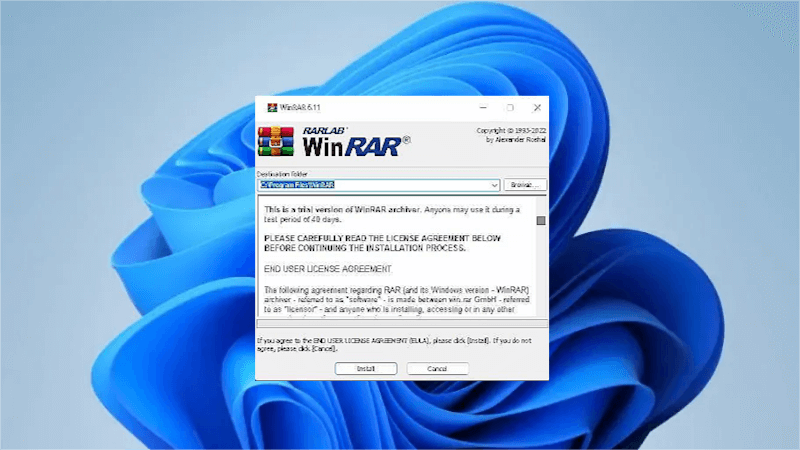 Open WinRAR software or search for "WinRAR" in Windows 11's search utility if you can't find it, then launch it.
To fix the ZIP file, follow these steps:
Step 2: Navigate to the directory containing the corrupted ZIP archive by clicking through the folders in WinRAR's window. Alternatively, you can directly input the path to the folder in the address bar.
Select the corrupted ZIP archive.
Click on the "Tools" menu.
From the options available, choose "Repair archive".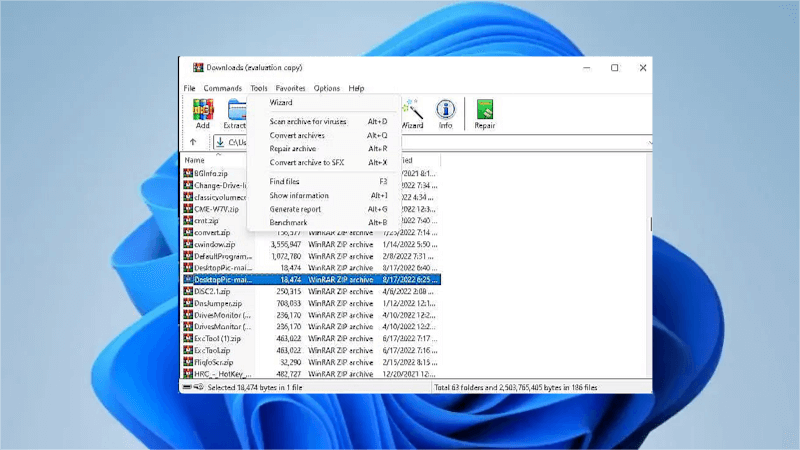 Step 3: In the Repairing window, click on the "Browse" button. Select a directory to save the repaired ZIP file and click on "Select Folder". If the "Treat the corrupt archive as ZIP" radio button is not already selected by default, click on it.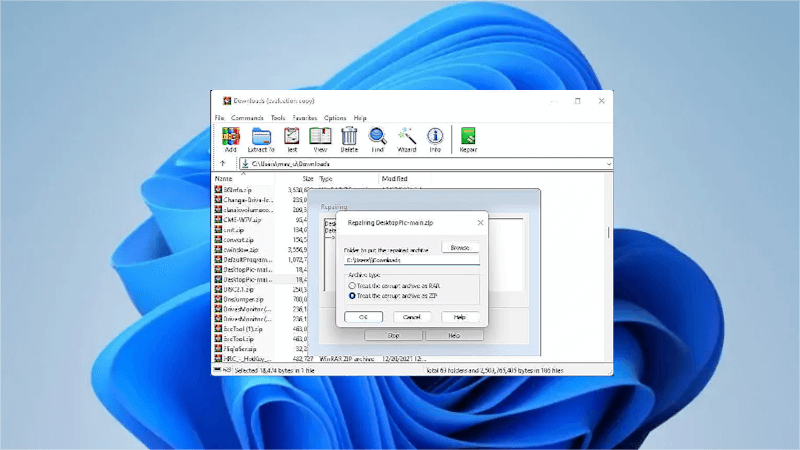 Conclusion
Encountering a corrupt zip file error message can be frustrating. Following the aforementioned steps can assist in recovering your damaged or corrupted ZIP file promptly. Additionally, we have provided multiple options for repairing the zip file, ensuring alternative solutions if one software does not yield satisfactory results.
Corrupt Zip file Repair Software Free Download
Repair your damaged or corrupt ZIP files effortlessly with our free download of top-notch zip file repair software. Retrieve your valuable data and eliminate the hassle of dealing with corrupt zip file errors. Try it now!