If you've accidentally deleted a video from CapCut, don't panic! There are several ways to recover deleted CapCut videos. In this article, We'll explore some simple and effective methods about how to recover deleted videos from CapCut on PC and iOS devices by providing step-by-step instructions.
Whether you've accidentally deleted your video or lost it due to a technical glitch, our guide will help you restore your video and get back to editing in no time. So, let's dive in and explore how to recover deleted videos from CapCut!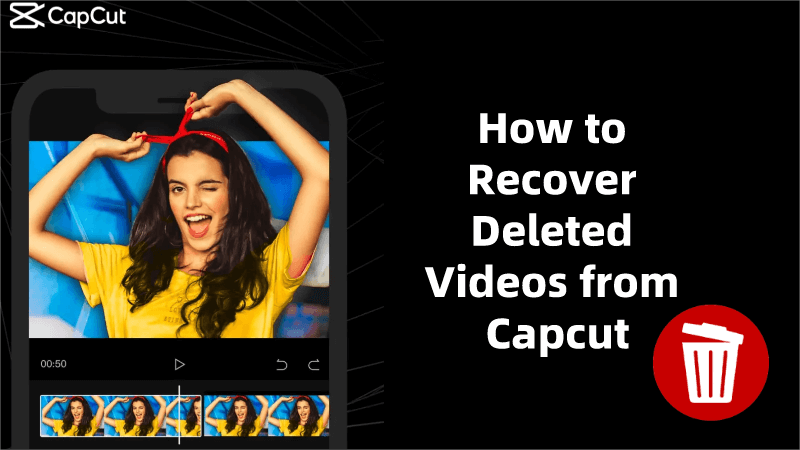 Part 1. What is CapCut? 
CapCut is available for iOS, Android, desktop devices and allows users to edit videos, add music, text, filters, and other special effects.
CapCut has become popular for its easy-to-use interface and its powerful editing tools that enable users to create professional-looking videos without requiring any prior editing experience. It is often used for creating short-form video content for social media platforms such as TikTok and Instagram.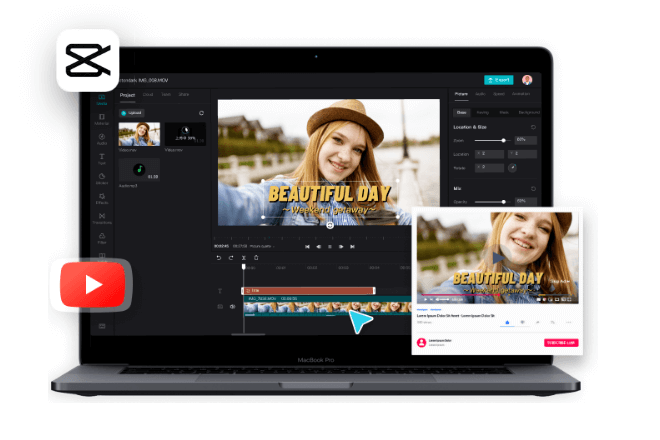 Part 2. Can You Recover Deleted Capcut Projects?
It depends on the different methods you use. According to CapCut official method, it may not be possible to recover deleted CapCut projects once they have been deleted. When you delete a project from CapCut, the data associated with it is typically permanently erased from your device's storage. This means that unless you have a backup of your project or have saved it to the cloud, it may not be possible to recover the deleted project.
If you have previously saved your CapCut project to your device's cloud storage or have backed it up to another device or platform, you may be able to restore it from there. It's always a good practice to regularly back up your CapCut projects to prevent losing your hard work.
If you fail to recover deleted video with "CapCut Customer Support" and can't find deleted projects on device's storage, don't give up hope just yet.
The good news is you can restore deleted CapCut projects with a third-party data recovery tool even without backup. AnyRecover data recovery software will help you restore deleted CapCut projects on iPhone/Android/PC. It also supports previewing the data before recovery.
Part 3. How to Recover Deleted Video in Capcut for PC?
Whether you delete your video on CapCut or PC, you can easily recover it with AnyRecover.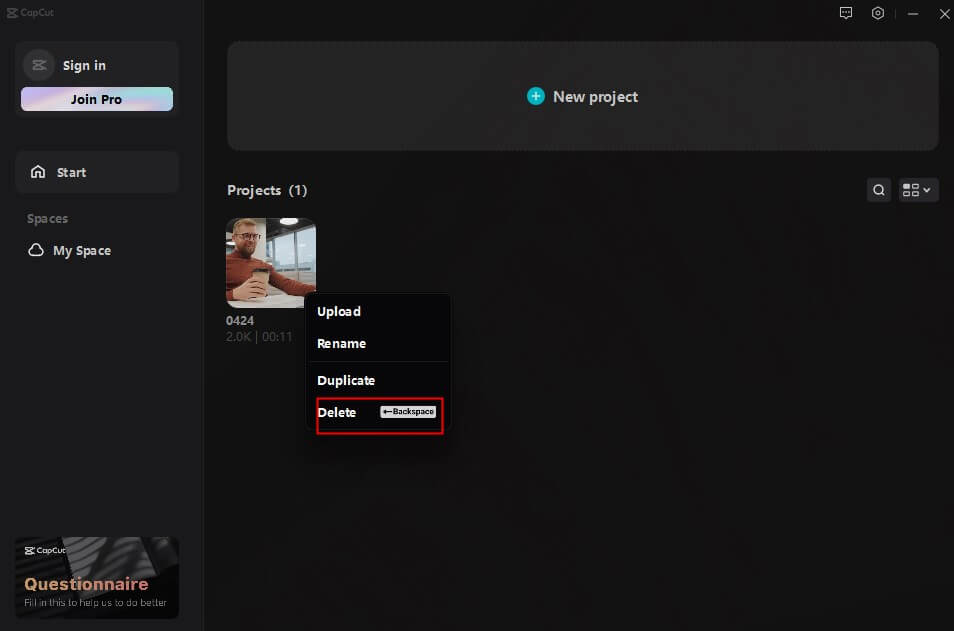 Anyrecover is one of the most cost-efficient Tool to recover your deleted data from PC, hard Drive, and iOS devices. With advanced technology, AnyRecover supports recovering more than 1000 data types, including videos, photos, messages, contacts, and voice recordings. And it's also good at TikTok Video Recovery, and TikTok Messages Recovery. This program is 100% legit and safe, and it will not keep any of the information on your device.
AnyRecover not only can recover deleted videos but also provides the
"Ai Repair"
function, which can help you fix corrupted or damaged CapCut projects.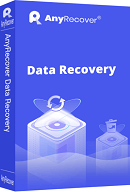 Key Features:
All-in-one data recovery tool to restore data from Windows, Mac and iPhone devices.
Supports recovering deleted/lost videos, photos, documents, messages and more files in one click.
Supports recovering the capcut video in different formats.
Support to recover data from Corrupted Devices, Emptied Recycle Bin,Raw Partition, Formatted Partition,etc
Preview the files and only recover the file you want.
How to recover deleted video using iMyFone AnyRecover?
Step 1: Click the download button in this article to install the software on your PC and launch it immediately. Next, select " Data Recovery".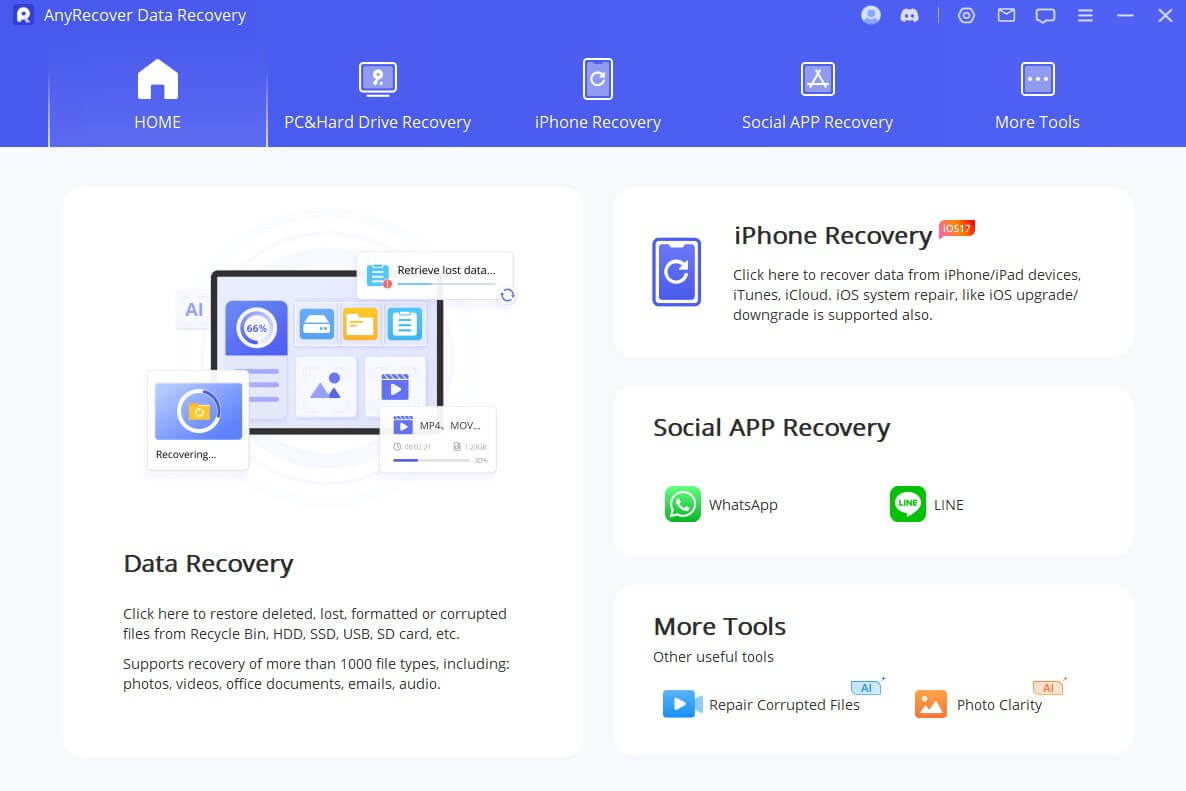 Step 2: Navigate to the location of CapCut files on your computer and tap on the "Scan" option to begin scanning for CapCut data. The process takes a few minutes, depending on the size of the files. You also can type the video names on the search bar, which can help you quickly find the data you need.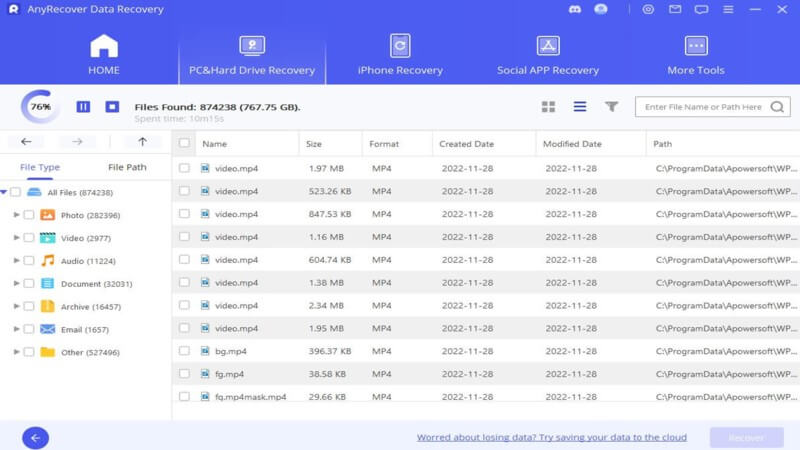 Step 3: Once you're done with scanning the CapCut files, all you need to do is preview the data and then hit the" Recover" option to start restoring the data.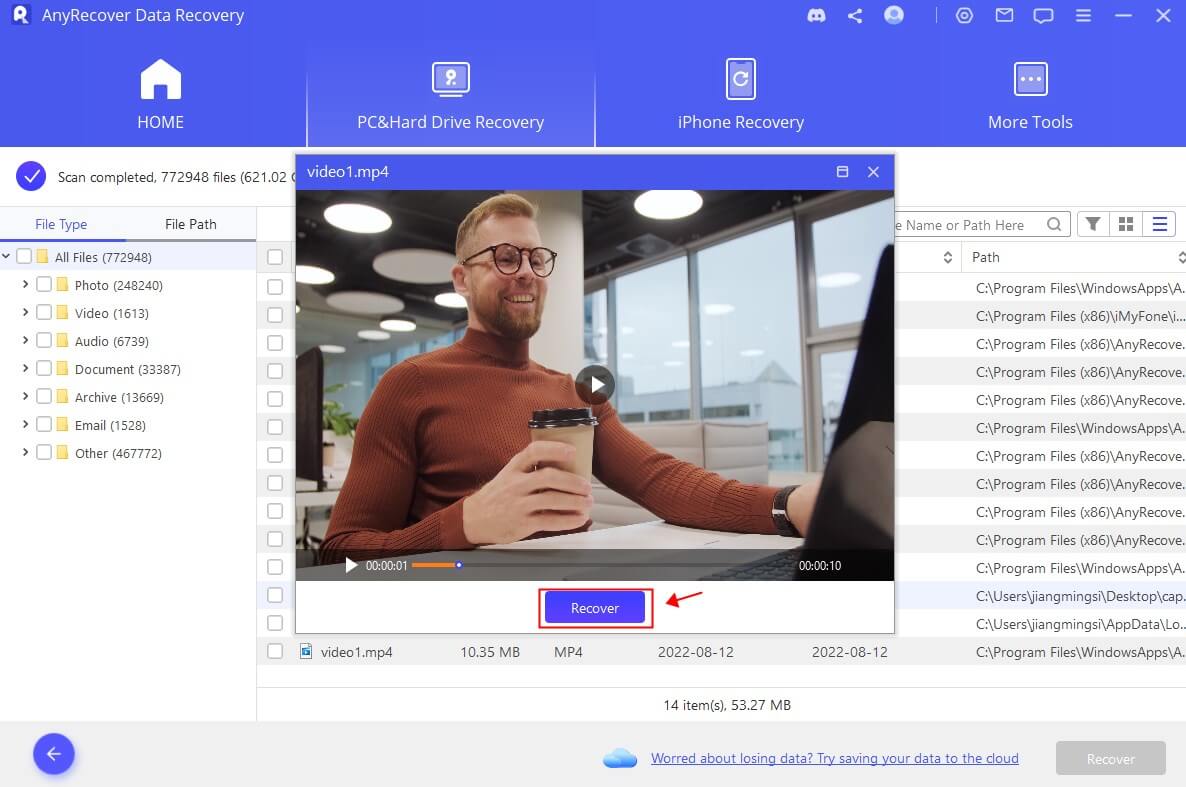 YouTube Video Guide about How to Recover Deleted Videos from Capcut
Part 4. How to get back deleted CapCut edits for iPhone?
step 1. Launch AnyRecover and choose "iPhone Recovery". Connect your device to the computer and then click "Next" to proceed.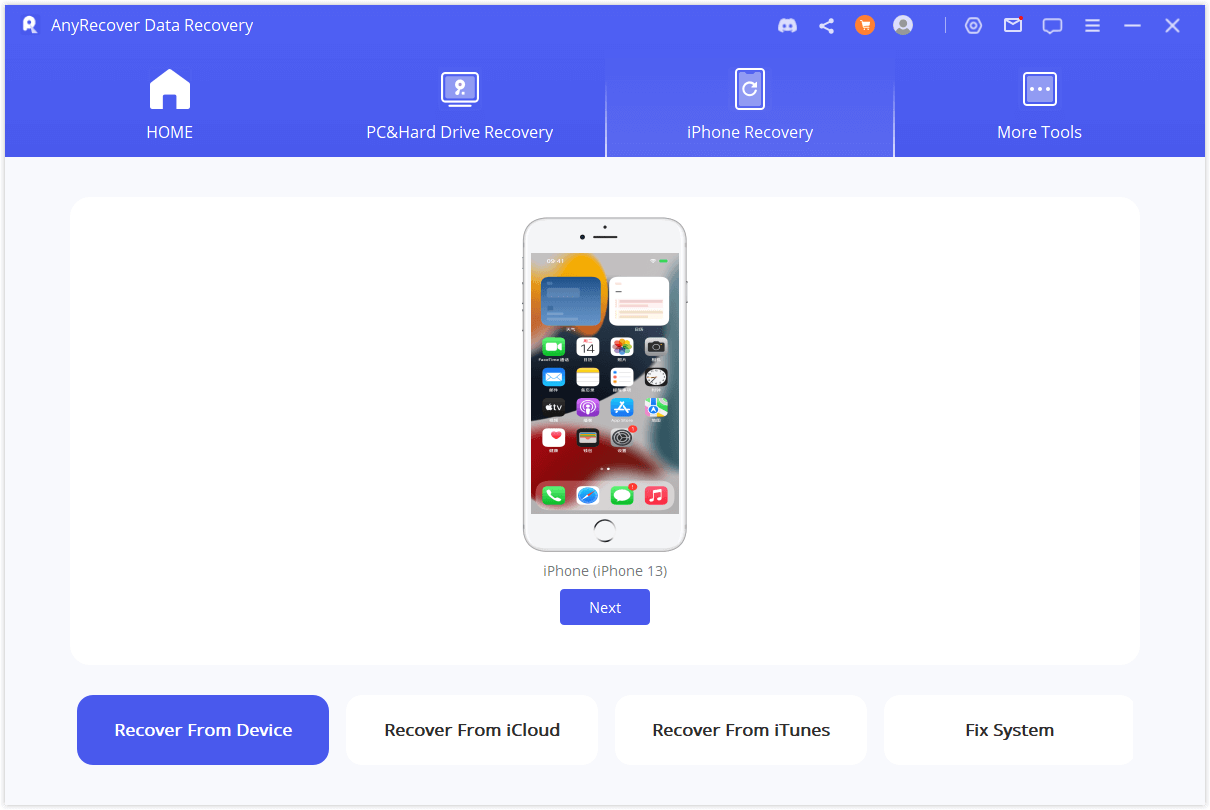 step 2. Select the types of files to recover and click "Scan".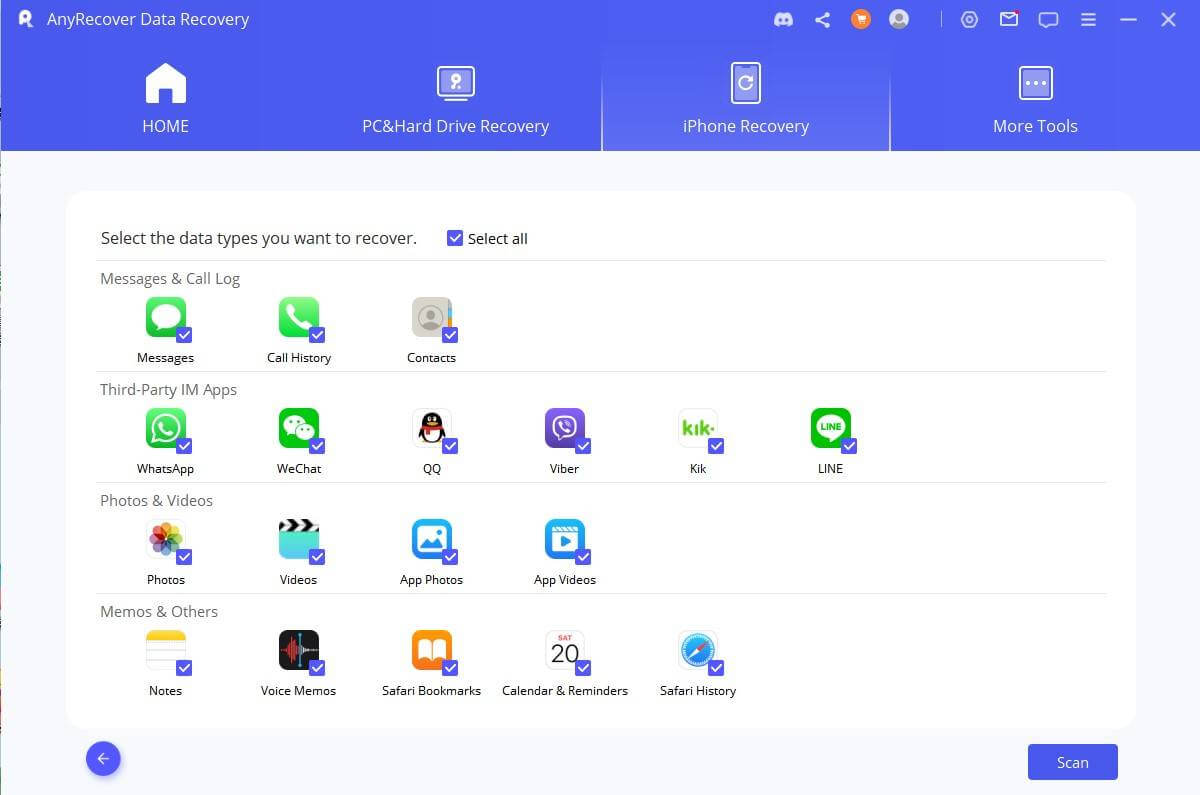 step 3. After the scan, all the recoverable CapCut data will be listed and you can preview it freely. Lastly, select the data you want to recover and hit the button "Recover".
Recover CapCut video with AnyRecover
Recover deleted videos from computers, and phones in 1 software.
Part 5. FAQs about CapCut Recovery
5.1 Why did CapCut delete all my projects?
There could be several reasons why your CapCut projects were deleted. Here are a few possibilities:
Technical issues: Sometimes, technical glitches can cause data loss or deletion. It's possible that there was a bug or error in the CapCut app that caused your projects to be deleted.
User error: It's possible that you accidentally deleted your projects yourself. This could happen if you were trying to free up storage space on your device, or if you mistakenly selected the wrong files to delete.
Device issues: If there are issues with your device's storage, such as corruption or damage, it could result in data loss or deletion.
App updates: If CapCut undergoes updates or changes, it's possible that some of your projects may no longer be compatible with the new version of the app.
If you have lost your CapCut projects and are unable to recover them, it's best to contact CapCut support for assistance. They may be able to help you determine the cause of the issue and offer potential solutions. If you find it time-consuming or they can't get back your lost capcut projects, AnyRecover professional data recovery tool will be your best help.
5.2 If I delete CapCut will I lose everything?
If you delete CapCut, you may lose the app's cached data, which includes any edits or projects that you have not yet saved or exported. However, if you have saved your projects to your device's storage or the cloud, they will not be lost if you delete the app.
It's always a good practice to regularly back up your CapCut projects to prevent losing your hard work. You can save your projects to your device's storage, or a cloud storage service, or export them to a video file that you can store on your device or other external storage.
Before you delete CapCut, it's a good idea to make sure that you have backed up any important projects or data. This will help ensure that you don't lose anything important when you delete the app. If you accidentally deleted a CapCut video on your computer/phone and can't find where it is, you can use AnyRecover to easily retrieve your precious video.
Conclusion
To prevent future data loss, it's important to regularly back up your CapCut projects and videos. You can save them to your device's storage or a cloud storage service, or export them to a video file that you can store on your device or other external storage. By following these tips and techniques, you can increase your chances of recovering your deleted CapCut videos and ensure that your hard work is never lost.
In conclusion, losing your CapCut videos can be frustrating, but there are several methods you can try to recover them. The first method is to check your CapCut cache folder, which may still contain your deleted videos. Another option is to restore your videos from a backup or cloud storage service. If all else fails, you can try using Anyrecover data recovery software to recover your lost videos.
Your Best Data Recovery Specialist
AnyRecover helps you recover lost Capcut Projects without backup and can fix your corrupted or unplayable video.