For those who don't know, Picasa was a very popular platform where users could upload their photos to organize or share them with others. The platform was purchased by Google many years ago, and in 2016 Google decided to close the platform down. While new users cannot sign up for the service, Google allowed people who had already downloaded the desktop application to continue using the platform. However, the application is no longer updated or developed.
Many people still use this platform due to its popularity, and it can be a nightmare when you accidentally delete an important photo from Picasa. In this article, we'll be exploring how to retrieve photos from picasa if your Picasa photos have disappeared.
Part 1: Reasons That May Cause Picasa Photo Loss
There are a few reasons why photos in Picasa can end up being deleted. You're probably wondering 'how do I retrieve photos from Picasa?' We're going to tell you shortly. However, to recover photos from Google Picasa you must understand how the photo became deleted in the first place. Below are three of the main reasons why Picasa photos become deleted.
Accidental Deletion of Photos
This is perhaps the most common reason behind deleted Picasa photos. You are using the application when you accidentally delete the wrong photo. You may not realize it at the time, but at some point, you need to get that photo back as it's important to you. People often wonder 'where are my old Picasa photos', not realizing that they may have accidentally deleted them.
Uninstallation of the Picasa Application
If you're not paying full attention to what you're doing, you may knowingly or unknowingly uninstall the Picasa application, which will result in the deletion of your photos from the platform. You will need to perform a Picasa restore to get them back.
Virus or Malware Attacks
Viruses or malware on your computer system can cause havoc to your files, including your photos on Picasa. It's essential to protect yourself from viruses to ensure that your Google Picasa photos don't get deleted. When the viruses delete the photos, people mistakenly believe that Picasa deleted their photos.
In the next section, we'll be taking a look at how to retrieve photos from Picasa.
Part 2: How to Retrieve Photos Deleted from Picasa
Below are three of the most effective methods to recover deleted Picasa photos. The method that will work for you will depend on a number of factors, such as how and why the file was deleted. If the first two methods do not work, we highly recommend trying the third method as it has the highest success rate of them all.
1

Undelete Picasa Photos from Recycle Bin or Trash

When Google originally developed Picasa, they incorporated some useful features in case you accidentally deleted a file and wanted to recover it quickly. Users of both the Mac and Windows operating systems can recover deleted Picasa photos by checking the Trash or Recycle Bin.

For Windows 11/10/8.1/8/7/XP:
1. Launch the Recycle Bin from the desktop by clicking on the icon.

2. Find the Picasa photos that were deleted by looking through the image thumbnails.

3. When you've found the photo you want to recover, right-click it, and press Restore. The deleted Picasa photos should have been recovered to the Picasa album's original location.
The steps for restoring deleted Picasa photos on Mac are detailed below.
For Mac:
1. Launch the Trash folder.

2. Magnify the size of the photos so you can see the deleted Picasa photos properly.

3. Once you have identified the deleted photos, drag them to a different location on your system (for example, to another folder or a USB flash drive).
You will now have your photos saved to a new location on your system.
2

Restore Deleted/Lost Photos from Picasa Backup

Another useful way to restore deleted photos from Picasa is to use a Picasa backup. Below are the steps to take to restore your Picasa photos from a backup.
1. Launch the Picasa desktop application on your computer.

2. Open the File menu and click on Import from Web Albums.

3. Leave the settings as they are and simply click on OK to begin the restoration process.
You may have to wait a while for all of the photos to be restored if your Picasa Web Albums account has a lot of photos in it.
3

Recover Deleted/Lost Picasa Photos with AnyRecover

In some instances, the above solutions may not work for recovering deleted or lost Picasa photos. These methods may not work depending on how the original photos were deleted. Thankfully there's a final option, which has a very high success rate. You can download and install an excellent photo recovery software - AnyRecover that can recover photos from Google Picasa quickly and easily.

1,000,000 + Downloads
Features of AnyRecover:
AnyRecover is designed to retrieve thousands of different file types, including Picasa photos, videos, office documents, emails, audios, archives, etc.
Quick and easy to use to retrieve deleted/lost photos from computer, CF card, SD card, Memory card, Nikon Camera, and so on.
AnyRecover is trusted by hundreds of thousands of users worldwide> to recover their lost or deleted photos and files.
The software supports both Mac and Windows OS (including the latest Windows 11).
AnyRecover has a very high recovery success rate which ensures the successful recovery of your lost data.
Below are the three steps you need to follow to recover deleted photos from Google Picasa:
Step 1. Download and install AnyRecover photo recovery. Open the application and locate the drive where your Picasa photos were stored. Click on "Start" to begin scanning for your lost photos from Picasa.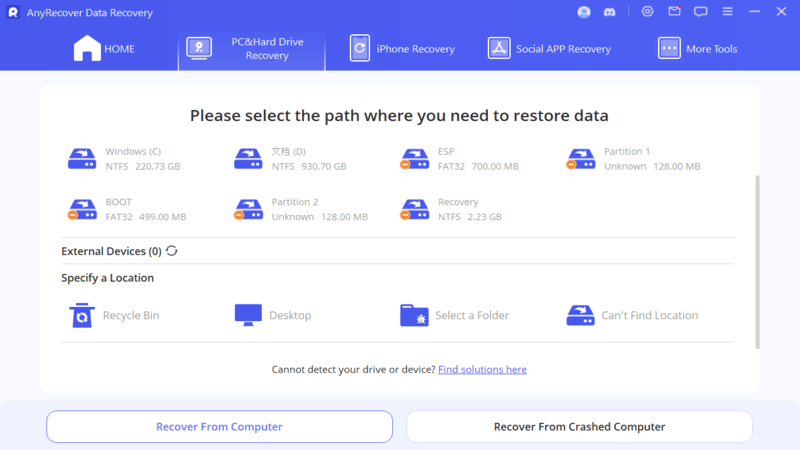 Step 2. Once the scan has finished, you'll be able to see the lost Picasa photos AnyRecover has found. This process can take a few minutes, so you may need to be patient.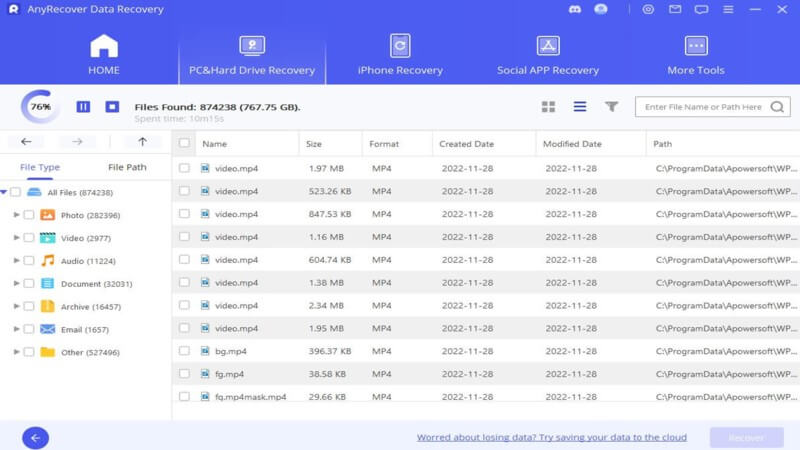 Step 3. To start the recovery process, click on the "Recover" button. Choose a different location to save the photos to. AnyRecover will then recover your deleted Picasa photos.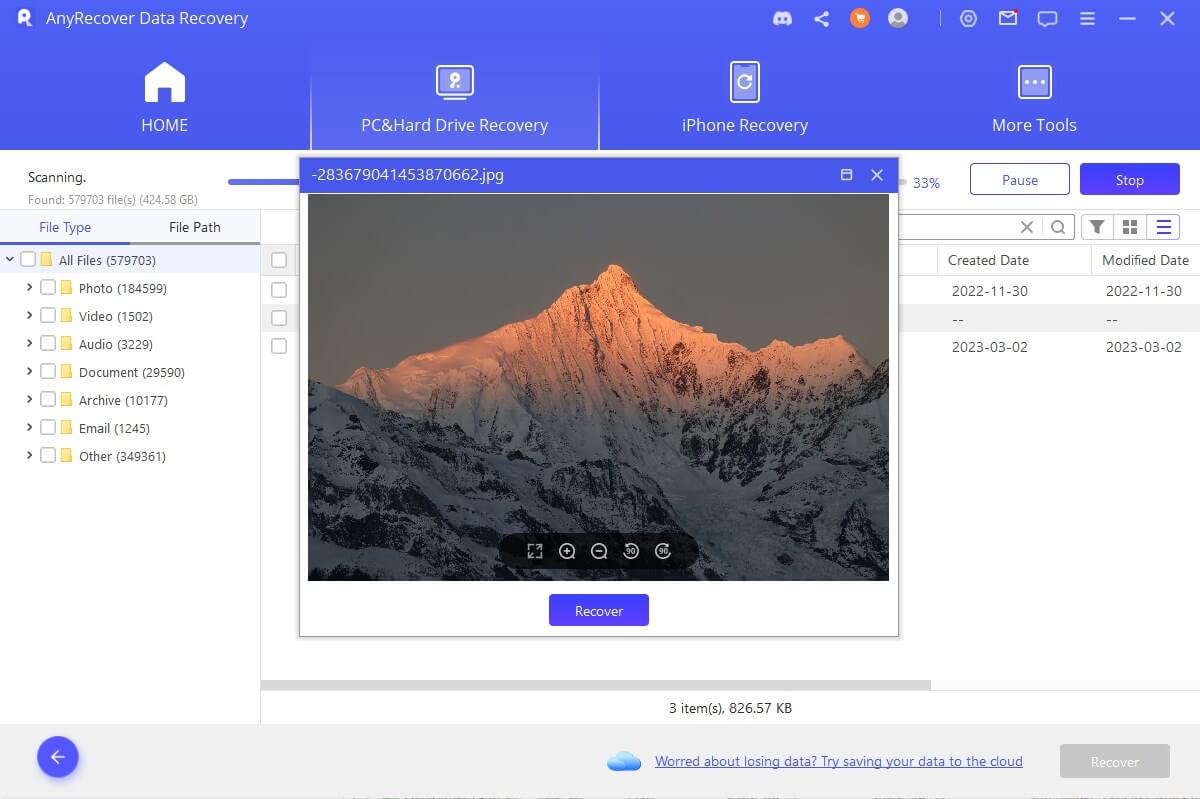 Part 3: The Difference Between Google Photos and Picasa Photos
Despite Picasa being owned by Google, there are several differences when it comes to Picasa Photos and Google Photos. Google Photos has many more advanced features, which isn't a surprise considering the fact that Google discontinued development and support for Picasa Photos back in 2016.
Google Photos allows users to upload and share photos, as well as search, classify, and group photos into different categories. Photos can also be edited, cropped, adjusted, and modified using Google Photos.
Picasa Photos was fairly similar in some regards; however, the service was focused on the desktop application, which made sharing of photos a lot harder than it is today. This is especially true when you consider that Google Photos is a cloud-based service, which makes it much easier to share photos with friends and family.
These days Google Photos is undoubtedly the future of storing, editing, and sharing your photos from a web-based interface. While Picasa was certainly good for its time, the fact it's no longer being developed or updated means that Google Photos is guaranteed to be much better than Google Picasa.
Conclusion
Some people still prefer to use the Picasa photos application, which is absolutely fine. However, it's important to be aware of the fact that the platform is no longer updated. This means that if something goes wrong, such as accidentally deleting your files, it may become difficult to recover them. By now you have learned how to retrieve photos from picasa web album.
Going forward, we'd certainly recommend being careful and double-checking before deleting any photos from Picasa. Make sure you have a backup of all your photos, just in case you decide you need them again in the future. It's also a good idea to keep your computer's operating system up-to-date and to install anti-virus software to protect yourself from attacks that could potentially result in your Picasa photos from being deleted.
Give Anyrecover a try and see if it is right for you!