It's easy to lose or mistakenly delete important media files on our mobile devices every now and then. If you lost an important video, for instance, you'll probably be asking about how to recover deleted videos from Android. Thankfully, Android provides users with ways to recover lost media files. As such, media files like photos and videos won't be gone forever if you've deleted them accidentally.
This article will show you how to easily recover lost video files on your Android device, as well as the best practices.
Part 1. Is It Possible to Retrieve Deleted Videos from Android?
Yes. Videos are usually stored inside your phone's storage device. They can also be inside the phone's default internal storage or on an external micro SD-card, which can perform video recovery through the powerful AnyRecover software when something goes wrong. If you delete important videos by mistake from your Android device, it's still possible to recover them.
As an added tip, you should turn on the "Back up & Sync" option on your device. By doing this, videos and photos you've deleted will move to your "trash" and stay there for the next 60 days before they get deleted forever.
If you've lost videos on your device, you should pay attention to these important points:
Did you share your video library with another account?

Were the videos stored on the phone's memory or on an external storage device?
Part 2. How to Recover Deleted Videos from Android Phone
There are a variety of ways to recover deleted videos on your Android device. Some are effective, whereas, others are not. However, below are the 4 most effective techniques you can incorporate to recover deleted videos from Android.
1. Not Emptying Your "Recently Deleted" Folder
Many Android devices come with a "Recently Deleted" folder in the Gallery app, which receives all of your recently deleted media, including photos and videos. This is the first place to check if you recently deleted something by mistake.
Your recently deleted folder should hold up to 1.5GB of data comfortably. Note that if you empty this folder or after one month, you've permanently deleted the items it held.
How to Restore Deleted Videos From Recently Deleted Folder in Android
You can restore recently deleted items in your Recently Deleted folder using the following steps:
Open your Recently Deleted folder in the Gallery app.

Select and highlight the deleted items you want to restore.

Pressing the Restore option in the extended menu bar.

Deleted videos will be restored successfully.
2. Having Uploaded Videos to Google Photos App
"Back up and Sync" is Android's storage service that automatically saves your videos and photos (in Google Photos app) to your Google account. One advantage is that you can access the backed-up media across any of your other devices where you're logged in.
How to Restore Deleted Videos With Google Photos on Android
On your Android tablet or phone, launch the Google Photos app.

Sign in to Google with your account.

Select the menu: Library (located at the bottom right corner of the app) > and then Trash (located at the top menu).

To recover items from Trash, press and hold to highlight the video(s). (Multiple items can be selected).

After selecting, tap on the Restore option at the bottom right of your screen.

Note
These settings will affect all your other apps that also use Backup & Sync. And, deleting Google Photos from your device doesn't deactivate Backup & Sync.

Tip
In case you take photos or make videos and they're not backed-up automatically, you can set it up and upload photos and videos by activating Back up & Sync. Ensure that your internet connection is active and properly set-up. To upload, follow the steps below:
Go to Google Photos app.

Sign in.

Tap your Profile Photo at the top right corner to access Profile Settings.

Select > Photos Settings > Back up & Sync.

Toggle on or off (keep it on).
Afterwards, your videos will be automatically uploaded to your Google Photos Account.
As soon as you take pictures or make videos, they will be synced to your Google Account instantly.
Any edits you make will be effected/accessible across all your devices.
By enabling Face Grouping you can also quickly search and find photos by the places, things, and people in them.
If you lose or mistakenly delete videos afterward, you can simply recover them from your Google Account.
3. Having Backed up Videos in Google Drive
Backing up your videos to Google Drive can help you recover them easily if they ever get missing from your device. Besides that, by backing up to Drive, you can access your favorite videos from anywhere or on any device where you're signed in.
How to Restore Deleted Videos With Google Drive on Android
Open Google Drive app.

Tap on the menu bar at the top-left corner of your screen.

Click on the menu Trash.

Tap on the three-dot menu next to the video-file you want to restore and a pop-up menu will appear.

From the list of options that appear in the pop-up menu, click Restore.

Videos will be restored successfully.

Tip
Uploading your videos to Google Drive is easy. After backing up, you can even play the videos directly from Google Drive. To upload or backup your videos to Google Drive, you must sign up for a Google Drive account if you don't have one already. Afterward, simply follow the steps below to upload or back up your videos:
Open Photos app on your Android tablet or phone.

Select the video you wish to backup (you can select multiple items).

Tap on the > Share menu.

Select > Save to Drive.

Tap the > Save option.
4. Recovering Permanently Deleted Videos from Android Phone Memory
Sometimes, the first three methods may not work, especially if the video you're looking for is in the phone's internal storage or on an external SD-card. You may still be stuck looking for how to recover deleted videos from phone memory. If this is your current situation, you can incorporate powerful third-party apps like iMyFone AnyRecover to recover deleted videos from your Android phone. This product is also effective if you want to recover deleted videos from Android with a computer.

Apart from being such an effective tool, here are some of iMyFone AnyRecover's key features:
Recovers deleted,/lost/corrupted videos from Android under various scenarios like mistaken deletion, formatting, damaged memory cards and virus attack.
Recovers videos from different devices including Android phone's memory cards, internal&external hard drives,SD cards and cameras.
Recovers 1000+ formats of multiple files such as videos, photos, texts, emails, contacts, etc. with the highest success rate.
Working on both Mac and Windows systems inluding the latest Windows 11, it supports previewing any files before recovery.
With the 100% safety rate and the fastest speed, the tool allows every user to recover 8 videos for free, no size limited.
To recover deleted videos with iMyFone AnyRecover, simply follow the steps below:
Step 1 Launch iMyFone AnyRecovery on your computer and connect your Android phone's memory card to the computer through a card reader. Then choose the card under "External Removable Devices" and hit Start button.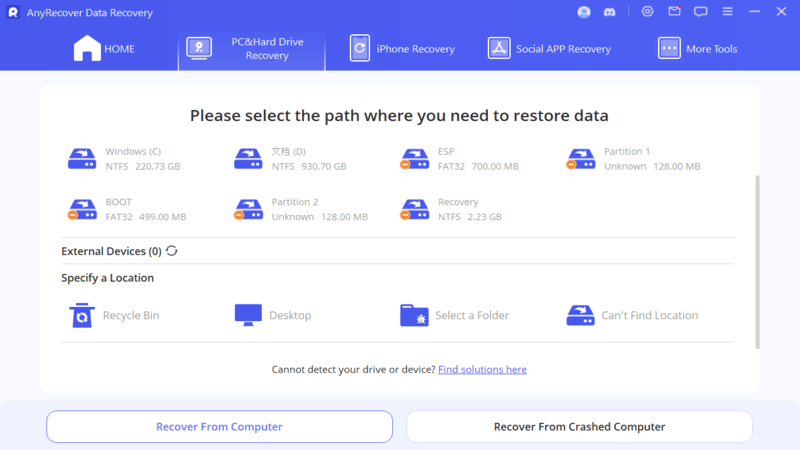 Step 2 Then, the app will start the scanning process combined with quick scan and deep scan.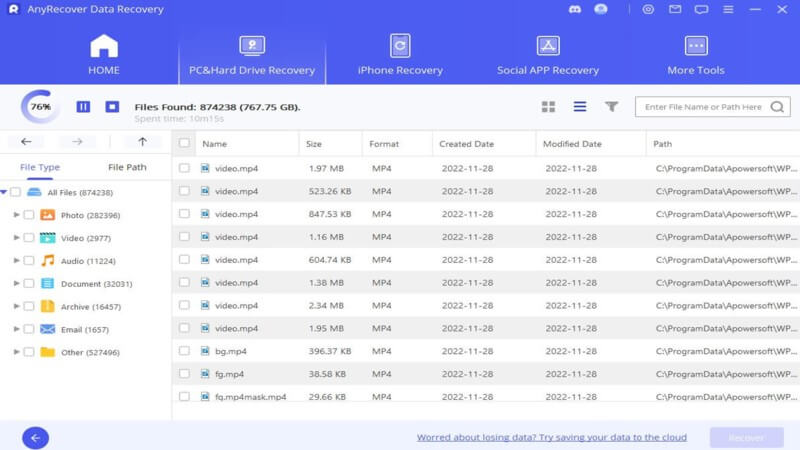 Step 3 When scan is complete, browse and select videos for recovery, then click on Recover to complete the recovery.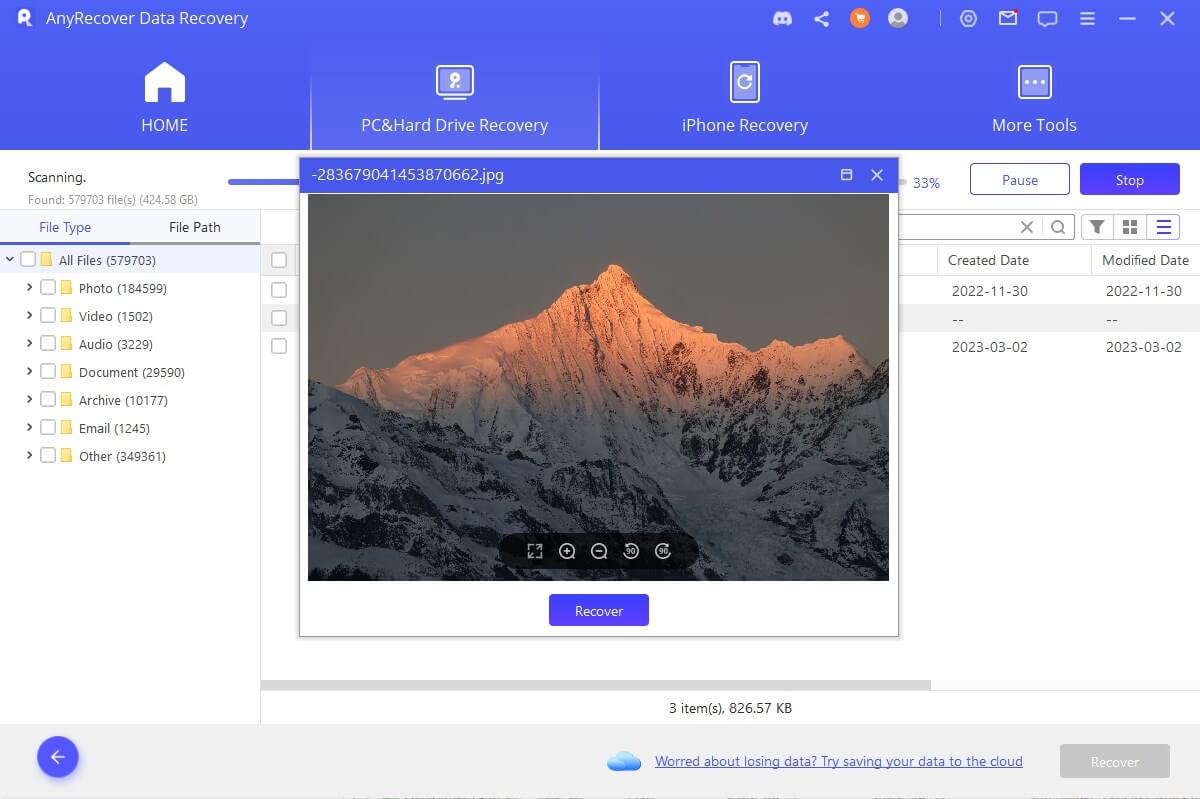 FAQ — What Are the Common Scenarios of Video Loss on Android Phone?
There are several scenarios that can cause video loss on Android devices. Some include:
Corrupt Videos: If a video is damaged or corrupt, your Android device may not recognize the file. So, it may be absent in your video player's list of videos.

Incomplete Video Downloads: Most Android phones will not find or play a video file if it wasn't downloaded completely. It may even indicate the video as missing or corrupt.

Corrupt SD Card: If your SD card is corrupt, it can affect videos on your device. You must be mindful of where you download or share files from so that you don't infect your phone with malware that can corrupt your SD card.
Conclusion
Whether your media files were corrupted, lost, or deleted mistakenly, Android allows you to leverage various methods to recover your lost files. The default option is by using Google Photos. However, ideally, you should integrate powerful recovery apps like iMyFone AnyRecover to recover lost videos on your phone's internal memory or external SD card. The product has a high success rate and is built for the most complex scenarios.