The landscape of photo restoration has undergone a revolution thanks to AI-powered software tools. These cutting-edge solutions offer an efficient and effective way to preserve precious memories by restoring old and damaged photos. Unlike traditional methods that demand extensive manual labor and expertise, AI-driven tools leverage advanced algorithms to automatically analyze, repair, and enhance images, thereby saving valuable time and effort.
In this article, we will delve into the realm of AI photo restoration, providing a comprehensive review of the top 10 software and online tools available in the market. By examining their features, performance, and user experiences, our aim is to assist you in discovering the perfect solution to breathe new life into your treasured photographs.
9 Best Ai photo restoration Software
1. VanceAI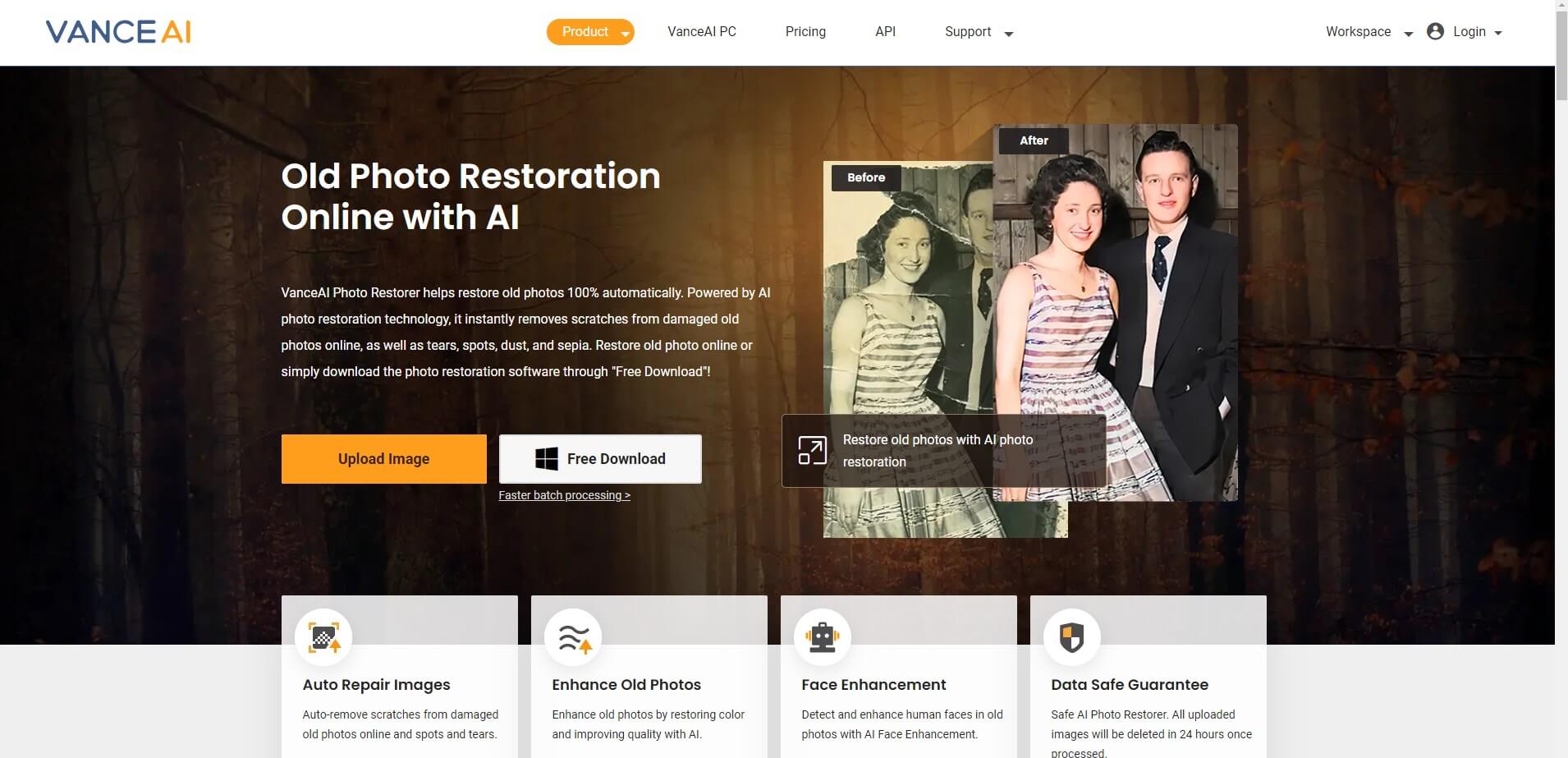 Experience the remarkable precision of VanceAI Photo Restorer, a powerful tool that harnesses the potential of artificial intelligence to bring old and damaged photos back to life. Whether you're a beginner or a seasoned professional, its user-friendly interface and efficient algorithms make it an excellent choice for all.
With automatic colorization, noise reduction, and scratch removal capabilities, this software can effortlessly rejuvenate your aging photos, making them look as good as new. The added advantage of batch processing allows you to work on multiple photos simultaneously, saving valuable time. Moreover, VanceAI Photo Restorer ensures high-resolution output, guaranteeing that your restored images retain their original quality.
Discover the top features of VanceAI Photo Restoration:
Colorizes and reduces noise automatically

Processes batches of multiple photos

Produces high-resolution output
2. Hotpot Ai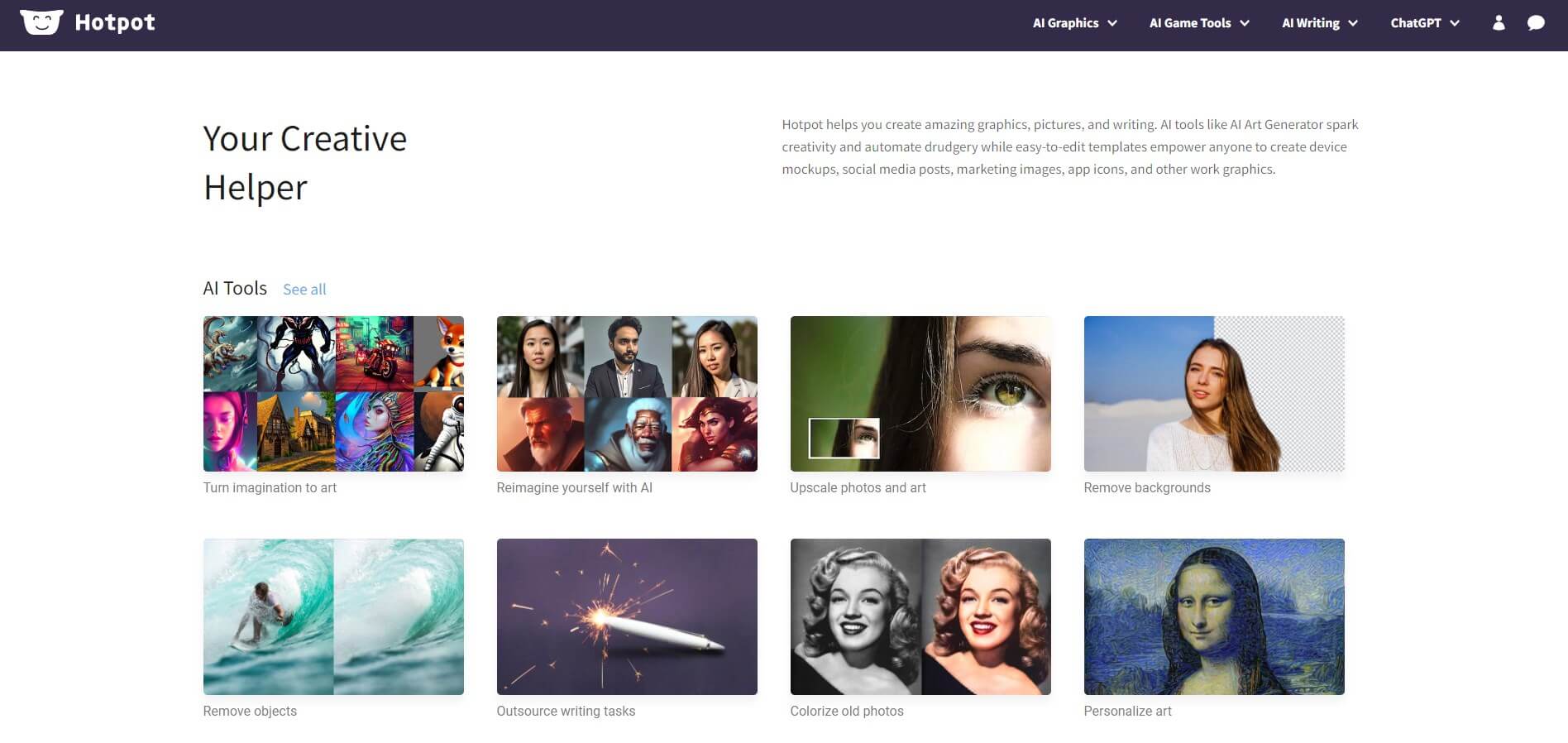 Hotpot offers a wide range of tools for different purposes, including art creation, image resizing, object removal, design, and editing. Among these tools, Hotpot includes an AI photo restoration tool, which is valuable for repairing damaged images by removing blemishes, scratches, and imperfections. Additionally, it features an image colorizer that can add colors to black-and-white pictures. The tool has a user-friendly interface and is easy to use, and users can purchase credits to access any of Hotpot's AI tools.
Discover the top features of Hotpot.AI:
User-friendly interface for easy navigation

Swift restoration process for quick results

Supports a variety of image formats for versatility
3. ImageColorizer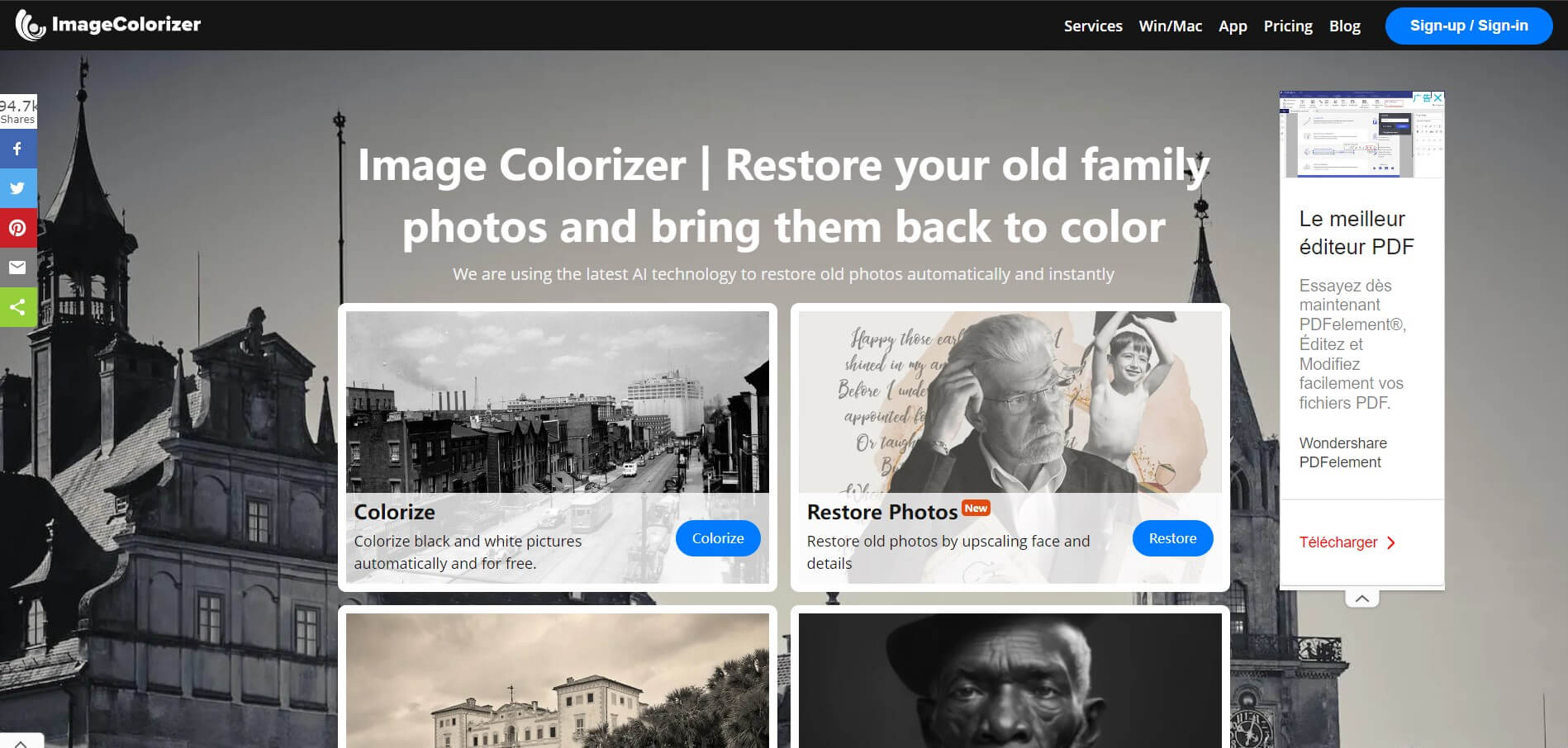 ImageColorizer is an AI-powered tool designed specifically for photo restoration, specializing in adding vibrant colors to black and white images. Through advanced algorithms, it analyzes the grayscale data in your photos and intelligently applies realistic colors, breathing new life into old memories and enhancing their visual appeal.
Beyond colorization, ImageColorizer also offers additional features for repairing and improving your photos. It can effectively remove scratches and allows you to adjust brightness and contrast levels for better overall quality.
Check out the key features of ImageColorizer:
Automatic colorization

User-friendly interface for effortless use

Supports batch processing
4. MyHeritage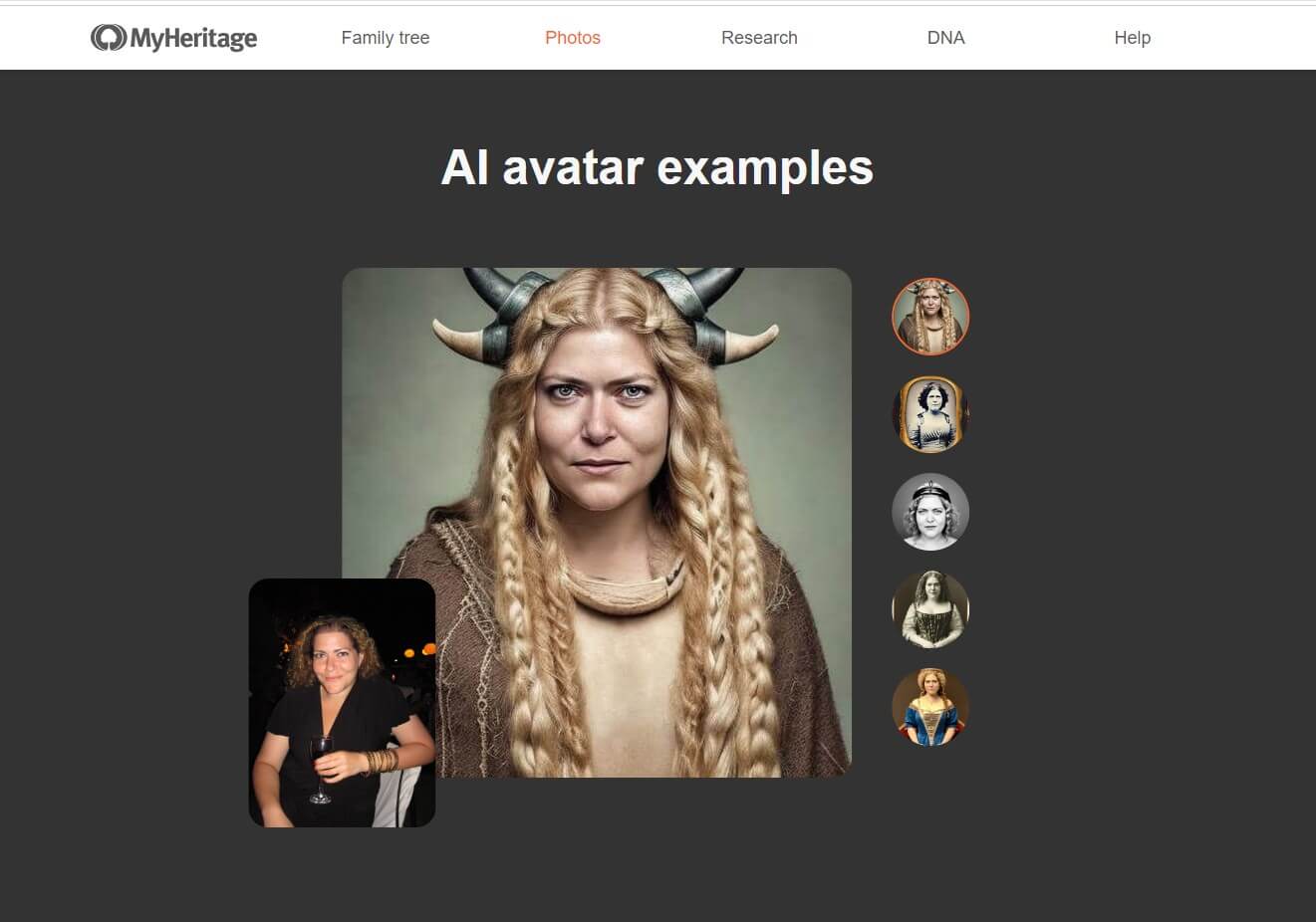 MyHeritage stands as a comprehensive family history platform, boasting a remarkable AI photo restoration tool among its array of genealogy resources. One of its standout innovations is Deep Nostalgia, an AI-driven technology capable of rejuvenating, refining, and even animating vintage photographs.
The seamless integration with MyHeritage's family tree platform empowers users to effortlessly manage their family's historical images while constructing their family history. This distinctive fusion of functionalities renders MyHeritage an indispensable asset for genealogy enthusiasts and photo restoration aficionados alike.
Precise Restoration through Advanced Deep Learning Algorithms

Seamless Integration with MyHeritage's Family Tree Platform

Enhanced Colorization for Optimal Results
5. Photomyne
Photomyne presents a mobile app that harnesses the potential of AI-driven photo restoration to safeguard your cherished memories. With this app, you can effortlessly and swiftly scan numerous photos at a time using your smartphone's camera.
Once scanned, Photomyne's advanced AI algorithms come into play, analyzing the images and automatically applying necessary adjustments such as cropping and color correction for the best possible outcomes. Moreover, the app includes convenient sharing options, facilitating the display of your restored photos on social media or the effortless sharing with loved ones.
Photomyne's perfect blend of user-friendly convenience and robust restoration features establishes it as the ultimate option for on-the-go photo preservation.
Discover the standout features of Photomyne:
Effortlessly scan multiple photos using your smartphone simultaneously

Enjoy automatic cropping and color correction for flawless results

Share your preserved memories effortlessly on social media with user-friendly options
6. Remini Ai
Remini, the mobile app powered by AI technology, swiftly restores and enhances your vintage photos within seconds. With real-time restoration capabilities, you can witness the transformations instantly, effortlessly refining your images to perfection. The app's intuitive interface caters to users of all expertise levels, while its speedy sharing options make it a breeze to showcase your revitalized memories on social media or share them with loved ones.
Discover the impressive features of Remini-AI:
Instant photo restoration in real-time

Intuitive and user-friendly interface

Effortless sharing options for social media platforms.
7. Fotor
Fotor, equipped with AI-powered photo restoration capabilities, empowers you to revive old photos within minutes, without any need for design expertise.
Within the tool, you'll find a variety of built-in features, including the object remover, photo enhancer, and blur remover, all dedicated to restoring your photos to their optimal quality.
The object remover swiftly eliminates scratches and spots, while the blur remover effectively sharpens fuzzy areas, improving picture resolution. Additionally, the light enhancement tool automatically adjusts brightness for the perfect visual appeal.
Fotor is accessible on the web and as a downloadable mobile app, offering convenience across devices. Best of all, it's free to use, with premium services available for those seeking an even more exceptional experience.
8. Neural Love
Established in 2020, Neural.love is a leading online platform offering AI-powered audio, video, and image editing and enhancement services. Our cutting-edge AI photo restoration tool specializes in repairing and restoring damaged images, providing seamless revitalization at no cost. With Neural.love, unleash the power of AI to transform your multimedia content into remarkable masterpieces.
Elevate your images with Neural Love features:
Seamlessly repair damages and scratches

Enhance fine details for added clarity

Correct color issues for vibrant visuals

Reduce blur, resulting in images with a sharper, clearer appearance.
9. Adobe Photoshop
Photoshop stands as the undeniable pioneer and foremost leader in professional photo editing. With a multitude of features surpassing those of any other photo editor, it offers you near-limitless creative control over your images.
Abundance of features and adjustment possibilities surpassing other photo editing software.

Versatile tools for manual and automatic adjustments, with fine-tuning options.

Explore the AI-powered Photo Restoration Neural Filter (Beta) for enhanced image restoration.

Utilize layers and smart objects for limitless, non-destructive adjustments.
Best Ai photo restoration and repair Tool-AnyRecover
Anyrecover provides "AI photo restoration" function, which can help you fix blurry photos or repair damaged pictures. Also it is an all-in-one data recovery software that supports recovering data from iPhone/iPad devices, Windows, and Mac computers. As the most cost-efficient Ai photo restoration software on the market, AnyRecover is designed not only to restore old photo, but also help you recover those precious lost photos.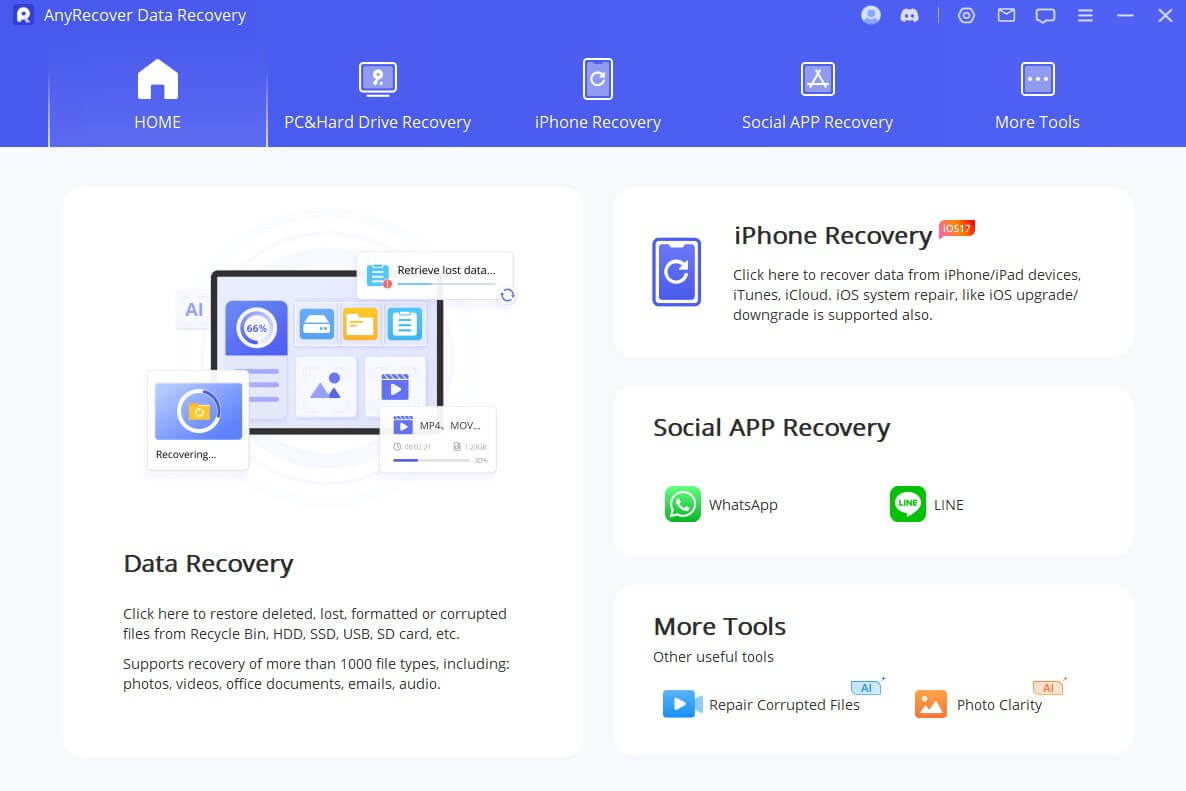 conclusion
Embracing the digital era, AI technology has revolutionized the preservation and restoration of old photographs, making it more accessible and efficient. Among the top 10 photo restoration tools listed above, there are options suited for various needs and skill levels.
Whether you're a professional photographer or a nostalgic individual seeking to revitalize family memories, these tools serve as an excellent entry point for your photo restoration venture. With the aid of artificial intelligence, you can effortlessly transform old, damaged photos into vibrant and captivating images, destined to be cherished for generations to come.