Are you interested in repairing a damaged PSD file? Read our guide and learn the most effective methods of corrupted PSD file recovery.
Adobe Photoshop is the leading piece of graphic editing software on the market undoubtedly. If you use this software then any projects you do will be saved in PSD format, which can be opened and edited again in the future. By saving projects as JPG or PNG, the project can't be opened and edited again without the PSD files. So, if that file is corrupted, damaged, or lost, editing your project won't be a possibility. Regardless of the Photoshop version you are using, the corrupted PSD file recovery methods that we're going to cover in this article will assist you with handling this unfortunate situation in an efficient manner.
Part 1: Reasons for Corrupted PSD Files
If your first thought upon seeing your corrupted PSD file is to wonder why this happened, you're not alone and it's likely that one of the reasons below are causes of your case.
Adobe Photoshop Error: All programs have different bugs and issues that result in the software malfunctioning or crashing. Photoshop isn't any different.
User Error: Believe it or not, a large amount of these cases is due to user error. Users who forget to save their work, close Photoshop too soon, or disconnect the storage device before it is saved may be affected by corruption.
Viruses and Malware: Viruses can be downloaded from websites that you don't realise are dangerous at first, or from downloading infected files. They can then damage your PSD files. A quick virus scan will determine if this is why your PSD file is corrupted.
Powered Off PC: Do you turn off your computer without closing all of the programs? If you close Photoshop too quickly and it doesn't save your work before powering down, you could have corrupted the last project you had open.
Hardware Faults: Although it is completely out of your control, hardware faults can cause file corruption. Hard drives have a limited lifespan and if you save files on a hard drive that is physically damaged or suddenly fails, the data on the drive will be compromised.
Part 2: How to Repair Corrupted PSD Files
Are you unsure whether or not the reason in your case is among those reasons? Don't worry, you don't need to pinpoint why this happens to take advantage of the corrupt PSD file recovery methods that we're about to introduce.
1

Repair Corrupted PSD Files from the Previous Version

The first check we suggest you do is to see if a previous version is available. Depending on your Windows backup settings, it's possible that there are earlier saves of your PSD file. If the PSD file has corrupted, this method enables you to restore that earlier version.
Step 1. Open the File Explorer window and open the folder containing the PSD file.

Step 2. Right-click the file and click "Restore previous versions".

Step 3. From the list of versions, choose the most recent and click "Restore".

Step 4. After restoring successfully, try opening the corrupt PSD file in Photoshop once again.
2

Restore Corrupted PSD Files from Temp Files

Should there not be a previous version available, the temp files that are automatically generated by Adobe Photoshop are worth checking out. To understand how to restore and repair corrupted PSD files with this method, no preparation is necessary.
Step 1. Open the File Explorer and go to the main C drive directory.

Step 2. Follow the folder path "Users > Your Username > AppData > Local", and open "Temp". If you are unable to see the AppData folder, make sure that hidden folders are visible.

Step 3. In this folder, locate a file which has "Photoshop" in the name.

Step 4. Copy the temp Photoshop file to a new folder and rename it to have the extension ".PSD" instead of ".TEMP".

Step 5. Open the new file in Photoshop and the most recent autosave will be displayed.
3

Recover Corrupted PSD Files from Backup

This next method makes users more cautious than they need to be as they assume that restoring a backup will overwrite all of their files. This isn't the case. Windows System Restore feature takes automatic backups of some data so that if problems arise, we can quickly restore an earlier copy.

There is a catch with this method: before the corruption, System Protection must be enabled. Assuming it's turned on, you can use this method.
Step 1. In the search bar, type "Create a restore point" and open the Control Panel option.

Step 2. Under "Protection Settings", ensure that this feature is turned on for your hard drive.

Step 3. Click on "System Restore" and follow on-screen steps to proceed with restoring the earlier versions of corrupted PSD files.
Note
It works as a recovery tool for Windows that allows users to restore their computers to a previous state without losing your personal data and files.
4

Check the "Open Recent" Tab

For this fourth method, corrupted PSD file recovery can be done with the assistance of a very useful feature on Adobe Photoshop. Note that this method may only be suitable if your Photoshop project file corrupted within the last hour or so. If it has been more than an hour, this likely won't help you with the problem at hand.

Simply open Photoshop and when you go to open a file, there will be a section for "Open Recent", which displays files that were recently accessed on Photoshop. If you lost the file, it may be as simple as checking this section.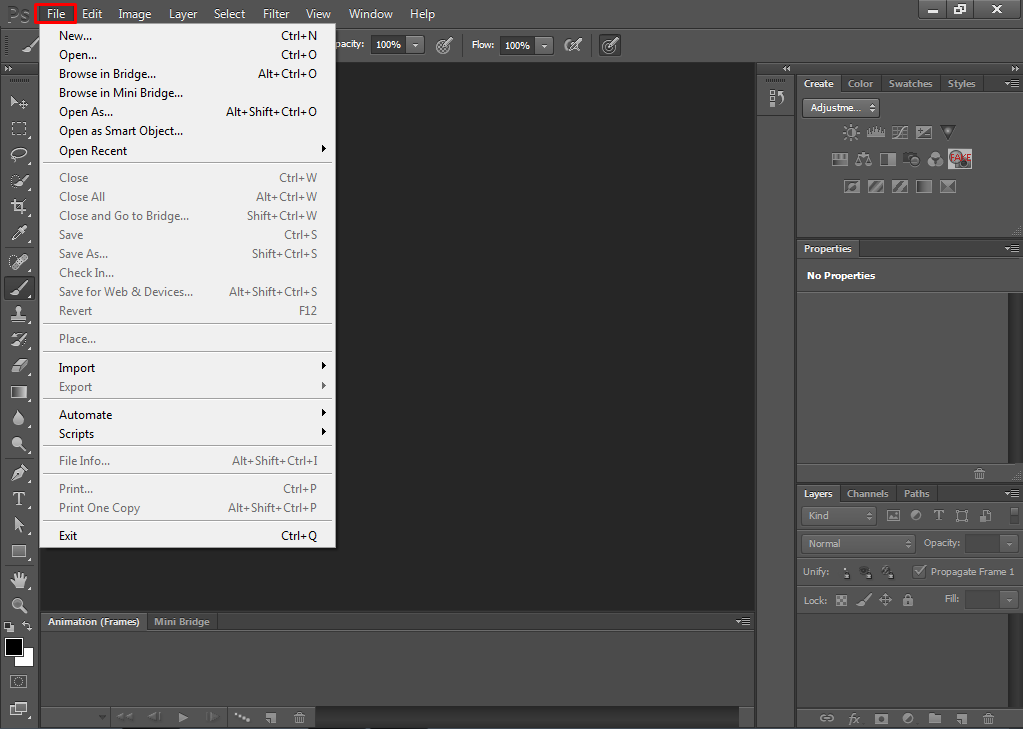 If it's there, all you have to do is open it normally and save a new copy.
Part 3: How to Recover Deleted or Lost PSD Files with AnyRecover
If these methods didn't help you learn how to restore and repair corrupted PSD files, the best thing you can do next is focus on recovering the files. To do this, you'll require a data recovery software like AnyRecover. Using this software enables users to retrieve files that were previously deleted or lost for any reason without years of expertise to assist them.

1,000,000 + Downloads
Features of iMyFone AnyRecover:        
Recover PSD files from a hard drive, solid-state drive, memory stick, or SD card.
Recover over 1000 different file formats as well as PSD files.
Easy to follow process that lets users recover PSD files without the assistance of experts.
Recover data for different causes such as users accidentally deleting, data corruption, and virus attacks.
Scan and selectively recover files from a hard drive, without recovering unnecessary data.
Steps to Recover Deleted or Lost PSD Files with AnyRecover:
Step 1. After you have AnyRecover installed on your computer, launch it and choose the hard drive where your lost/corrupted PSD files were stored. Click "Start" and AnyRecover will begin scanning the hard drive.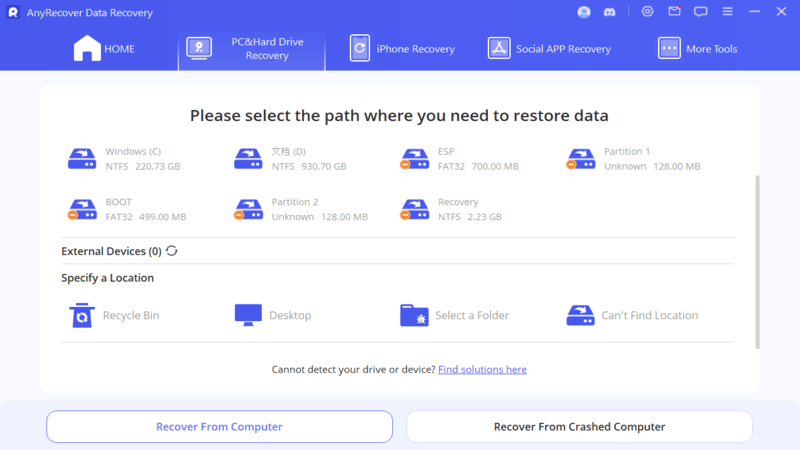 Step 2. The length of this scan will depend on the size of the location you chose and how many files are stored there. Wait until the scan is complete.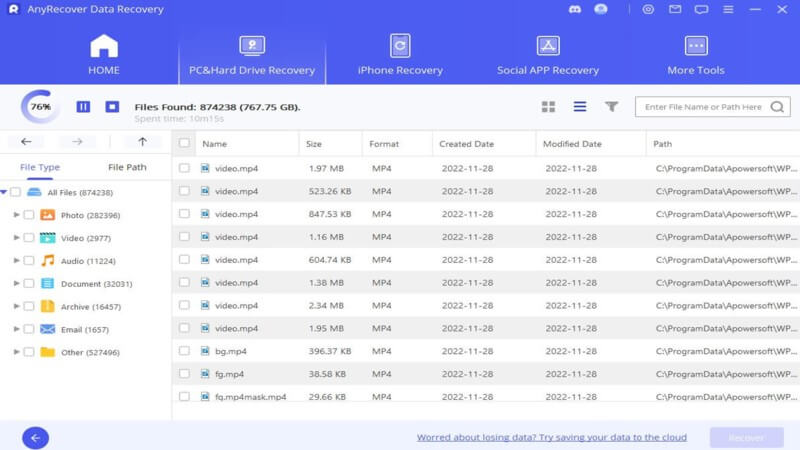 Step 3. Once AnyRecover's scan has concluded, browse the results and locate your PSD files. After selecting the lost PSD files, simply click "Recover" to finish this recovery process.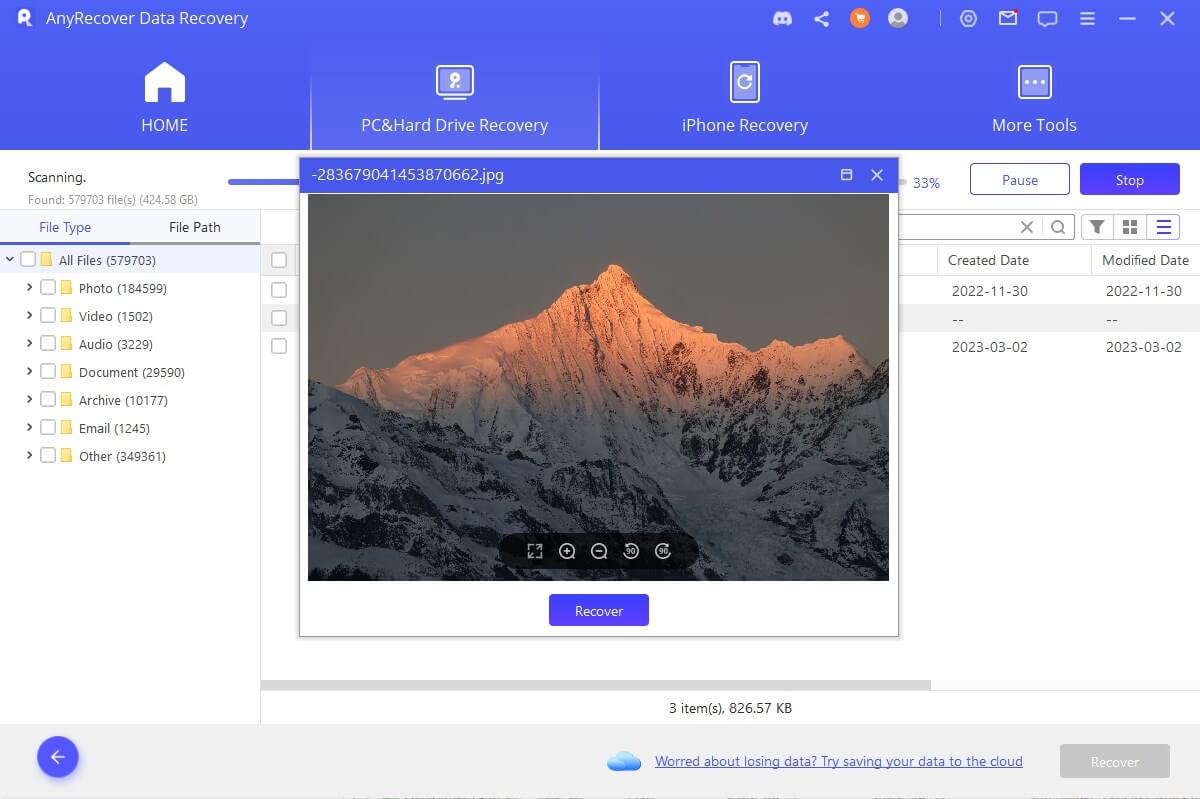 Conclusion
After putting in a lot of effort into a Photoshop editing project, having corrupted files is deeply upsetting. If all goes well then the methods above will successfully help your goal of corrupted PSD file recovery and you'll be able to continue working on the project as if nothing happened. Your best bet is to focus on AnyRecover because it is the most effective data recovery tool out there and it upon using it, you'll notice how amazing the results it delivers are.