Canon are the most respected name in photography. Anyone that has dabbled in photography has either used a Canon camera or dreams of using one. They aren't infallible however, and sometimes photos go missing. What are your options when it comes to canon photo recovery? Your best bet is using the Canon photo recovery software.
Best Photo Recovery Software for Camera
AnyRecover Photo Recovery allows users to find and restore just about any data from any storage device, no matter how the data was deleted or lost. That includes being able to recover Canon photo memory. Try AnyRecover if your photos are deleted or go missing.
Features of AnyRecover
Recover lost and deleted photos from your camera in 5 minutes .

Compatible with all leading digital and DSLR camera brands including Canon, Sony, Fuji, Epson,  Kodak, Sigma,  etc.

Highest recovery rate on the market allows you to recover lost photos/videos withou hassle.

Allow you to preview deleted files so that you can recover your photos selectively.

Recover over 1000 different file types including photos, videos, documents, emails, archives, audios, etc. 
Steps to use AnyRecover for Canon Photo Recovery
Step 1. Launch iMyFone AnyRecover. Connect your Canon camera to computer and select the external device you want to recover data from.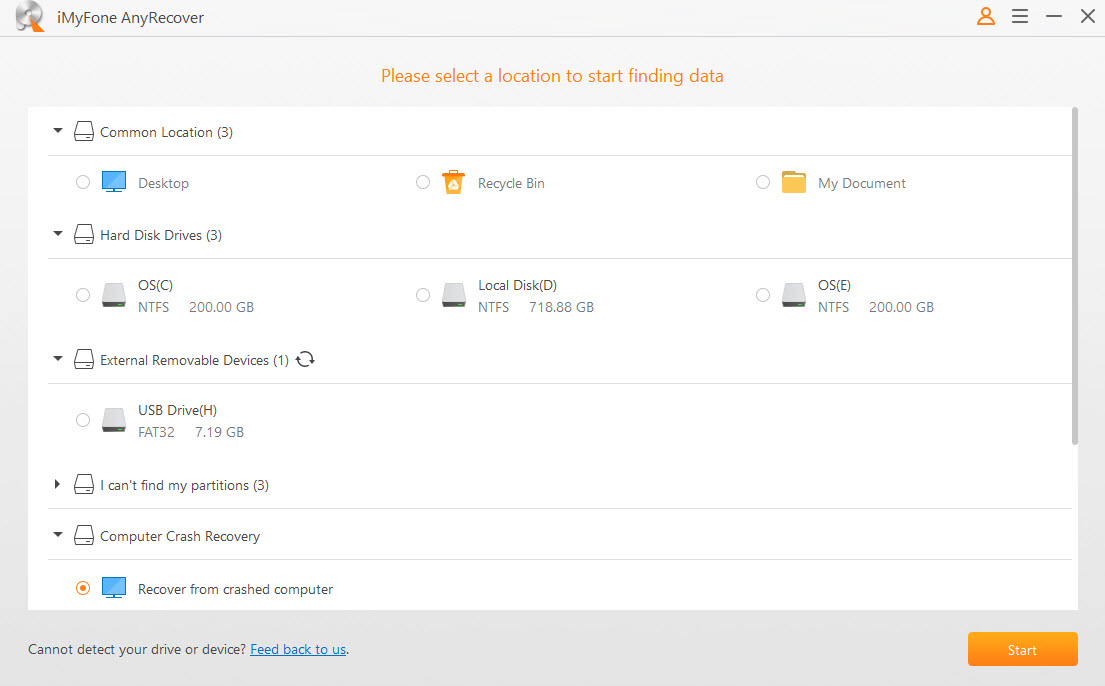 Step 2. Click on Start. It will scan all your files on your camera. Wait patiently for the process to complete.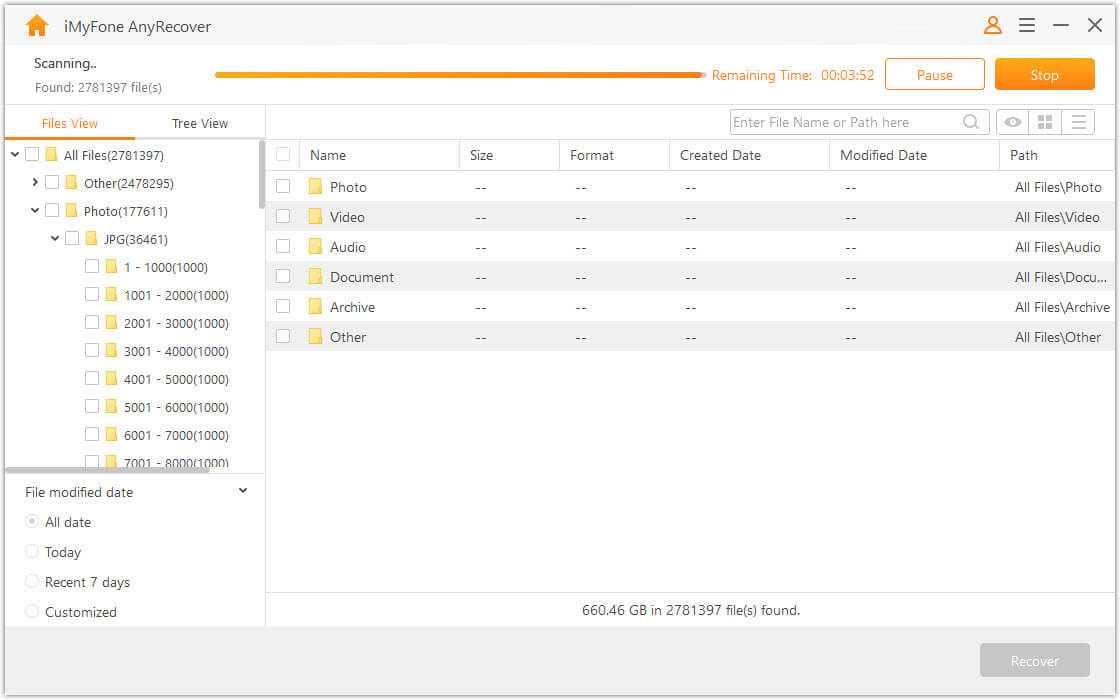 Step 3. After scanning, preview and select the photos you want to recover and then click on Recover. That's it!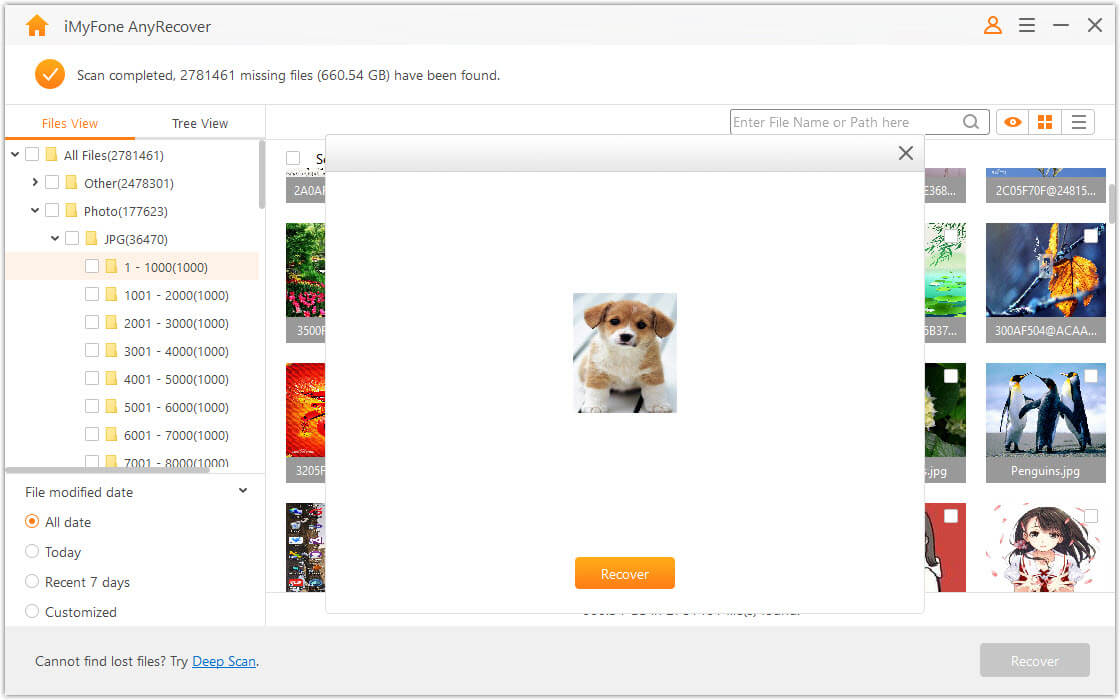 Why The Deleted Pictures Are Recoverable?
No matter how the photos on your storage device were deleted – whether it was through the camera, your computer, or by formatting the memory, the photos aren't actually erased immediately. The pictures and videos are invisible, but they are still there somewhere. At least until you start taking more pictures.
The more you have used your camera since the original file was deleted, the less likely it is to be recoverable. Stop using your camera as soon as you realize you want to recover something.
What to Do When You Lost Photos in SD Card
Stop using the SD card as soon as possible. Change SD cards if you want to still use the camera.
Don't format the SD card or memory card before trying to restore lost photos and videos
Find a good Canon photo recovery software such as AnyRecover.
Tips to Keep Camera Working Better
Don't Use Your Shirt as a Cleaning Cloth
It's convenient to give your lens a quick rub with your shirt, but this can cause a lot more harm than good. Invest in a proper lens cleaning cloth. They're more than worth the money, and they don't cost that much to begin with.
Buckle Up
Dropping your camera is the worst thing you can do to it, especially when outside and in rough terrain. Canon cameras almost always come with a shoulder strap included, and you can always buy another one if you don't like it. What matters is that you have some way of strapping the camera to you so that you can't drop it.
Cap it Off
The sensor in your camera is sensitive to things like debris and dust. Even tiny particles can cause spots to appear in images. If you have an interchangeable lens camera, your sensor is going to get dirty. Even self-cleaning sensors get dirty. The best way to keep the sensor is to have a lens mounted to it. There are several different kind of sensor lenses, so do a little research and find the right one for your needs.
Conclusion
The photos on your Canon camera aren't necessarily lost because they have been deleted. As long as it hasn't been too long since the original deletion, there's a good chance they can be recovered. All you need is a good software for Canon photo recovery, such as AnyRecover.