Canon cameras hold a distinctive reputation in the photography industry due to their exceptional picture quality and affordable prices. You can capture breath-taking shots with Canon cameras. But if you have lost your photos from your camera for any reason like corrupted SD Card, then you don't have to worry.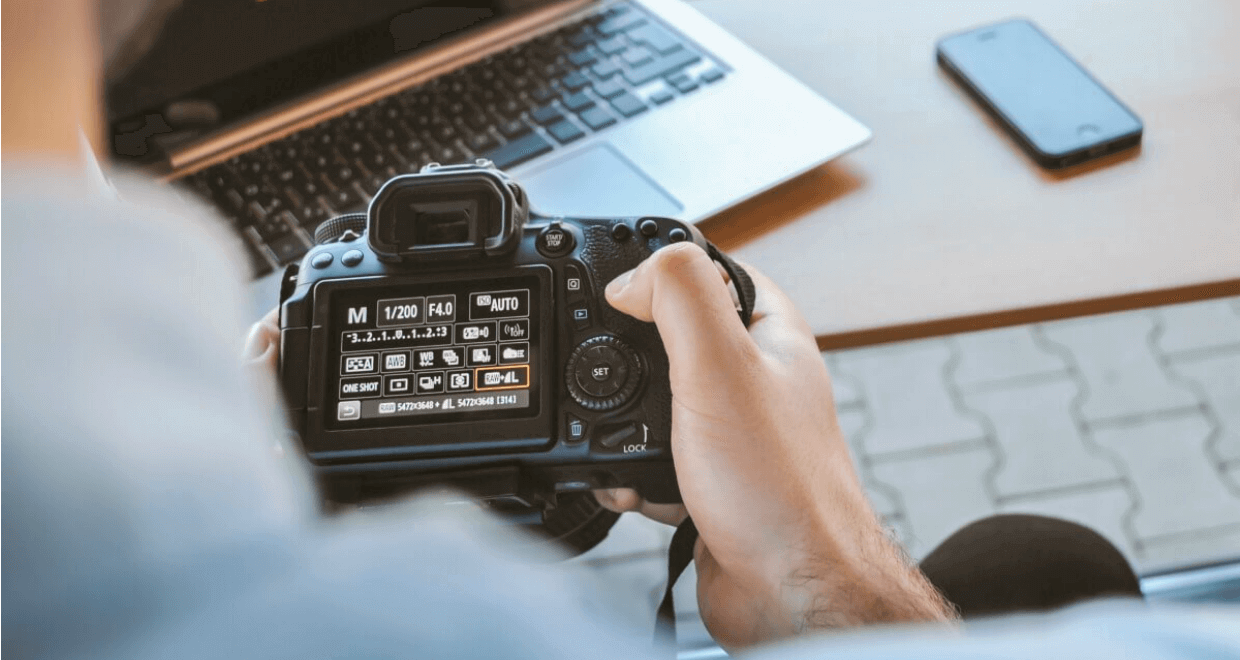 Part 1. Why the Deleted Pictures Are Recoverable?
No matter how the photos on your storage device were deleted – whether it was through the camera, your computer, or by formatting the memory, the photos aren't actually erased immediately. The pictures and videos are invisible, but they are still there somewhere. At least until you start taking more pictures.
The more you have used your camera since the original file was deleted, the less likely it is to be recoverable. Stop using your camera as soon as you realize you want to recover something.
Part 2. Tips Before Recovering Photos from Canon Camera
Don't use the camera: Once you realize that you have lost your photos, the first thing to do is to turn off the camera. This is done to prevent the overwriting of data on the deleted data. You shouldn't take any photos from the camera after you have realized that you have lost your photos as it will make the recovery process more difficult.

Don't recover data to the same SD card: When you are recovering your data, make sure that you don't save it on the drive or SD card through which it was deleted as this will also overwrite the data and you will get an error in recovery.

Find a photo recovery software: Finding a good Canon photo recovery software is essential to get your photos back. If you can't find one keep reading as we have told you about the best canon photo recovery software further in the article.
Part 3. How to Recover Photos from Canon
1. Prepare before the recover
Before you start the recovery process, there are some essential things that you need to prepare. We have listed them below:
The memory card from which the photos were lost.

A way to connect the memory card to your PC or Mac. You can use a memory card reader or a cable that connects your camera to the PC via USB port.

A working computer. You can use wither Windows or Mac machine.

The internet connection to your PC is required in order to get the best canon photo recovery software.
2. Recover with AnyRecover
Canon photo recovery is fairly hard to perform since the photos were stored on external SD card. So you have to use a professional data recovery tool for the task. AnyRecover is the best tool available in the market because it features high-success rate of external SD card data recovery. It requires 3 simple steps to get back the lost photos.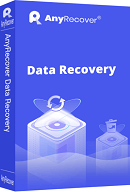 Key Features:
Recover lost and deleted photos from your camera in a few minutes.
Compatible with all leading digital and DSLR camera brands including Canon, Sony, Fuji, Epson, Kodak, Sigma,DJI, etc.
Highest recovery rate on the market allows you to recover lost photos/videos without hassle.
Scan and preview deleted files for free, and you can recover your photos selectively.
Recover over 1000 different file types including photos, videos, documents, emails, archives, audios, etc.
Steps to use AnyRecover for Canon Photo Recovery
Step 1. Launch AnyRecover. Connect your Canon camera to computer and select the external device you want to recover data from.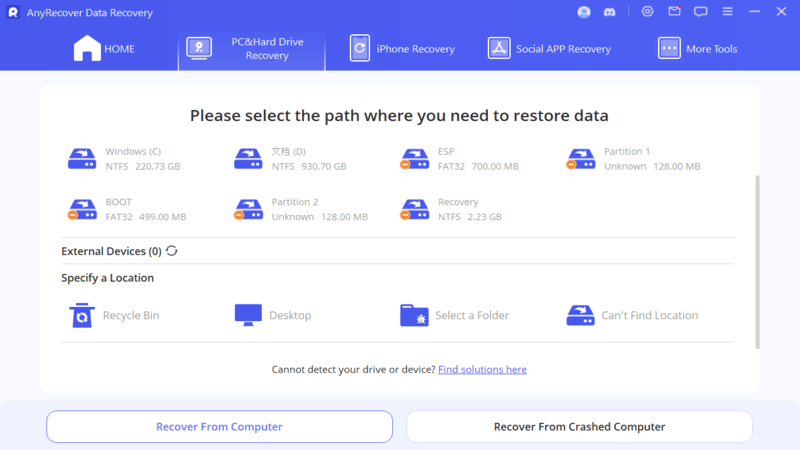 Step 2. Click on Start. It will scan all your files on your camera. Wait patiently for the process to complete.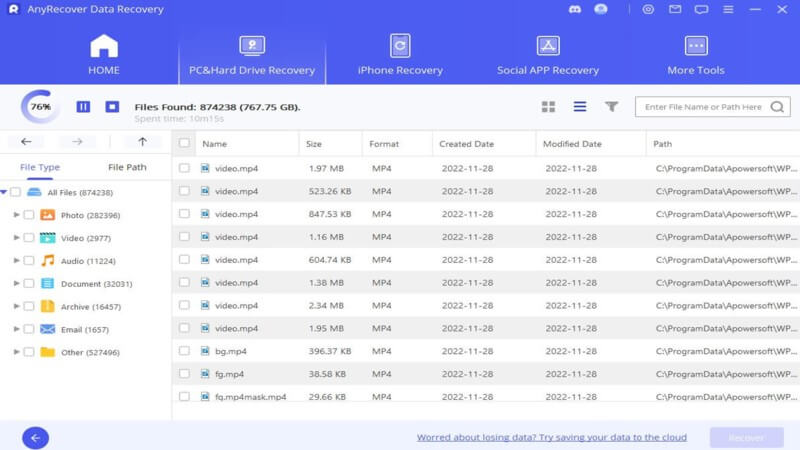 Step 3. After scanning, preview and select the photos you want to recover and then click on Recover. That's it!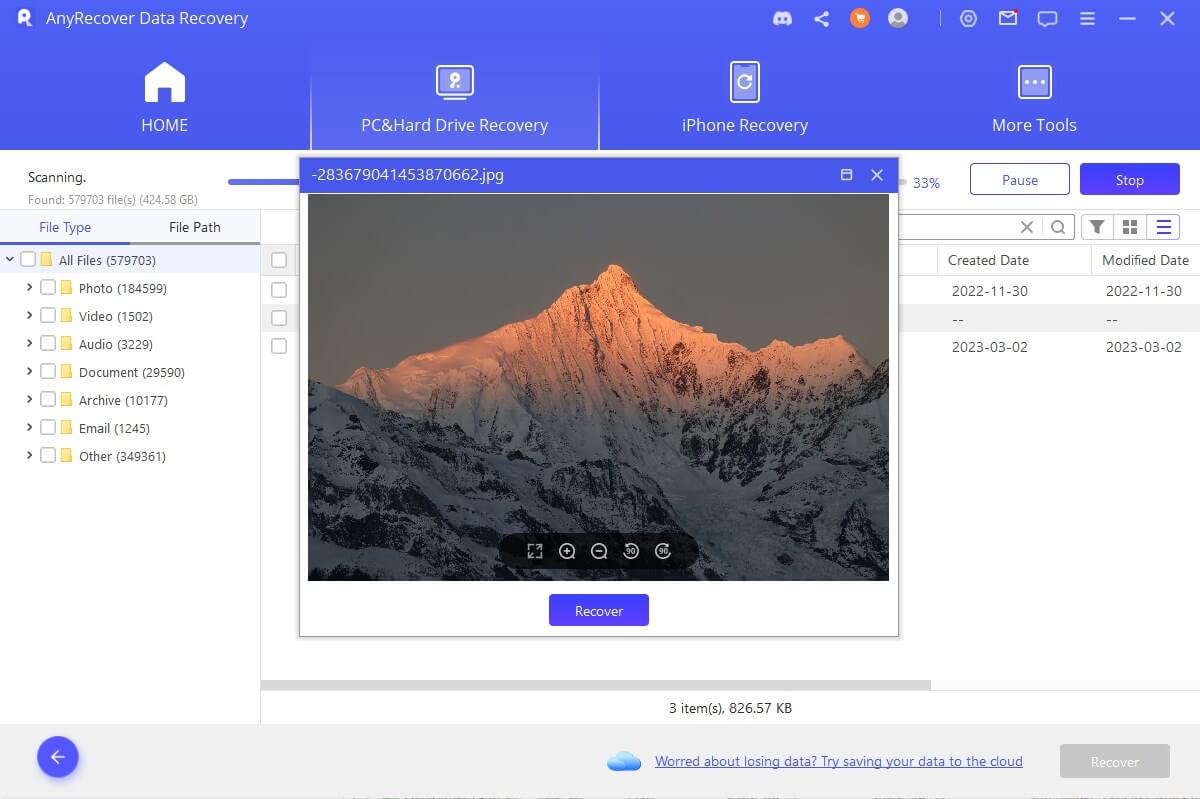 Video guide about how to recover deleted photos from canon camera
Part 4. Tips to Keep Camera Working Better
Don't Use Your Shirt as a Cleaning Cloth
It's convenient to give your lens a quick rub with your shirt, but this can cause a lot more harm than good. Invest in a proper lens cleaning cloth. They're more than worth the money, and they don't cost that much to begin with.
Buckle Up
Dropping your camera is the worst thing you can do to it, especially when outside and in rough terrain. Canon cameras almost always come with a shoulder strap included, and you can always buy another one if you don't like it. What matters is that you have some way of strapping the camera to you so that you can't drop it.
Cap it Off
The sensor in your camera is sensitive to things like debris and dust. Even tiny particles can cause spots to appear in images. If you have an interchangeable lens camera, your sensor is going to get dirty. Even self-cleaning sensors get dirty. The best way to keep the sensor is to have a lens mounted to it. There are several different kind of sensor lenses, so do a little research and find the right one for your needs.
Conclusion
The photos on your Canon camera aren't necessarily lost. As long as it hasn't been too long since the original deletion, there's a good chance they can be recovered. All you need is a good software for Canon photo recovery, such as AnyRecover. Let's give it a try!