RePicvid Free Photo Recovery Software is a user-friendly program that helps you restore lost or damaged photos that have been accidentally removed from your hard drive. This handy program is a lifesaver for file recovery. But is it the best photo recovery software? Read on to find the answer.
1
RePicvid Free Photo Recovery Review
RePicvid, released in September of 2016 from Gihosoft, is a free photo recovery program that is compatible with Windows and Mac computers.
Every day we accidentally click the wrong file or select the wrong program and we spend the next several hours trying to search for and restore the lost files. Searching the recycling bin does not work and a system restore is useless. This program was built to do a comprehensive search of whichever media system you need to be recovered and find those missing photos.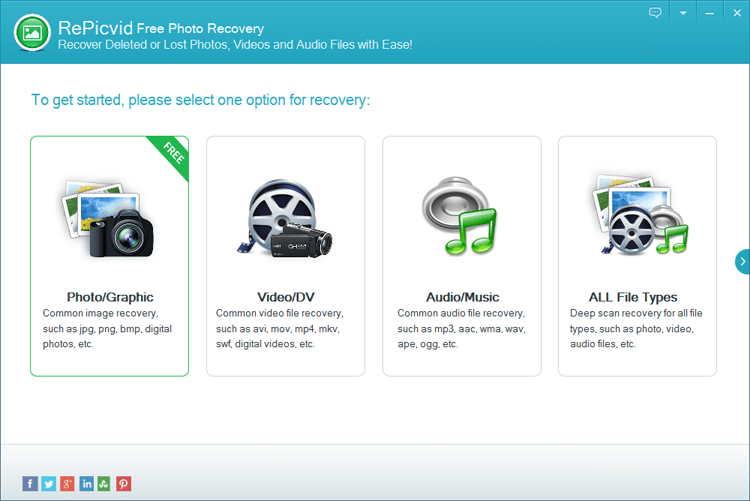 Worst of all, you really need that photo or you just deleted precision memories from your daughter's first birthday. There are a lot of tools you can use to recover your lost files, but most require a paid subscription or are costly to buy outright. This is where RePicVid comes in; it can do it all while you wait patiently.
When Gihosoft released RePicVid, it caused a sigh of relief to go up. This is the type of program you need when the worst happens. It can pull your files back into your computer after an easy scan of your system.
Pros & Cons of RePicvid Free Photo Recovery
Features

Disadvantages

This program free. That is the best thing about this program.

It is a universal program that can work on many different types of media files such as a computer, laptop, USB Drive, Digital Camera, camcorder, Smartphone, and SD cards.

It has advanced functions. Which is easy to recover your lost pictures.

The software can work with whichever type of drive or media storage system you use for your files.

The Free version is only for recovering photos. You need to upgrade to the full version to recover other file types ($49).

Sometimes the software is hanging while scanning the files

it takes more time to finish the full scan

Sometimes it does not find all the deleted photos and videos.
There are a lot of reasons to use RePicVid, but you will need to try it for yourself to see if it meets your needs. It is a handy program that does exactly what it promises, but when you download it, it is a free trial license. This means, to use the advanced features it promotes you need to buy the complete licenses outright.
2
The Best Alternative to RePicvid Free Photo Recovery
The iMyFone AnyRecover program is specifically designed for lost files recovery. Differing from RePicvid free photo recovery, AnyRecover can even recover videos, audios, documents, emails, etc. - not just photos.
Difference between iMyFone AnyRecover and RePicvid Free Photo Recovery
| Features | iMyFone AnyRecover | RePicvid |
| --- | --- | --- |
| Success Rate | 98% | 69% |
| Scanning Speed | 1TB/hr | 532GB/hr |
| Deep Scan | | |
| Trash/Recycle Bin Recovery | | |
| Preview Files | | |
| External Devices Recovery | | |
| Supported File Formats | Over 1000 | Only Photos |
| Scan Specific Path | | |
| Scan Specific File Type | | |
Features of AnyRecover
Supports over 1000 file formats recovery, ensure all your lost data recoverable.

Highest recovery rate among data recovery software - up to 98%.

Fast scanning speed enable you to get your files instantly.

Don't know whether it worth trying? Try the free trial before purchasing it.
How to Use iMyFone AnyRecover
The AnyRecover program is very good at finding your lost files as long as the computer did not overwrite them. Here are the steps to recover all your lost files:
Step 1. Download, install & open iMyFone AnyRecover on your computer.
Step 2. Choose the location you want to recover data from, then click on the "Start" button.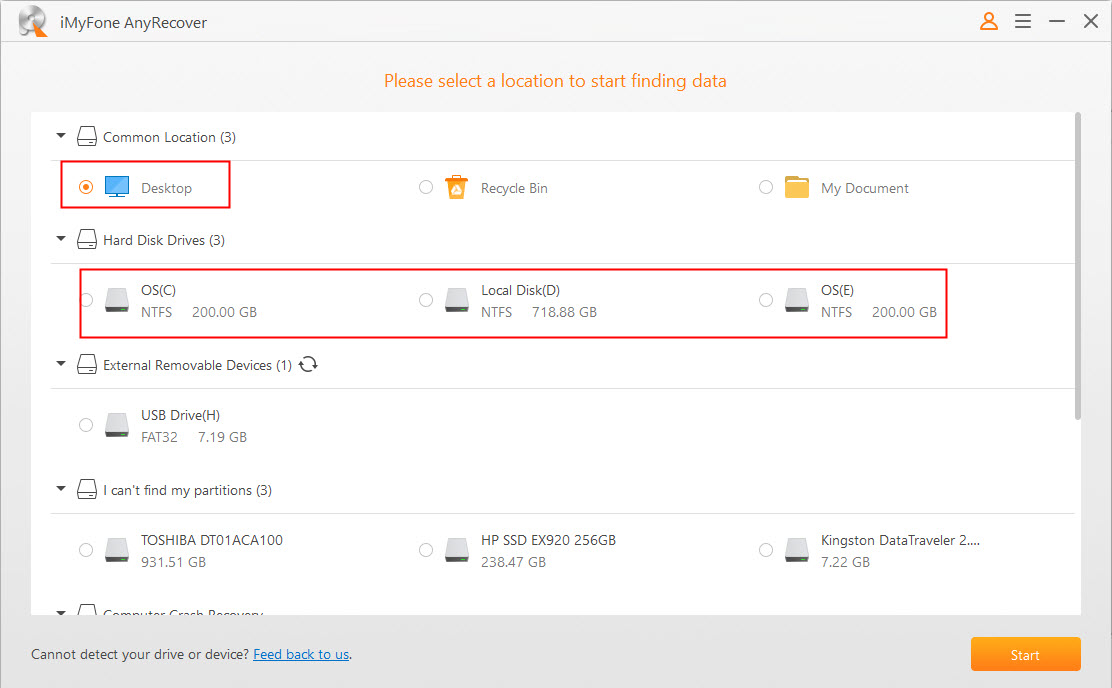 AnyRecover will start an all-round scan on your selected location.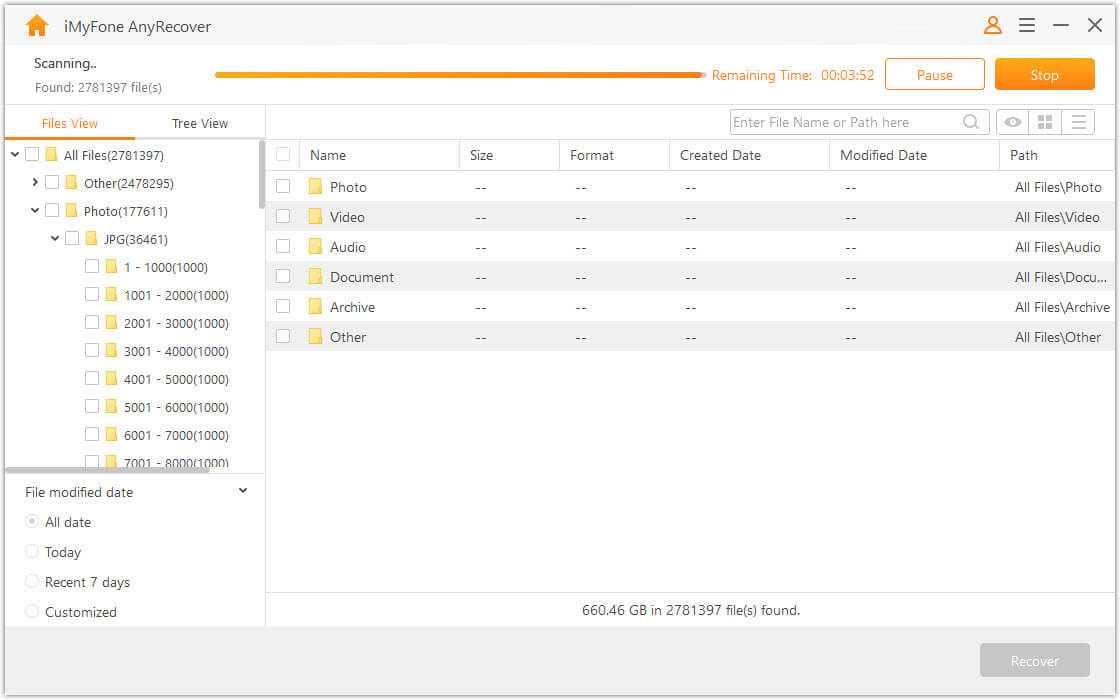 Step 3. After scanning, choose the files you want to recover. You can click to preview it before clicking on the "Recover" button.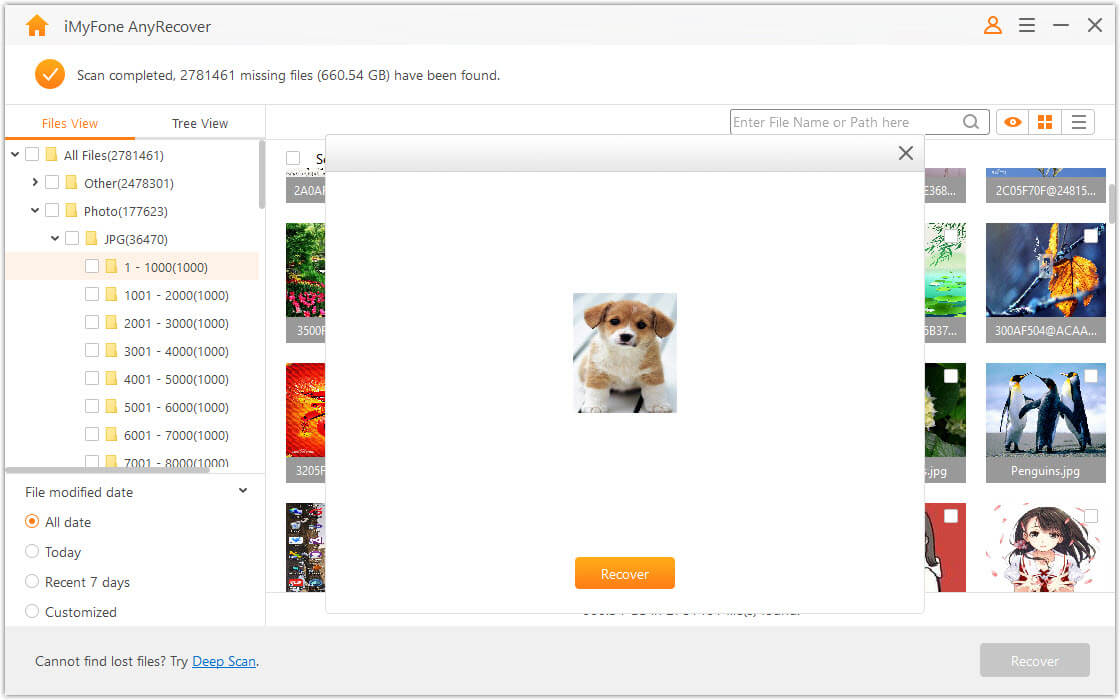 A gift for you
To thank you for sticking with us this far, we offer a free gift for you - a coupon code that allows you get 20% off on any license of iMyFone AnyRecover. With this bonus, you can get official iMyFone AnyRecover at ONLY $31.96.
Don't know how to use it? Fear not, Here are the detailed steps:
Step 1. Visit the official purchase page: Windows Version / Mac Version. Choose the license you preferred.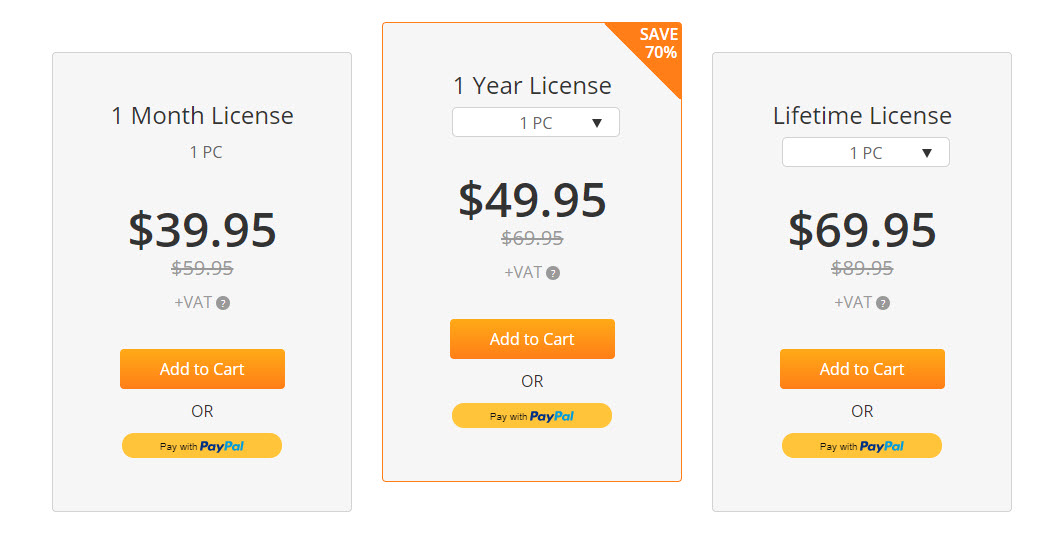 Step 2. Check the "Check to enter coupon code" and enter the coupon code.

Step 3. Finally, click on "Apply", now you can get iMyFone AnyRecover with 20% off!

iMyFone Recovery program is an easy program to use and is the one to download before you start having problems. It is there to support you and retain your most important files. The review guide will not only help you with installation, but it will help you retrieve your lost files quickly and easily with easy to follow instructions.