Today, many smartphone users ask if it's possible to recover deleted videos from mobile camera as smartphones have become more prevalent in recent times. Well, it is no secret that most mobile phone users lose videos by mistakenly deleting them from their devices. Aside from that, factors such as system crashes, virus attacks, and software updates can cause a major heartbreak due to data loss. This occurrence is bound to happen to anyone, so what do you do in such a situation?
If you are wondering how to recover deleted videos from mobile camera. Do not worry! This article will take you through the most effective ways to achieve mobile camera deleted video recovery, even if you know nothing about video recovery before! Read on to find more.
Is It Possible to Recover Permanently Deleted Videos From Android?
Yes. It is possible to recover deleted videos from your android phone easily. As the data erased from your phone won't permanently disappear right away. As long as you stop storing new data to the device and thus overwriting the previous one, it is possible for you to recover those deleted videos from mobile camera.
How to Recover Deleted Videos From Mobile Camera
1. Recover Deleted Mobile Camera Videos From Deleted Folder
After mistakenly deleting videos from mobile camera, the videos will be moved to the recently deleted folder on the device. Thankfully, your lost videos will remain in the folder for 30 days, after which they are deleted permanently from your device.
To recover the deleted video from mobile camera using this method, you only need to navigate to the Recently Deleted folder and choose the video file you wish to recover. After pressing the Restore or Recover button, those deleted videos will go back to where is was before deletion.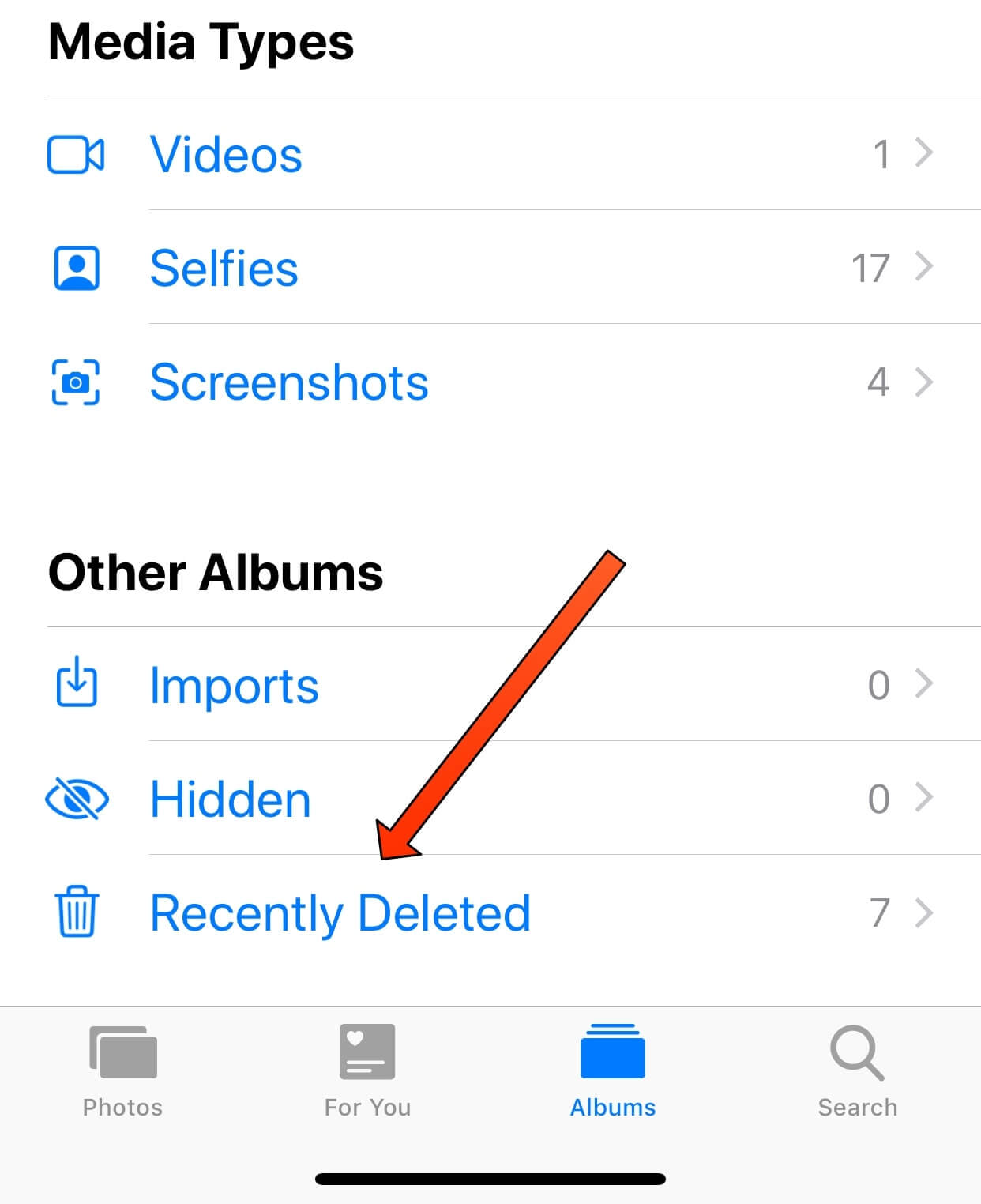 2. Recover Deleted Camera Videos from Google Photos App
In the event that you have uploaded or backed up videos to the Google Photos App, you can easily restore deleted videos from mobile camera. The deleted videos are often found in the trash or bin. Follow the methods below to determine whether you have your deleted videos in the trash or not; if it is, you can quickly restore it from there:
Open the Google Photos app on your device or visit the website.

Tap menu at the upper left of the screen, followed by trash.

You will see the video you wish to restore. Select Restore from the drop-down menu at the bottom. When the video is finished, you will have the video back to your Google Photos Library, Phone's Gallery app, or Album.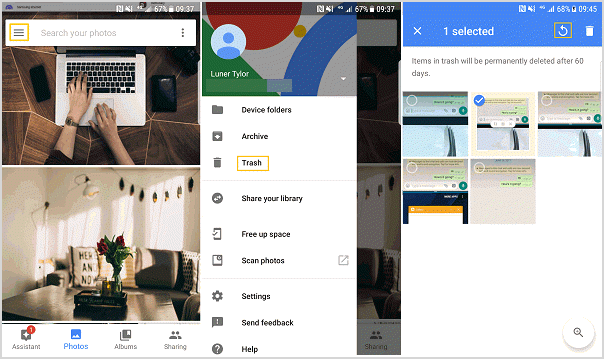 3. Recover Deleted Videos from Google Drive
As a cloud drive, Google Drive stores backups of your video files, you can quickly recover your deleted videos from mobile camera from Google Drive, even if you have performed a factory reset on your device. To do this:
First, obtain access to your Google Drive application or website, as the case may be.

Then log in with the same Google account that you used to back up your video files for this to work.

After that, you will be able to view all of the videos that have been backed up. Afterward, you can download the video files from Google Drive by selecting the videos you want to restore.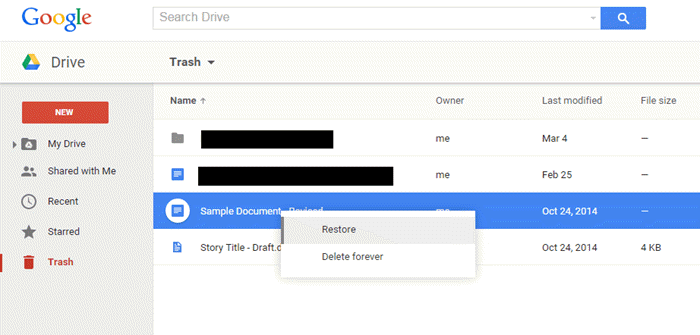 4. Recover Deleted Videos From Backup
If you have the good habit of backing up your videos using some tools or external storage devices, then you can save yourself in this situation. Just get access to the backup files and locate the deleted mobile camera videos. After that, copy or tansfer them to your mobile device. Now, you are all done! Just go to relive your wonderful memories stored in these videos again!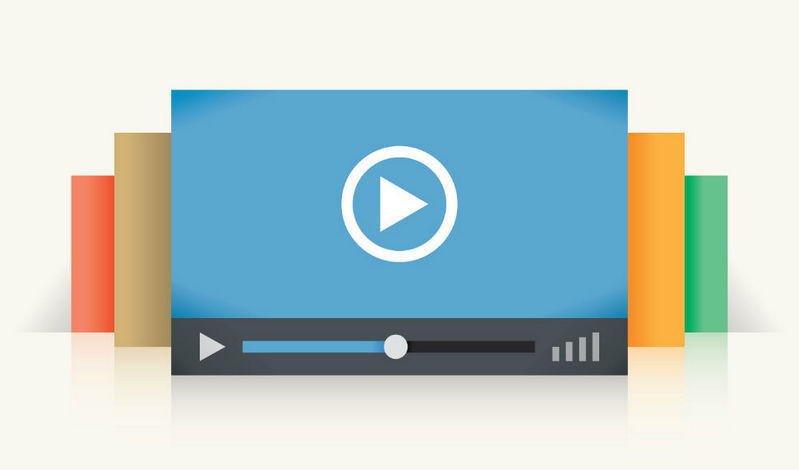 Bonus Tip: How to Recover Deleted Videos From External Storage Device
Here is food for thought. How would you recover your deleted videos when you have no backup, or perhaps you can not find the deleted mobile camera videos from your dependent local backup? No hassle! You will get to know how to recovers deleted mobile camera videos using recovery software without backup.
The tool that is going to be introduced is AnyRecover. AnyRecover is one of the most famous video recovery software that can recover anything just as its name sounds. It is very effective in recovering deleted mobile camera videos when you have no backup. AnyRecover is a user-friendly piece of software that is simple to operate and assures the highest recovery rate of your deleted mobile camera videos. Besides, it also supports recovery of more than 1000 file types from various external devices, regardless of the lost scenarios.
Note
If you want to recover deleted videos from mobile camera, you need to have the SD card of the phone and connect it to the computer.
How to recover deleted mobile camera videos using AnyRecover:
Launch AnyRecover after connecting the external storage device to your PC. Then click on the corresponding location to perform a deep and wide scan.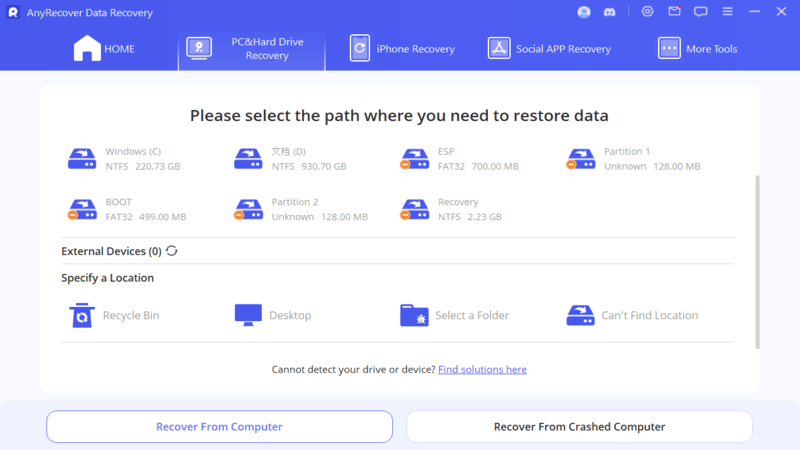 During the scan, it presents a list of all the files saved on the device. You can check those files by the file types or locations. What's more, you can pause or stop the process at any time.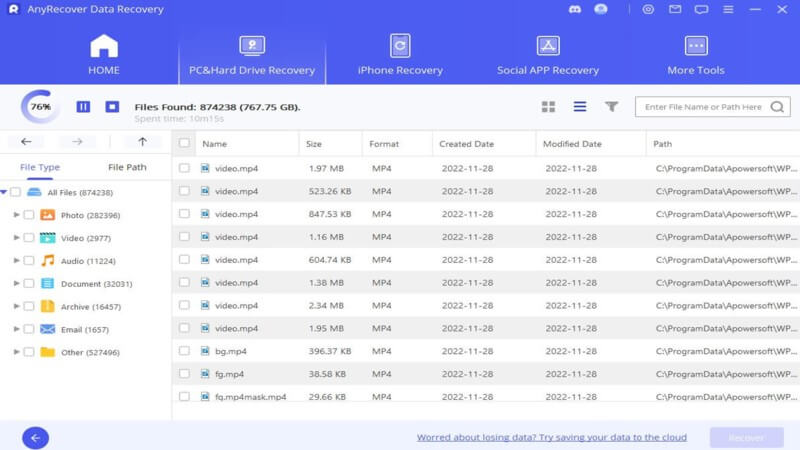 Once the scan is completed, double click to check the video files and click on Recover to get them back right away.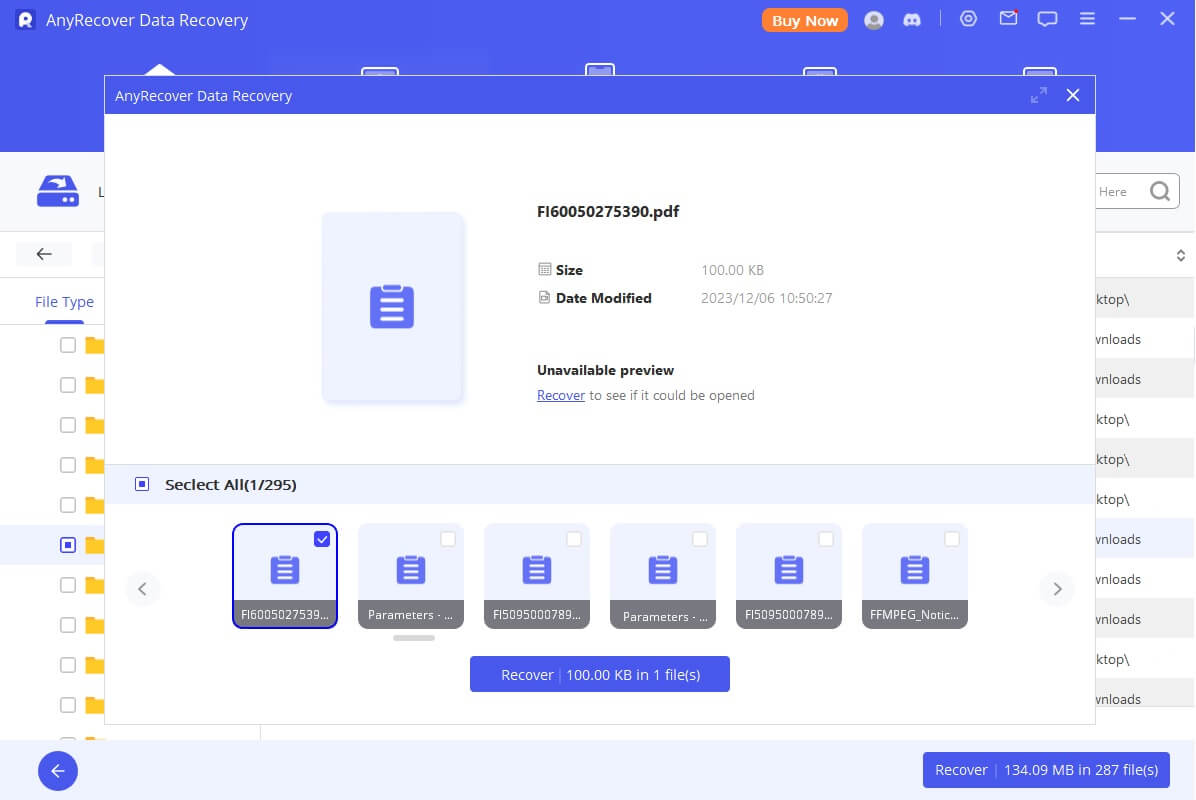 Conclusion
Recovering your deleted mobile camera video is not difficult if you follow the instructions outlined above. Most importantly, we recommend the AnyRecover software recovery tool. It is a sophisticated and advanced software for recovering deleted, lost, and inaccessible data from both internal and external hard drive. Now it provides a trial version for users to recover 8 files for free, no size limit. Just download and give it a try!