Gone are the days when drones were limited to security and surveillance uses! Now, they are the joy of videographers and photographers due to their superb coverage. Looking from above with an exceptional bird-eye view, it captures the best landscape views from a height that can never be reached by a human.
Like every recording and shooting device, drones require a storage device to store footage. Unfortunately, there are scenarios when your drone memory loses the videos and photos stored on it. What a loss! I understand this is not something anyone would take well, that's why we have come up with this tutorial to take you through the nitty-gritty of how to recover deleted photos/videos from Drone camera.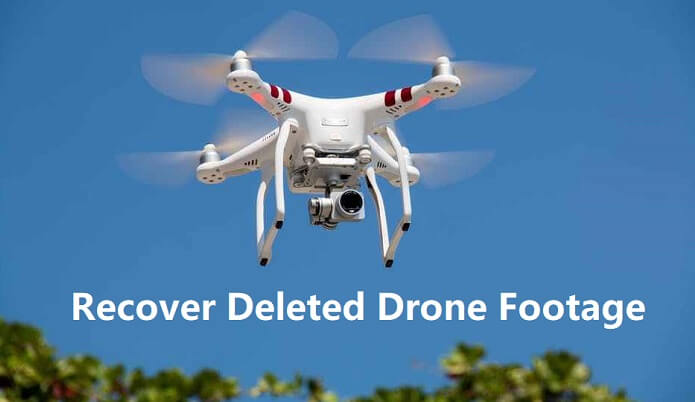 Why My Photos and Videos are Lost from Drone Camera
First, we need to understand where drone footage is stored.
A drone, despite being a sophisticated machine, has memory storage that still uses the usual micro-SD card (only a few types of drones come with a limited internal storage storage). A micro-SD card is known to be effective in storing data at a real-life time. This makes it suitable for storing photos and videos while flying the drone.
However, micro-SD card can also experience data loss. The causes of this data loss are discussed below:
Power outage: If the Camera Drone experiences a power outage when shooting, it causes a sudden interruption of the data transfer process of the SD card. This sometimes leads to the inability to store the data in the cache of the SD card for access.

Drone Crash: An accident with your drone or SD card due to system malfunction or control failure while shooting can cause data loss.

Malware or Virus attack: Virus or malware attacks from a corrupted computer or other external hardware connected to the drone or SD card can corrupt the data stored, and make it inaccessible.

Software Failure: This is usually caused by tampering with the drone's software. A software failure can lead to loss of data stored on the SD card or inaccessibility of data.

Accidental Deletion of Data: This happens when you are dealing with your photos and videos on a computer or an external hard drive.
How to Recover Deleted Photos/Videos from Drone Camera
Whether you are storing the data in internal storage or an SD card, the first step towards drone data recovery is to stop using the device. 
This is because deletion or formatting of an SD card only removes the pointers that give your operating system access to the data. And the data will remain in their initial positions until you save another file in that sector of the SD card, which will cause the data to be overwritten.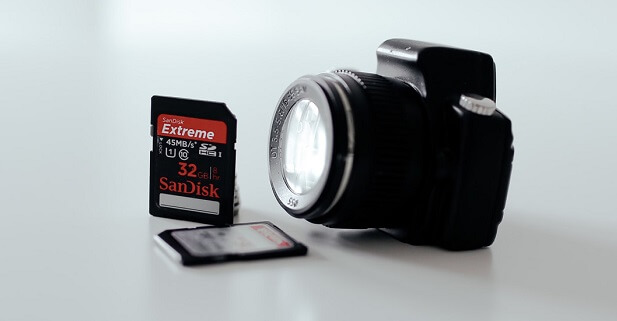 Hence, provided you stop using the SD card immediately you notice the data loss, you should still be able to recover the aforementioned pointers and consequently, your valuable photos and videos.
Recovering Data Using a Reliable Data Recovery Software
The best way to recover deleted drone footage is to make use of data recovery software. With a plethora of recovery software failing up to the billing, we would recommend the world-renowned iMyFone AnyRecover SD card recovery software.
It is a top-notch data software that combines all-around and deep scan feature, which enables it to dig and recover all lost, deleted and inaccessible photos and videos on your Camera Drone.
There is also a file filter feature that allows you to quickly locate your lost photos and videos by type, date and name. therefore saving you valuable time.
Another impressive feature of the iMyFone AnyRecover software is its free scan and preview feature. This feature allows you to preview your photos and videos before recovering them. With this, you can decide on what to keep and what to let go of. Add its simplicity of use and you have the perfect data recovery software for your Camera Drone.
Easy Steps to Recover Deleted Footage from Drone Camera
Recovering photos or videos from a Drone camera with iMyFone AnyRecover software requires no technical knowledge. Below are the easy steps to follow to recover deleted Drone footage.
Step 1 Download the AnyRecover software by clicking the download button above or from the official website, then install it following the simple guide. Remove the Drone SD card and plug it into your computer
Step 2 Launch the AnyRecover software and you will see an intuitive interface; select the SD card you want to recover data from.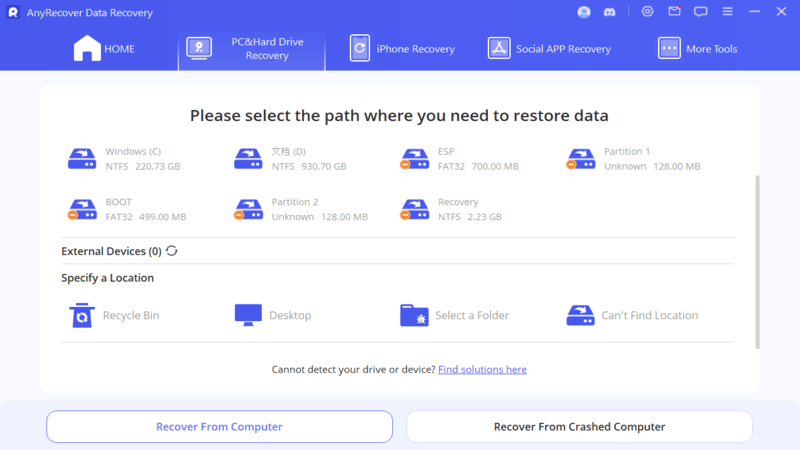 Step 3 Wait for the software to perform an all-around scan. AnyRecover boasts a unique algorithm that enables you to scan your Drone SD card at a fast rate.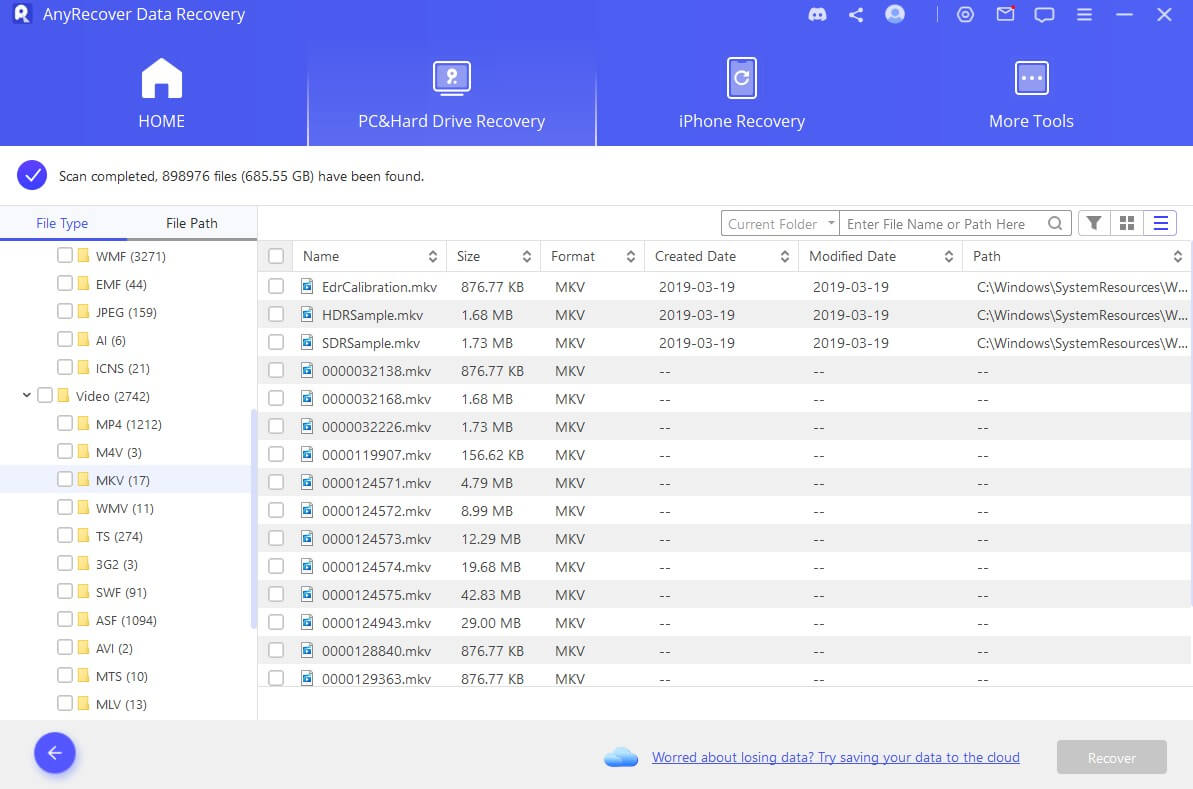 Step 4 Double-click on the videos or photos to preview them. Then select all the files you want to recover and click on the Recover button to save it to a safe location.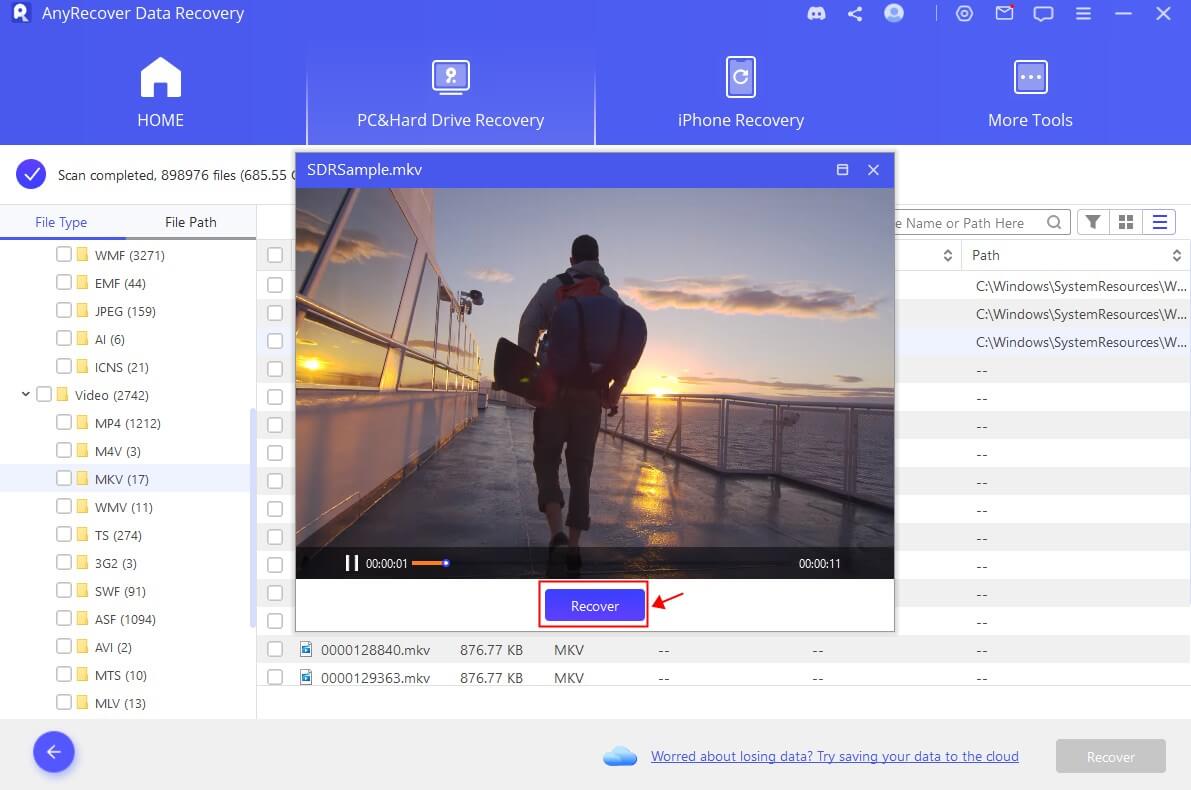 There, you have the simple steps to recover photos/videos from Camera Drone without taking it to recovery service. With the combination of simplicity, efficiency, speed and accuracy, the AnyRecover software is a no-brainer for Drone data recovery.
What are the Best Camera Drones?
There are a series of quality Camera Drones out there depending on your requirements. However, some premium options are highly regarded by photographers and videographers. Below are some of the top Camera Drones available:
How to Select an SD Card for Drones
With the plethora of SD cards swarming the market and with more promising to make their way, selecting the best SD Card of Drones might be a real headache. While virtually all quality SD cards should fit perfectly with your Drone, there are still some features you need to consider before splashing the cash.
Type:
There are different types of SD cards with varying capacities. The prevalent types are the micro SDHC (Secure Digital High Capacity) and the micro SDXC (Secure Digital Extended Capacity).
The micro SDHC has a capacity within 2GB to 32GB while the micro SDXC cards can store from 32GB to 2TB. All drones are compatible with the micro SDHC but you need to check if your drone is SDXC compatible before going for it.
Read/Write Speed:
This is important for photographers and videographers looking to shoot at high speed without a drop in quality. The standard write speed of an SD card for full HD or 4K UHD shooting is a minimum of 70mb/s. The card must also support UHS-I Video Speed Class (V30).
Warranty:
Warranty is always a good feature of every product. The warranty of SD card goes a long way to determine its durability.
Price:
At the end of the day, it all bears down to your budget. The price of an SD card is dependent on its quality, manufacturer and some of the other features mentioned above. You should get the best available even if you have to spend a little bit more.
Final Words
Data loss on a Camera Drone can be devastating and costly. However, these things are unavoidable and are bound to happen at some point. While you might rightfully fear for the worst when you notice the loss of data, you can actually recover photos/videos from Drone cameras with the help of a top-notch Drone data recovery Software.
While there are truly an enormous number of programs online, we would recommend the tested and world-renowned iMyFone AnyRecover software. As Drone data recovery goes, few can match its efficiency and speed. With this software, your data is never truly lost.