It wouldn't be wrong to say that the rise of video has transformed the way people consume content. However, there is still a possibility that these video files get corrupted due to various reasons. If you are also facing this issue and want to know how to repair corrupted video, then this guide is here to help you out!
We have gathered all the possible reasons and the most comprehensive solution to repair corrupted videos. Also, we will discuss some methods that are proven to be helpful for avoiding any such problem in the future.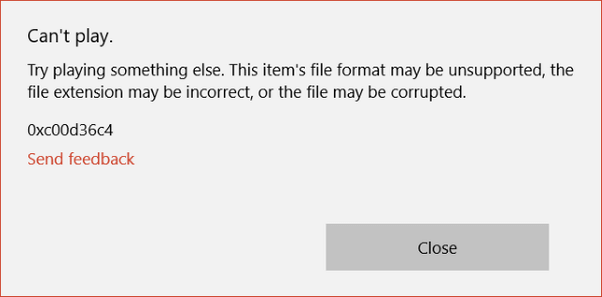 Why Can't I Open Videos Files?
Ranging from missing codecs to file corruption, there could be a variety of reasons for videos not playing on your computer. Both MP4 and MOV are file containers that are most commonly used to store videos and audio. However, playing a video file in a media player that doesn't support a particular format can also result in different video errors. For example, you might not be able to play MP4 videos in Windows Media Player version 10 or below because these players are not compatible with the MP4 format. Likewise, VLC can have difficulty in playing 4K MOV videos encoded with a newer codec like HEVC and AV1.
Therefore, many small and overlooked errors can cause major problems while encoding or playing a video. Before getting into more details of the solution, let's have a look at some of the potential causes of MP4/MOV videos not opening on your PC: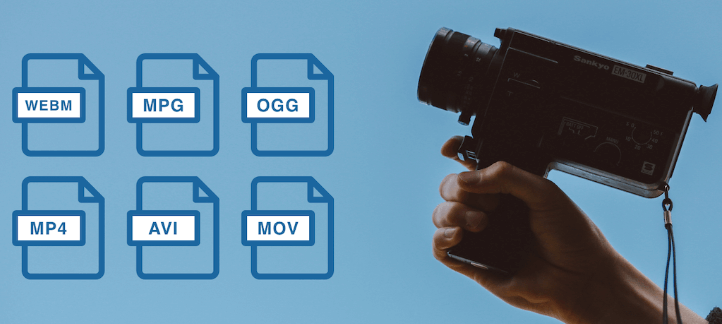 Reason 1: There could be a missing video component or the Windows media player on your system doesn't have the necessary codecs.
Reason 2: The media player you are using doesn't support the specific format. Or you are using a faulty, improper, or unauthorized media player.
Reason 3: If your video files are stored in external drives or even hard disks, you may not be able to play them if these storage components sustain any physical damage.
Reason 4: Interruptions or sudden disconnects while transferring videos can affect the files, and thus, make them unstable.
Reason 5: There could be a virus infection or malware in the computer.
Reason 6: Video drivers are not updated, which can cause several errors and stop the videos from playing.
Reason 7: Any improper system shutdown can impact all types of files on your computer, including video files.
Whatever the reason, you will need to use a specialized MP4 video recovery tool to repair the corrupted video files. This is the most convenient way to repair and recover MP4 files that have been corrupted or damaged for any reason.
How to Repair/Recover Corrupted Videos?
If you come across the videos not playing error while trying to open them on Windows, it most probably means that you're dealing with corrupted video files. In any such situation, you can turn to a specialized video repair tool. AnyRecover provides you with the most powerful yet straightforward solution to bring back your corrupt video files to their original playable form. This professional video recovery tool comes with a wide range of features to perform different data recovery and repairing tasks from various types of devices.
It's interactive and user-friendly interface enables users to navigate and use the software without any previous experience or technical knowledge. In addition to repair corrupted video files, you can recover any type of deleted, lost, or formatted data regardless of the cause of deletion. Unlike other data recovery tools that can only work with limited devices, AnyRecover is designed to restore files from desktop computers, recycle bins, hard drives, and external devices.  

2,061,704 Downloads
Key Features of AnyRecover
Supports to repair various types of damaged or broken such as MP4/MOV with a 1-click operation

Allows to recover deleted video files from most devices, including external hard drives, damaged hard drives, USB flash drives, SD cards, and many more

Offers fast scanning speed; thanks to its state-of-the-art technology and advanced algorithms

Unlimited free scans and preview.

Fully Compatible with all Windows versions.
Steps to Repair Corrupted Videos Files after Recovery
The new version of the program comes with a lost video repair feature in Advanced Features section, which can repair all corrupt, broken, and damaged video files within a matter of a few clicks. Let's see how you can do this:
Step 1: Directly upload your corrupted files by clicking on Video Repair from the advanced features. Or perform a deep scan on your computer first, and click on the Detect Broken Video option to select the corrupted video. It will detect videos and provide a list of all the damaged video files.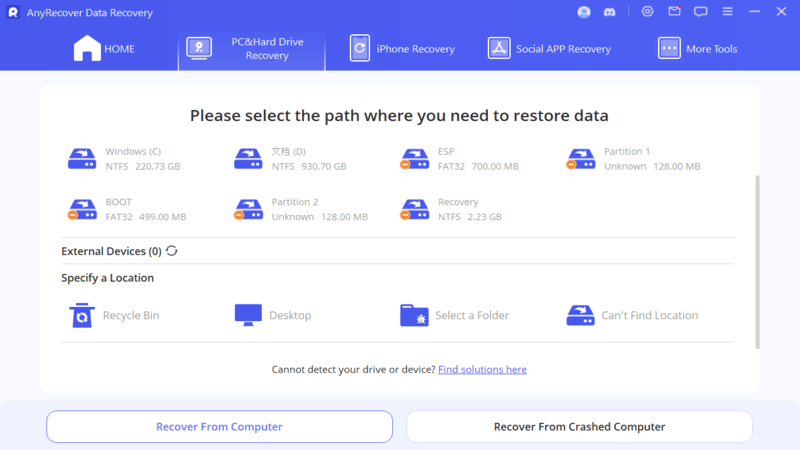 Step 2: In the next step, you will be able to preview and check the damaged video. After checking the damage to the video, you can further proceed to the next step.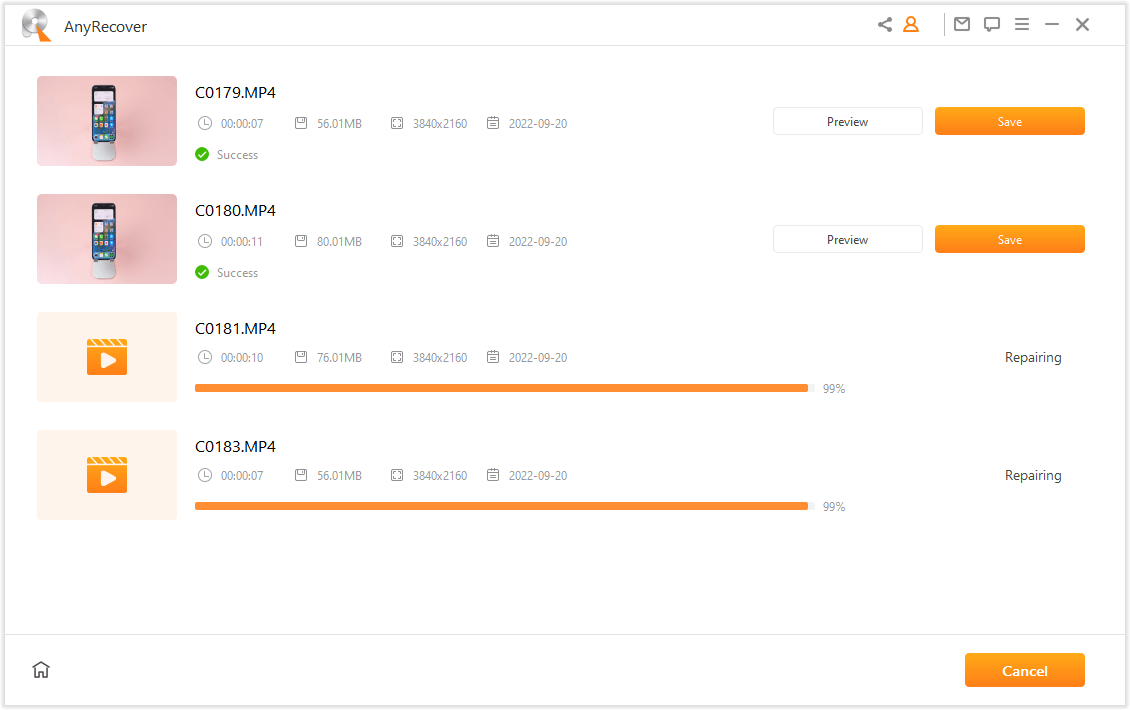 Step 3: The program will first import the damaged videos, and then, click on Fix it Now to start repairing the files. Lastly, the software will let you know when all the selected videos have been repaired successfully. You can simply Preview and Save the repaired video files on your computer.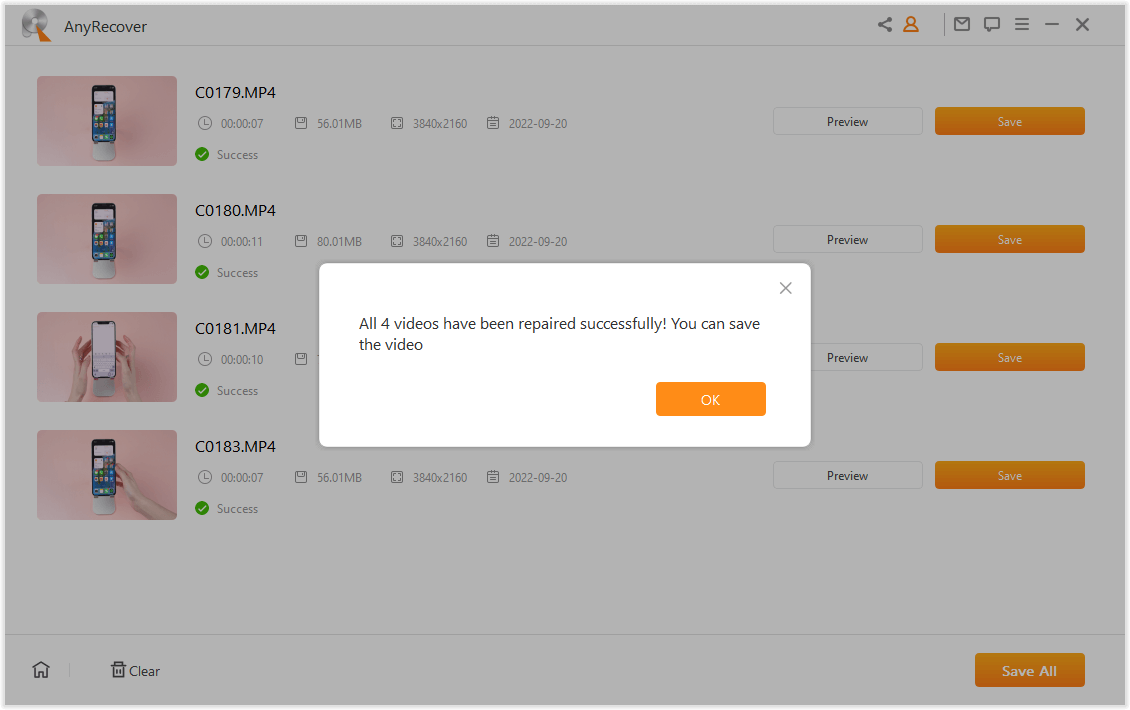 Steps to Recover Lost Video Files from Computer
Now, here is a tutorial to help you on how to recover videos files using AnyRecover for Windows software.
Step 1: After installing the AnyRecover program, launch it on your computer and select a particular location from where you want to recover a video file.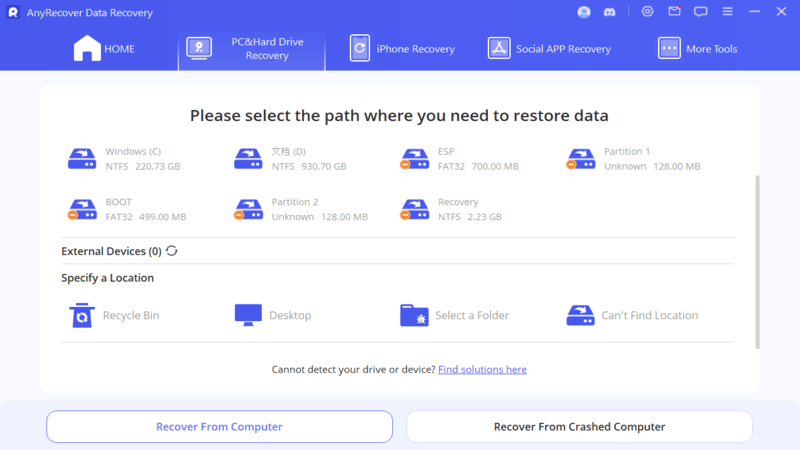 Step 2: Next, the software will perform a deep and comprehensive scan of the selected location on your device. It will also display the progress bar and scanning results in real-time, so you can check and pause or stop the scanning process if required.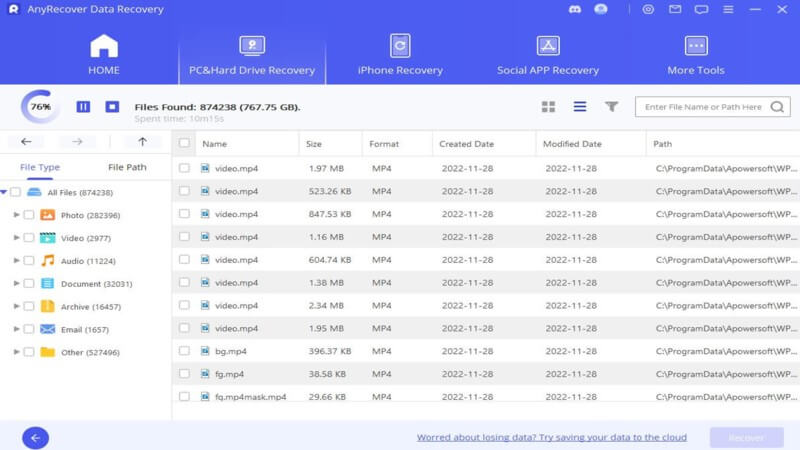 Step 3: When the scanning gets completed, all the available files will be displayed in an organized manner. You can preview the files and select the ones that you need to recover. In the last, click the Recover button to complete the recovery process.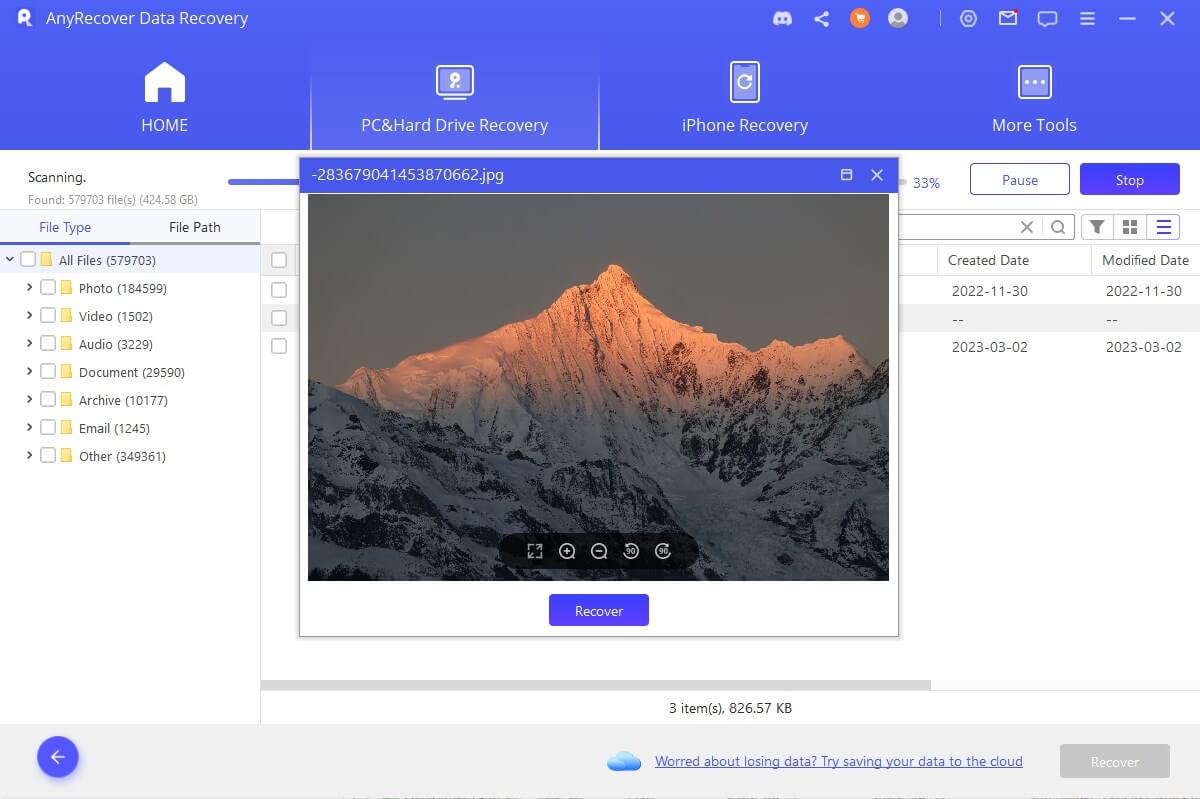 Bonus: Tips to Avoid Video Files Corruption
We have discussed in detail how to fix an MP4 file corrupted issue; however, the best way is to never encounter any such problem. Here, we are going to share a few tips that you must keep in mind to avoid video file corruption in the future.
Always make sure to have a complete backup of the video files before making any changes

Try to avoid interruptions while the video files are being copied, moved, or edited

Perform regular scans to keep your system updated and virus free

Never use any untrusted third-party software or app for video editing

Keep your computer to work in optimal conditions with a good and consistent electrical connection

Scan your hard disk regularly to assess and maintain its health so that you can avoid video corruption problems
The Final Verdict
Being stuck on a video that isn't playing can be really frustrating, but luckily repairing corrupt video files shouldn't be difficult at all if you have the right tool and procedures in hand. In this blog, we have discussed how to repair corrupted MP4 or MOV videos in the most efficient manner. You will need a specialized tool i.e. AnyRecover to recover and repair corrupted video files from your PCs. Not only that, but it also allows you to recover all other types of data from a full range of devices, and that too in just 1 simple click.
You can free download AnyRecovertoday and experience its exceptional recovery solutions with the highest success rate.