It is common for iPhone users to intentionally or accidentally remove voicemails after listening to them. Some users delete these voicemails probably because they don't think they will ever want to listen to them again. If you happen to have deleted your voicemails and then realize you need to refer to them later on, this article will help you learn how to retrieve lost voicemails on iPhone.
There are several methods that you can use to retrieve deleted voicemail on iPhone. In this article, we will share the 4 most effective ways you can use, depending on your situation.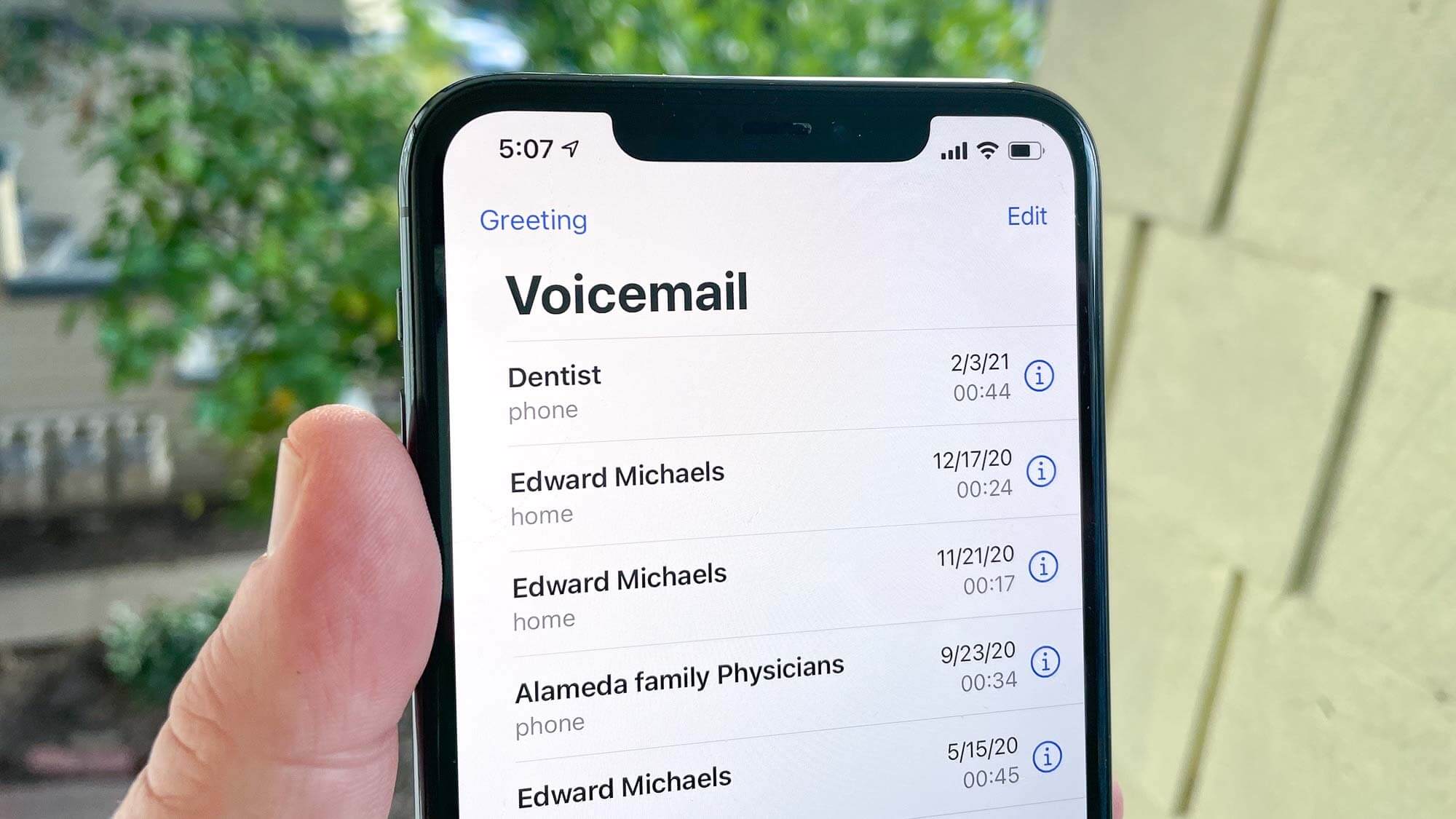 How to Retrieve Deleted Voicemail on iPhone [Backup Needed]
1. Retrieve Deleted Voicemail on iPhone Through Deleted Messages
This is the easiest and the first method you need to try. However, it is important to note that you will only be able to recover voicemails that you deleted within the last 30 days. Any voicemails deleted earlier won't be retrieved with this method.
Steps to retrieve voicemails using this method:
While in your phone app, tap the voicemail tab at the bottom right of the screen.
Scroll to find Deleted Messages. Click on it.
Select the exact message(s) you want to recover and click the undelete icon to retrieve the voicemail.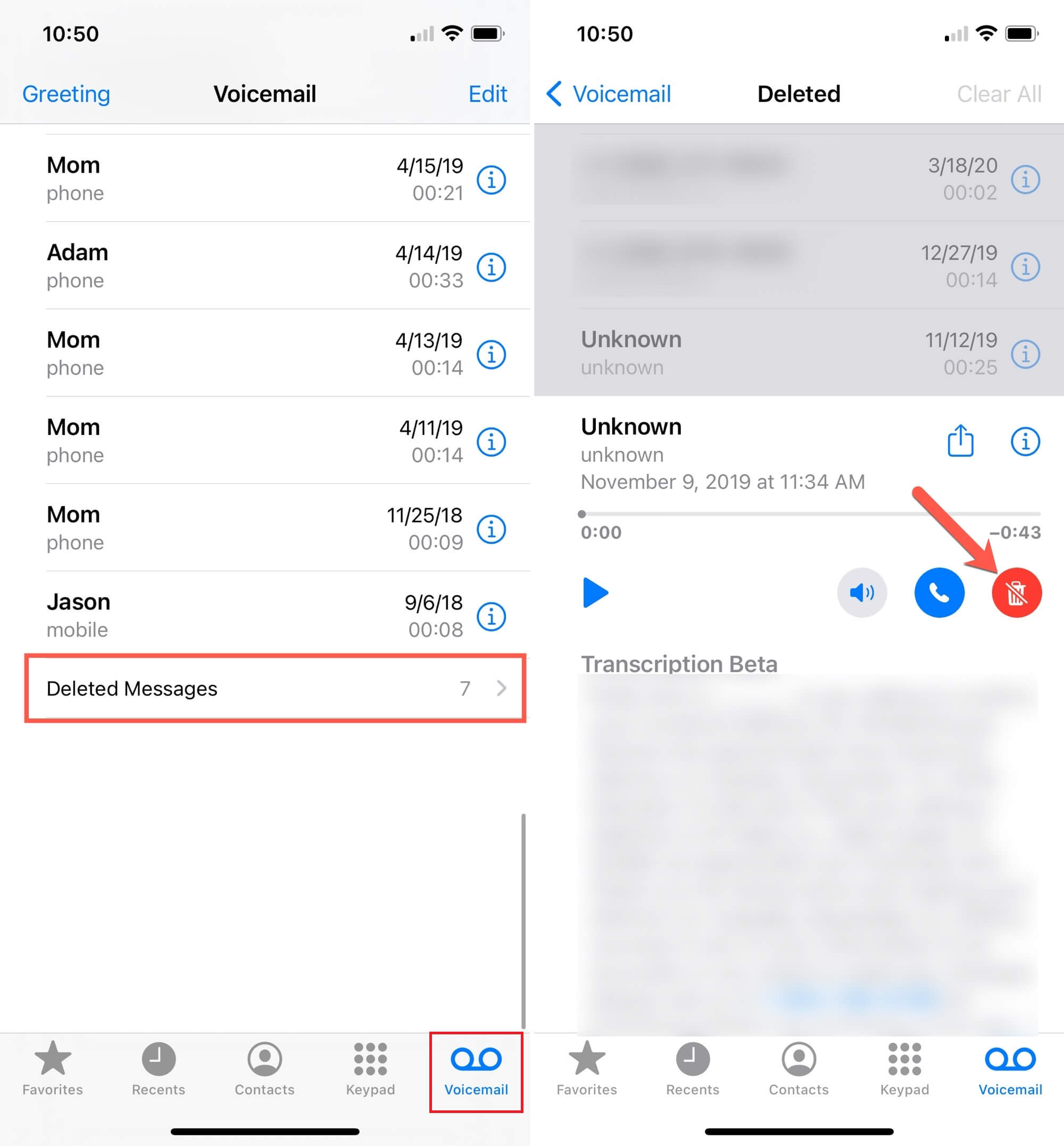 2. Retrieve Deleted Voicemail on iPhone via iCloud Backup
If you made an iCloud backup just before deleting your voicemails, you can use this method to recover them. Before getting started, make sure you have access to a stable and fast internet connection. You will also need your Apple ID and password.
Steps to retrieve deleted voicemails from iCloud backup:
Start by opening the settings on your iPhone.
Click General > Reset > Erase All Settings. Then set it up normally.
When you get to Apps & Data screen, choose the Restore from iCloud Backup option.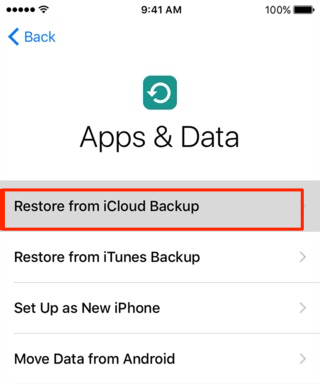 You should now sign in to iCloud with your Apple ID and Password.
Choose backup you want to restore and tap Restore. When your iPhone finishes restoring the backup, all your deleted voicemails should be restored.
3. Retrieve Deleted Voicemail on iPhone with iTunes Backup
Before using this method, make sure you have already created an iTunes backup just before deleting the voicemails. To avoid errors or data loss, ensure the iTunes app on your computer is updated to the latest version. For those using macOS Catalina or newer, you will find all the iTunes backup/restore functionalities in the Finder.
Steps to retrieve deleted voicemails with iTunes:
Open iTunes or Finder on your computer. Use a reliable lighting cable to connect the iPhone with deleted voicemails to your computer.
Once Finder or iTunes detects your iPhone, its name will appear on the app's left menu bar. Tap on your iPhone name to view the backup/restore settings.
Under the General tab, tap Restore Backup and select the backup you want to restore. Make sure you choose the most recent one you created just before you deleted the voicemails. After the restore process is complete, all your voicemails should be retrieved back into the phone app.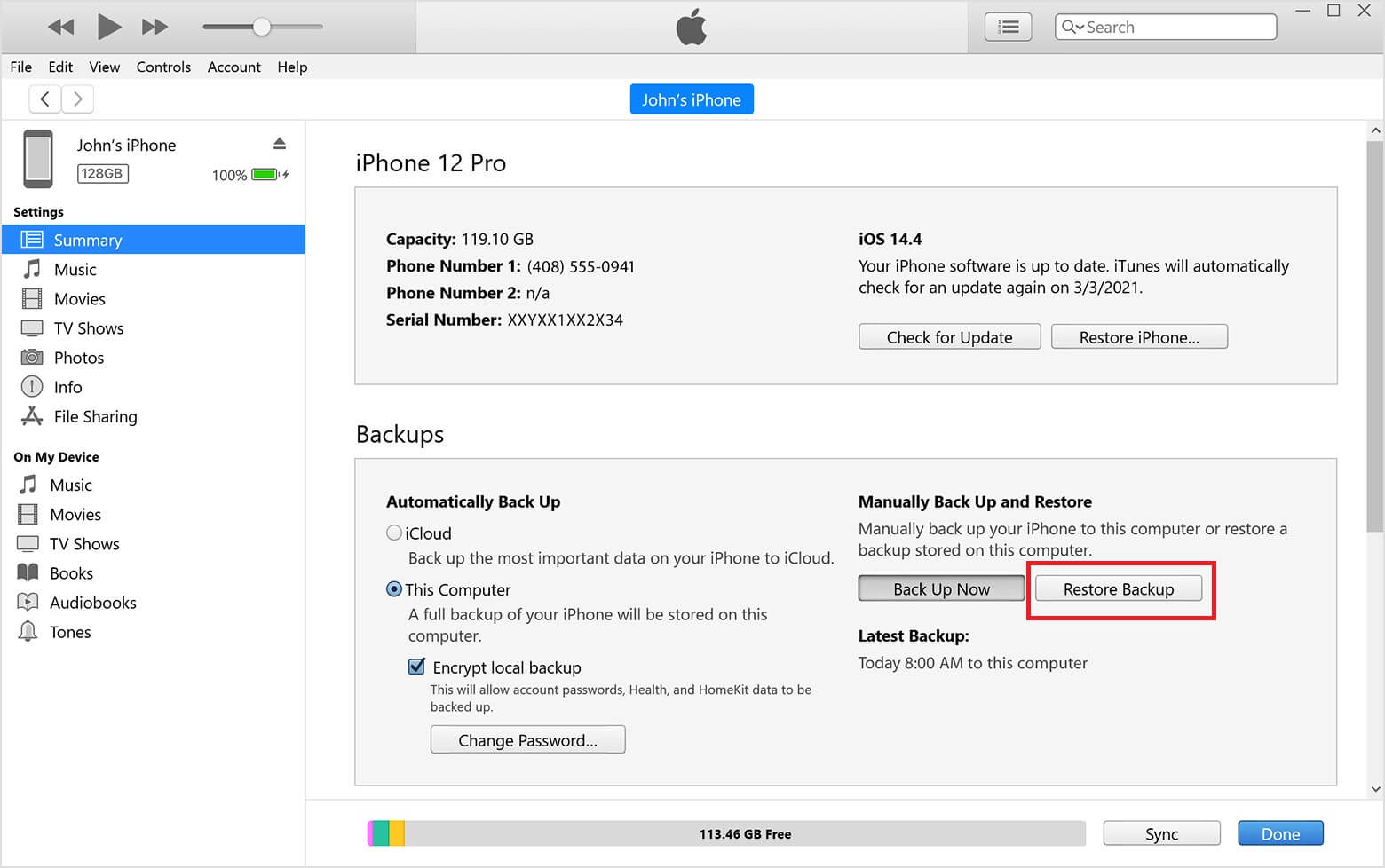 How to Retrieve Deleted Voicemails on iPhone Without Backup
If you don't have an iTunes or iCloud Backup, you will need to use a reliable third-party application like Anyrecover (iOS) to retrieve your deleted voicemails. With Anyrecover, you can restore different kinds of files that you deleted on your iPhone, including voicemails, photos, messages, contacts and more. It is an expert in recovering iOS data. It's worth trying.

Major features of Anyrecover (iOS):
Multiple files recovery - You can use Anyrecover to restore several formats of deleted files, including voicemails, documents, messages, photos, phone history, and more.
Safe recovery without erasing your iPhone - Unlike the iTunes and iCloud Backup recovery methods, Anyrecover doesn't erase your iPhone to recover specific files you deleted.
Selective recover - With Anyrecover, you can choose the files you want to recover after previewing them. This saves a lot of time.
Well-built user interface - The UI of this tool is very intuitive and easy to use.
Key steps to recover deleted voicemails with Anyrecover:
Download and install Anyrecover on your computer. Then connect the iPhone with deleted voicemails and tap Smart Recovery mode on the screen.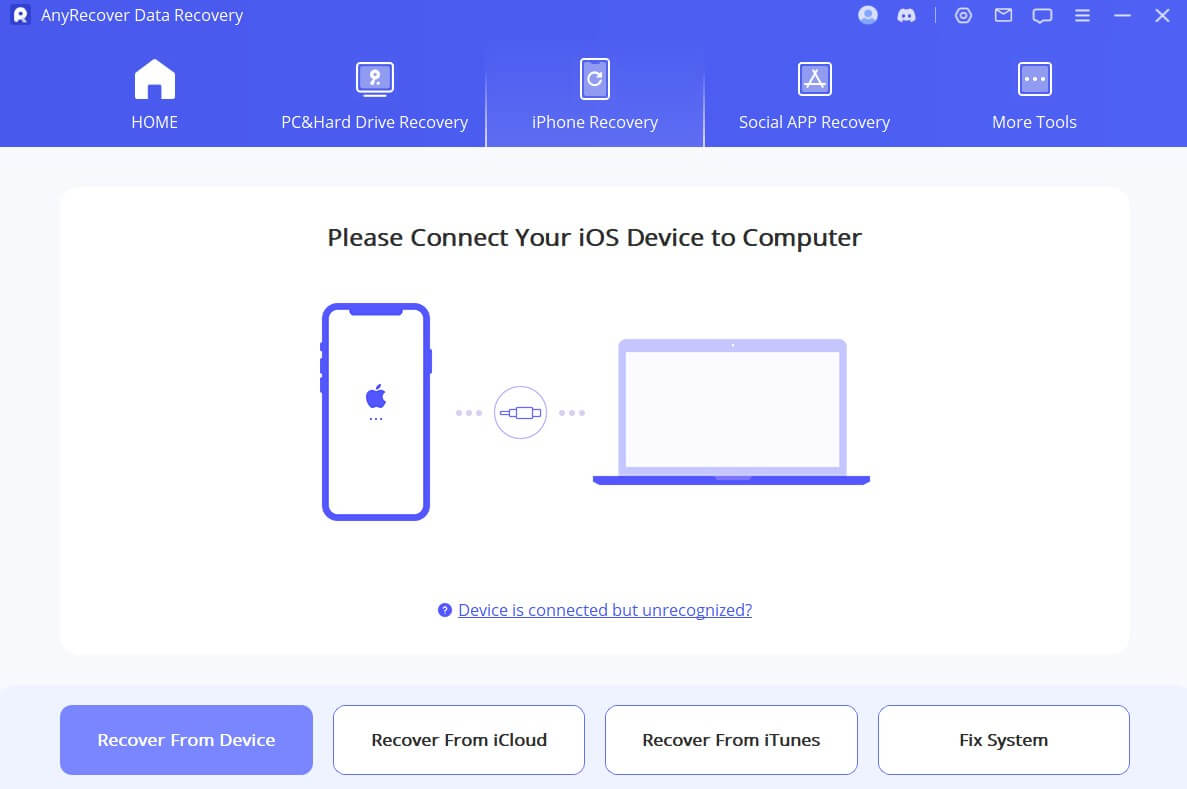 You should now select the file type you want to retrieve. Choose Voicemails or Call History in this scenario and tap Scan to continue.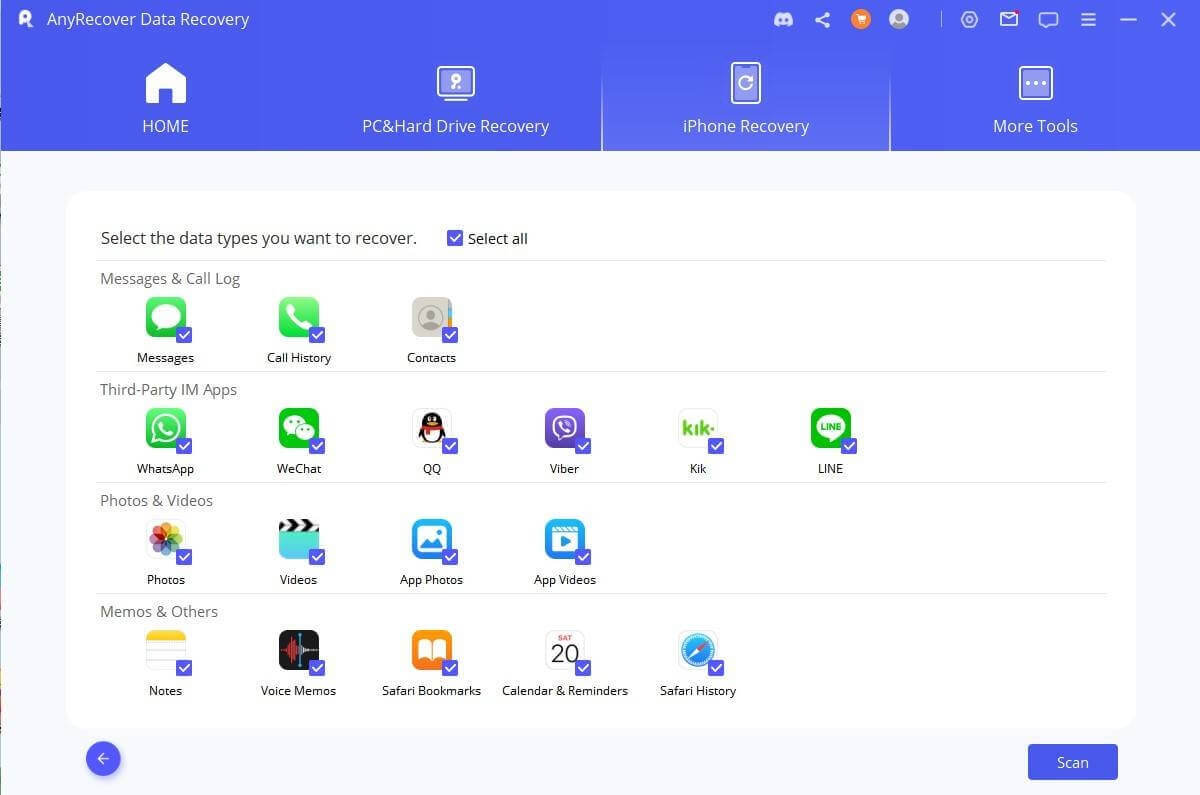 After the scan, you will see the discovered voicemails. Select the ones you want to recover and click the Restore to Device option to retrieve them.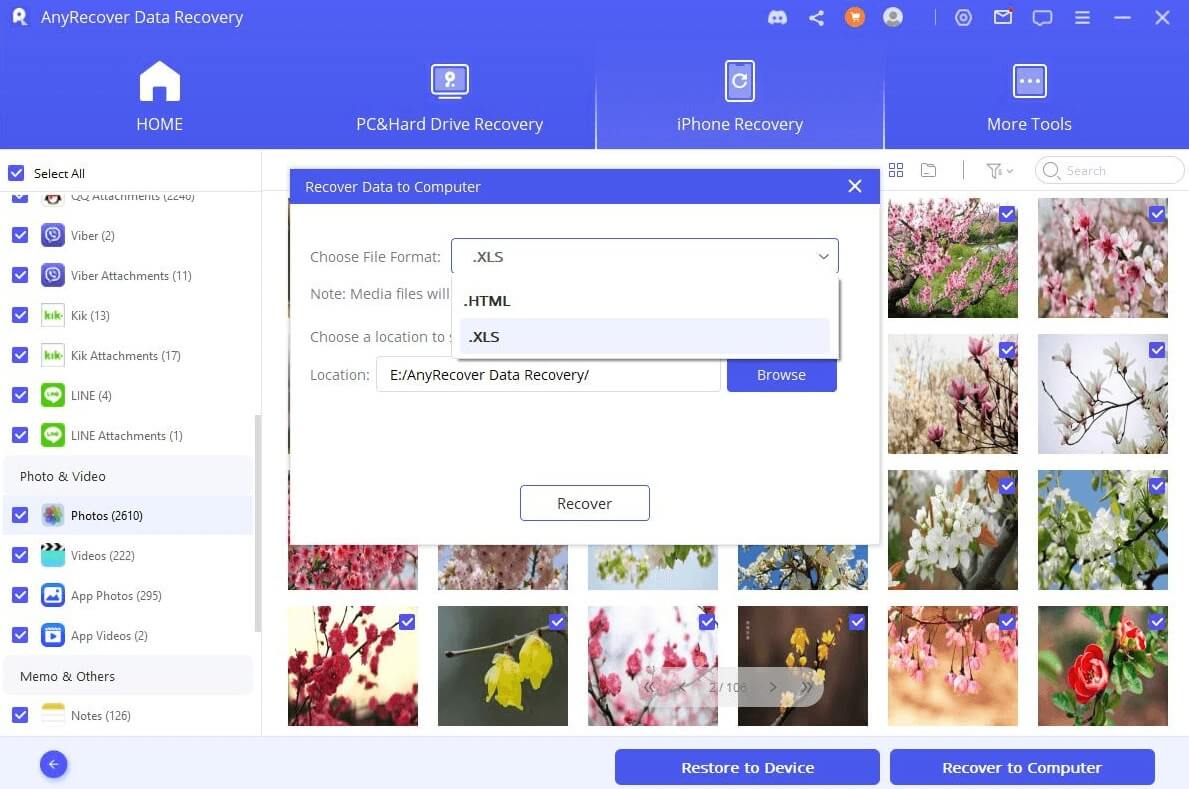 FAQs About Voicemail on iPhone
Q1. How to Set Up/Check Voicemail on iPhone?
To set up voicemail on your iPhone, open the phone app and tap the voicemail icon at the bottom right of the app. If it is the first time opening it, you must create a voicemail password and record a voicemail greeting. To get started, tap Set Up Now to create your password and greeting. You can either choose a default greeting or create a custom one by recording it.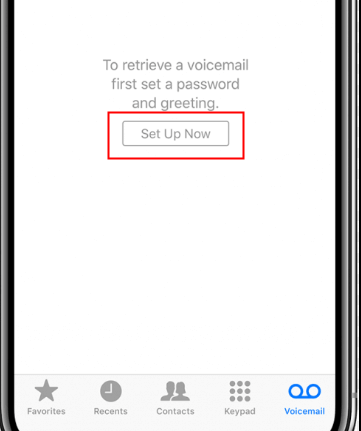 Q2. What Should I Do If My iPhone Voicemail is Not Working?
There are a couple of things you can do to fix this issue. Some of the common fixes include the following:
Turn your cellular service off and on again.
Check your cellular connection and make sure it works.
Empty your voicemail box. This is because sometimes you won't receive voicemails if it is full.
Update your carrier settings.
Reset your network settings.
Disable call forwarding if it is enabled.
Conclusion
Those are the four reliable methods to retrieve deleted voicemails on iPhone. Any of the above methods can work if at all it is implemented in the right situation. However, the most reliable method that works in all situations is using Anyrecover (iOS). With this tool, you don't even need a backup to recover the deleted voicemails. It also doesn't involve erasing your iPhone, so there is no chance of losing more data. Thousands of iOS devices are compatible with it, so you should download one to check it out.