Samsung devices have many options (voicemail, text messages, video, photo, contacts) which can help save messages. It might hold important information and can be lost from storage. Therefore, it is crucial to have a means of recovering deleted data from Samsung account device. In this article, we would highlight the best ways to retrieve deleted voicemails on Samsung devices. Follow us to find the answer.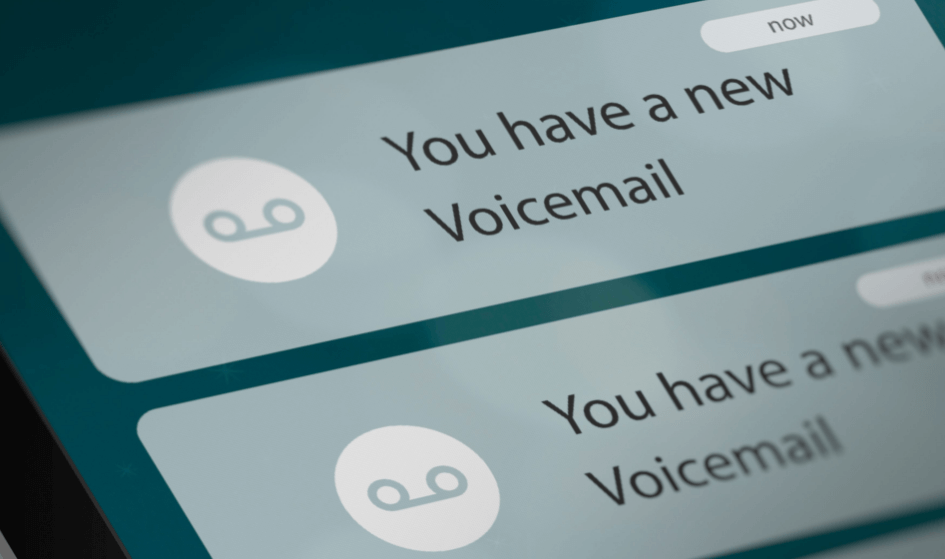 Can You Retrieve Deleted Voicemails on Samsung?
It is possible to recover deleted voicemails on your Samsung account device. The following chapters highlight several methods to do this. You can go through the phone app, or Voicemail app on the Samsung device to restore the voicemail messages. Or you can also employ the use of a professional data recovery tool. Either way, if you ever lose a voicemail on your Samsung device, there is a method to fix this.
How to Retrieve Deleted Voicemails on Samsung
2.1 Recover Deleted Voicemail on Samsung with Undo Key
Usually, an erased voicemail won't completely vanish from your device. It is stored for a short while before it is completely removed. This time frame is golden for retrieving deleted voicemails on your Samsung. To do this: 
Open the phone app, and choose the Voicemail option at the bottom of the screen.
Scroll to the bottom and tap Deleted Messages to view a list of all recently deleted voicemail messages.
Now choose the voicemails you want to retrieve. Then tap on the Undo button to restore them.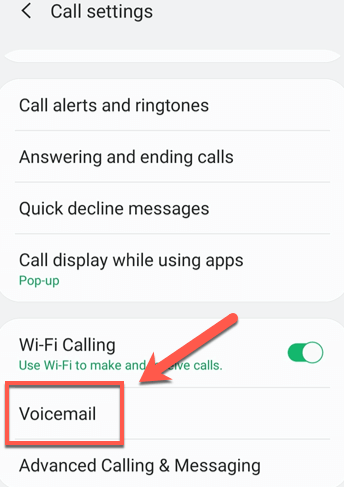 2.2 Recover Deleted Voicemail Samsung with a Professional Tool
If you happen to lose a voicemail message on your Samsung device, the best bet to recover it efficiently is by using the renowned AnyRecover software. AnyRecover (Android) is designed to retrieve all kinds of lost data from your mobile device without any hindrance. It is compatible with different file formats and it is highly safe for data recovery. With the quick and deep scan options, no lost data can't be retrieved from your device. Let's give it a shot!

Top benefits of AnyRecover (Android): 
AnyRecover provides multiple recovery types, including Voicemail, photos, videos, WhatsApp and more.
Retrieve deleted voicemails from different scenarios, including Lost/Broken phone, Forgotten Password, System Root and more.
Supports with different Samsung devices from Android 2.0 to 14.0.
Offers a free trial option and 24/7 customer service for users, the service is professional and comprehensive.
It is designed with a highly intuitive interface, which makes it easily navigable by even tech novices. With a few simple steps and clicks, you can recover your data in no time.
There's no lost file that can be hidden under its radar. After a deep scan, it offers selective recovery, so you can decide and preview which data you intend to recover.
How to retrieve deleted voicemails on Samsung with Anyrecover (Android):
Step 1 Download AnyRecover (Android) and launch it on your PC.  On the window interface, select Recover Phone Data.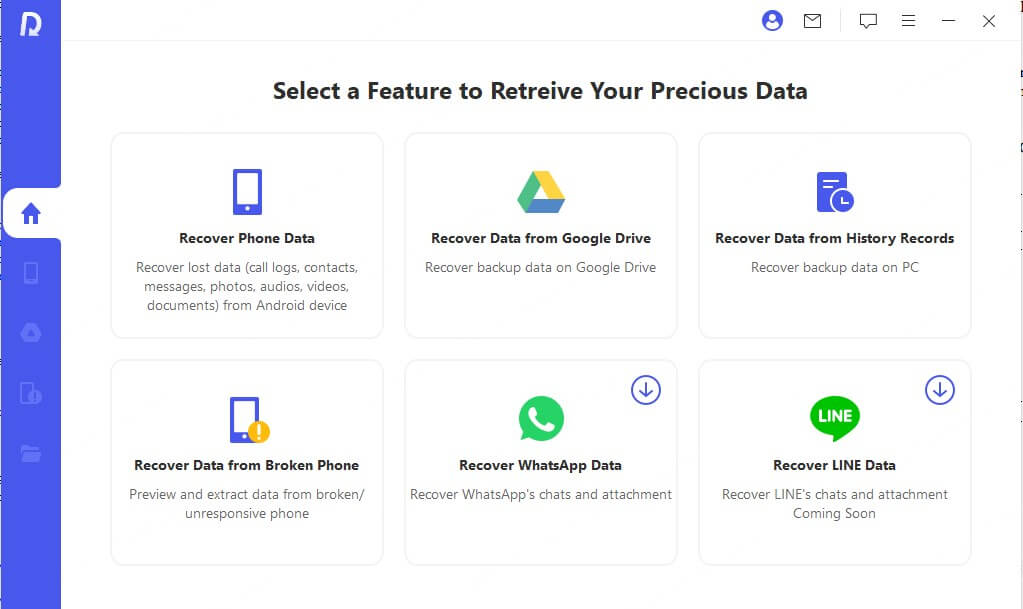 Step 2 Then connect your device to your PC and confirm the device information. If your device is not recognized, follow the instructions to resolve this.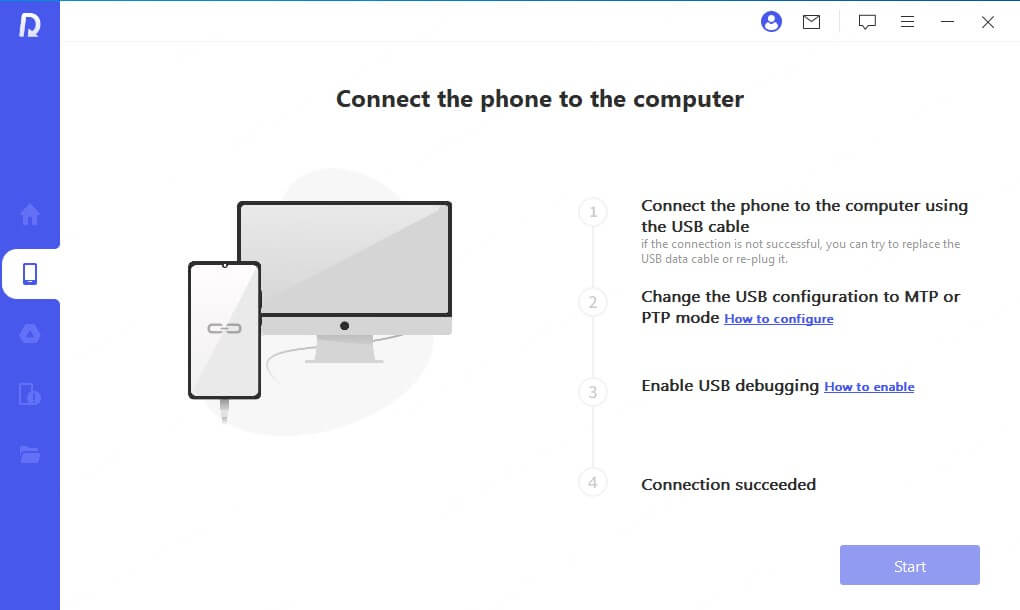 Step 3 Select a scan option depending on your situation. After that, the program will begin to scan your device and reveal all the files that have been deleted including the voicemails.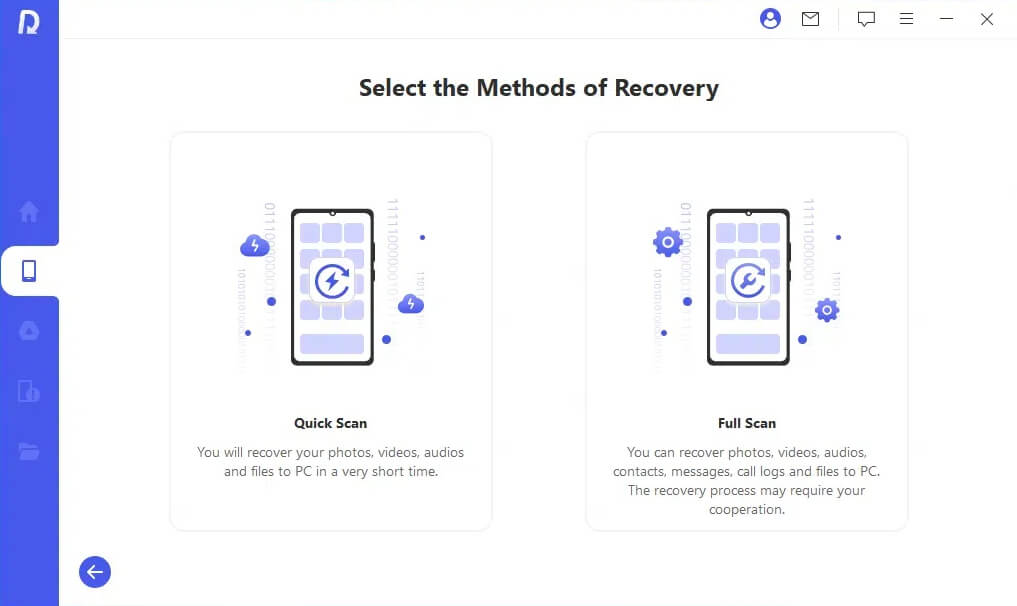 Step 4 Now you can preview and choose the voicemail you want to be recovered. Click on Restore to PC/Restore to Device. It will take a few minutes before the deleted voicemails are restored to your device.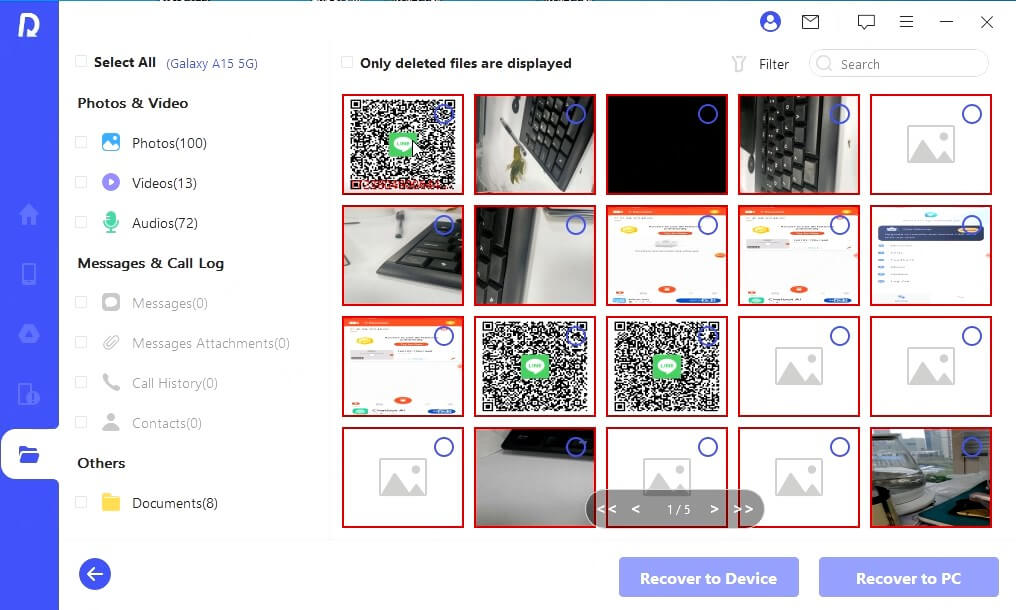 2.3 Retrieve Deleted Voicemail on Samsung with Voicemail App
Some Samsung mobile devices have the Voicemail App and this can also aid in retrieving deleted voicemails from your Samsung device. This application keeps a copy of the deleted voicemails and with a few easy steps, you can retrieve them.
Step 1 On your Samsung phone, proceed to the Voicemail App.
Step 2 Click on the menu and navigate to the Deleted Voicemails option. This will provide a list of your phone's deleted voicemails.
Step 3 Next, choose the voicemail that you wish to recover and click on Save to retrieve deleted voicemail on Samsung.

Bonus. Where Are Voicemails Stored on Android?
The server on your Android smartphone stores your voicemails. Depending on the service provider, the voicemail has a varying expiry date, after which they are deleted. It is often 14 days or longer.
To access the voicemail, you can go to the Phone app and tap the dial. Then press and hold the number 1 to complete the process. In addition, you can also check the Visual Voicemail on the Phone app to find your voicemails.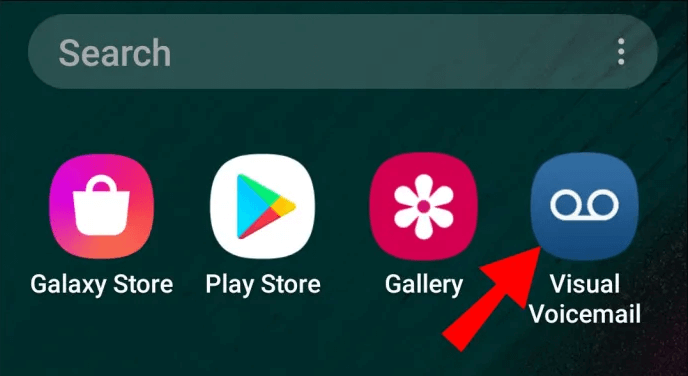 Conclusion
As you can infer from this article, losing your data (voicemail, text messages, video, photo, contacts) from Samsung account devices is not the end. While all the methods above may work for your device, the most recommended and most likely method to guarantee you a successful recovery is the use of AnyRecover (Android). It provides a straightforward method to recover deleted voicemail on Samsung, even if your data was not backed up. Not only does it guarantee the effectiveness of data recovery but it also keeps your device secure from breach of security or virus infiltration.
Unlock your free trial of the software today by downloading the app to get started.