Water damage is a common concern among iPhone users, as it can lead to the loss of valuable data stored on the device. However, there are effective methods available to recover data from water damaged iPhone. In this article, we will explore the possibility of data recovery from such devices and provide a step-by-step guide on how to recover data from water damaged iphone.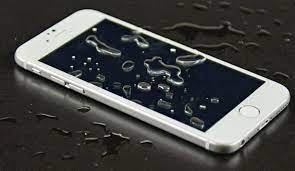 Part 1.

Can Data Be Recovered from a Water Damaged iPhone?
Water damage can cause various issues, such as corrosion of internal components, short circuits, or damage to the storage chip, which stores the data. Recovering data from a water-damaged iPhone is possible, but it can be challenging and not always guaranteed .Many iPhone users wonder if it is possible to recover data from a water damaged device. The answer is a resounding yes! With the right techniques and tools, data recovery from a water damaged iPhone is indeed possible.
Part 2.

How to Recover Data from a Water Damaged iPhone with AnyRecover?
Anyrecover (iOS 17 supported) is a powerful and user-friendly data recovery software that can help you retrieve data from a water damaged iPhone. We recommend two methods if offered to fic how to do water damaged iPhone in the following.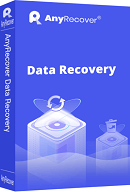 Key Features:
No.1 Restore deleted, lost, formatted or corrupted files from a full range of devices.
No.2 Recover 1000+ file types: photos, videos, office documents, emails, audio, etc.
No.3 All-in-one for Mac& Windows&iOS.
No.4 Support preview and selectively select to restore
No.5Support any scenarios why you lost your data from blacken screen to water damages
Recovering Data from a Water Damaged iPhone from Device Directly
If you can still open your water damaged iphone without backup, you can choose to recover from your iPhone device directly on AnyRecover.
Step 1 : Connect and Scan Your iOS Device.After launching data recovery software, choose the Recover From Device module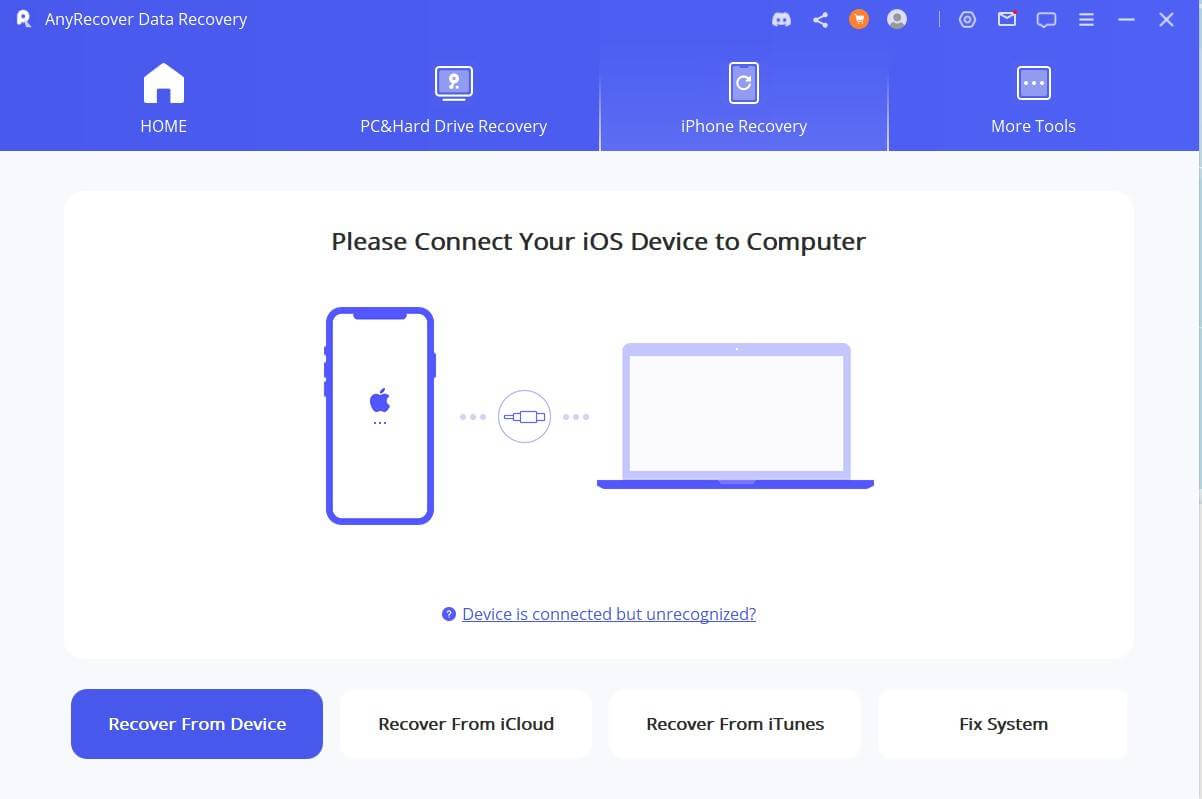 Step 2: After scanning, you can "Preview" and Select "data you want to restore from iPhone/iPad/iPod touch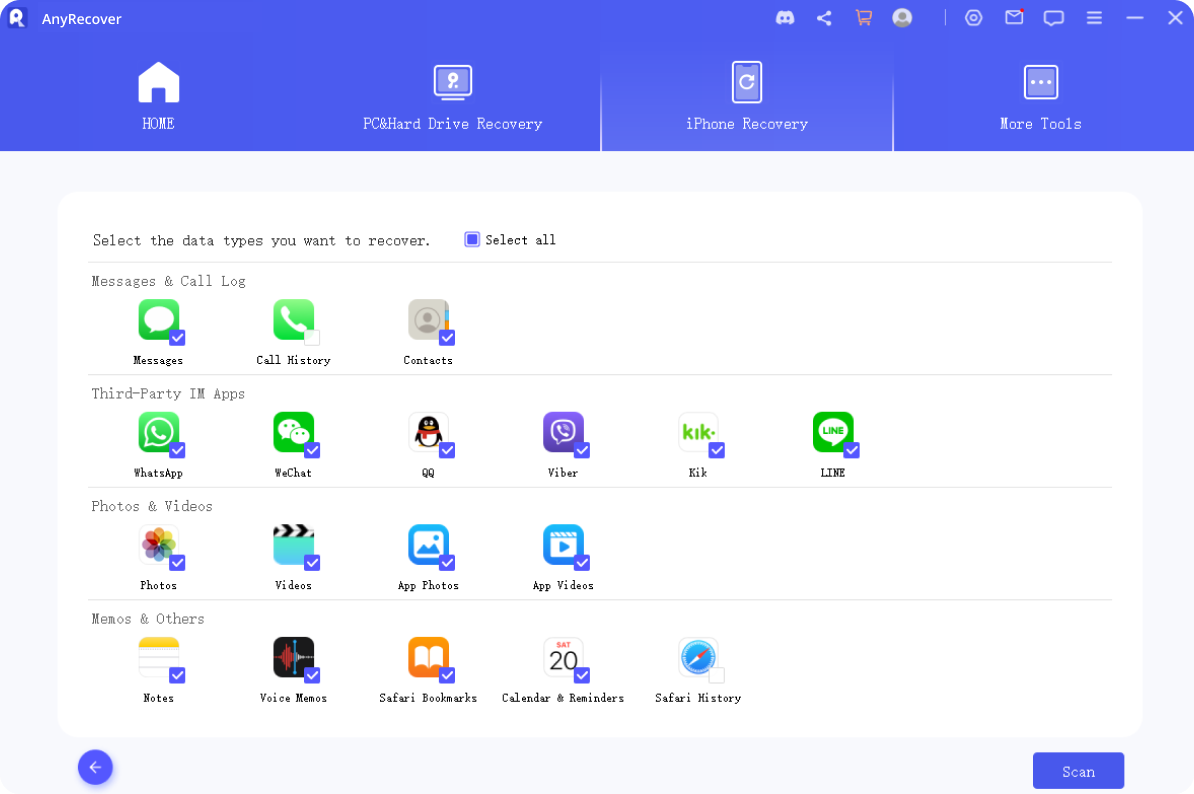 Step 3 : You can choose "Recover to Computer" or 'Reocver to Device"After scanning to recover data lastly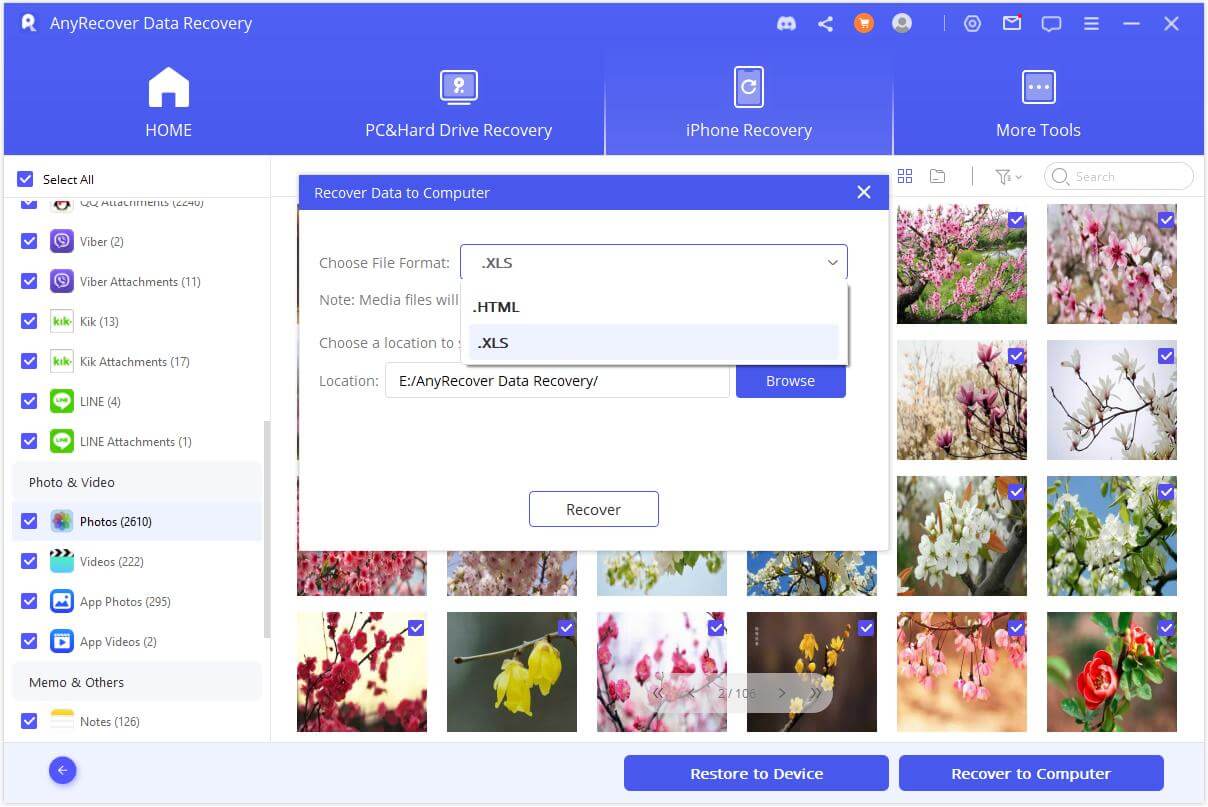 Recovering Data from a Water Damaged iPhone that Won't Turn On via iCloud Account
If your water damaged iphone that won't turn on and you do not a phone in hand, you can still attempt to recover your data using iCloud account mode on AnyRecover. Here's a step-by-step guide:
Step 1 : Log in iCloud Account and Scan Data. Choose "iCloud" from "Recover from iCloud" module. Then fill in your iCloud account details. Please be assured that AnyRecover will never keep a record of your iCloud account info or content.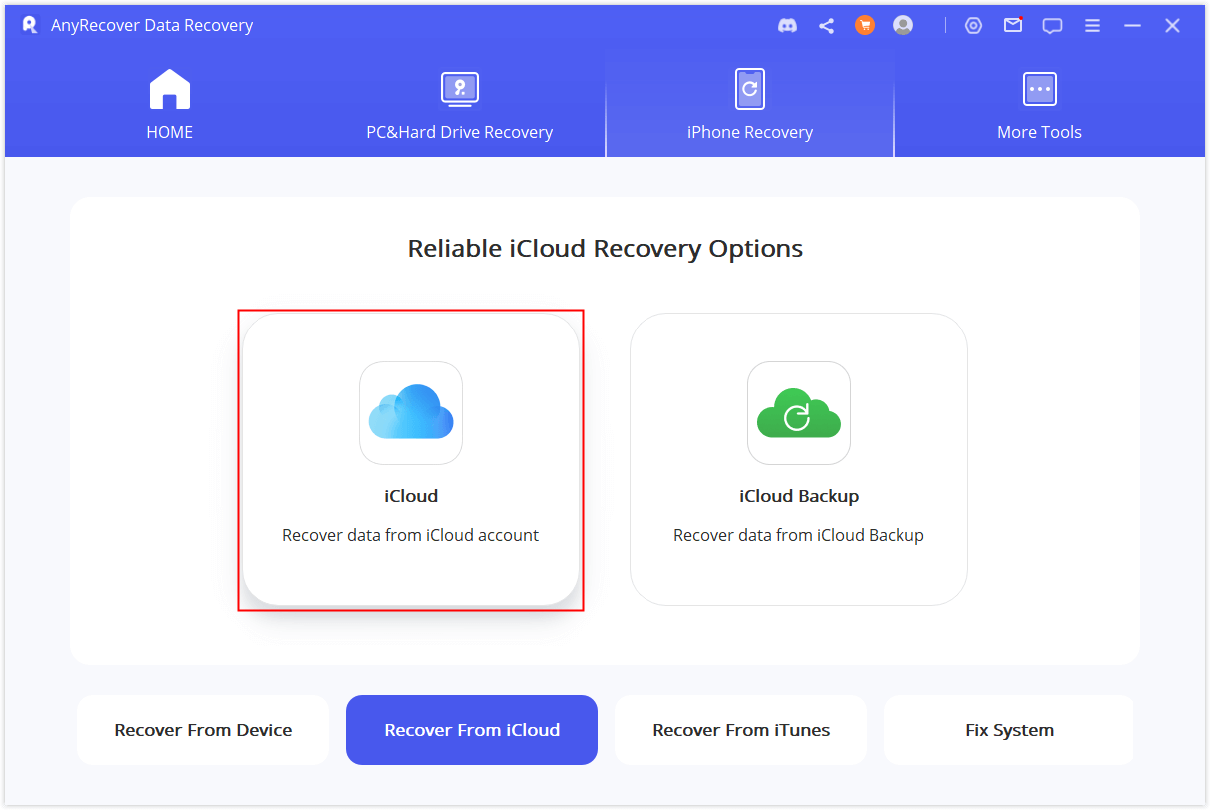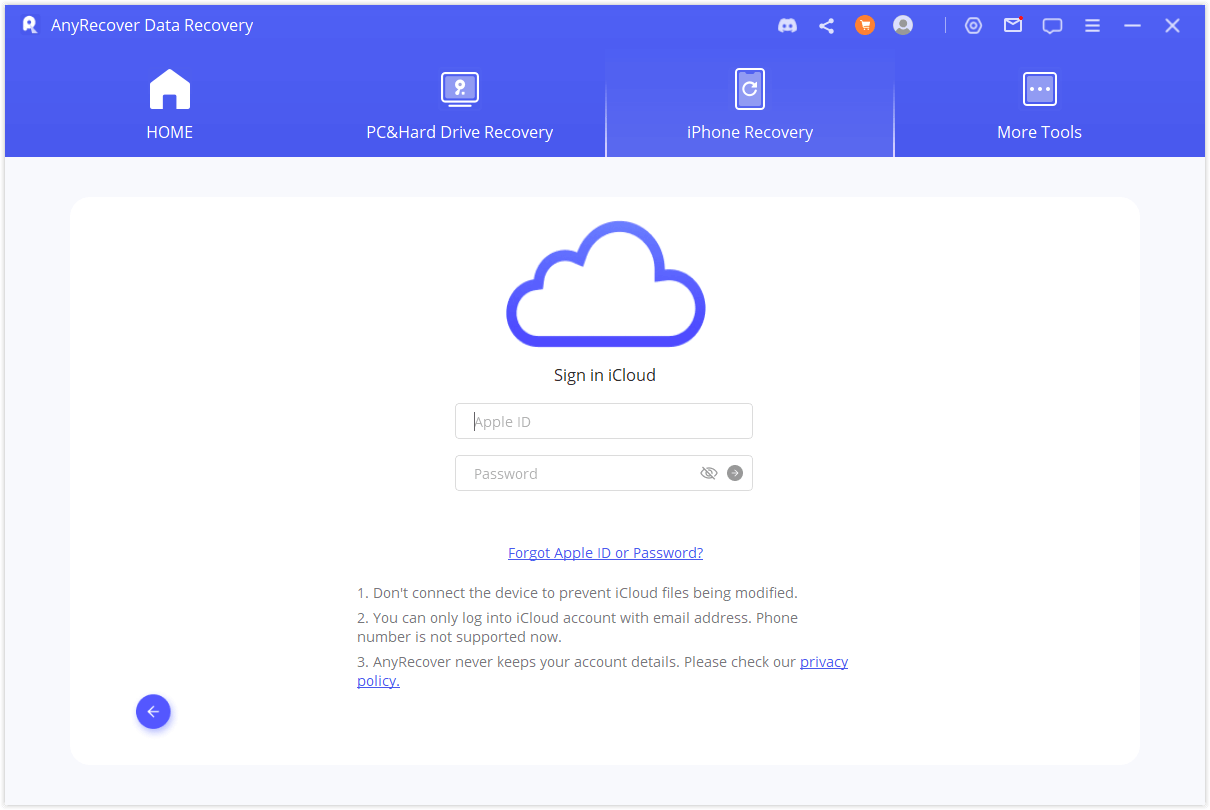 Step 2 : Preview and Recover Data from iCloud. After the scan is completed, the search results will be clearly organized on the interface. You can preview files which you want. and choose the files which you want, and then click "Recover".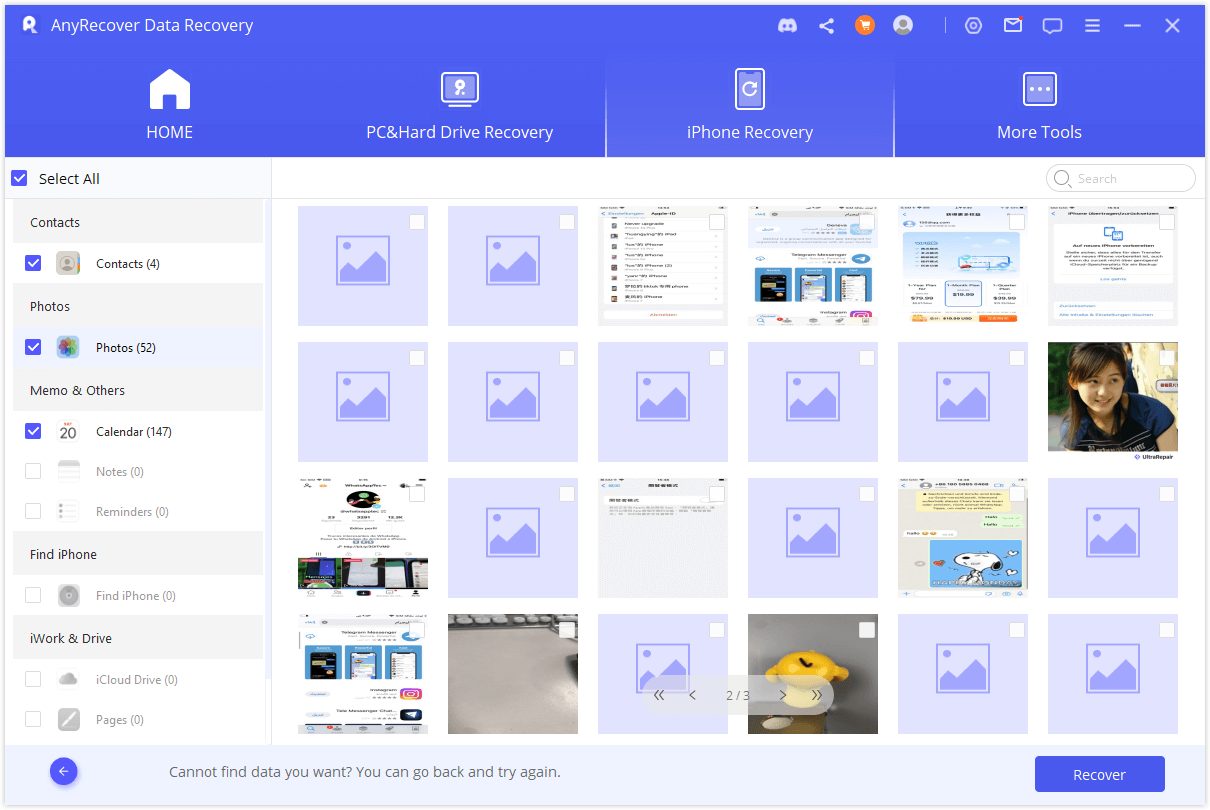 Step 3 : Choose a Location on Your Computer to Store the Recovered Data
Part 3.

FAQ About Water Damage Data Recovery
Tips: What to Do If Your iPhone Falls into Water?
If your iPhone accidentally falls into water, follow these tips to increase the chances of successful data recovery:
Step 1:Immediately retrieve the iPhone from the water.
Step 2:Power off the device to prevent short circuits. Refrain from attempting to charge the phone.
Step 3:Gently dry the exterior of the device with a towel. Place the iPhone in a container of uncooked rice or silica gel packets for at least 48 hours to absorb moisture.
How to Determine if Your iPhone Has Water Damage?
To identify whether your iPhone has suffered water damage, look for the following signs:
The device fails to turn on.
Unusual colors or patterns appear on the screen.
Visible water droplets on the screen or camera lens.
Frequent random shutdowns or freezes.
Can a Water Damaged Phone Be Repaired? What Is the Cost of iPhone 11 Water Damage Repair?
In many cases, a water damaged phone can be repaired. Data on a water damaged iphone can also be recovered. However, the repair cost depends on the extent of the damage and the specific model of the iPhone. Concerning the iPhone 11, the repair cost for water damage can vary. It is advisable to consult an authorized Apple service provider for an accurate estimate.
Conclusion
Although water damage to an iPhone can be distressing, it doesn't have to result in permanent data loss. By following the outlined steps and utilizing tools like AnyRecover to recover data from water damaged iphone via device recovery mode or iCloud account, you significantly increase the chances of recovering your valuable data. Act swiftly and take the necessary precautions when dealing with a water damaged iPhone to maximize your chances of successful data recovery.
AnyRecover Data Recovery on iOS Discount
To Get 10% OFF discount, Copy and Paste coupon code "RECOVER9" during checkout.