WhatsApp voice messages have become a popular and convenient way to communicate with friends and family, especially when it's not possible to have a conversation in person. These messages can be sent across the globe, thanks to the power of the internet. However, one common question that arises is "Where are WhatsApp voice messages stored on our devices?" In this article, we will delve into the storage locations for WhatsApp voice messages on both Android and iPhone devices. Additionally, we will explore how to retrieve them if they have been deleted.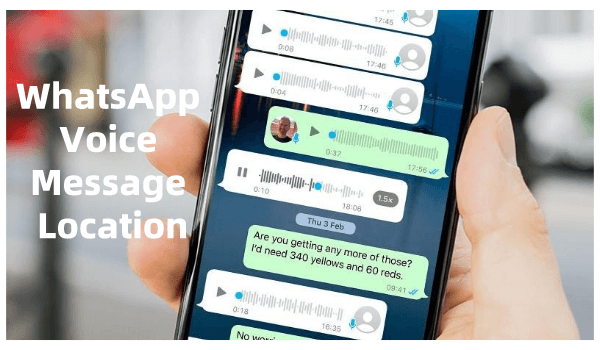 Part 1. Where are WhatsApp Voice Messages Stored on Mobile Phone
Regardless of whether you own an Android or an iPhone, the WhatsApp application stores voice messages on your device. However, the internal storage locations for these messages differ between the two platforms. In this section, we will examine the storage locations for both Android and iPhone devices in detail.
1.1 Whatsapp Voice Message Storage on Android
When you download a media file from a WhatsApp chat on an Android device, the file is automatically stored in the Media or WhatsApp folder. These folders can be found in the File Manager of your device's internal storage. If internal storage is unavailable or if you have changed the settings, the content may be saved on an SD card instead.
How to find WhatsApp voice messages on Android? Follow these steps:
Open the File Manager and click on "Internal Storage" to reveal the WhatsApp folder.
Click on the WhatsApp folder and then open the "Media" folder.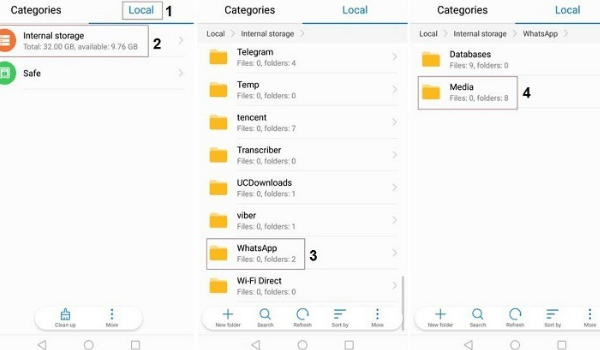 Inside the Media folder, you will find the "WhatsApp Audio" folder, which contains your voice messages.
Now that you have located the WhatsApp voice messages on your Android device, you can listen to them, transfer them to another device, or delete them as needed.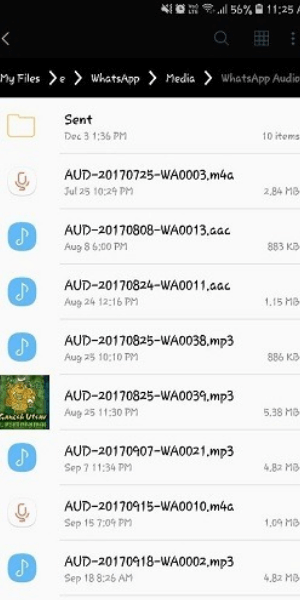 1.2 Whatsapp Voice Message Location on iPhone
On iPhone, WhatsApp voice messages are stored within the app's own file system. They are not directly accessible through the device's default Voice Memos or Music apps. Instead, WhatsApp creates a separate folder to house all the voice messages you receive or send. To locate these voice messages on your iPhone, follow the steps below:
Step1:Launch the WhatsApp application on your iPhone. Navigate to the chat or conversation containing the voice message you want to find.Tap on the voice message to play it. While the voice message is playing, an option to "Keep" or "Cancel" will appear. Tap on "Keep" to save the voice message if you haven't done so already.
Step2:Once saved, the voice message is stored in a specific folder within the WhatsApp application. To access this folder, exit WhatsApp and open the "Files" app on your iPhone.
Within the "Files" app, tap on "On My iPhone" or "Browse" (depending on your iOS version).
Look for the "WhatsApp" folder and tap on it.
Step3: Inside the WhatsApp folder, locate and tap on the "Media" folder. Within the "Media" folder, you will find another folder called "WhatsApp Voice Notes" or "WhatsApp Audio." Tap on this folder to access all the voice messages you have received or sent through WhatsApp.
By following these steps, you can easily locate and manage your WhatsApp voice messages on your iPhone, ensuring you have quick access to your important audio recordings.
Part 2. How to Recover a Deleted Voice Message on WhatsApp
If you have trouble locating your WhatsApp voice messages using the methods mentioned above or if you want to download them for safekeeping, you can use a third-party software solution, such as iMyFone AnyRecover.
Anyrecover offers an efficient way to save and download voice notes from WhatsApp. Some people also ask "Can I retrieve deleted WhatsApp voice notes?" The answer is definitely "Yes". With this professional data recovery tool, not only can you easily find voice recordings on WhatsApp but also helps you recover deleted chats, audio,photos,videos,contacts and more. The software is compatible with Windows, Mac systems and iPhone devices (iOS 17 supported), and allows you to restore your data from your phone device, iCloud, or iTunes backup.

AnyRecover Key features include:
AnyRecover can retrieve deleted WhatsApp Voice Messages and other files directly from iOS/Android device, Google Drive backup or iTunes backup.
Recovers lost WhatsApp data from different situations
like factory Reset, water Damaged, mistaken deletion and more.
Recover WhatsApp voice and other data from iPhone/Android Devices without Backup.
You could also preview your data before recovering it.
Recover WhatsApp data to PC as HTML/PDF/Excel/CSV files.
It is 100% safe and easy to use.
Step 1: After launching the AnyRecover data recovery software, connect your device to your computer. Whether you are an Android user or iPhone user, you can select 'Social App Recovery > WhatsApp'.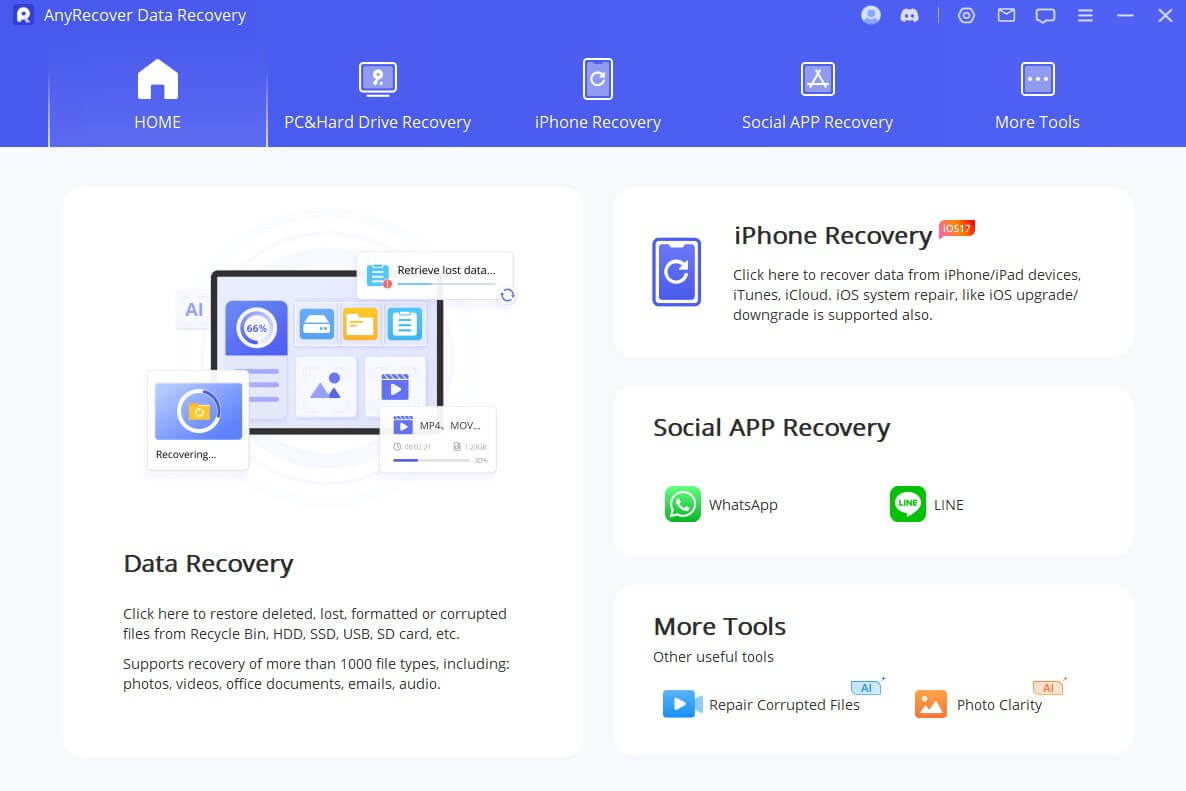 Step 2: Select the types of files that you would like to recover. After that, click "Scan". The program will start to look for the deleted data from your device. You cloud also type the file's name on the search bar to find the lost voice messages you need.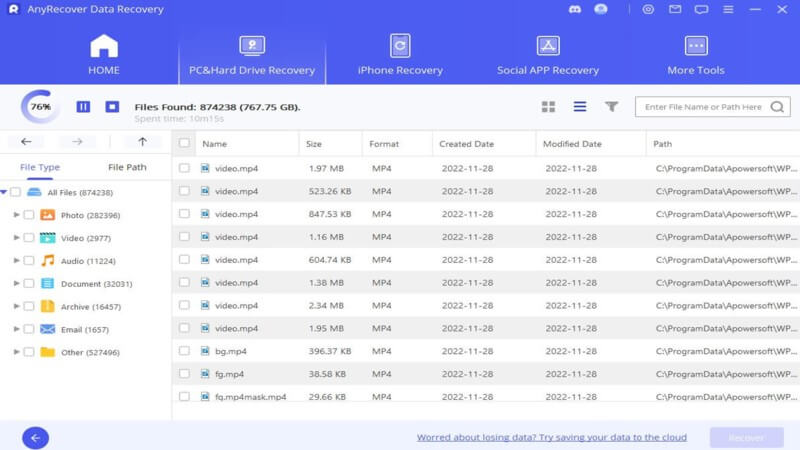 Step 3: After that, you can preview and recover the deleted audio message to your phone device or computer.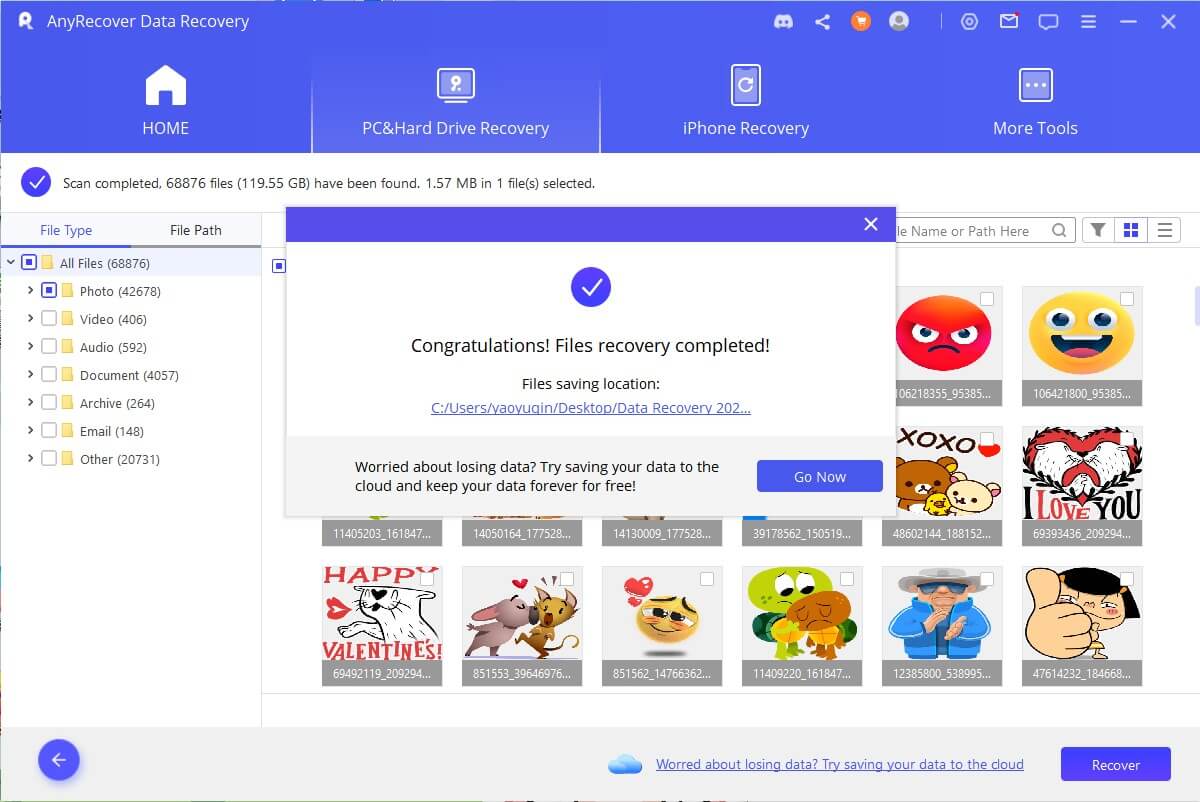 Part 3: FAQs about Whatsapp Deleted Voice Messages Recovery
3.1 Can I recover WhatsApp voice messages if I didn't create a backup?
Yes, AnyRecover can help you recover deleted WhatsApp messages even if you didn't create a backup. The software supports 3 recovery modes that you can retrieve WhatsApp voice messages from phone device directly without backup, or selectively preview and restore from iCloud and iTunes backup without overwriting your data.
Conclusion
WhatsApp retains voice messages on your device, storing them either in internal storage or external storage, depending on the device. Regardless of whether you use an iPhone or an Android device, you can access these audio files. While the methods mentioned earlier can assist you, if you are still unable to locate the voice messages and wish to download them, iMyFone AnyRecover can be employed.
AnyRecover is a professional tool designed to recover deleted WhatsApp messages from both Android and iPhone devices. With AnyRecover, saving voice notes from WhatsApp becomes more convenient. It helps you restore your voice message and other data without spending a lot of time. . Even if you lack a backup and have accidentally deleted all the audio files, this tool can still assist you in recovering them.