Are you experiencing the iPhone Attempting Data Recovery issue while updating your iOS? This can be a frustrating problem that many iPhone users face, especially when they fear losing valuable data. In this comprehensive guide, we will discuss the reasons behind this issue, several solutions to fix it, and data recovery methods to ensure you don't lose your precious data.

The iPhone attempting data recovery issue usually occurs when users update their iOS through iTunes or when they try to downgrade their iOS version. When this happens, the iPhone gets stuck on a screen displaying the message "Attempting Data Recovery," making users anxious about their data. This article aims to provide you with valuable information on how to resolve this issue and recover any lost data.
1. Causes of iPhone Attempting Data Recovery
There are several reasons why your iPhone might be stuck on the attempting data recovery screen:
· Downgrading iOS: Users who try to downgrade their iOS version, such as from iOS 14 to iOS 13 or lower, may encounter this issue.
· Interrupted iTunes Update: If you update your iPhone via iTunes and accidentally disconnect the device from the computer or Mac during the process, you may face the attempting data recovery loop.
· Jailbreaking: Updating the latest iOS after attempting jailbreaking can also trigger the attempting data recovery issue.
2. Solutions to Fix iPhone Attempting Data Recovery
Several methods can help you fix the attempting data recovery iPhone loop. Let's explore these solutions one by one.
2.1 Pressing the Home Button
As soon as your iPhone gets stuck in the attempting data recovery loop, try pressing the Home Button and allow the update to finish. This may take some time, but the iPhone should eventually return to its previous state once the update is complete.
2.2 Forcing iPhone to Reboot
Force restarting your iPhone can often resolve the attempting data recovery issue. Different iPhone models have different methods of force restart:
For iPhone X/XS/XR/11/12/8/8plus/SE 2:
1. Hold the Volume Up button for a few seconds and release it quickly.
2. Hold down the Volume Down button for a few seconds and then release it.
3. Hold the power (Side) button until you see the Apple logo.
For iPhone 7/7 Plus:
1. Press the Volume Down and Sleep/Wake buttons.
2. Keep them pressed and wait until the Apple logo appears.
For iPhone 6 and earlier models:
1. Press and hold both the Home and Sleep/Wake buttons.
2. The Apple logo will appear on the screen after a successful restart.
2.3 Entering Recovery Mode
If neither pressing the Home Button nor force restarting works, you can try putting your iPhone into Recovery Mode. This method is usually effective when an update fails on a device. However, keep in mind that this method will erase all your iPhone data.
To enter Recovery Mode on your iPhone:
1. Connect your device to a computer or a Mac.
2. Follow the steps to force restart your iPhone (as mentioned above), but keep holding the buttons even when the Apple logo appears until the "Connect to iTunes" screen appears.
3. Launch iTunes, and a pop-up message will appear asking if you want to restore or update your device. Click "Update," and iTunes will start reinstalling iOS without erasing your data.
Note: The recovery mode enables you to erase the iPhone and set it up again after it has been erased. You can restore your iPhone's data and settings from a backup after you erase it. If you didn't back up your iPhone, you can set it up as a new device and download your iCloud data.
2.4 Updating iPhone via iTunes
Another solution to fix the attempting data recovery issue is to update your iPhone using iTunes. To do this:
1. Connect your iPhone to a computer or a Mac.
2. Open iTunes and select your device.
3. Click "Check for Update" and then "Update" to start the process.
Make sure not to disconnect your iPhone from the computer during the update to avoid any issues.
3. Data Recovery Methods
If you lost data due to the attempting data recovery error during an iOS upgrade, you could still recover it using the following methods:
3.1 Recovering Data with Professional Software
One of the most effective ways to recover lost data from your iPhone without backups is to use professional data recovery software. Tools like Anyrecover (iOS 17 supported) can recover various types of lost data, including notes, photos, videos, and WhatsApp data, in a few simple steps.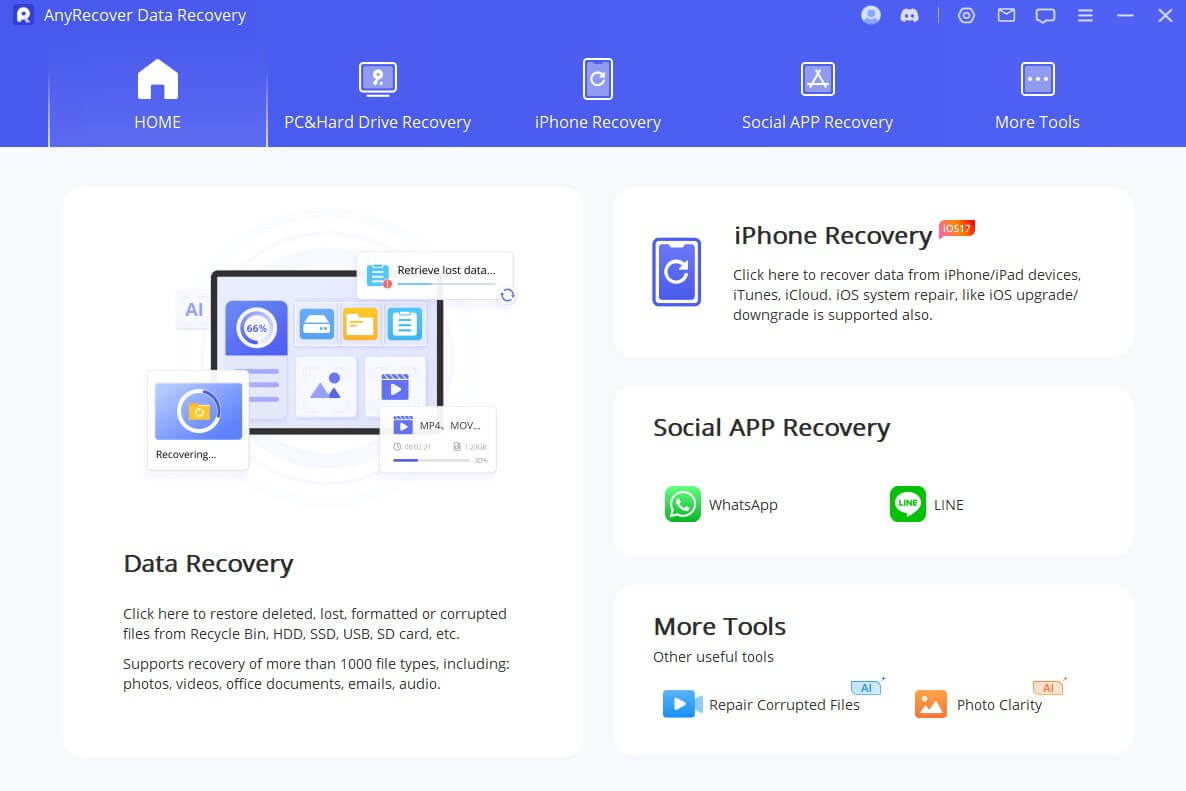 Here's how to recover data with AnyRecover:
1. Download and install the AnyRecover software on your Mac or Windows computer.
2. Connect your iPhone to the computer using a lightning cable, then choose "Recover from iOS Device."
3. When AnyRecover detects your iPhone, click "Next," and you will see all the data that can be recovered.
4. Choose the type of data you want to recover, then click "Scan."
5. Once the scan is completed, select all the files you wish to recover and click the "Recover" button.
3.2 Restoring Data from iCloud Backup
If you have an iCloud backup, you can restore your iPhone data from it:
1. When you reach the Apps & Data screen during the iPhone setup process, select "Restore from iCloud Backup."
2. Sign in to your Apple ID.
3. Choose the latest backup and click on "Restore."
3.3 Restoring Data from iTunes Backup
If you have an iTunes backup, follow these simple steps to restore your lost data:
1. Connect your iPhone to the same computer you used to create the backup.
2. Click the device icon in iTunes and select "Restore Backup."
3. Choose the most recent backup and click "Restore" to confirm.
4. Preventive Measures
Regularly backing up your iPhone data via iTunes or iCloud can prevent data loss in the future. Additionally, using a professional data recovery tool like Anyrecover can help you selectively or fully back up your iPhone's important data. This way, you don't need to worry about iPhone upgrade bugs affecting your data.
5. Conclusion
If you encounter the iPhone attempting data recovery issue in the future, try the solutions mentioned in this article, such as force restarting your iPhone or entering recovery mode. Regularly backing up your iPhone data via iTunes or iCloud and using professional data recovery tools like Anyrecover can help ensure your data is safe even when facing such issues.