Mistakes do occur. If you have already accidentally erased hard drive on Mac, you may want to know whether it is possible to recover your lost data. The answer is Yes! You can get back your accidentally erased Mac hard drive data. However, you need to use the right methods. In this article, we will be showing you the solutions you can use to recover your lost data.
Solution 1: Best Way to Recover Accidentally Erased Hard Drive on Mac
The easiest way to recover your accidentally erased data is using an advanced recovery tool called AnyRecover. It features a unique algorithm which allows its users to recover unlimited amounts of data from Mac hard drives, even when you erased them. This combined with the fact that AnyRecover supports more than 1000 file types means that you get to recover all your accidentally erased hard drive Mac data within a couple of minutes.
By making the recovery of the accidentally erased hard drive data as easy as 1-2-3, iMyFone AnyRecover helps you get rid of the stress and frustration which usually set in after losing crucial data. During the recovery process, AnyRecover will make sure that your data is 100% safe. The tool won't overwrite any of the data you have on the Mac computer.

1,000,000 + Downloads
The main features offered by AnyRecover include:
The tool helps you recover lost partitions and erased hard drives easily and quickly.

Supports 1000+ file formats, including emails, documents, audio, pictures, archives, etc.

It makes data recovery on all storage devices, including hard drives, memory cards, camcorders, mobile phones, flash drives, digital cameras, etc. possible. You can use it to on virtual drives as well.

A free trial version is available, you can use it to recover first 3 files for free.

To recover your accidentally erased hard drive on Mac data using AnyRecover, you will need to follow these steps:
Step 1: After launching AnyRecover on your Mac, select "Formatted Disk Recovery".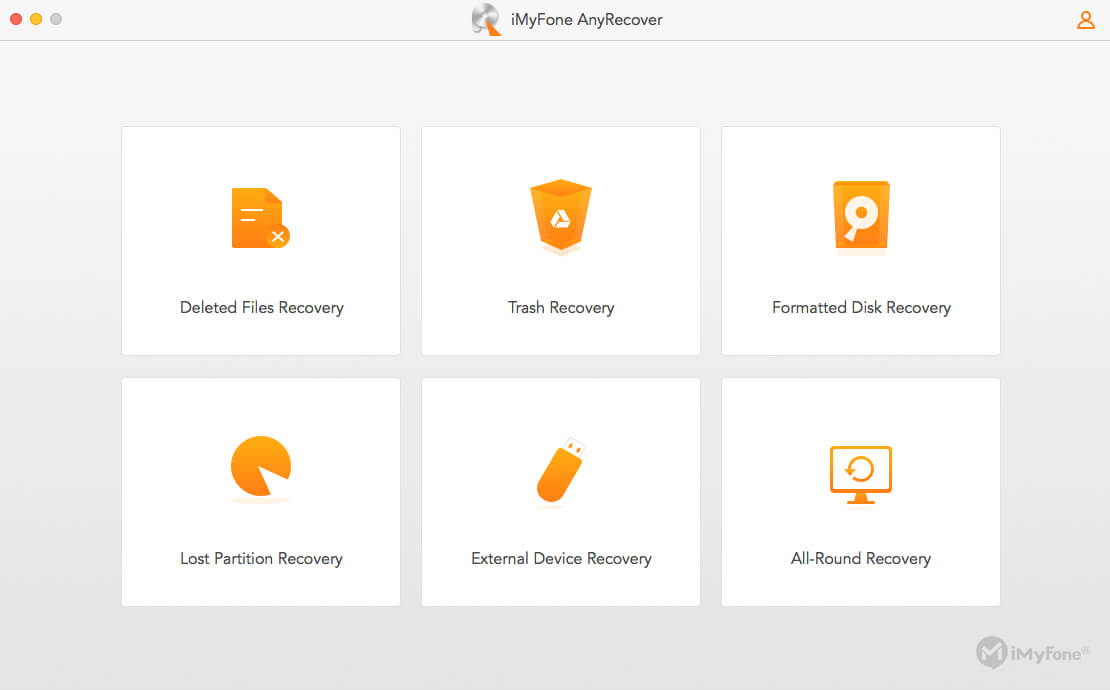 Step 2: Choose the erased hard drive as the target location and Hit "Next".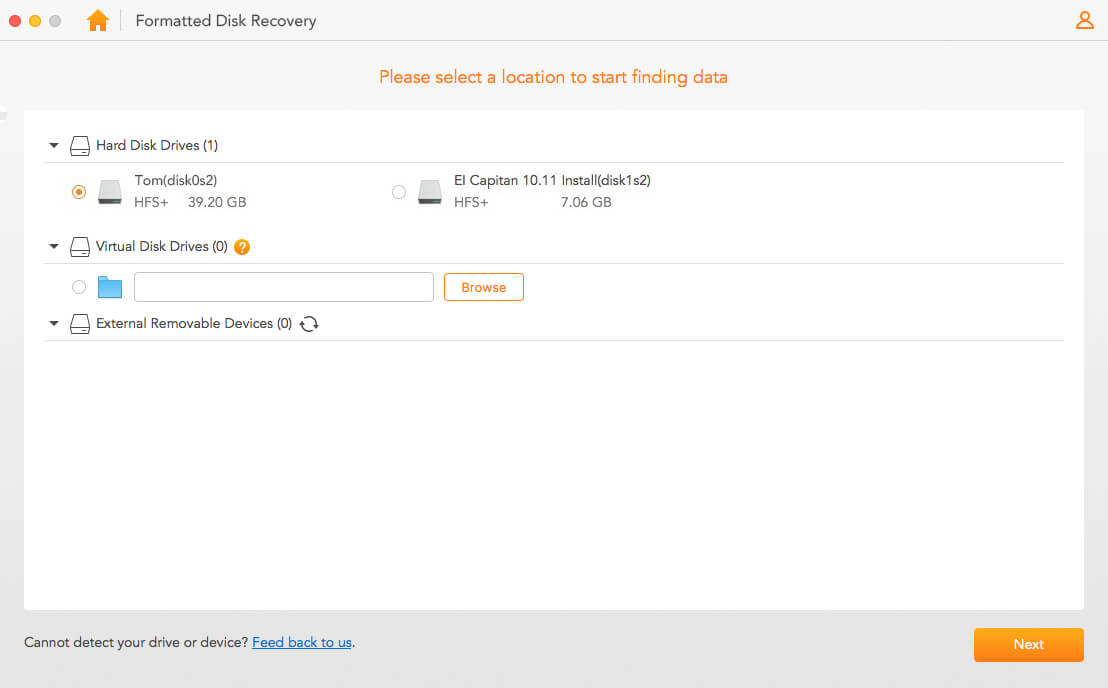 Step 3: Select the file types you would like to recover and then tap "Scan".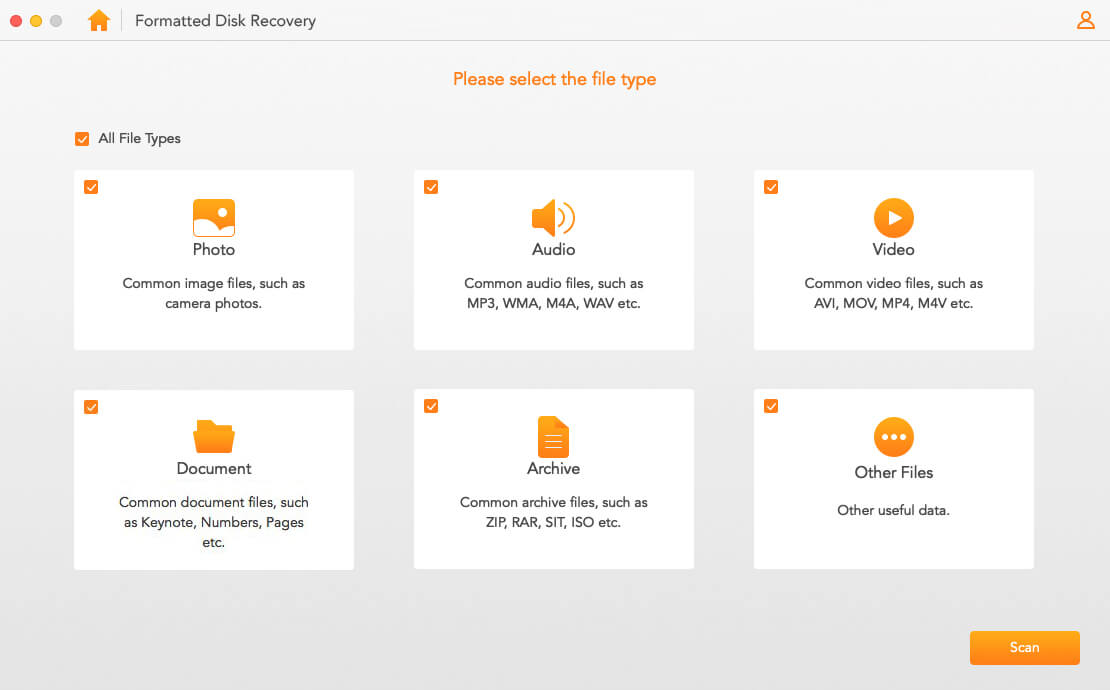 Step 4: After the scan, preview the files and then select the ones to get back. Finally, hit "Recover". Your lost data will be recovered in a few minutes.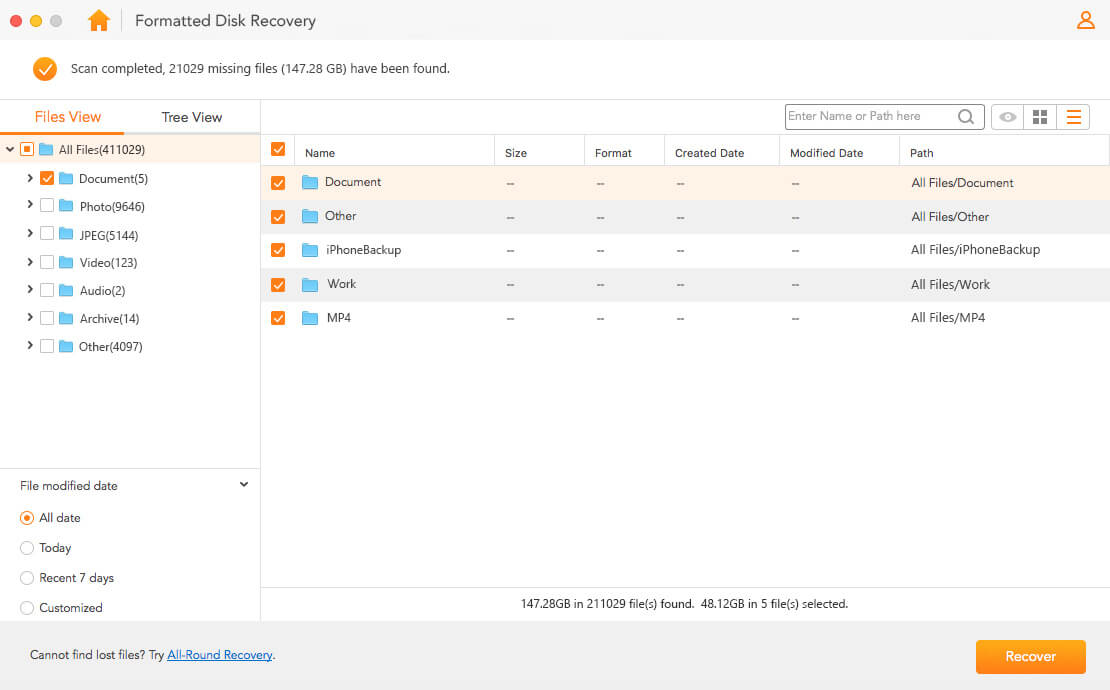 Apart from accidental data deletions, iMyFone AnyRecover supports other data loss situations, including:
• Lost Partitions
• Emptied recycle bin
• Damaged hard drive
• Virus attacks
• External storage data loss
• OS crash or reinstall
Solution 2: Restore Accidentally Erased Mac Hard Drive Via Time Machine
To restore the accidentally erased hard drive data on Mac using the Time Machine Backup, you will need to use the steps below:
Select System Preferences > Time Machine and then choose Show Time Machine.
Locate the folder that had the data you would like to restore.
Using the dial available to the right, navigate the folder to locate the file you would like to get back.
To preview the file, double tap it. Next, while the file is highlighted, click Restore.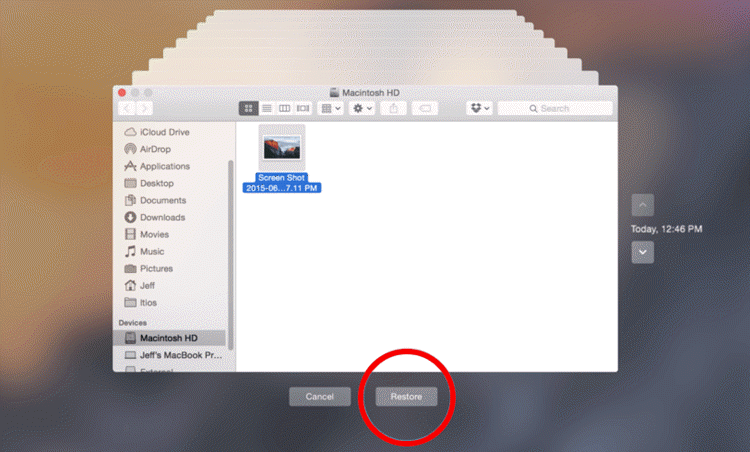 Limitation to use Time Machine:
1. If you had not set up the Time Machine backup in advance, using the tool to recover files will be impossible.
2. You may not have the ability to use this option if you lost your data on an external Mac hard drive.
Extra Tips: How to Avoid Data Loss on Mac?
To avoid losing your important data on Mac, you can use the following tips:
Use up-to-date antivirus software. This will help you ensure that viruses don't have the ability to affect the files you have on your Mac.
Make periodic backups. Every now and then, consider creating a backup of the files you have on your Mac on an external hard drive. You can use more than one hard drive just to reduce your chances of losing your data. If possible, you can consider uploading your important files to the cloud.
Make sure you are the only person who can access and use your Mac. Other people, including your kids, could end up hitting the wrong button. If necessary, you can create other profiles on your computer just to make sure your data is safe.
Follow the right procedure when closing your apps. This will help reduce the chances of your data getting corrupted.
Perform data recovery as soon as possible. If you wait for too long, new data may be created on the Mac hard drive. The new data could end up replacing the accidentally erased data. This will make the data recovery impossible.
Conclusion:
If you have accidentally erased hard drive data on your Mac, you shouldn't be stressed. This article has the top solutions which can help you avoid being frustrated. While you could try using Time Machine backup, there is no guarantee that it can help you get your data back.
However, if none of your lost data is overwritten, iMyFone AnyRecover can help you recover all your lost data. If you would like to try iMyFone AnyRecover before paying for it, you can use the free trial version.