Problem
"My old files on my Seagate external hard drive were suddenly lost. I don't know whether I deleted them by mistake or other reasons led to the loss. Can I recover my data from an external hard drive? Then how do seagate data recovery?"
Seagate has risen fast to the status of the biggest digital storage supplier in the world. Seagate external hard drive is chosen and adopted by people to store their photos, movies, documents, etc. However, Seagate hard drive data loss is inevitable at times.
In case you have a similar problem as above, this article will introduce you to the most effective solutions for Seagate hard drive recovery.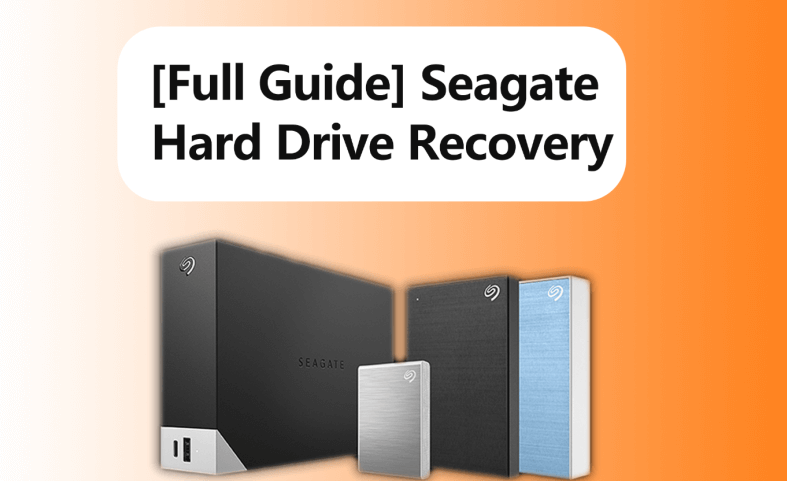 Part 1: Perform Seagate Data Recovery with AnyRecover [Easiest]
If your Seagate external hard drive is not physically or mechanically damaged, there is no need to spend hundreds of bucks on data recovery service. Recovering data from your Seagate external drive can be very simple with the right tool at your disposal. The recommended tool for you is a professional data recovery tool AnyRecover.
AnyRecover is a powerful data recovery software that helps you retrieve lost, deleted or formatted data from your Seagate external hard drive. You can finish the data recovery process by yourself as only 3 steps are needed, and your data privacy is secured. What's more, AnyReocver is fully compatible with Windows 11/10/8/8.1/7/XP as well as macOS 13 - 10. 1 and iOS devices.

2,061,704 Downloads
Main Features of AnyRecover:
Support any storage device - External hard drive from various brands, SD/SDHC/CF cards, USB drives, digital cameras, etc (include Seagate).

Recover files from all sorts of data loss scenarios - Accidental deletion, formatted devices, virus or malware attacks, lost partitions, and sudden power off amongst others.

Recover over 1000 different file formats - Pictures, audio files, videos, zip archives, emails, documents, etc.

Preview before recovery - AnyRecover allows you to preview the files before recovery, so you can only recover the files you want.

Support Windows 11/10 and earlier versions, MacOS and iOS (the only one-stop data recovery on the market).
Before you proceed to follow the 3 simple steps below to restore deleted or lost data from Seagate external hard drive, there are 3 things you have to pay attention to.
Instantly stop using Seagate hard disk lest your deleted or lost data be overwritten.

You are suggested to restore your recovered data on a different storage device.

To ensure success rate, please use a HDD enclosure or SATA to USB converter to make the internal Seagate hard disk connected with another computer.
3 Steps to perform Seagate external hard drive recovery with AnyRecover
Step 1 Launch AnyRecover on your computer and select the external device where you want to recover data. Then click Start to begin scanning.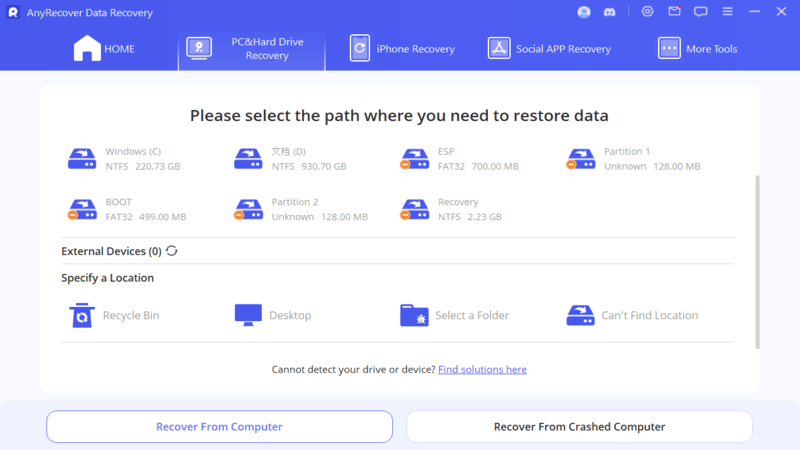 Step 2 At this time, all of your data will be listed in the left panel once the scan is complete. You could stop or pause the process at any time.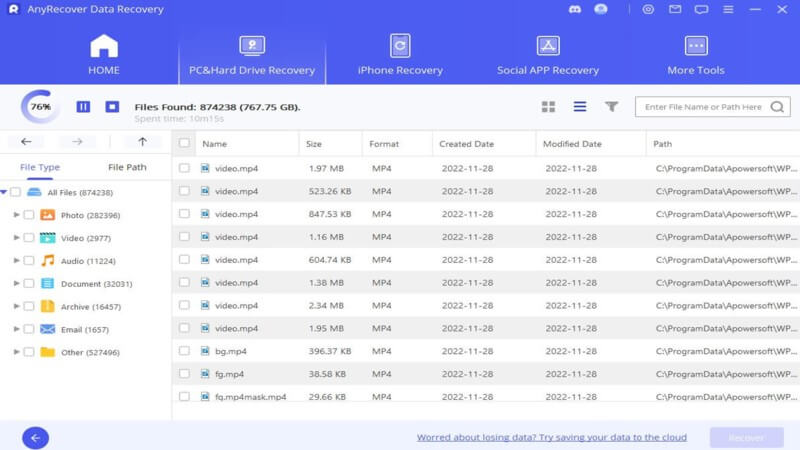 Step 3 Preview your files from the list of lost files, select the files you wish to retrieve and click Recover.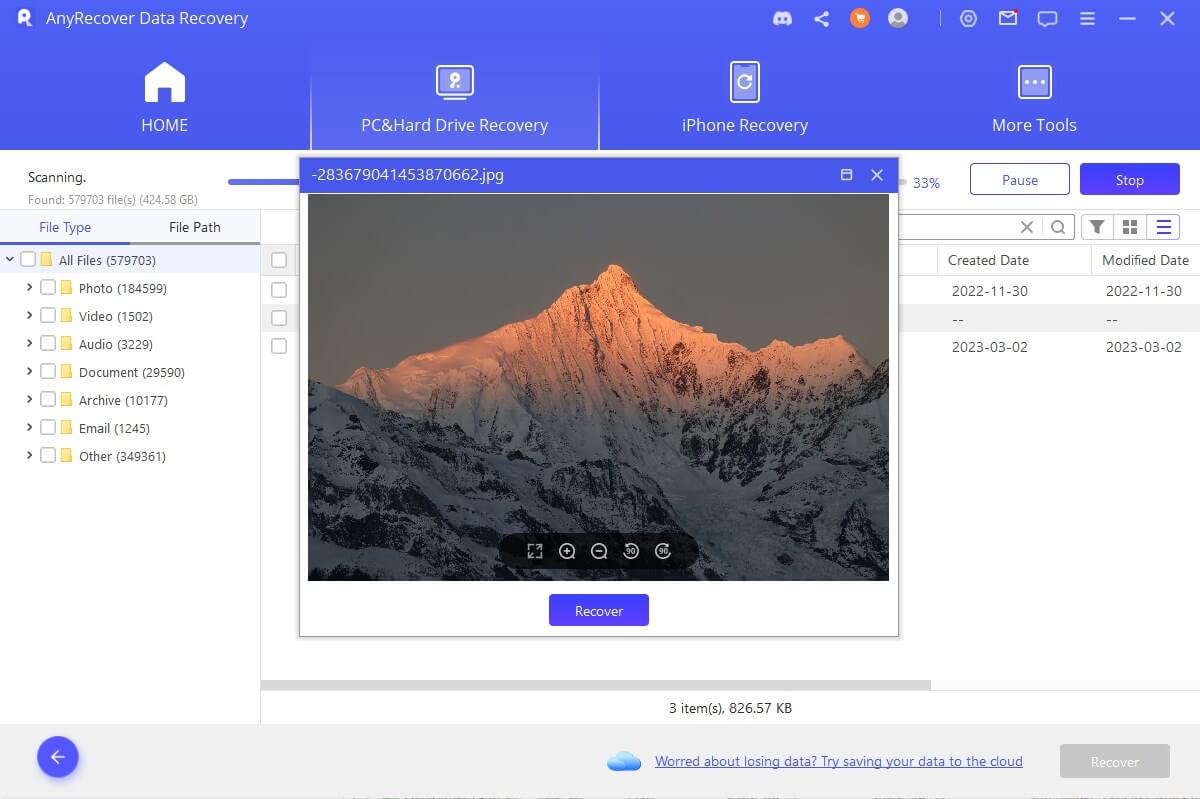 Part 2: 3 Alternative Ways to Recover Data from Seagate External Hard Drive
Besides AnyRecover, there are some other ways you can try to perform Seagate data recovery, we have listed them below one by one.
1. Recover from Seagate Data Rescue
If your Seagate Backup Plus hard drive is still covered by warranty, you should have a complimentary Seagate Rescue Plan. This means you can recover your lost data, including pictures, videos, music, etc. using your hard drive warranty card. Seagate data rescue will recover the files for you from the drive and send it to you through their online cloud storage system or in a new external drive.
2. Perform Chkdsk
If your Seagate external drive is still detectable by your PC, performing Chkdsk on your Windows PC is a great first step. CHKDSK – which is run in Command Prompt – allows you to scan, fix and recover your files. To do that follow the steps below:
Go to the Windows Start button and enter cmd in the search box.
Command Prompt should appear in the search list. Right-click it and select Run as Administrator.
Permit it to make changes to your computer.
When the Command Prompt opens, input chkdsk E:/f where "E" stands for the Seagate external drive letter} and hit Enter.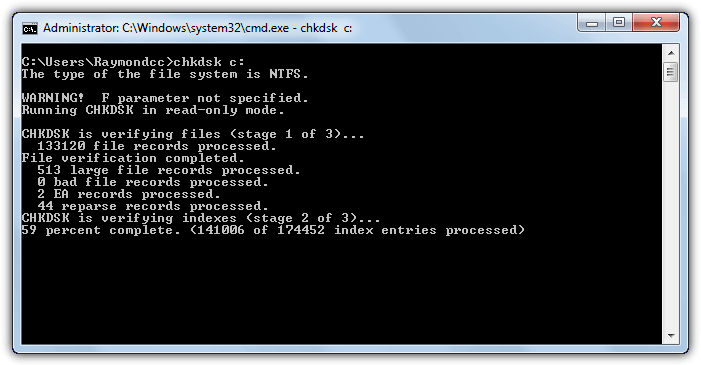 3. Reinstall the Driver
If, however, it happens that your computer cannot detect your Seagate external hard drive, reinstalling the driver may help. After that, see whether the data on the drive appears.
Navigate to My Computer or This PC on your desktop and right-click on it.
Select Manage > Device Manager.
Double-click Disk Drives and right-click the name of your removable drive.
Choose Uninstall Device and confirm your action.  After the process finishes, disconnect your drive and restart your PC.
After the PC restarts, reconnect the drive; your system should read it now.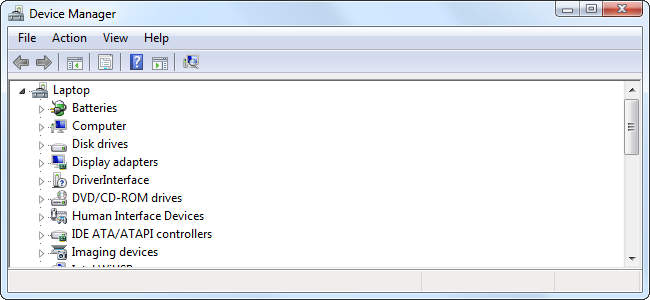 Part 3: FAQs About Seagate Drive Recovery
1. Possible Reasons for Data Loss from Seagate Hard Drives
You may come across data loss on the Seagate hard drive in various situations and the most possible causes are presented below. You could check them out now.
Logical failure. It refers to errors both in files and drives. This includes virus/malware attack, human errors like accidental deletion without backups, corrupted files resulting from Seagate hard drive formatting, bad sectors on the hard drive such as unrecognition and inaccessibility, as well as power issues.

Physical damage. Usually, if you correctly handle and restore the hard drive, it is hard to go wrong. Otherwise, some physical problems including drop, overheating, water damage and improper handling to Seagate hard drive can cause data loss, thus making data recovery much difficult.

Mechanical errors. Mechanical hard drive failures are commonly characterized by strange noises like clicking, grinding and screeching, slow operation and not mounting of hard drives. In this way, you may encounter frequent system freezing and crashing. Therefore, you are stopped from getting access to data.
2. How much does Seagate charge for data recovery?
When you lose significant data from a Seagate hard drive, you could also choose Seagate In-Lab Data Recovery Service. In this way, how much does Seagate really charge for data recovery? Well, according to different data loss situations, the charge varies. It could range from $499 to $2000 and higher at some times for data recovery. What's more, the shipping fees for sending the broken drive to the Seagate lab are also needed.
3. How do I fix my Seagate external hard drive not recognized?
Some people may run into their Seagate external hard drive not being recognized or detected on the device manager or the disk management. If you have the same case, you could try to uninstall the Seagate drive and update it again. Or other ways include changing drive letter, initializing the external hard drive, creating a new partition and more work to fix it.
You could check more details in fixes for Seagate external hard drive not showing up.
Conclusion
Frustrating as it is when your external storage device crashes or stops showing your files, it is not the end of the world. In fact, this is a fairly common problem, with about 30% of its occurrence down to human error. Whether it is your fault or not, you can easily perform Seagate data recovery by using AnyRecover data recovery software. Seagate hard drive recovery could be as simple as you think!
Free download AnyRecover and start your deep scan right now!