You may have spent a long time constructing an extensive essay, an article, or a report, but accidentally saved over it with an empty document. It seems all hope lost. Fortunately, there are some dependable ways that can recover an overwritten Word document quickly and effectively. Now, let's go through them one by one.
1
Undo Save in Word
If you accidentally saved over a Word document, the best and easiest way is to recall the operation. You only need to press Ctrl + Z at the same time, then you can recover the document to its previous version.
2
Recover Word Files from the Temp Files
While working on a Word file, if you forget to save the document then Office creates some temp files automatically as a backup. It creates a new temp file after a specific time without overwriting the previous ones. So if you accidentally saved over a word document, you can find your required file from the temp files. However, you need to enable the AutoRecover option before you overwritten the original document.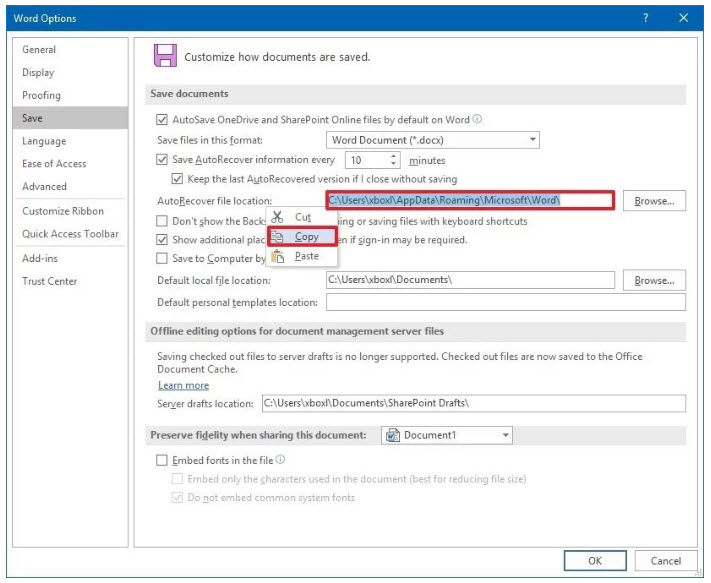 To recover overwritten Word document, you will have to find temp file folder on your PC. After navigating into temp files folder, you will find different temp files there. You can locate the temp files folder as follows:
Windows 7/8/10: C:\Users\UserName\AppData\Roaming\Microsoft\Word\
If you are also a regular user of Microsoft Excel program, temp files is also a workable way to recover unsaved excel files.
3
Recover a Saved Over Word Document from Backup Copy
Apart from temp files, MS Word also creates a backup copy for your document. However, this feature is disabled by default. You have to enable it beforehand. Once enabled, it will create a file in .wbk file format in the same folder as the original file. If you accidentally saved over a Word document, you can navigate to the file location and open the .wbk file, then save it as a .doc or .docx file.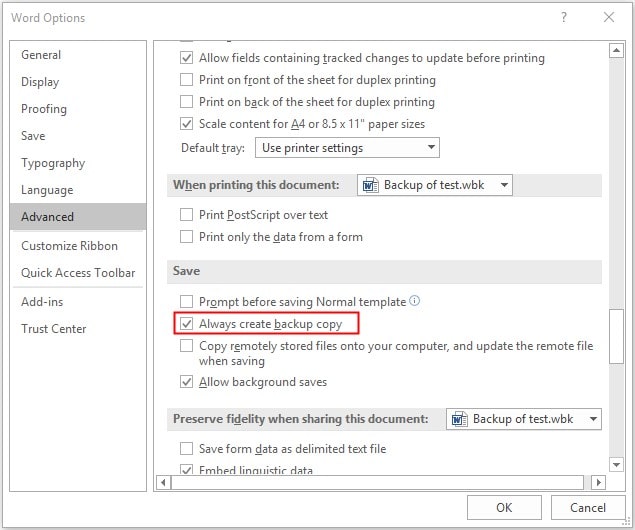 Note: If you haven't enabled this feature yet, you can navigate to File > Options > Advanced > Save > Check "Always create backup copy".
4
Restore a Word Document to Previous Version
If the above method doesn't work, you can try to restore accidentally saved over files by recovering a previous version of it.
Step 1: Create a new Word file that has the same name as your accidentally overwritten Word file or locate your overwritten or saved-over Word file.
Step 2: After creating a new file or locating the old one, right-click on the Word file. A menu will appear, select "Properties" option there.
Step 3: You will find a "Previous Versions" tab. Click on the tab. You will find different versions of your file. Restore your required version.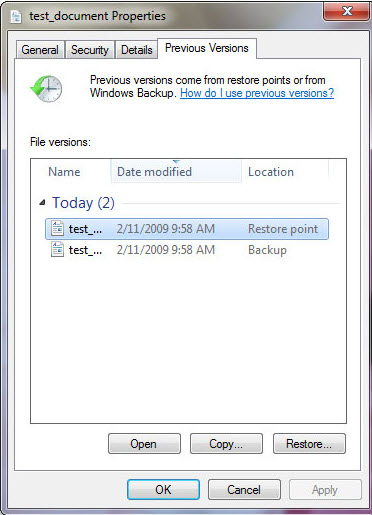 Note: "There are no previous versions available" often occurs since Windows won't backup your files automatically. You need to turn on the "File History" feature. Open Control Panel and select "save backup copies of your files with File History" under System and Security. You can turn on the File History in the next screen.
---
Tip 1: How to Recover a Saved Over Word Document on Mac
The above 4 solutions are available for Windows users, if you are using a Mac computer then you should check the solutions below.
Method 1: Recover an Overwritten Word Document with Time Machine
Time Machine is a built-in backup and restore tool on Mac. It can create backups of your files hourly, daily and weekly until the volume is out of space. Therefore, you can easily recover a saved over Word document in a specific time. Here is how to do it:
Step 1: Click on the Time Machine icon on the menu bar, choose "Enter Time Machine".
Step 2: Select a folder where your Word document located.
Step 3: Choose a point of time, then click on the "Restore" button in the lower right corner.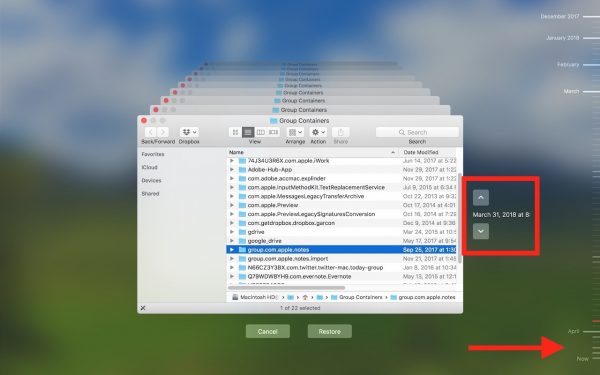 Method 2: Use Track Changes to Restore a Previous Version
Track Changes is another built-in feature of Word. If you have turned on this feature in the very beginning, then you can track the changes of your accidentally saved over document and have it back. Follow the simple steps below:
Step 1: Don't close your overwritten Word document. Go to Review > Tracking > select Final Showing Markup. Then the tracked changes will appear in the right pane of the document.
Step 2: Now, you can check the changes in detail and restore your document to its previous version.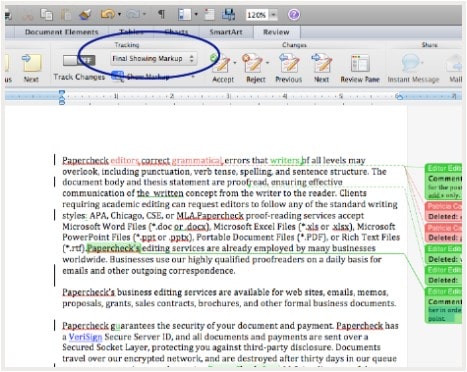 Tip 2: How to Recover a Deleted Word Document
The same as an overwritten Word document, an accidentally deleted Word file is frustrating. There is not any program designed to recover an overwritten or saved over Word document on the market, but luckily there are some trustworthy programs designed to recover a delete Word document. AnyRecover is such a program. AnyRecover is one of the best data recovery software that will elude you from numerous disastrous situation. You can recover your data from all devices ranges from the flash drive to damaged hard drive at a fair price.
Key Features of AnyRecover
Apart from recovering documents, you can also recover other file types like audio, videos, images, archives, etc.

Based on the advanced technology and rich experience in data recovery, AnyRecover guarantee a high success rate.

It adopts all-round scan and deep scan simultaneously, which greatly shorten the scanning process and scan more data.

Data can be recovered from any type of devices, like from internal HDD to a digital camera and from zip drive to Camcorder.

You can preview your data without paying.

AnyRecover also has a free trial that provides you to recover 3 files for free.
Steps to recover your accidentally deleted word files with AnyRecover:
Step  1: Run AnyRecover on your PC. Select the location from where you want to recover your data and then tap "Start".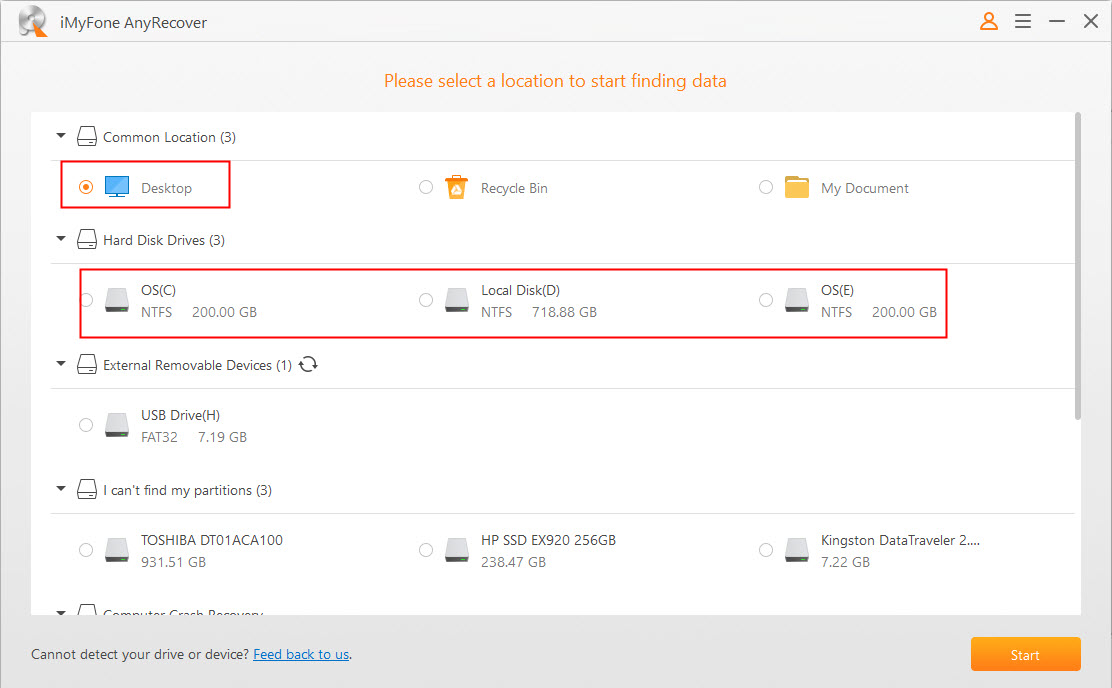 Step 2: AnyRecover will start a all-round scan and deep scan on the disk you selected, you can pause to locate your targeted files or stop it during the scanning process.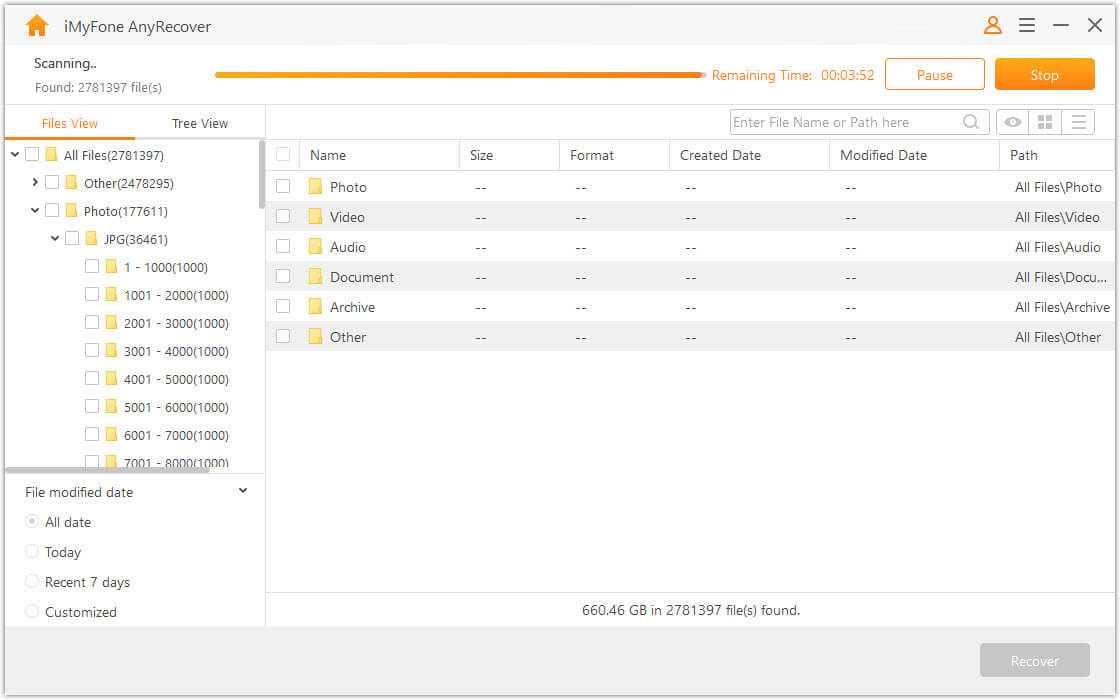 Step 3: You can preview all the recoverable files. Then clarify the exact file and click the "Recover" button to start recovering.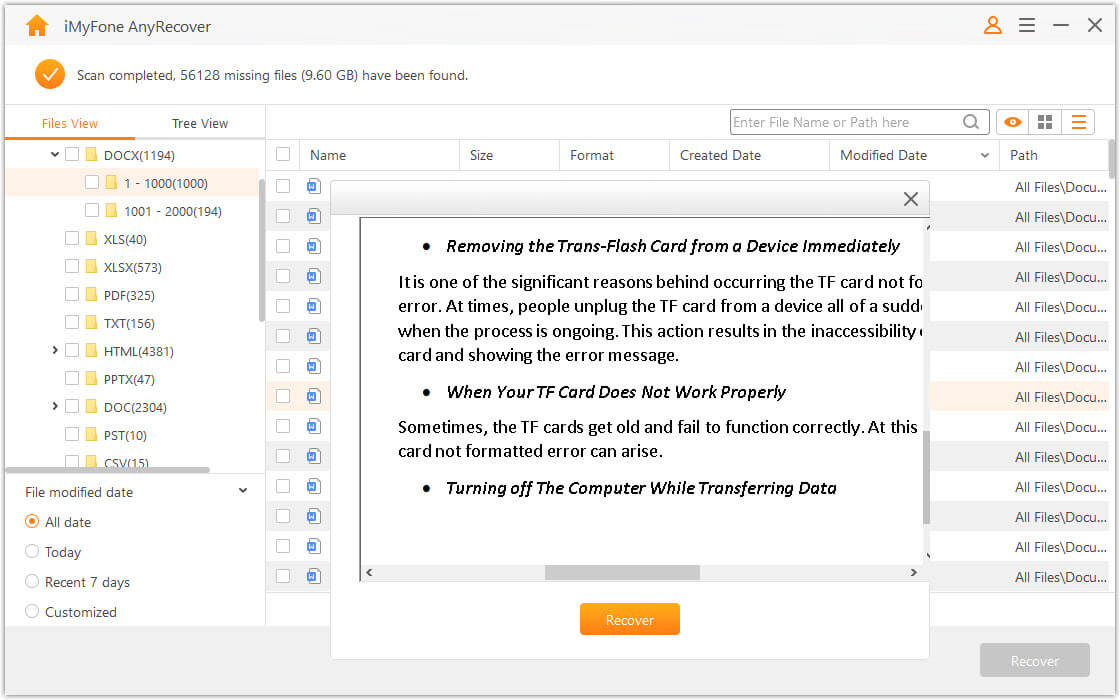 With AnyRecover, you can recover data in these situations as well:
•Emptying Recycle Bin: Are you not getting your deleted data in recycle bin? AnyRecover is for you!
•Lost Partition: AnyRecover is the best solution for lost partitions from both internal and external hard drives.
•Virus Attack: Sometimes virus delete or corrupt your necessary data, you can still recover your data by AnyRecover.
•OS Reinstall/ Crash: If your OS has been crashed, it can be the worst case.
Fortunately, AnyRecover can even recover your data from such a disastrous situation.
•Damaged Hard Drive: There is another critical case if your HDD gets damaged. Don't worry! AnyRecover has been developed to deal with such circumstances.