In the era of electronic devices, data loss can happen to everyone - even those who meticulously back up their content. If you lost some important files and didn't know how to get them back, don't despair. This short article will provide advice on retrieving data that is seemingly lost forever - either with the help of PC Inspector File Recovery or with AnyRecover (the best alternative to PC Inspector).
Does PC Inspector File RecoveryWork?
Released by Convar, PC Inspector File Recovery is a data recovery tool for Windows 95, 98, ME, NT, 2000, and XP users, which is entirely free. As the name suggests, it's a program used for the retrieval of lost data.
This software will scan your device and let you see previously deleted files: photos, documents, and e-mails. Below is a step by step guide to help you through the process:
Steps to Use
1. Download PC Inspector File Recovery. Then, launch the installation process. Make sure you install PC Inspector on a drive different from the one containing your missing data.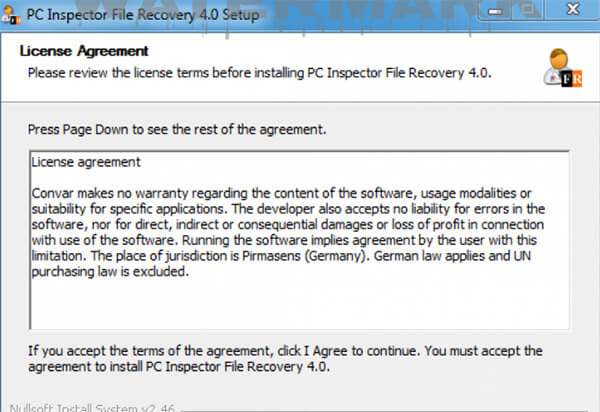 2. Start the program. You will notice three modes of recovery: a) recover deleted files, b) find lost data, and c) find lost drive.
If you deleted the files on your own, pick option a).

If you've accidentally launched quick formatting or made your system crash, choose option b).

If you can't find the drive you want, or the drive stopped being accessible, choose option c).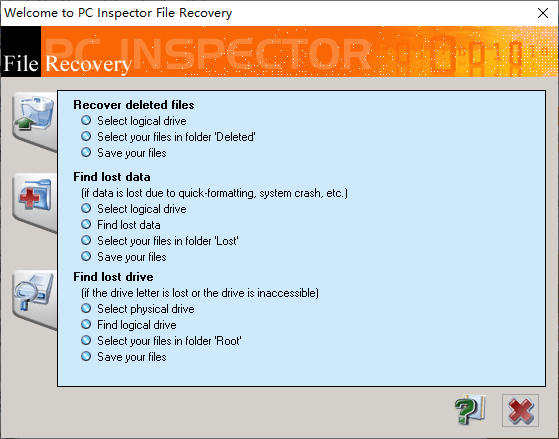 3. PC Inspector will then ask you to choose the drive or SD card to be scanned for the lost files.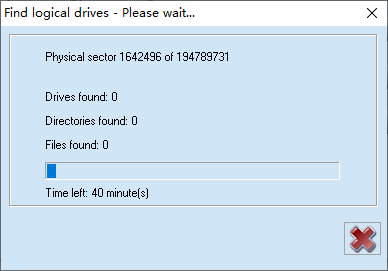 4. After you click on Start, PC Inspector will show you the missing content that you're looking for. Browse the files, select ones that interest you, and click on Recover.
Performance
Obviously, you can tellthat PC Inspector File Recovery is a rather outdated and confusing program fromthe user interface. I don't consider that starters can use it smoothly withoutany guide. As for function, all the files show corrupted after recovery in Windows10, which means that it may only work well on older operating systems.
Although PC Inspector File Recovery is consideredhelpful, it has too many limitations. At times, you might want to recover a less common file type, an old game from an accidentally formatted CD, or maybe even the whole partition. If that's the case, PC Inspector File Recovery is unsuitable for you.
Any Better Alternative
As you can see, the PC Inspector File Recovery can not meet most people's needs. At present, so many tools are compatible with Windows10/11 out there with more powerful and user-friendly features. Next, we will show you a PC Inspector File Recovery alternative that makes data recovery easier than ever before.
AnyRecover is the best alternative to PC Inspector File Recovery in 2023. If you aren't tech-savvy, don't worry. AnyRecover is much more user-friendly than PC Inspector, and anyone can use it to retrieve lost data.
Best Alternative withEase of Use
First of all, AnyRecover will let you retrieve over 1000 types of files: documents, e-mails, archives, video and audio files, plus other, more obscure file types. Regardless of where the data was (a built-in or external drive, a memory card, a USB, a CD, or even a floppy disk), AnyRecover will help you recover it.

2,061,704 Downloads
AnyRecover Features and Highlights
Support over 1000 file formats recovery, including documents, images, videos, audio, emails, archives, and more.

Nearly all storage devices are supported,includinghard drives, USB drives, sd cards, music players, digital cameras, and more!

You are allowed to preview the lost files so as to choose the file you want accurately.

100% safe to recover – you can operate it without fear of losing files in the recovery process.

Compatible with all Windows and macOS versions including the Windows 11.
How to Use AnyRecover to Retrieve Lost Files
Step 1 Install and launch AnyRecover. Select the partitionwhere you lost data, and click Start to scan.
Unlike with PC Inspector, you don't need to worry that your installation will overwrite some data you might want to retrieve – the installer will choose a free space on your drive for its files.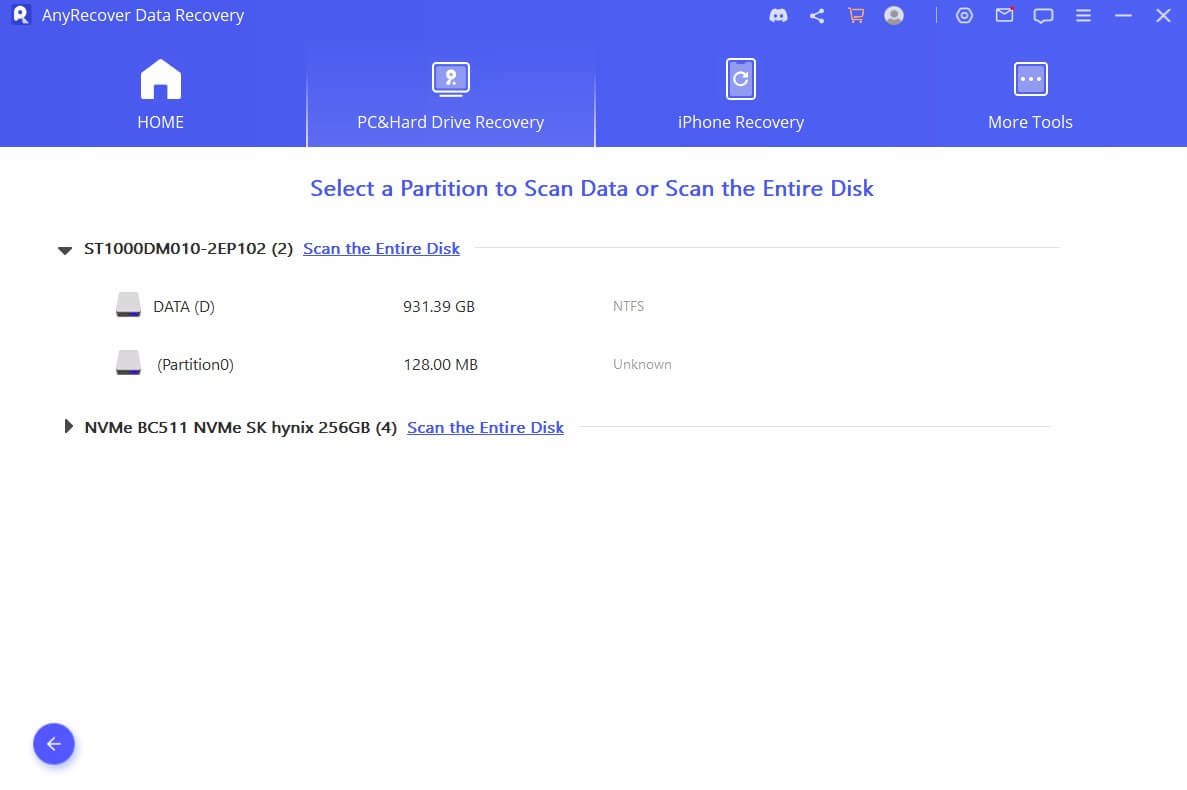 Step 2 Scanning results will be displayed after a while. The list of options on the left ensures that you can select the specific files quickly.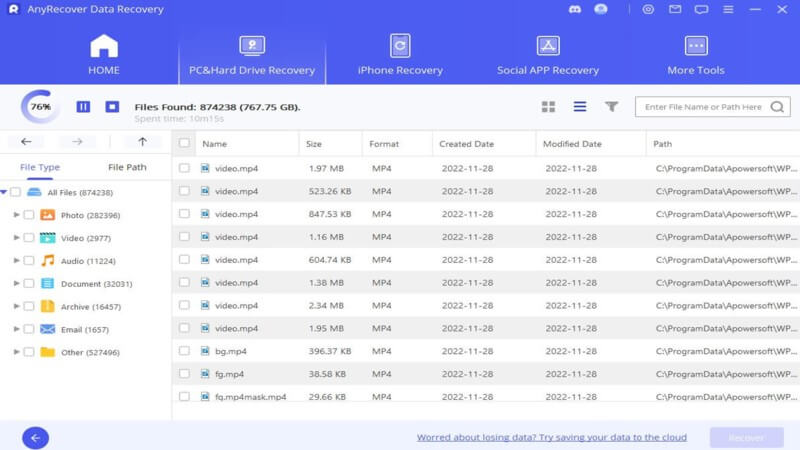 Step 3 Double click to preview the files found by the program, and choose which ones you'd like to save. Click on Recover, and let the program automatically restore your files.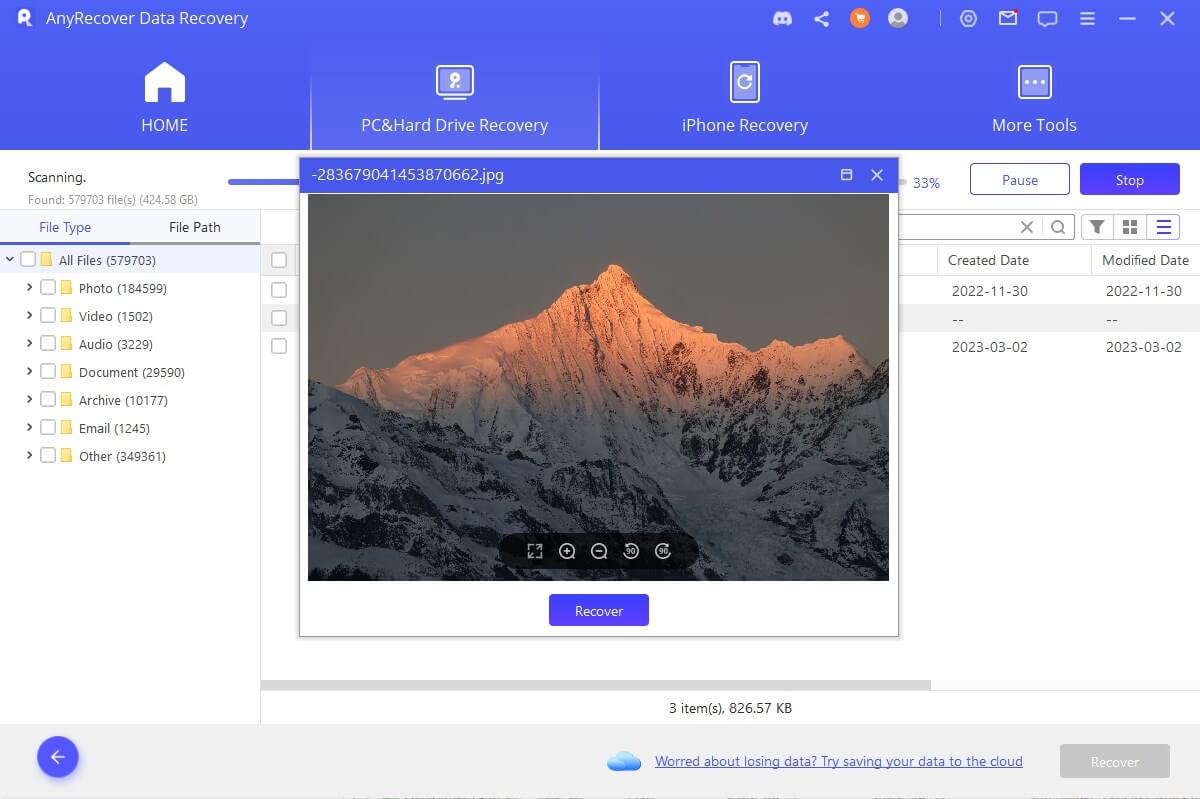 Note
For safety issues, AnyRecover won't share your data with a third party. On the contrary, it will provide extra protection to your files.
A quick comparison of PC Inspector File Recovery and AnyRecover Data Recovery
To help you choose which program will work better for you, we've prepared a table that summarizes the features of AnyRecover and PC Inspector:
| Features | | |
| --- | --- | --- |
| Easy to use | | |
| Trash/Recycle Bin Recovery | | |
| Preview Data | | |
| Multiple Files Recovery | | |
| External Devices Recovery | | |
| Scan Specific Path | | |
| Scan Specific File Type | | |
| Data Protection | | |
Like you can see from the table above, AnyRecover has the same functions as PC Inspector while offering so much more. With AnyRecover, you can retrieve everything on your PC: AnyRecover will restore your partitions, find less popular file types, and recover data from all external devices.
If you're looking for the absolute best data recovery software, choose AnyRecover. It will not only help you save time but also ensure your PC recovery will be completely stress-free.
In case you have any further questions about AnyRecover, or would like to share your experience with it (or the PC Inspector), don't hesitate to leave a message in the comment section below. Good luck with your file recovery!