Have you ever been in the similar situation? It can be frustrating indeed when you need to access the browsing history on Google Chrome but cannot find any. So can we recover deleted history on Google Chrome? To our relief, the answer is YES. Here in this article, we will  show you different ways to recover deleted history on Mac Google Chrome in a matter of minutes. If you don't have much time to read this article, you can directly use the data recovery magic AnyRecover recommended by many netizens.
Method 1. Recover Deleted Google Chrome History on Mac with Google Account
If you have a Google account and you were logged in during the browsing session, you can easily restore the Google Chrome browsing history on your Mac. All your browsing history including Bookmarks connected to your Google account can be recovered through My Google Activity.

What you have to do is to go https://myactivity.google.com/myactivity with the Google account you signed in while browsing the Chrome pages, and you will see all your internet browsing history categorized according to  date and product. Go on to find the history  you want.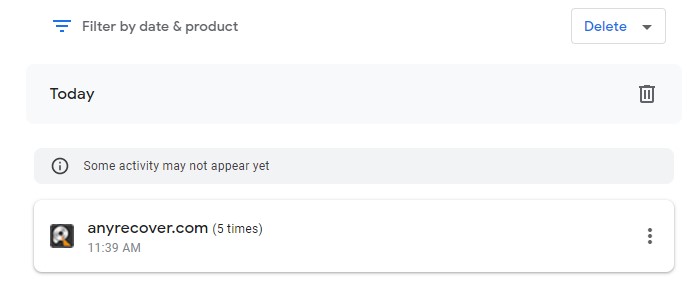 Note
This method only works if you have logged in your Google account before the history was deleted.
Method 2. Recover Deleted Google Chrome History on Mac with Time Machine
Time Machine is a very convenient and useful inbuilt application in Mac for backing up and recovering lost or deleted files on Mac, including Google Chrome browsing history. All you have to do is to just toggle on the option, and then, it can effectively help you recover deleted Chrome (as well as Safari if you want) browser history.
Follow the steps below to recover deleted history of Chrome on Mac using Time Machine:
Step 1: Click the apple logo at the top left corner, and enter System Preferences. Find Time Machine and make sure it is turned on.

Step 2: Go to the Enter Time Machine option in the Time Machine drop-down menu. As soon as you do that, your Mac will open to the backup location.

Step 3: Go to Applications and Time Machine will show you a list of all snapshots and backups taken. Find the snapshot of the deleted history, then click on the Restore button under it to restore your deleted history.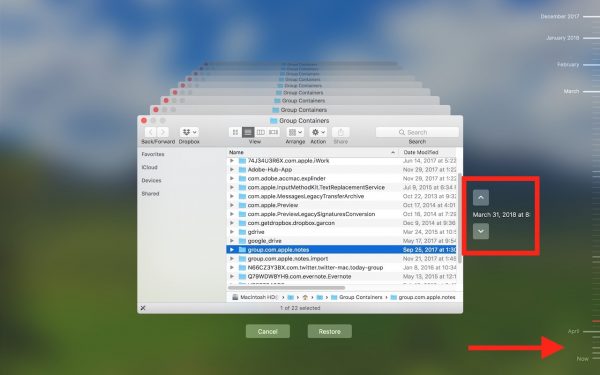 Method 3. Recover Deleted Google Chrome History on Mac using Cookies
When you mistakenly remove or delete your Google Chrome browsing history, the Cookies are still there unremoved. Therefore, you can access cookies to see it.
Follow these steps to access your deleted Chrome history again via Cookies:
Step 1: Open Google Chrome, then Settings on the upper right corner.
Step 2: Search "Cookies", then select Cookies and other site data > See all cookies and site data.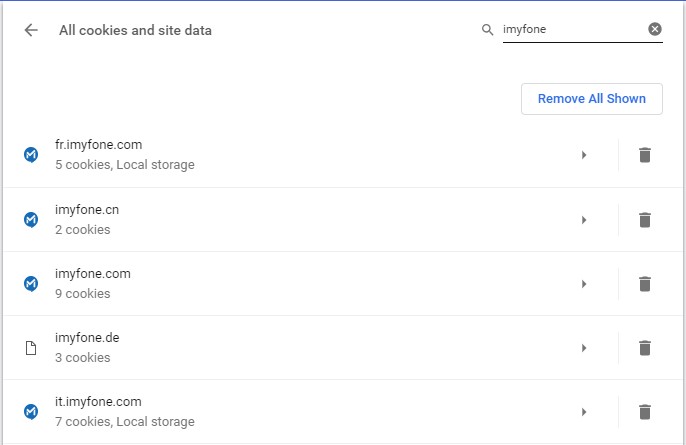 Note
This method is not applicable if you just cleared Google Chrome cookies.
Additional Tip: Recover Google Chrome History File with AnyRecover for Mac
Apart from those methods mentioned above, there is a one-stop solution which is much more efficient and effective to restore Chrome history on Mac if those data are stored as the document under a certain folder- AnyRecover. As one of the best options for you, this software makes data recovery easy, fast, and simple as A-B-C. It is uniquely designed to sort out any recovery issue and comes with really smart algorithms that recovers unlimited data fast with a high recovery rate.

1,000,000 + Downloads
Features of AnyRecover
Provide data recovery in varios scenarios- accidental deletion, trash emptied, drive corruption, incorrect operation, partition loss, power outage, etc.

Preview function is enabled for users to check before recovery and selectively recover what they exactly need.

No technical required. With just 3 easy steps, you can easily restore deleted Google Chrome history on Mac.

Compatible with various Mac systems including macOS Catalina and macOS Mojave.
Follow the Steps to Recover Deleted Google Chrome History on Mac:
Step 1: Download & Launch AnyRecover on your Mac, choose the location where your Chrome history is saved. (The profile path is normally Users/Username>/Library/Application Support/Google/Chrome/Default.) Click "Start" to initiate the scan.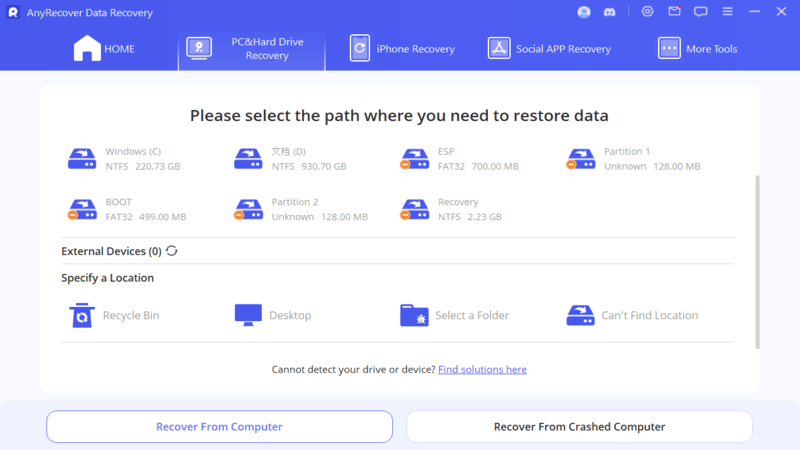 Step 2: AnyRecover will find all the deleted files from the location you've selected. It will take some time for this all-around scan.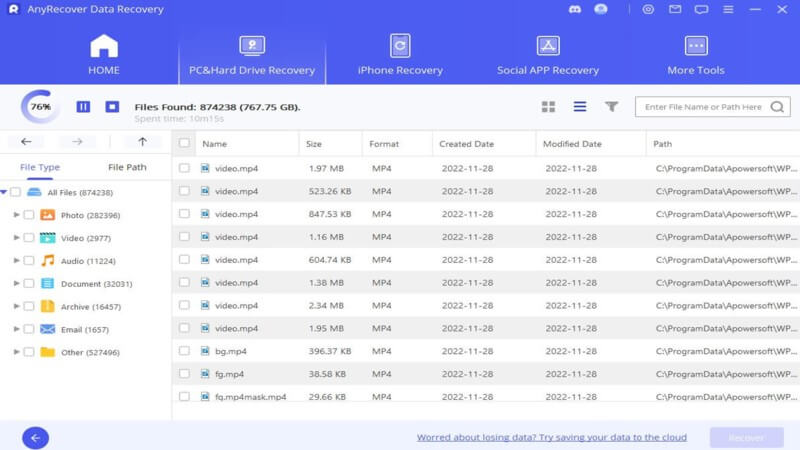 Step 3: When the scan is complete, all your deleted files will be displayed. Preview the file(s) you want and choose what to recover.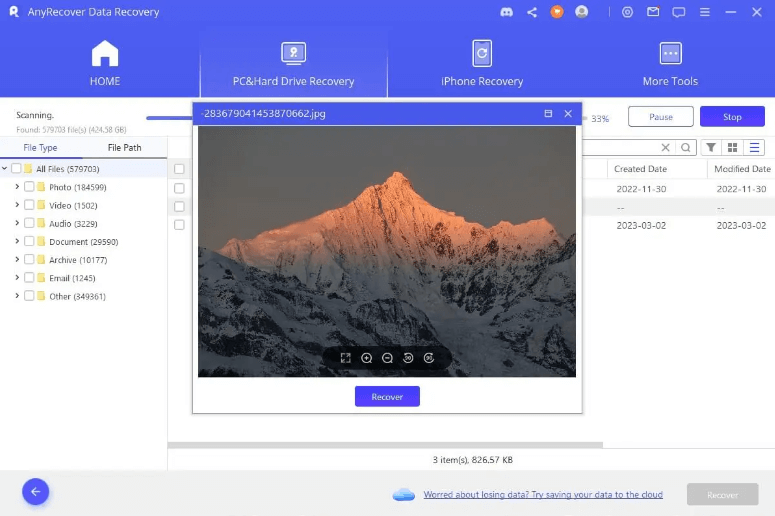 Note
AnyRecover offers free trial for every user to scan, preview and recover 200MB files. And there are special sales  for unlimited usage and giving the best discount ever now. Check and find the useful tools you might need!
Conclusion
Probably a lot of people do not attach much importance to Google Chrome history, and only realize its importance when desperately need to access a page previously opened but fail just because  the history get deleted. Don't worry though. Simply try the above method to recover deleted history on Mac Google Chrome. If none of the methods works, AnyRecover for Mac is your ultimate choice. It will provide you with a quick, easy while highly effective recovery solution.
Download AnyRecover today and see if it can work perfectly for you!