Every file in your computer is important. For instance, Outlook .pst files are incredibly important for communication purposes. There is no need to fret, however, when you lose files through accidental deletion or any other error. There are ways you can recover pst file and the use of AnyRecover is the most reliable.
Part 1: What is a PST File?
Personal Storage Table (.pst) file is a file that stores data from Microsoft Outlook, an important application used by many PC users for communication. The file stores such data as emails, tasks, contacts, calendar, events, attachments, and other files from Microsoft Outlook on your system hard disk. .pst file is automatically created after you set up your account in Microsoft Outlook.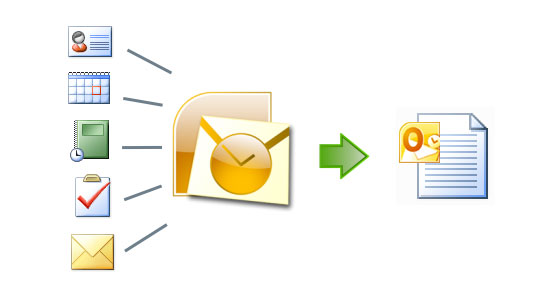 The file will be associated with the created account and will store your downloaded and synchronized email messages and other important data that come into your system through Microsoft Outlook. The file will be used to deal with all your Outlook data when you are not connected to the internet.
Part 2: How to Recover Lost/Deleted PST Files?
Recover Lost/Deleted PST Files with AnyRecover
There are many PC users that delete their .pst files because they feel they are no longer needed. It is also possible to lose your .pst file by accidental deletion. In any case, you may need the files back for something important and finding out they are not in the recycle bin can be distressful. There is a way, however, to recover your .pst files using AnyRecover.
AnyRecover is a top quality program that is trusted by users all over the world for all kinds of data recovery. It comes with an impressive set of features that makes the experience of using it awesome for most people. The features include:

AnyRecover Key features include:
Works for All Scenarios: Whether you lose your file through accidental deletion, Operating System Crashes, Emptying of Recycle bin, or any other means, the software will help you recover the files.
Recovers Over 1000 File Types: AnyRecover can also recover all kinds of files. From emails to documents, videos, photos, audios and others, the software recovers over 1000 file types.
High Recovery Rate: The recovery rate of AnyRecover is very impressive. Using the software, there is a 98% chance that you will get back all your lost file from any device at all.
A Highly Secured Software: AnyRecover is also a 100% secured program. There is no risk of overwriting your original data while using the software.
Easy to Use: AnyRecover is very easy to use. When you know the steps to follow, the entire thing can be completed easily.
Supports Windows 11/10/8/7/XP and MacOS.
Steps to Recover Your PST Files Using AnyRecover
Step 1: Install AnyRecover and launch the program. Select the location where you get your files lost from its home interface.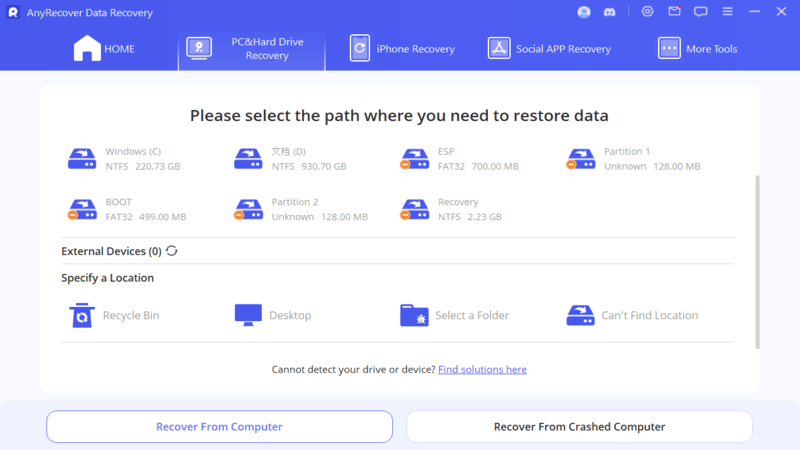 Step 2: Wait until the scanning process to be completed.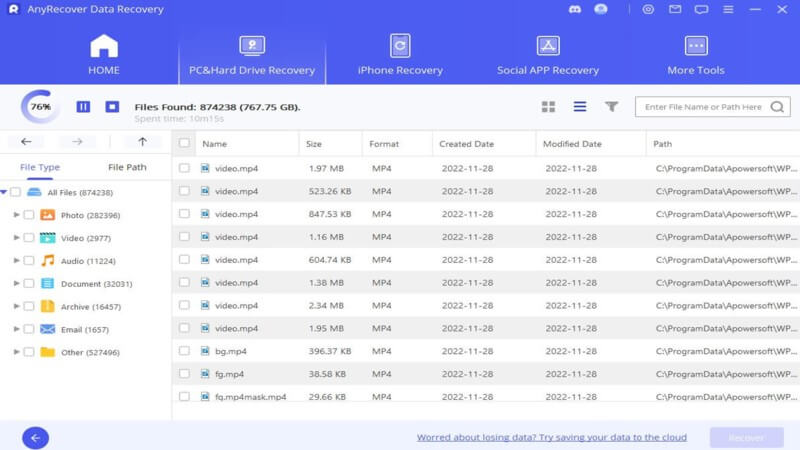 Step 3: Double-click your desired file to preview and then click on 'Recover' to retrieve them.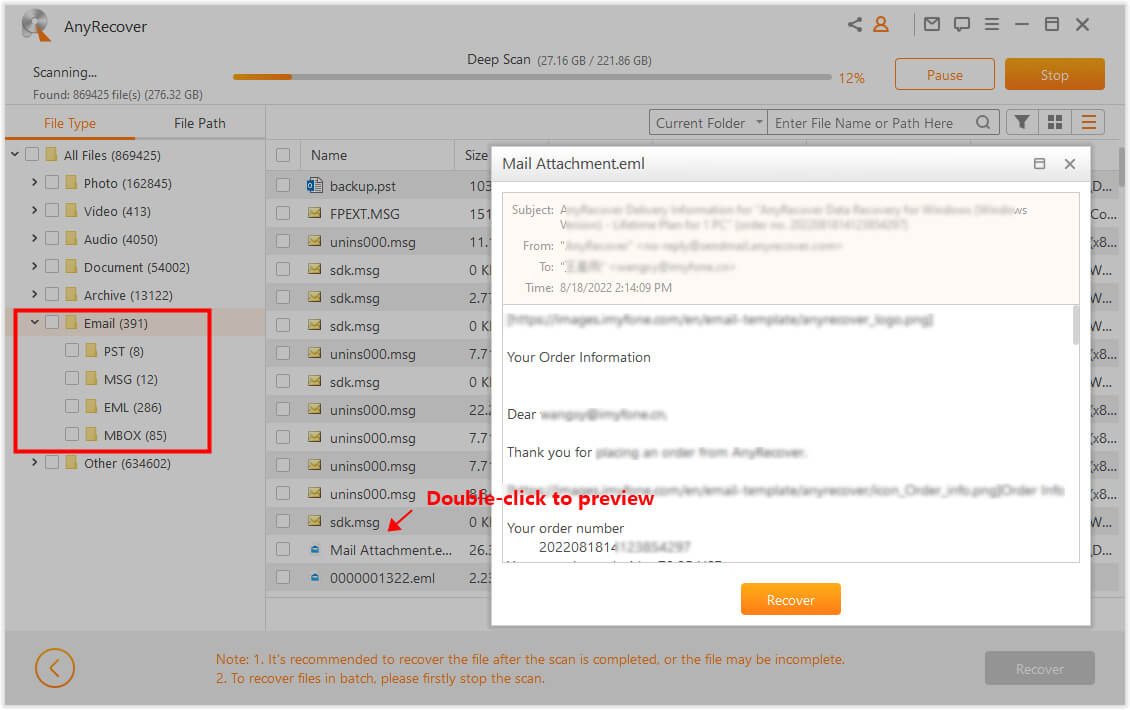 Import Recovered PST Files to Outlook
After your .pst files recovered, you can import them to Outlook. There is one common way to do this:
Step 1: Select 'File' at the bottom of your Outlook ribbon.

Step 2: Select 'Open & Export' > 'Import/Export' to open the Wizard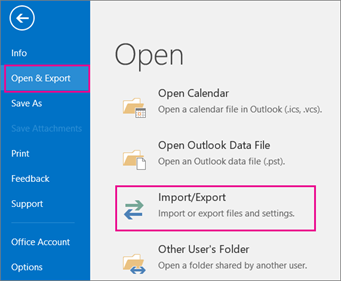 Step 3: Select 'Import from another program or file' and click 'Next'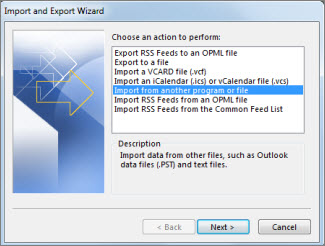 Step 4: Select 'Outlook Data File (.pst)' and click 'Next'
Step 5: 'Browse' till you locate the file you intend to import. Under 'Options' choose how you want to deal with the file and click 'Next'.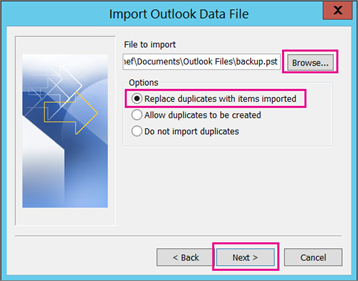 Step 6: If the .pst file has a password, enter it and click 'OK'
Step 7: Choose the mailbox you want to import it to or choose 'Import items into the current folder' to import it into the folder currently selected.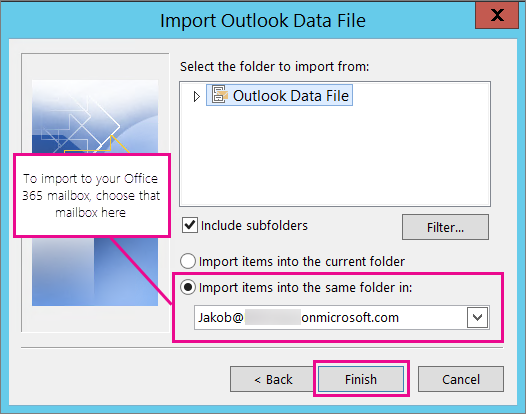 Step 8: Click 'Finish'. The process will start immediately. Once the progress box disappears, the import of your .pst file is finished.
Conclusion
PST files are important for so many reasons. When you delete them deliberately or accidentally, there are ways to get them back. The use of AnyRecover is the most secured and reliable way to achieve that. If you are wondering how to recover .pst file, the solution discussed here is your best option.
Download now and enjoy your free trial today!