Zip archive is the most commonly used file format in everyday life because it compresses files into reduced size while maintaining their quality and originality. However, it does happen that zip files get lost due to permanent deletion or incomplete transfer, which may be disheartening as a zip archive contains many files. But don't worry too much, this article will inform you of the best and the most advanced software program to be used to recover deleted zip files.
Part 1. Scenarios Where You Can Perform Zip File Recovery
Some of the most common scenarios that can lead to the deletion of Zip files are mentioned as below, and the best thing is that your deleted zip file is recoverable under these situations.
The Shift+Delete keys are used to permanently get the zip files out of your system.
If you have emptied the recycle bin after dragging the archive file into the bin, then the zip file is lost.
The hard drive might get corrupt and this can also lead to data loss issues. Not only zip files but your other precious data will simply vanish.
The zip file itself might get corrupted and damaged and therefore become inaccessible, a specialized recovery program is needed.
If the storage device is formatted altogether then the zip files are also lost, but there are ways to recover from formatted storage devices as well.
If you are transferring the Zip files from one device to another and the power fails, this can also lead to zip file loss.
Why Is It Possible to Recover Zip Files?
There are different sectors in the hard drive where the Zip files are written. Once a zip file is lost that sector of storage is marked as available for other files. To recover deleted zip files successfully, you need to make sure that space is not overwritten by new data. There are professional recovery programs for this purpose. The next part of the article will let you know about the best program that can be used in this regard.
Part 2. Restore Deleted Zip Files Easily with AnyRecover
Speaking of the software programs to perform zip file recovery, I would highly recommend AnyRecover. To recover zip files there is no option that is as reliable as this one. The program is user-friendly as the interface is intuitive and offers clear guidance. It is an elite program that adopts deep scan algorithm to ensure a high recovery rate. This algorithm delves deep into the database to recover the files that are lost.

AnyRecover Key features include:
The program recovers a variety of archive file formats, including ZIP, RAR, SIT, ISO, etc.
Support various storage devices such as SD cards, external hard drives, music player, digital camera, camcorder, PC/laptop, and CF card.
Apart from zip files, this program supports the recovery of Word documents, images, videos, audios, PDF files and many other file types.
AnyRecover can retrieve files lost due to permanent deletion, emptied recycle bin, lost partition, etc. No matter what the scenario of data loss is, AnyRecover has got you protected.
AnyRecover is 100% secure and easy to use, you don't need to be a tech-savvy person to operate it.
How to Recover Deleted Zip Files on PC with AnyRecover?
AnyRecover data recovery software is compatible with both Windows (Windows 11 supported) and Mac system, and you can free download it to your computer. Below are the steps that would let you recover the zip files lost due to any reason.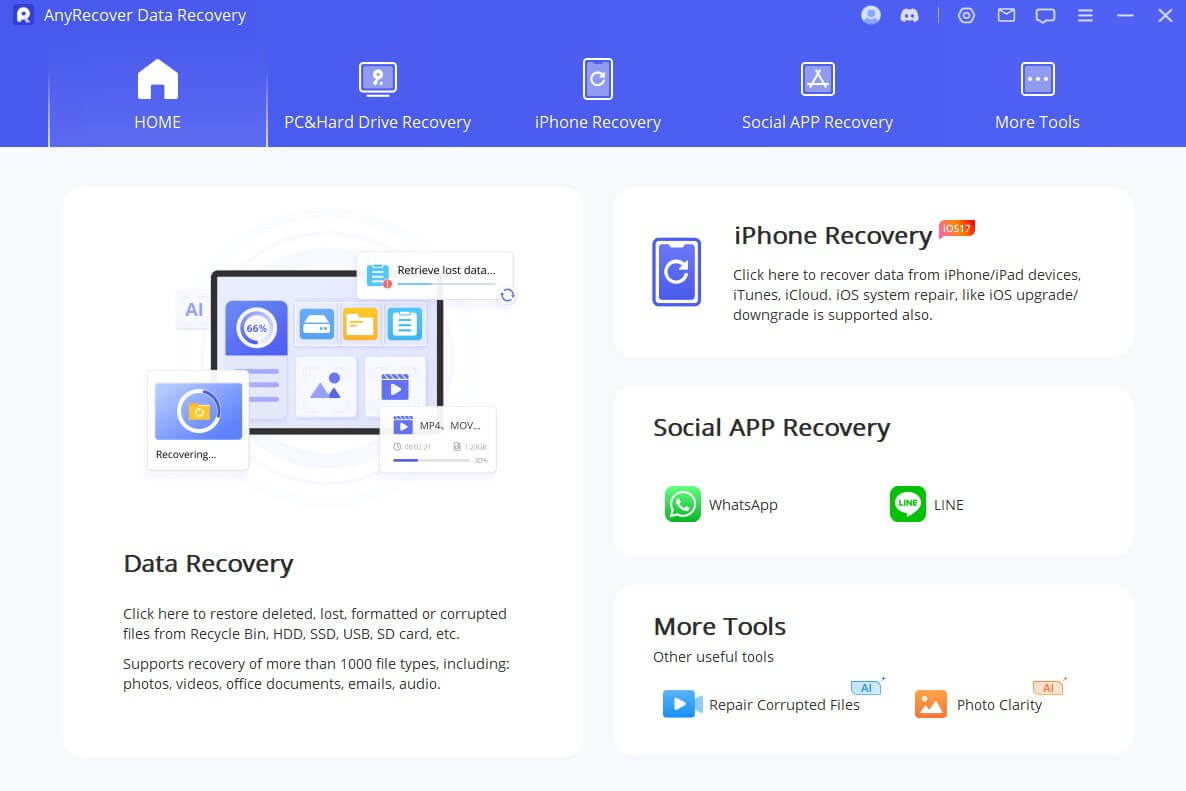 Step 1: Select a Location
Once the program has been downloaded and installed just select the location where your zip files are lost, then click Start.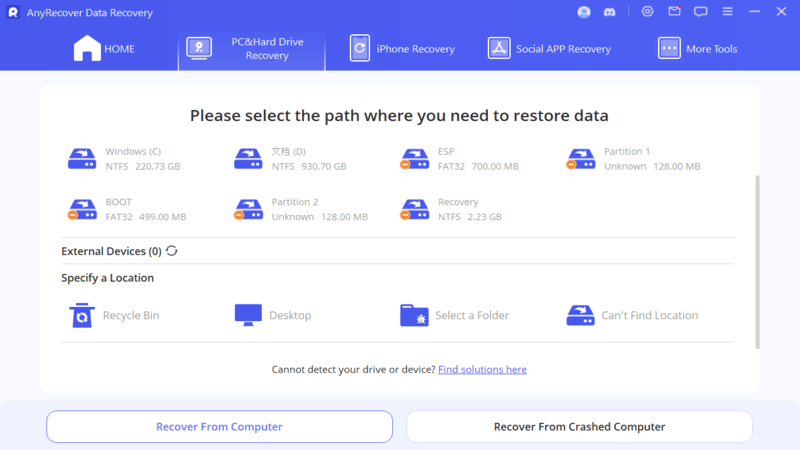 Step 2: Scanning the Location
The program will delve deep into the root directory to search for the files that have been lost, you can pause or stop the scanning process.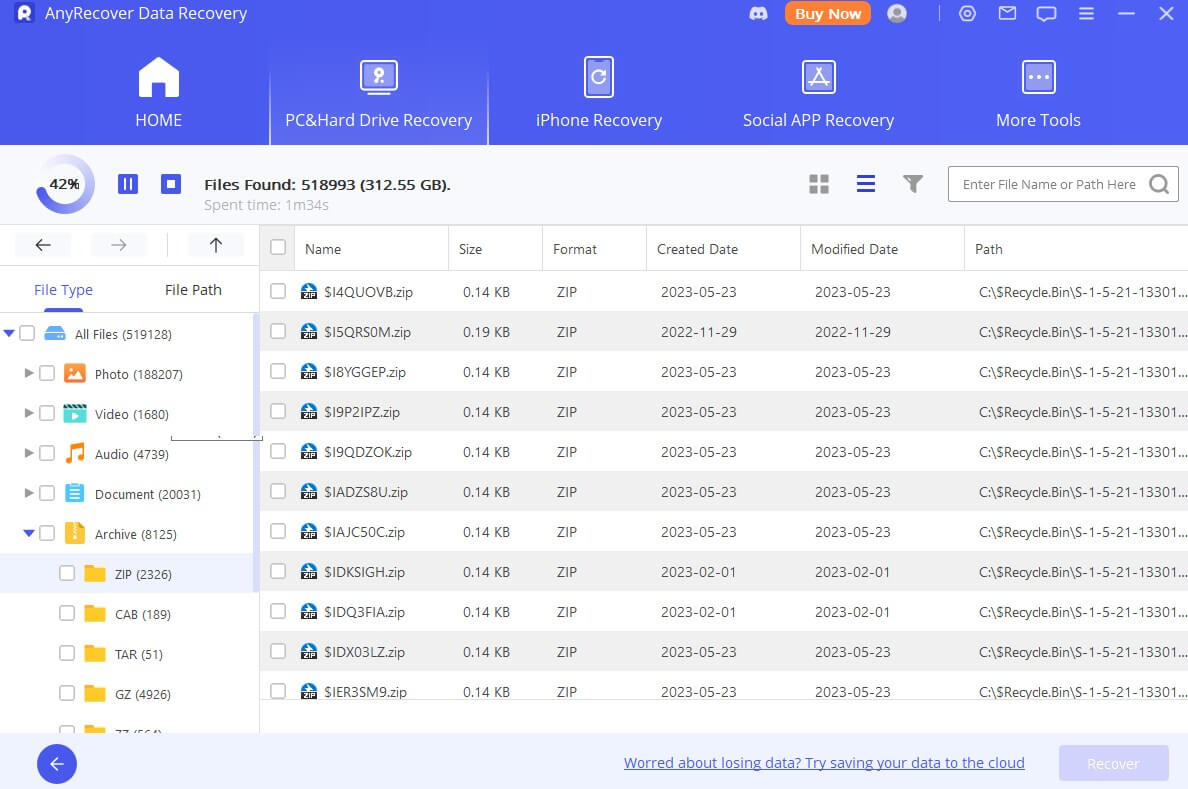 Step 3: Preview and Recover Zip Files
All the found files will be displayed into different categories, here you can choose the file which you want to recover. Preview the files and simply press Recover and all is done. Note: Some zip files cannot be previewed, but they can still be recovered to your PC in the original file format.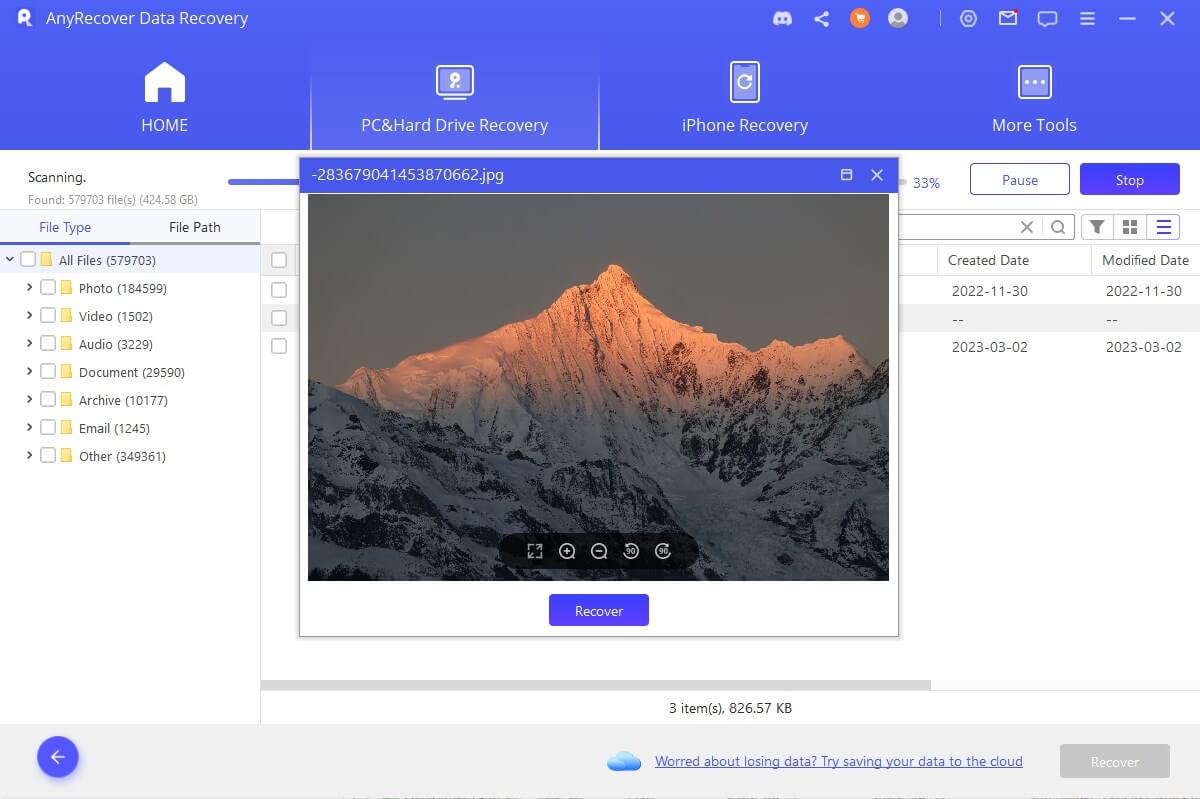 Note
"If your zip files are corrupted or unreadable, AnyRecover is still your best option to repair and recover damaged zip files with Ai. Choose "repair corrupted Files" on the main interface,and then add your corrupted zip files to repair.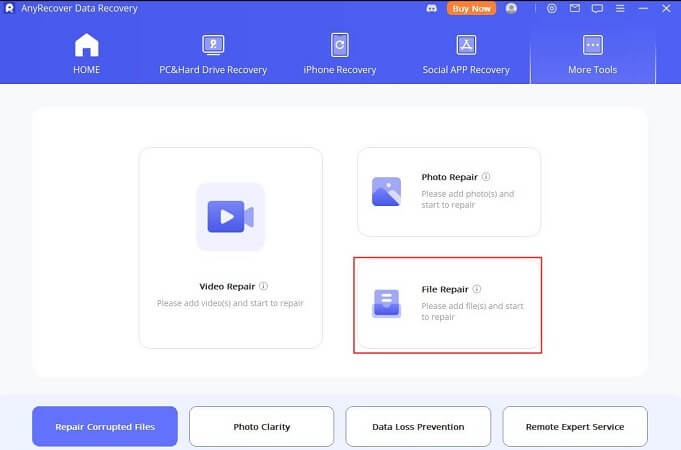 AnyRecover-100% secure and legit software
Recover deleted or corrupted zip files in one click.
Part 3. Tips to Protect Zip Files from Lost
Prevention is always better than cure. Here we've put together several useful tips that can help prevent zip files from lost.
Always backup your data to external storage device or cloud drive. Once a file gets lost you won't worry because the fresh copy does the business.
In case the zip file is on the internet, it is recommended to download the file once more and create a backup of it quickly.
In case the hard disk where you store the zip files gets damaged, if the data could be accessed, it is recommended to unzip the file on other devices to prevent damage.
Use the official and virus-free unzip software for the extraction of the content, this will prevent your zip files from damage and problems.
If the hard drive is not functioning properly then it is advised that before the zip file is extracted you run a disk check software on it. It will resolve all the errors and bad sectors, the disk will also be repaired to keep your zip file safe and secure.
Conclusion
Don't panic when you find the zip files get deleted, the only thing you need is a perfect program for easy zip recovery. AnyRecover is one such program that has proven to be the perfect tool to recover deleted zip files that has been rated high by worldwide users for its awesome functionalities. It is not only reliable but ensures a high recovery rate. This software is highly recommended for recovery of any file type and from any storage device.
Zip File Recovery Software Free Download
Recover damaged or deleted zip files in one-click.