7-Zip is an excellent open-source file archiver used to compress files within archives. It can read and write many other archive formats like ZIP, WIM and GZIP, but meanwhile adopts a unique 7z archive format.
Although zipped (compressed) files are popular and convenient, they are still susceptible to corruption that causes file error. When you open or extract files from 7z file and a " headers error" message prompts, you may be bothered and not know what to do. In this article, we will explore possible causes of such problem, easy solutions and steps to fix 7-Zip headers error, and how to recover lost 7-Zip files.
Why It Shows "Header Corrupt" Message during Extraction?
When your archive file is corrupted in the compression process, you may not notice this until you want to open the file. That's when you'll see the "error" prompts. The message you see will probably be unfamiliar to you but you'll see how to solve the problems in this article. Listed below are the main reasons why your computer shows the "header corrupt" message.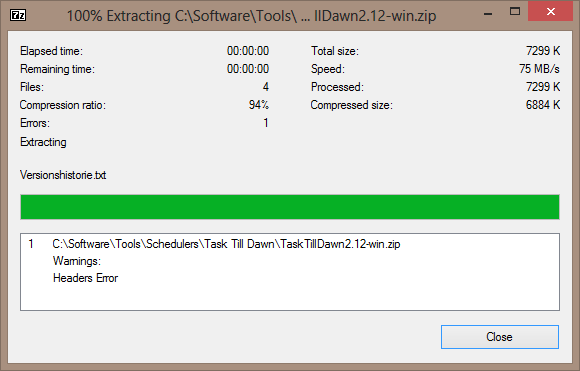 When the 7-Zip or other self-extractor programs like WinZip, PeaZip and Bandizip are not properly installed.
Your computer could be infected by malware, virus, or other malicious software. Case in point, the CIH virus that attacks Windows and overwrites or damages important information.
Breakage in internet connection during the download of the self-extractor program.
Interruption during compression or extraction of files from a sudden system shut down.
Using unauthorized third-party software to extract 7-Zip files or to fix errors on the compressed zip folder.
It may also occur when the storage space where you stored your 7-Zip files is damaged.
How to Fix 7-Zip Headers Error
There are a number of solutions to fix the aforementioned 7-Zip headers error. Listed below are some of the best possible solutions you can try out.
1

Redownload the 7-Zip File

When you're downloading 7-Zip files, a glitch or error could tamper with the process and your download may be interrupted. Thus, redownloading the 7-Zip file should solve the problem. But when doing this, make sure you avoid any interruptions in the process.
2

Use Alternative Compression Software

When you experience an error trying to open an archive file with 7-Zip, you can try using another compression software. Make sure you use alternatives that support 7-Zip or the particular compression format. The best compression software you can use are:
WinRar: Though it works mainly with "rar" files, you can still use this multimedia file compressor to open "zip" format files.

WinZip: Being one of the most popular compression software, you can use WinZip to compress, extract, share, and even protect your files.

Bandizip: This actually has a higher compression speed than WinZip and even allows you to encrypt your archives.

Zipware: This software works on Windows and it supports all the major archive formats such as Zip, Zipx, RAR, RAR5, 7z, ISO, Tar and more.
3

Run CMD to Repair Invalid Zip Files

When you have tried the above solutions but still unable to extract 7z files correctly, you can run the Command Prompt on your system to repair or restore damaged 7-Zip files. To do this, take the simple steps below.

Step 1: Open Command Prompt as an Administrator

When opening the Command Prompt of your system, always remember to run it as an administrator because you'll need deeper access to execute such a process. But opening "Command Prompt" varies with different Windows OS versions.

For  Windows 7, Vista, 8, and XP
Click on the Start button, navigate to All Programs >  Accessories.

Right-click on Command Prompt and choose Run as Administrator.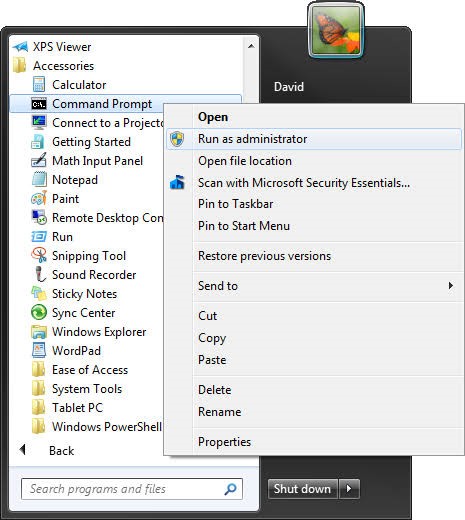 For Windows 8.1 and 10/11
Using your mouse, right-click on the Start button.

Choose the "Command Prompt (Admin)" option.
Step 2: Change the directories to the original location of your corrupted or damaged zip files.
Step 3: Next, type this command
 "C:\Program Files\WinZip\wzzip" –yf zipfile.zip
Step 4: Lastly, run the command by pressing Enter. Remember that "zipfile.zip" should be replaced with the name of your Zip file.
Recover Lost 7-Zip files with AnyRecover
Like all other files, 7-Zip archive may get lost due to mistaken deletion, system crash, virus intrusion and other reasons. Getting these files back requires an efficient data recovery software like AnyRecover. It is the best data recovery tool at your disposal. AnyRecover allows you to recover lost or deleted files of any type and format. Whether the 7-Zip file is lost from your system or an external device, the software will help you recover all your files.

2,061,704 Downloads
Amazing Features of AnyRecover:
AnyRecover can recover lost 7-Zip files or any other data that were either permanently deleted, corrupted by a virus or lost due to Windows or Mac crash.

If you lost files from an SD card, HDD, SSD, USB flash drive, thumb drive, or any kind of storage media, AnyRecover can get the files back.

AnyRecover can restore all major archive formats such as RAR, SIT, ISO, ARC, 7Z, ZIP, etc.

With AnyRecover, you can recover over 1000 file types in any size, and that includes zip files, documents, photos, audios, and videos.

It's perfectly compatible with Windows 11/10, 8.1, 8, 7, and XP. You can also install and run AnyRecover on Mac OS X 10.9 to Mac OS X 10.15.
Bonus: Other Common 7-Zip Errors and Workable Solutions
Apart from headers error, this part will explain other common 7-Zip errors and provide simple, straight-forward solutions to the problems.
1. 7-Zip Cannot Open File as Archive
This error is often caused by virus or malware infection, internet interruptions during file download, sudden system shutdown, etc. To fix this issue, you can either use third-party software or a hex editor. However, you will need the latest version of 7-Zip and a good hex editor like FAR Manager. For the third-party software, there are various software tools you can use.
2.  7-Zip Data error
7-zip data error is also common when extracting the archive file, you can take measures like reboot your PC and restart 7-Zip to solve 7-Zip data error, try a zip file repair tool and replace the bad .7z archive with a good one.
3. Incomplete Extraction
Normally, files from the .zip archive are extracted into the temp folder. Therefore, a problem with the temp folder will result in an incomplete extraction. To solve this problem, redownload the extraction tool and try to avoid any interruptions.
4. No Correct End Header
When you have an incorrect header, whether start or end, you will see this 7-Zip error message. Therefore, to solve this problem, run Command Prompt on your system and follow the steps outlined earlier on in the article. It will repair the incorrect end header.
This post has introduced the common causes of 7-Zip headers error as well as workable solutions to fix this error. And most important of all, in the event your 7-Zip files get deleted or lost, you can seek help from AnyRecover, the best data recovery tool you can use to recover all these deleted files. Let's give it a try!