OneNote is a great way to store vital information. The best part is that such information or details can be accessed all at once from one platform, which makes you to remain organized and coordinated. However, the problem is that there are times when your OneNote notebook may seem to have disappeared completely.
This can be very frustrating especially when there are vital pieces of information. This post will help you out of such a challenge today. It doesn't really matter how your OneNote Notebook missed or which version of One Note you are using, OneNote 2016 or OneNote for Windows 11/10, as you will learn various ways to restore it in the post.
How to Restore Disappeared OneNote Notebook on Windows?
1. Recover Lost OneNote Notebook on Windows with Recovery Tool
Just as explained above, it can be very frustrating knowing that your OneNote notebook missing especially when you want to make use of the gathered information. This is where iMyFone AnyRecover can be of great help. Through this tool you don't have to worry about not being able to find your OneNote notebook as it will help you get it back.
There are very few effective tools when it comes to recovering lost files like OneNote notebook. And AnyRecover can help you recover such files without any issue. Below are some of its features:

1,000,000 + Downloads
Features of AnyRecover
Almost all file types are supported. Besides OneNote notebook, other common files like documents, audios, photos, videos are included as well.

Recover data regardless of the lost reason. It can help in any scenario which brings about lost files such as accidental deletion, system crash, lost partition, disappeared OneNote Notebook, emptied recycle bin, and more.

Great compatibility with digital devices. AnyRecover can be used in various devices like camcorders, USB drives, memory cards, SSDs and so on.

Safe file recovery process. There are definately no virus or malicious ads during the process of downloading, installing and recovering.
Steps to Recover Lost OneNote Notebook with AnyRecover
AnyRecover has been designed to be easily used by anyone who wants to easily get back his lost files without any issue. Below are some of the steps to recover your lost Notebook using this tool:
Step 1: After AnyRecover has been launched, get the location which you would want notebook to be recovered from selected.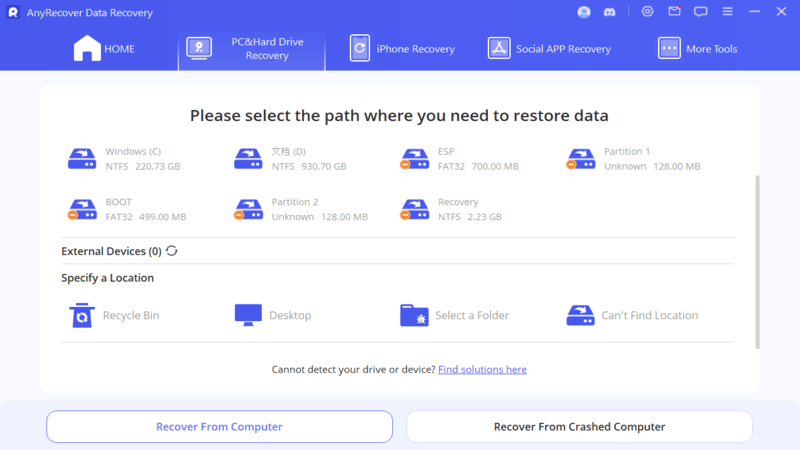 Step 2: After selecting the location, hit "Start" button to start the scanning process.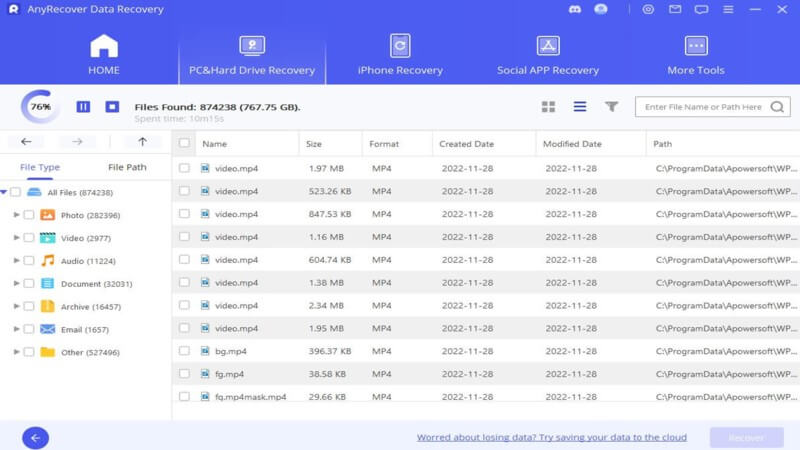 Step 3: Once the scan process is complete, AnyRecover will list out all the found files. All you have to do is get them previewed before recovering.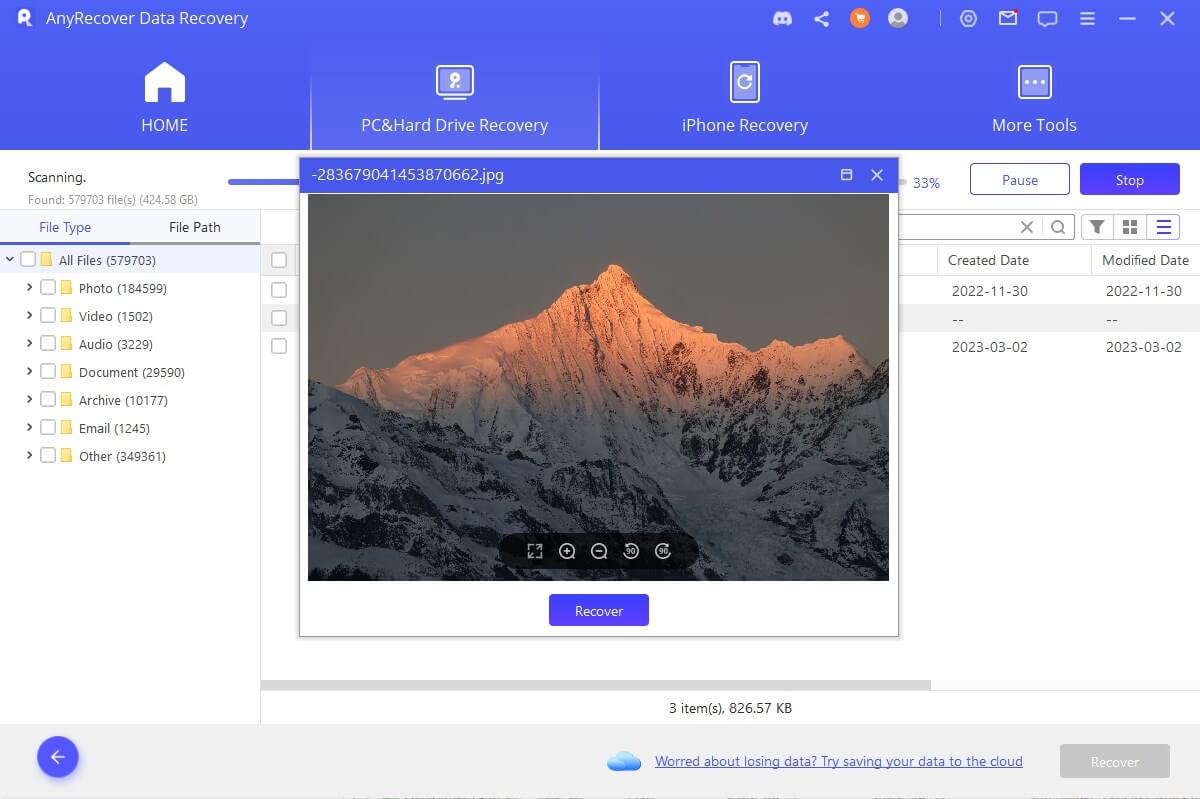 2. Search for Notes on OneNote
This is another method that you can try out once your OneNote notebook disappeared. Best part is that it is very simple and effective.
Step 1. Inside the search box, get the arrow which is pointing to the magnifying glass icon's right selected. All notebooks should be chosen which shows up in the list.
Step 2. Get any phrase of keyword in such note typed.
Step 3. Search results will be shown by OneNote > search result should be chosen for the OneNote you are looking for to be retrieved.
Step 4. ESC should be pressed once you are through with the searching process.
3. Retrieve Lost Notebook Back from Onedrive Folder
Another way that you can use in getting back your lost Notebook is through OneDrive folder. But if you have more than one account with a OneDrive (personal, school, work, etc.), then you will need to login to the correct OneDrive account to have the notes show on all devices/versions.
Step 1. Get signed into OneDrive. This can be done either through Windows 11/10 OneDrive app or from the home page of OneDrive.
Step 2. Search through document folders and get documents, notes and other file types opened. Now look out for information you are in search of > other documents as well as files should be checked in case the notes which you are searching for are there rather than OneNote.
Step 3. Get your PC reloaded once the wanted notes have been found.
4. Restore Lost OneNote 2016 Notes from Notebook Recycle Bin
It is also very possible for OneNote to be restored from notebook recycle bin. This is one of the most effective ways to get back your lost OneNote since it must have been deleted accidentally.
Follow the steps below to get this process done:
Step 1. The shared notebook should be opened where you were expecting such lost notes to be found History > Notebook Recycle Bin > Notebook Recycle Bin should be selected.
Step 2. Once the deleted or lost notes have been found, follow the steps below to recover them.
Get any page's tab right clicked on which you would want recovered > Copy or Move should be chosen.
Step 3. In the Copy or Move page, the Notebook section should be chosen where you want to get such page moved to > choose Move.
5. Recover from Quick Notes
The last method that can be helpful is to check the Quick Notes and see whether those disappeared notes can be found.
Step 1. Open the Notebook pane and find Quick Notes at the buttom.
Step 2. Click Quick Notes, and then choose the section tabs on the top or the page tabs on the right to have a look of all notes that OneNote may have collected.
Conclusion
Based on the above, it can be seen that once your OneNote notebook disappeared or get lost, there are various ways to recovere it. Among them, the best way to get back your lost files is through iMyFone AnyRecover which has been outlined above. It doesn't really matter how you lost such OneNote notebook as this tool will help you recover it.