AVCHD is a special and popular format for video files, mainly employed by Panasonic and Sony. And AVCHD is compatible also with most of the camcorder memory card suppliers on the market.
AVCHD files can get lost for deletion, SD card corruption and various other reasons. It is not always possible to overcome such unforeseen incidents. So, it will be rewarding if you are prepared with the solution to recover deleted AVCHD files.
What Is AVCHD
The term AVCHD stands for Advanced Video Coding High Definition.
Why AVCHD Instead of Using Conventional Video Formats for Recording?
Well, Sony and Panasonic both use this video format for their respective camcorders. This format enables the camcorders with HD video recording capabilities while keeping the size compressed.
What's the Cause of AVCHD Files Loss
Even with this staggering portfolio, AVCHD files can be lost easily due to the following unexpected reasons.
Corruption of the SD card or other external storage devices.

Accidental formatting of the storage.

Malware or virus infestation.

Interruption while data transfer.

Last but not least, bad handling can lead to the untimely demise of the storage device.
Best Software to Recover Deleted/Lost AVCHD Files
Restoring deleted AVCHD files is not an easy task and the involvement of a professional data recovery tool is necessary. But if you simply search for AVCHD video recovery software on the internet, you will come across AVCCAM SD card file recovery.
Now, what is AVCCAM SD card file recovery?
It is capable of restoring footage recorded only with Panasonic AVCCAM equipment and was deleted from it. At first glance, this looks really promising but there are certain downsides of using this data recovery solution that you may have overlooked. So, let us clarify them for you.
Cons
This is proprietary software from Panasonic that can only be used on SD memory cards by AVCHD products or Panasonic .
This software also doesn't support Windows 10. Only older versions like Windows 7,8, XP, and Vista.
Panasonic also doesn't make any guarantees. So, you won't get any form of support if you are unable to recover the files after getting this software.
Also, Panasonic can change the software anytime they want.
This AVCCAM SD card file recovery software not only seems unsuitable but is also an inconvenient piece of tool. That neither provides the guarantee nor the ease of use.
So, it is best if you stick to professional 3rd party data recovery tools that are convenient and guarantee file recovery. Needless to say, multiple suggestions will be available on the internet but AnyRecover excels all with its state-of-the-art data recovery algorithm and intuitive UI. It will surely recover deleted AVCHD files for you. In terms of data recovery, AnyRecover provides the following benefits…
Pros
An excellent video recovery solution for Windows 11/10, along with its support for the older version of MS Windows.
It supports FAT16, FAT32, exFAT, NTFS, and HFS+ file systems .
It is possible to recover videos from all sorts of memory cards like SD cards, microSD cards, CF cards, XD card, MMC, and more.
Almost all the video formats are supported for data recovery, including AVCHD.
Last but not least, AnyRecover is compatible with a wide range of video shooting cameras like GoPro, Sony, Panasonic, Nikon, Canon and Polaroid, and more.
AnyRecover is truly an exceptional AVCHD SD card recovery software that ticks all the right criteria. It will be a simple task to recover deleted AVCHD files from an SD card using AnyRecover. You need to download and install the program on your computer. After that, follow the steps below.
Step 1 Insert the SD card in the dedicated slot on your laptop. If you are using a desktop, you won't have an SD card slot. So, you will have to use a card reader. After the SD card is properly connected to the computer and has been detected. Launch, AnyRecover and you will come across the program interface. In the program interface, select your SD card. It will be available under External Removable Devices. After selecting the SD card, AnyRecover will immediately start scanning the SD card.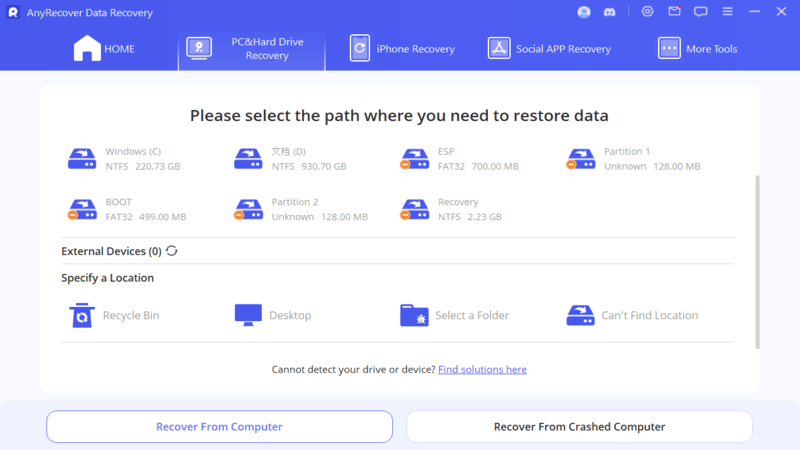 Step 2 The scan will take a few moments. A progression bar will be visible on the top of the window. So, just be patient and wait for the scan to get finished.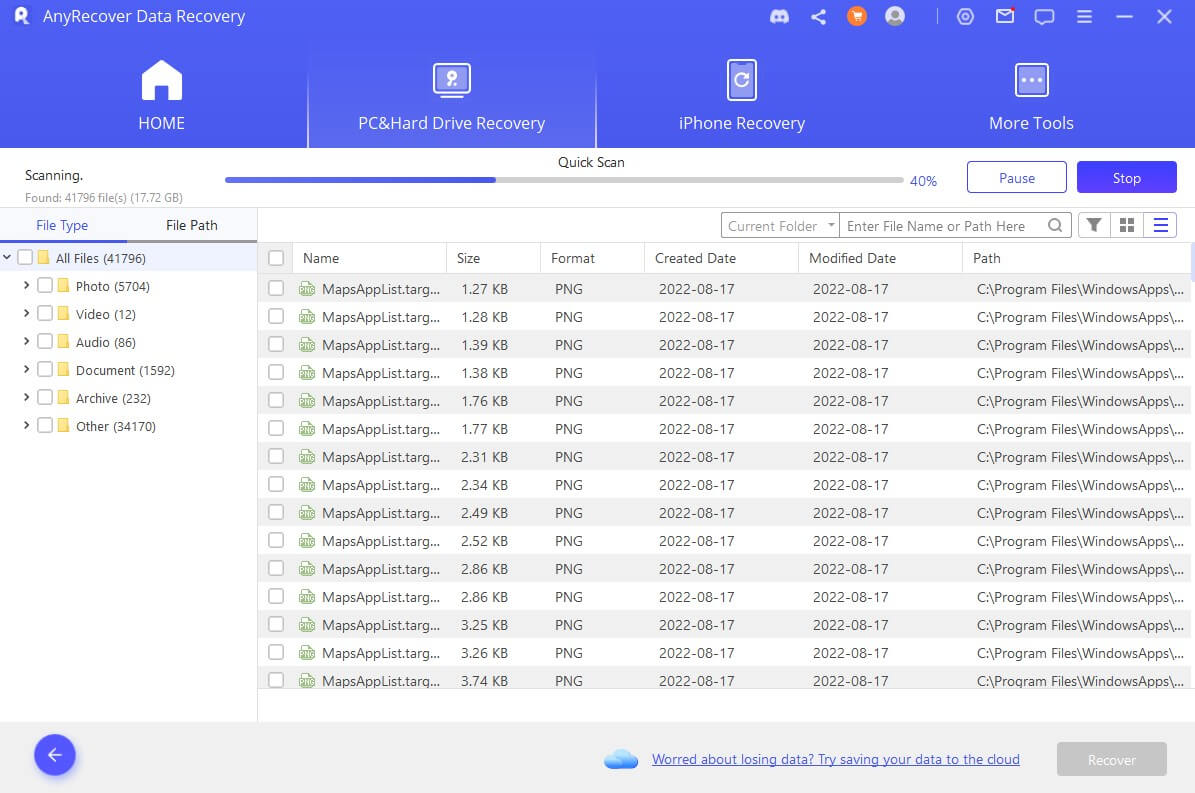 Step 3 After the scan is complete, AnyRecover will list all the potentially recoverable files on the SD card. You will get a detailed preview of the files. Finally, just locate and select the deleted AVCHD video files and click on the Recover button below.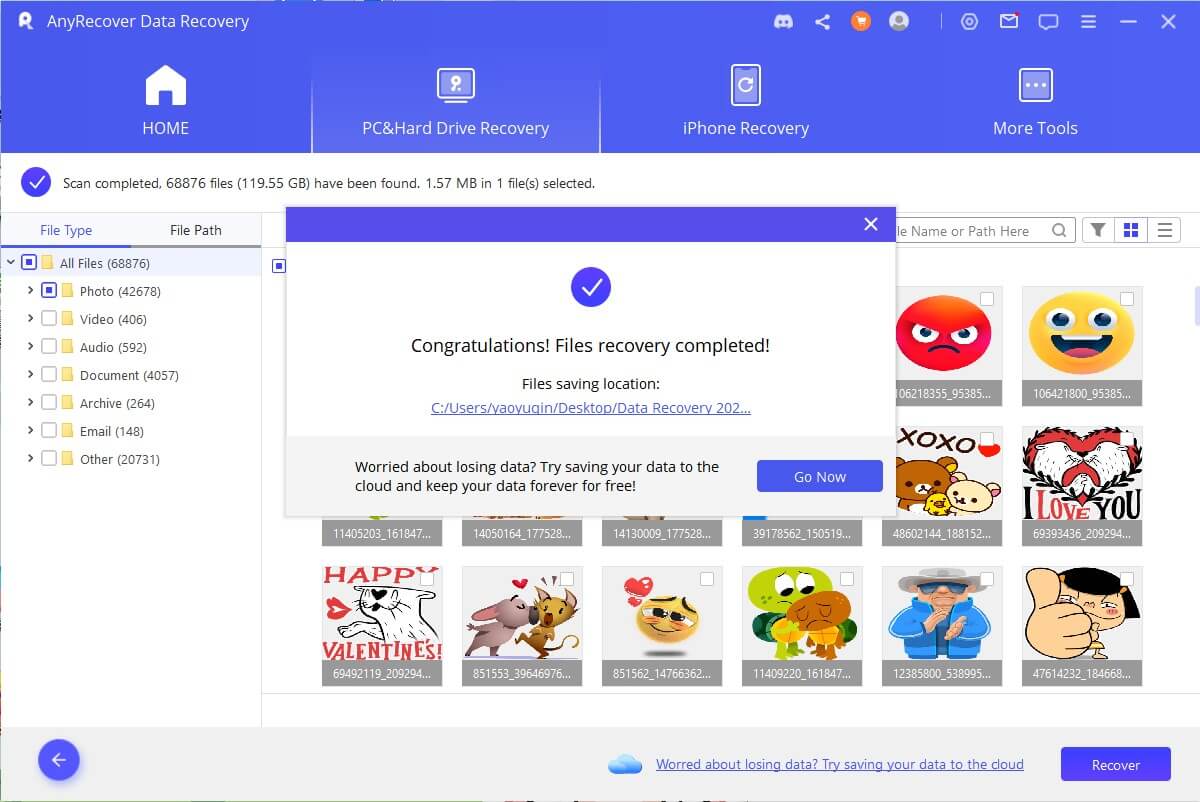 Evidently, AVCHD video file recovery is a simple task for a capable data recovery tool i.e., AnyRecover, and quite clearly, it is easy to use. Isn't it!
Frequently Asked Questions About AVCHD Videos
1. How to Import AVCHD Footage from Camera SD Card?
Importing AVCHD footage from an SD card to a computer is an easy task. You can take out the card from the camera and connect it to the computer. If you are lacking a card reader or an SD card slot, you can connect the camera directly to the computer using a USB cable.
We are taking the first approach. The procedure is very simple. Let's take a look.
Take out the SD card from the camera and insert it into the card reader that is connected to the computer.
A window will pop up showing the contents of the SD card.
There will be several folders for you to access. But you need to enter the Private folder.
In the folder, navigate to the AVCHD > BDMV > STREAM.
Here, you will locate the AVCHD video files or file with the .mts extension.
Now, you simply have to copy that file on your PC's hard drive. After the import, the file will be stored with the .m2ts extension.
2. What Is the Difference Between AVCHD and MP4 Format?
AVCHD and MP4 both are excellent video formats in their own rights. But there are notable differences between these two formats. In order to understand the differences, we need to take a deeper look.
AVCHD stands for Advanced Video Coding High Definition. It is a video format invented by Sony and Panasonic to produce the best codec for video recording. So, this format is mostly used by camcorders due to its capability of compressing videos for convenient storing purposes. The compression doesn't interfere with the quality of the video and it also supports Blu-Ray.
MP4 stands for Motion Pictures Expert Group -4 Part 14. It is a mouthful but it is a popular video format used as a multimedia container and streaming online videos due to its capability of compressing file size and ability to contain different types of data.
Both AVCHD and MP4 are popular and widely used. While MP4 files come with a .mp4 extension, AVCHD files come with a .mts extension that turns into .m2ts when stored. When it comes to video quality, MP4 files are capable of producing 1080P videos at 60FPS. AVCHD files are better, they produce higher quality videos where minute details are seen perfectly.
In terms of size, MP4 files win. Although, AVCHD files are equipped with compression capabilities. Still, they consume a lot of space when stored compared to MP4 files. Compatibility is also an issue for AVCHD formats. MP4 is more popular and has better support.
In the end, both video formats come with sets of strengths and weaknesses. AVCHD format produces high-quality video but takes a lot more space while MP4 is lower resolution but takes only a small amount of space. So, ultimately it comes to the user preference and convenience. If you are watching videos, stick to MP4 and if you are recording videos, stay with AVCHD for better results.
Final Words
AVCHD is an excellent video format. It works surprisingly well in terms of convenience and performance. Sony and Panasonic made the right choice. But even the excellence and convenience of the AVCHD format don't protect it against accidental data loss.
Data loss can happen at any time due to unforeseen reasons. It can get costly and very damaging. Weeks' worth of hard work can disappear in a matter of seconds. However, with AnyRecover Data Recovery, you can easily get back the deleted AVCHD files. Get the free trial right now!