The MX Player is without doubt one of the best video players ever developed, as it is available on iOS, Android and the Web. Unfortunately, users have recently started getting audio format EAC3 not supported error when trying to use MX Player - The video is playing fine but there is no sound.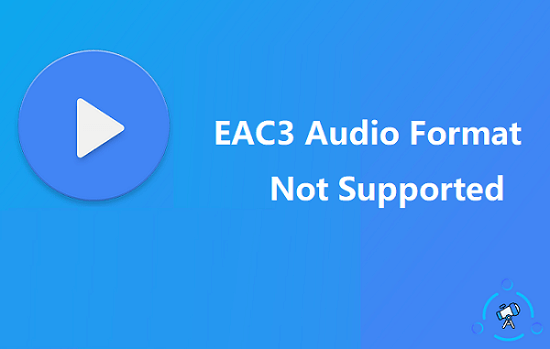 So, What Is EAC3 Audio Format?
EAC3 is frequently adopted these days, however, few people really know about this audio format, here we will explain briefly.
EAC3, also known as Enhanced AC3, is the successor of the AC-3 format. As its name suggests, EAC3 outperforms the AC3 format in many aspects. It is designed by Dolby Labs as a form of digital audio compression to transport and store digital audios.
It can be frustrating to watch videos with sound, just like eating fries without ketchup. But don't worry, keep reading and you will know how to fix EAC3 format not supported by MX Player.
Part 1. Easy Fixes for Audio Format EAC3 Not Supported in MX Player
If the MX player is showing the EAC3 audio format not supported error while running it, don't rush to uninstall the player. Now, there are a few simple solutions available to fix the EAC3 audio codec not supported by the MX player problem, let's check out.
1. Add the Custom Codec to MX Player
So, this first fix involves downloading the custom codec and installing it. To start with, you have to check the version of the MX player on your device (head over to Menu > Help > About) . Then follow the steps below to fix the AC3 audio format not supported issue:
Step 1: Run the MX player, click on the main menu and navigate to its Settings.
Step 2: Tap on the Decoder option and scroll down to locate Custom Codec.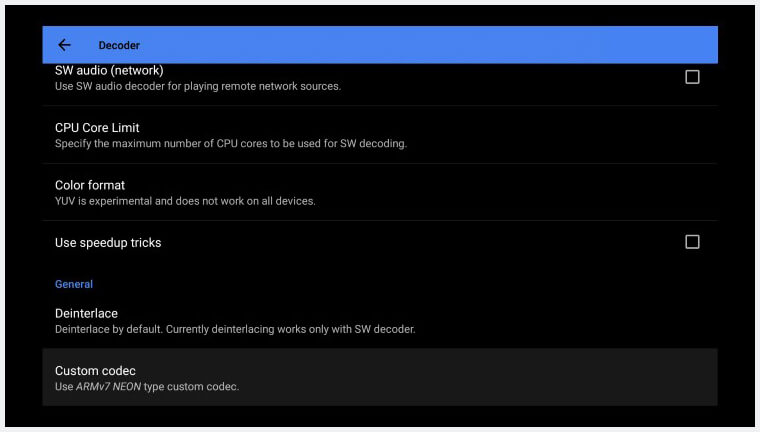 Step 3: Here you will be able to find the MX player codec for EAC3 video, which is necessary to fix this issue. You may download the codec from MX Player website.
After you have successfully downloaded the necessary codec, run the MX player. It will detect the downloaded codecs immediately and if they are deemed compatible, just click OK.
But in certain cases while fixing audio EAC3 not supported issue, MX player fails to detect the downloaded codec automatically. In that unlikely event, you have to add the codec manually. So, do the following:
Step 1: Again, click on MX player main menu, and go to Settings > Decoder > Custom Codec option.
Step 2: Click on Custom Codec and choose the correct path of the codec you have downloaded. MX player will detect them automatically after a restart.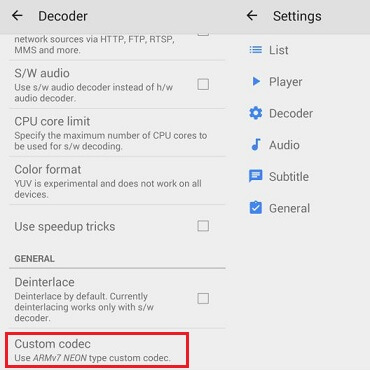 2. Convert EAC3 Audio Format to Other Compatible Formats
Another easy fix for audio format EAC3 not supported error is to convert EAC3 audio format into more conventional formats like MP3, MP4, and AAC, as these formats are widely supported by video players. This is an easy method but you will require a professional-grade converter.
So, just download the video/audio converter of your choice. There are many free converters in the market, preferably select the best one you can get your hands on. Then, you can digitally change the audio format into a supported format that can be played in MX Player.
Part 2. FAQs on EAC3 Format: Everything You Need to Know
MX player is one of the most popular video players in the market, but with audio format EAC3 not supported error, it is clear that the famed video player is having some issues.
1. Why Audio Format EAC3 Is Not Supported?
The MX player was working great until the release of its latest updates. After that, users started getting audio EAC3 not supported error on the MX player, which essentially means that you will have video but not audio. As audio is not supported.
This happened due to licensing issues. MX player no longer supports DTS and Dolby Audio Codecs, which includes DTS/DTSHD/AC3/EAC3/MLP audio.
2. Which Apps Support EAC3 Audio Format?
It is natural to seek other video players that is capable of running most of the video formats without having any issues, as the MX player is currently acting up with EAC3 not supported error. While the list is limited, there are a few video apps that support EAC3 format like VLC Multimedia Player, Video Player for Android, Video Player HD, and Video Player All Format.
3. How Do I Convert Normal Video to EAC3 Format?
Converting a regular video to EAC3 is very possible. You just have to employ a capable converter. There are some free options available on the internet. You just have to upload the file; select a format and then click on the button to convert.
Bonus Tip: How to Recover Deleted/Lost Audio Files
The audio format EAC3 not supported on MX player error is the product of the licensing issue. But it is also true that the absence of the audio file will also make the MX player show the same error. The Video will run smoothly but audio will be absent, it may have been lost or deleted accidentally; we are all clumsy. But whatever the reason is, it's recommeded to recover the audio file, for this purpose, you will need professional help and we recommend using iMyFone AnyRecover.
This audio recovery software is compatible for iPhone, Windows and Mac computers, and can recover lost or deleted audio files of any format, such as MP3, WAV, VQF, AIF, MP4, and AVI.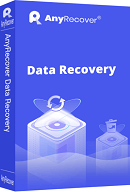 Key Features:
Handle all data loss issues: emptied trash, accidental deletion, partition error, system crash, formatted device, etc.
Support over 1000 types of files: photos, videos, audio, documents, emails, other media, and non-media files.
Absolute security is guaranteed; no overwriting or damage to the original data.
Most importantly, the AnyRecover recovery tool is easy to use, in only three steps you will be able to recover the deleted files: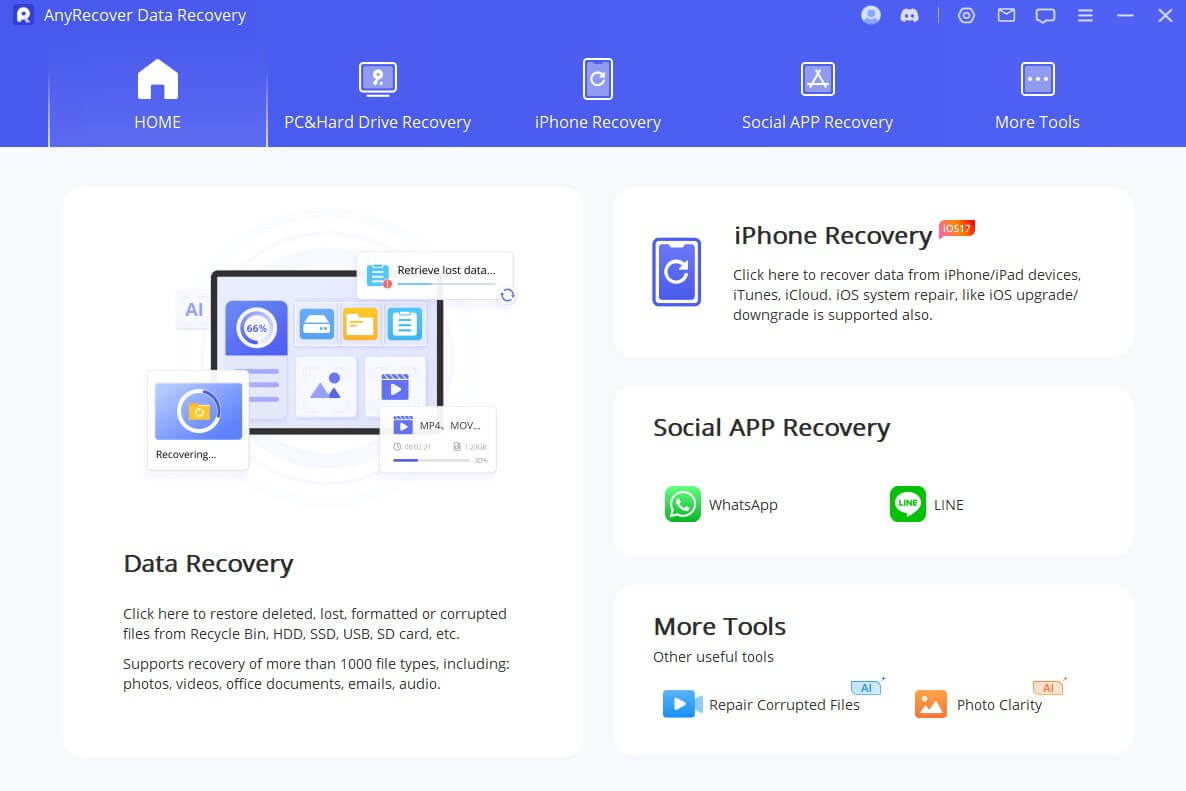 Step 1. Select a location. After lauching the software, you will see an intuitive interface that is easy to understand. Just select a location from which you need to recover data.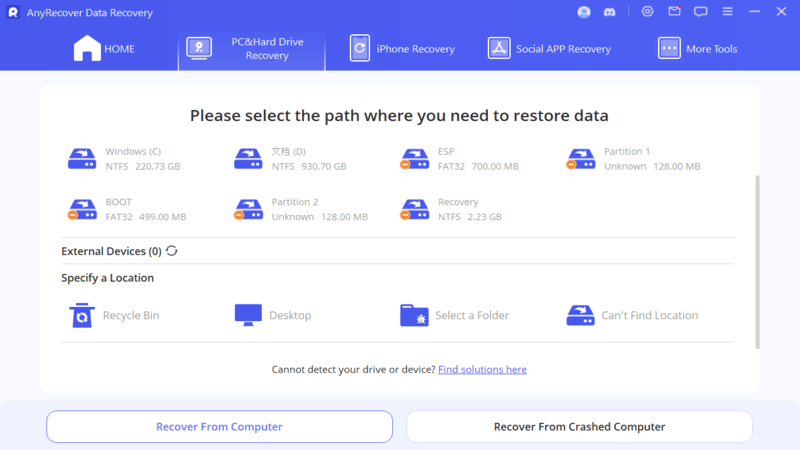 Step 2. Search for all lost data. The iMyFone AnyRecover data recovery program will perform a thorough scan on the drive and seach for all the lost files.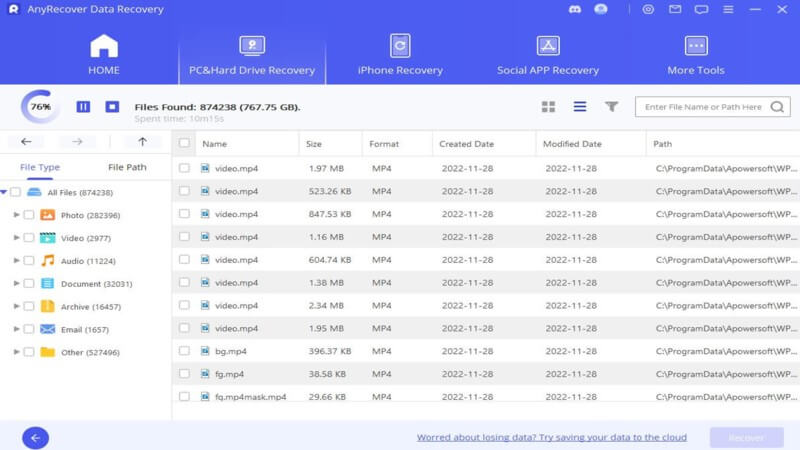 Step 3. Preview files and recover. Selecting all the files you want to recover like audios, videos, photos etc., then click on "Recover". You can also preview the files before recovery by double-clicking on them.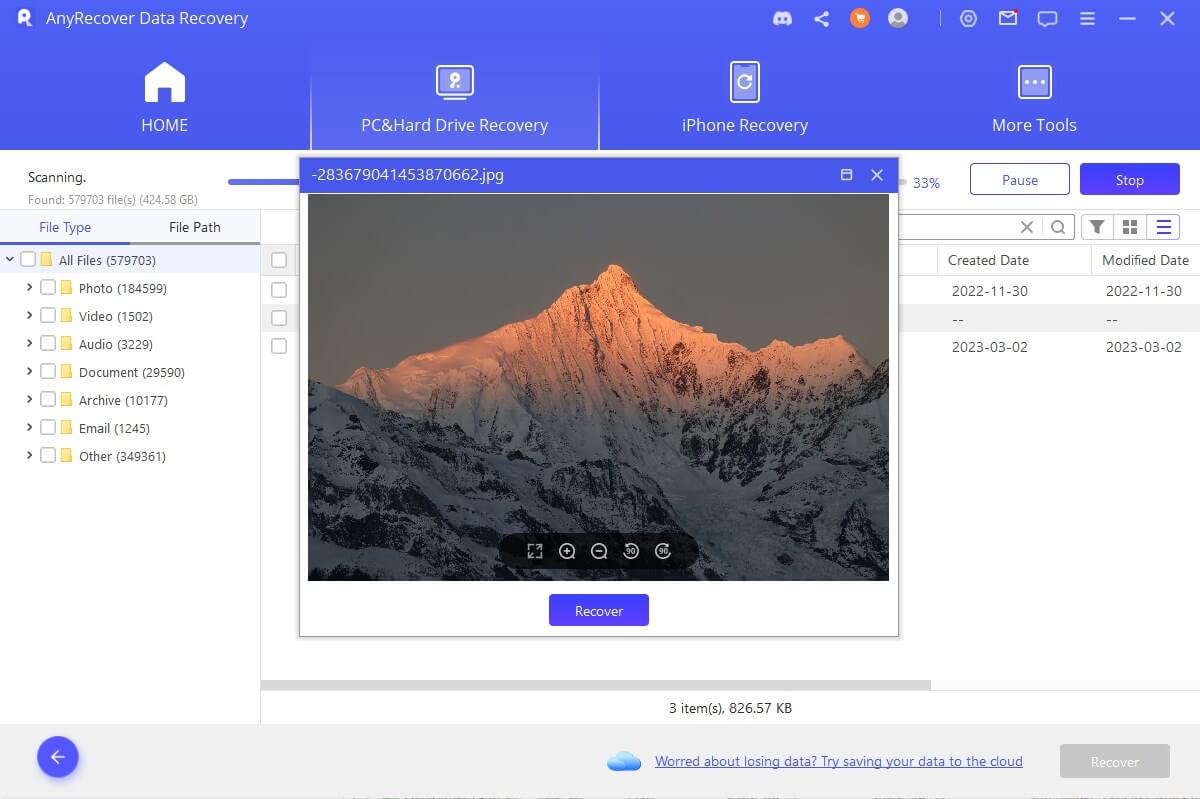 Final Words
This audio format AC3 is not supported is a very recent issue with the MX video player after its latest updates rolled out. Now, if you are having the same issue, check out two of the easiest and most effective fixes listed in the article. But we have also discovered that the same problem can happen if the audio file is lost or deleted. In that case, your best option is to use a professional data recovery tool like iMyFone AnyRecover. The software comes with a free trial, why not give it a try!