When we talk of MS Project, first you need to know that it is one of the best management tools by Microsoft, and that it is designed to help users in tasks such as resource designation, workload analysis, budget management, progress tracking, as well as development processes. Now, there are times where one could lose essential files, especially since many users forget to save some file. The good news is that if you lost a crucial file that you would like to recover, we have an effective solution for you. In this article, we will look at the 3 ways you can recover unsaved MS project file. So, read on to learn more!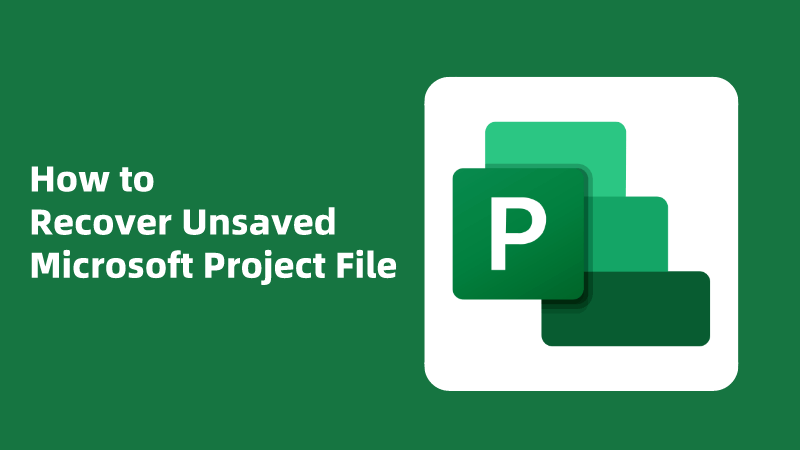 Part 1. Easiest Way to Recover Unsaved MS Project File
If you're unable to recover unsaved MS Project file using the auto-save feature, Anyrecover seems to be an excellent alternative. It is one of the best recovery tools that uses a unique algorithm, allowing for an easier and efficient restoration of all unsaved MS project files,including unsaved PowerPoint, Excel File, word document. Some of the key features of this software includes:

AnyRecover Key features include:
Supports over 1000+ files formats, which of course includes unsaved MS project files
All-in-one tool to recover data from Windows/Mac computers, iPhone devices, USB, external hard drive,etc.
Recover lost MS project due to various scenarios, such as emptied trash, accidental or permanently deletion, partition error, system crash, formatted device, etc.
It is 100% safe and easy to use.
With that said, here is a step-by-step process on how to recover unsaved microsoft project file:
Step 1 – for starters, you need to download and install the AnyRecover software on your computer. Then choose "Data Recovery" and select the location with MS project files.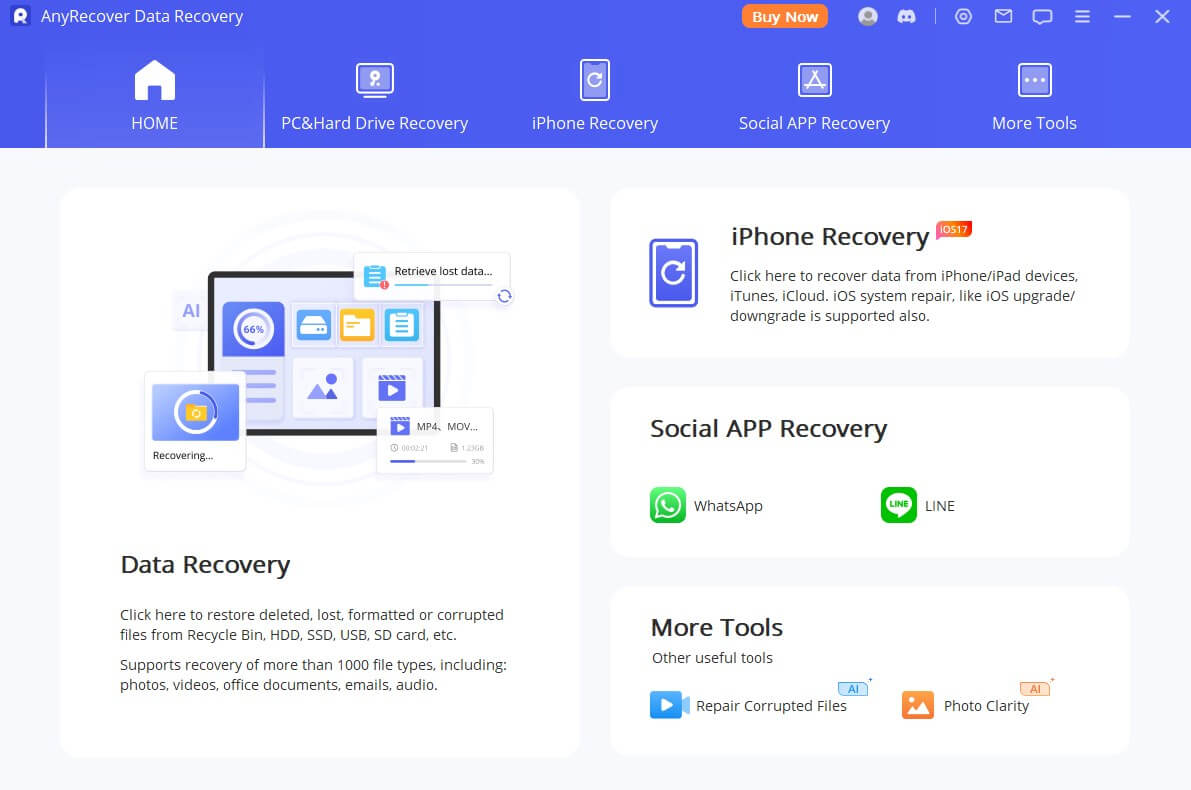 Step 2 –It will start the scanning process which may take some time to complete. Whenever you find the MS Project you need, feel free to pause or stop the scanning process to save time.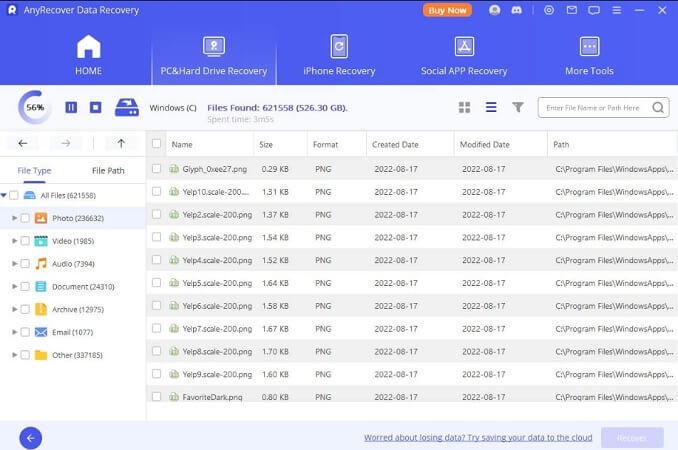 Step 3 – Once the process is done, you will see all the files on your screen. You can preview them before restoring them.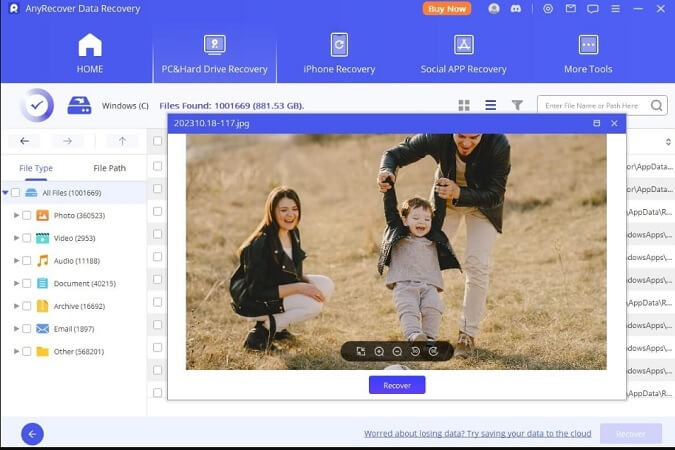 Video guide on how to recover unsaved Microsoft project file
Part 2. How to Recover MS Project File with Other Common Ways
Losing your Microsoft Project files can have a negative impact on your work, but there's no need to be overly concerned. There are various methods available for recovering them on your Windows computer, spanning from basic approaches like inspecting your Recycle Bin and Temporary folders to more advanced solutions such as utilizing data recovery software.
1

Recover Microsoft project file from temporary files folder

To put it simply, the Temp folder, also known as the Temporary files directory, is a location on a Windows computer where temporary files are temporarily stored. So, if you've accidentally lost unsaved files, you might attempt to retrieve them from this folder. Here is how you can do it;

Step 1 – open the MS application on your computer. Then go to the File tab and click Options.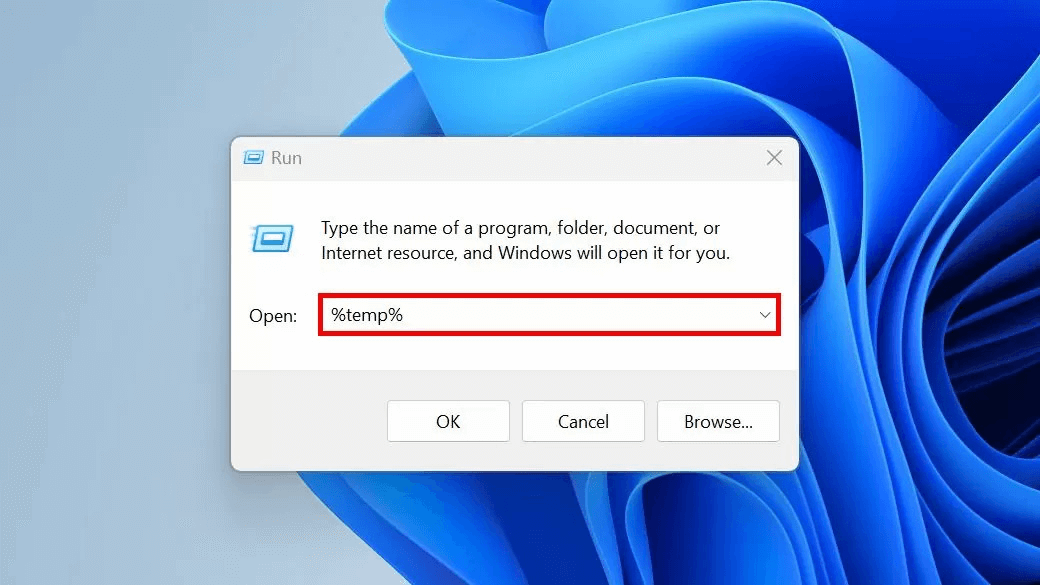 Step 2 – an Options dialog box will open, where you will click on the Save option. Go to the Autosave section, make sure you note down the listed path 'Default file location for AutoRecover.'
Step 3 – you can now close the Project Options box, and then open File Explorer.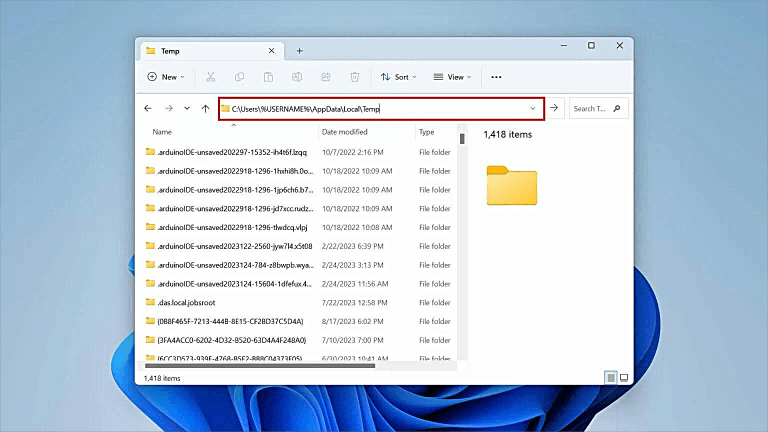 Step 4 – paste the path noted in step 2 and hit Enter. You will directed to the MS project temporary files folder > .mpp extension and then select the most recent file.
Step 5 – you can then copy the file you want to restore and paste it to your preferred location on your computer.
2

Recover MS project file using the Autosave feature

MS project software features an in-built tool known as Autosave option, which lets you save the changes to your local drive or the cloud automatically. This works to minimize the risk of losing any unsaved data. so, here is how you can use the Autosave features to recover any lost unsaved MS project files;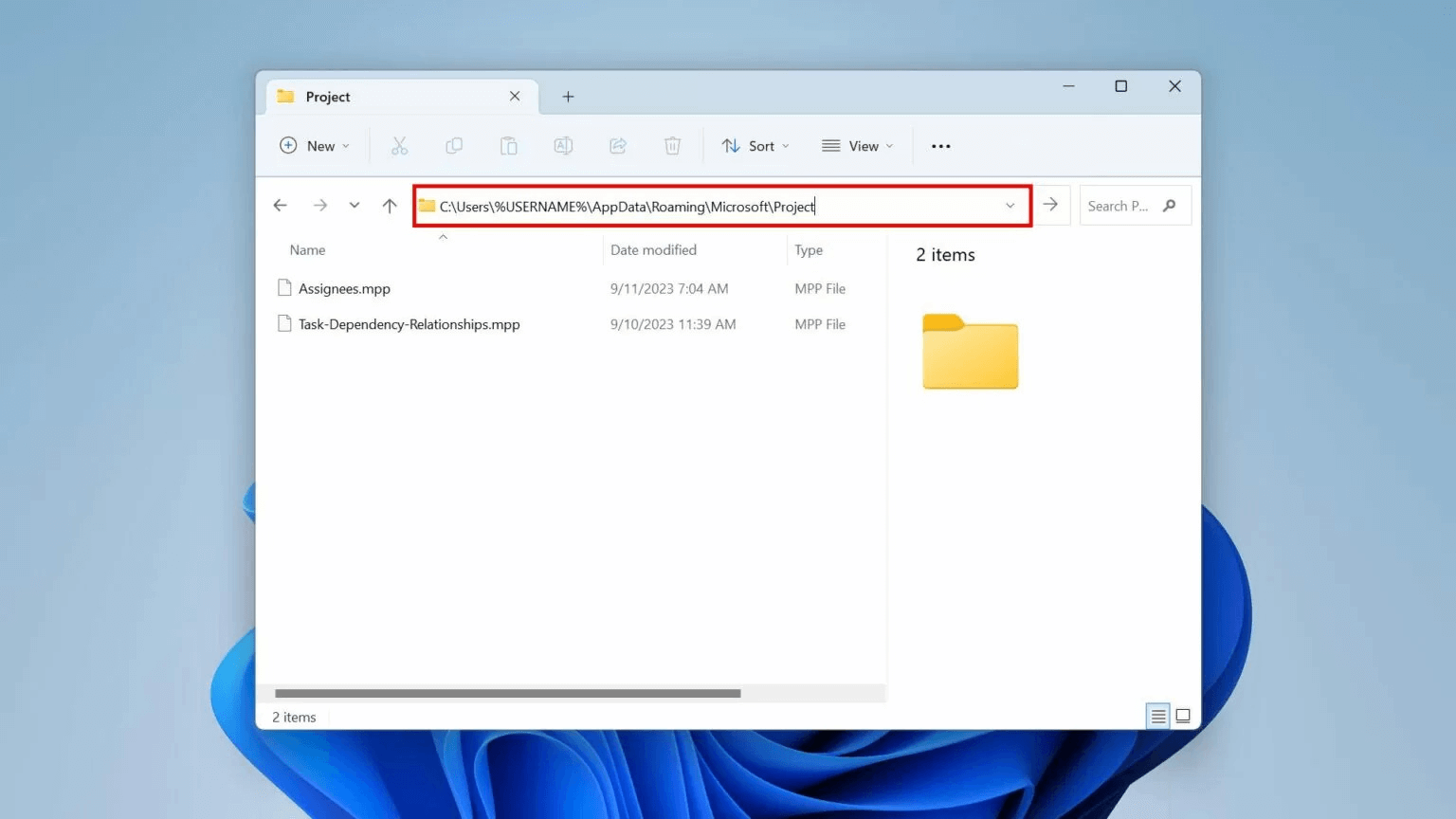 Step 1 – open the MS Project application on your computer. Then go to the File tab and then locate the autosaved files (mostly found in the Autosave folder)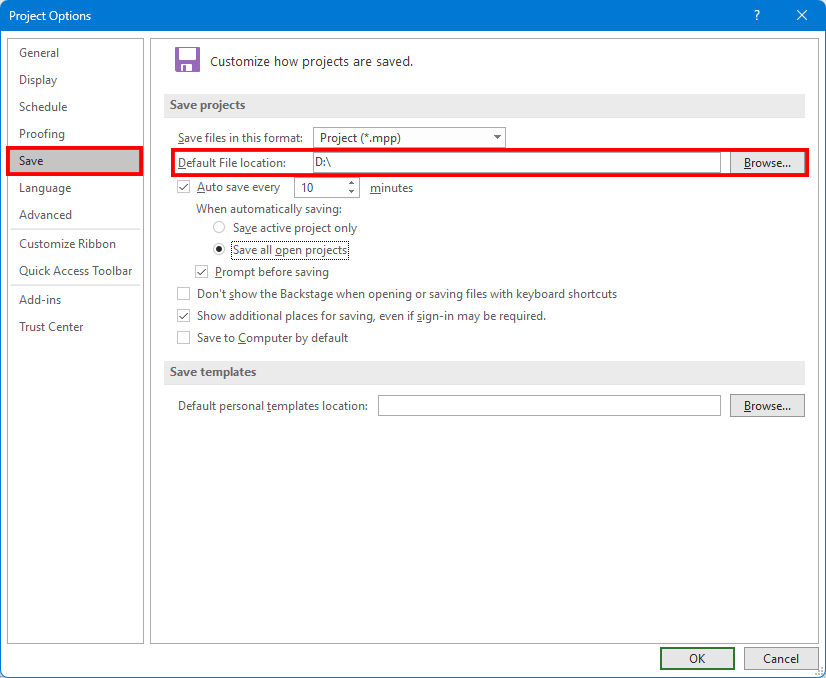 Step 2 – in the Autosave folder, look for files with names starting with Autosave_Projectname.mpp or any other similar extensions.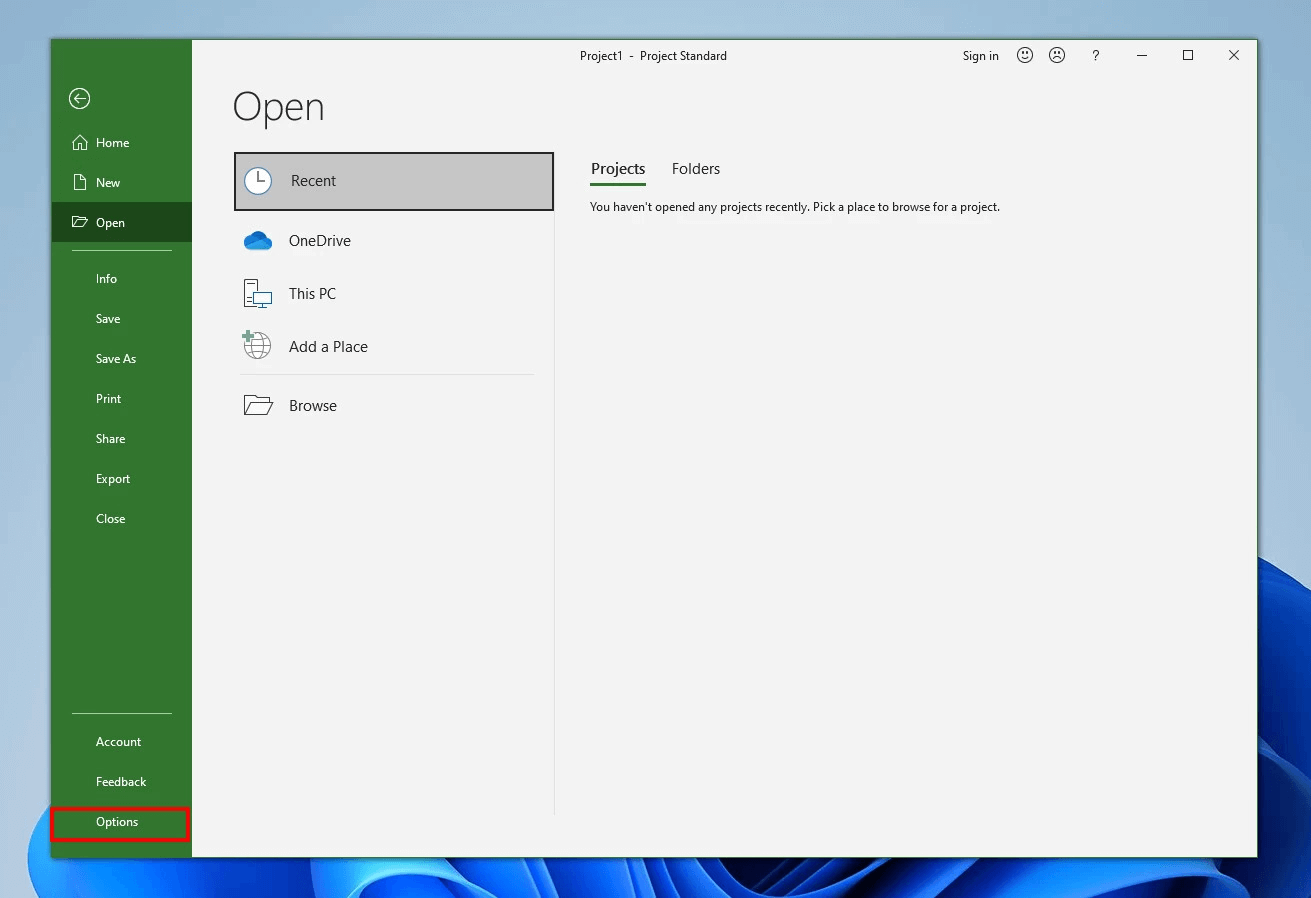 Step 3 – then, based on the time and date stamps, select the most recent .mpp file, then doublec-click on them and save them to your desired location on your computer.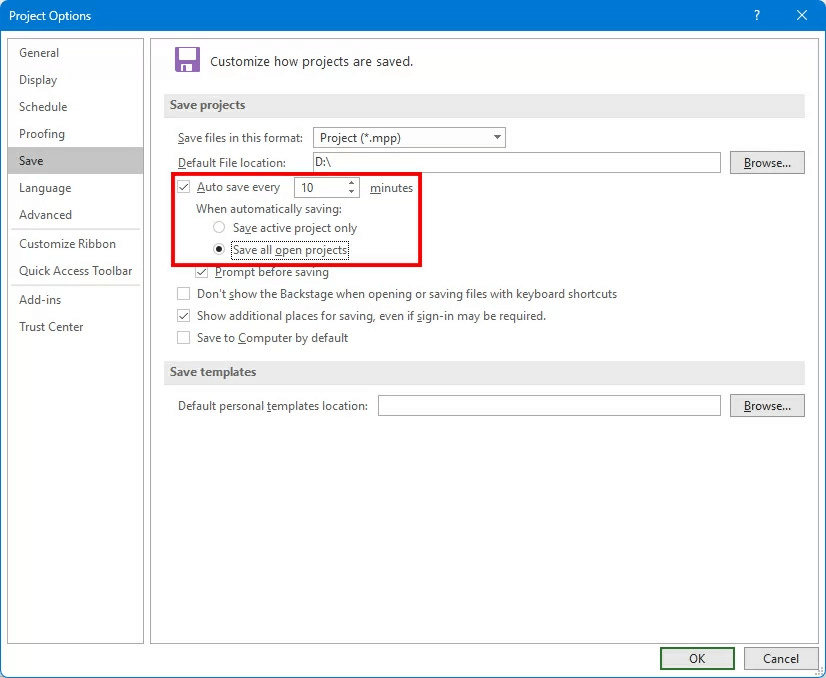 Part 3. FAQs about MS project file recovery
1

Where is microsoft project located?

Log in to Microsoft 365, click on "All apps," and then choose the Project icon. Alternatively, you can visit project.microsoft.com. Once on the Project Home page, you'll find a list of the projects and roadmaps you've recently accessed, or you can opt to create a new one.
2

Why MS project file won't open?

There are a number of reasons why MS project file won't open. Some of them includes the following;
File system errors or accumulation of bad sectors, which corrupts the stored data.

Software/hardware failure, including unexpected system shutdown

Virus and malware – virus or malware infections could also corrupt your MS project files, making it not open.
3

How to repair MS project corrupt file?

There are various ways through which you can fix a corrupted MS project file. One is inserting the file as a subproject file in a blank file so as to open it. Secondly, you can choose to save the corrupted MS files into XML format and then convert them to mpp. Thirdly, you can rely on a third-party tool like Anyrecover software. In fact, this software is the most effective way to fix corrupted files, as you will not only be able to fix MS project corrupt file, but you can also recover any data that you might lose in the process.
Conclusion
Losing important Microsoft Project files can be a source of great frustration, but Anyrecover offers an excellent solution. It excels at effortlessly restoring unsaved and damaged files, making it a reliable choice for file recovery. This software can swiftly retrieve your crucial data in just a few minutes, and its user-friendly interface simplifies the process. Nevertheless, it's important to remember to activate the auto-save feature for an added layer of security. With that said, you can easily get AnyRecover software from our website for a free trial to test it capabilities. Get it today!