Word files often contain confidential and important data. Therefore, if they get corrupted, it could be a loss of a massive amount of time and money, depending on the data it contains.
Fortunately, it is possible to recover corrupt Word documents. In this article, we will share different methods on how to recover corrupted Word file and get your precious data back.Let's begin!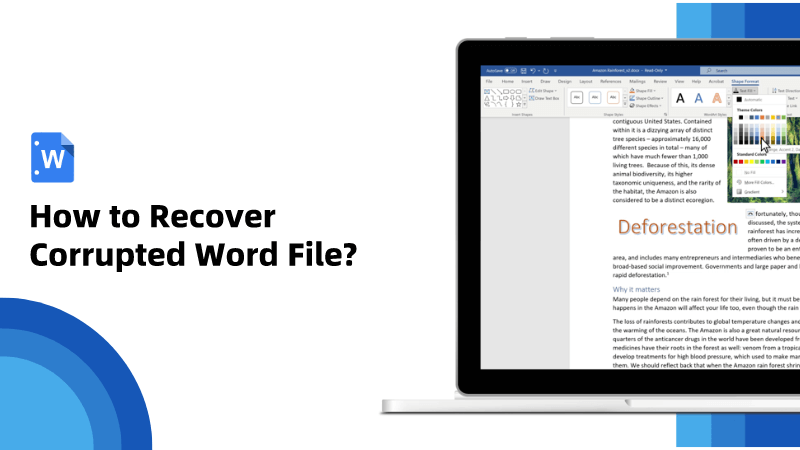 Part 1. Easiest Way to Recover Corrupt Word Document
Comparing with other methods, Anyrecover offers the easiest way to recover a corrupt Word document. It's a popular DIY data recovery and repair tool that you can use to recover deleted,unsaved or corrupted Word files. You can use it to scan corrupted Word files and preview them for free. AnyRecover can save you valuable time when you need to urgently open lost or damaged Word documents.

AnyRecover Key features include:
AnyRecover is all-in-one data recovery tool, you can recover word files from Windows, Mac,iPhone,SD card,USB drive, external hard drive and more.
It can recover corrupted Word files from various scenarios, such as accidental deletion, emptying the recycle bin, formatted drives, virus attacks, system crashes, and RAW partitions.
You could also preview your data before recovering it.
This software is developed to recover all the data in its original form without overwriting it.
It is 100% safe and easy to use.
Let's see how do you recover a corrupt Word file using AnyRecover.
Step 1: Download the software on your computer. If your word documents didn't delete, you can directly choose "Repair Corrupted File" option which save more time.

Tip
If Word files are lost or deleted, you should click on 'Data Recovery'.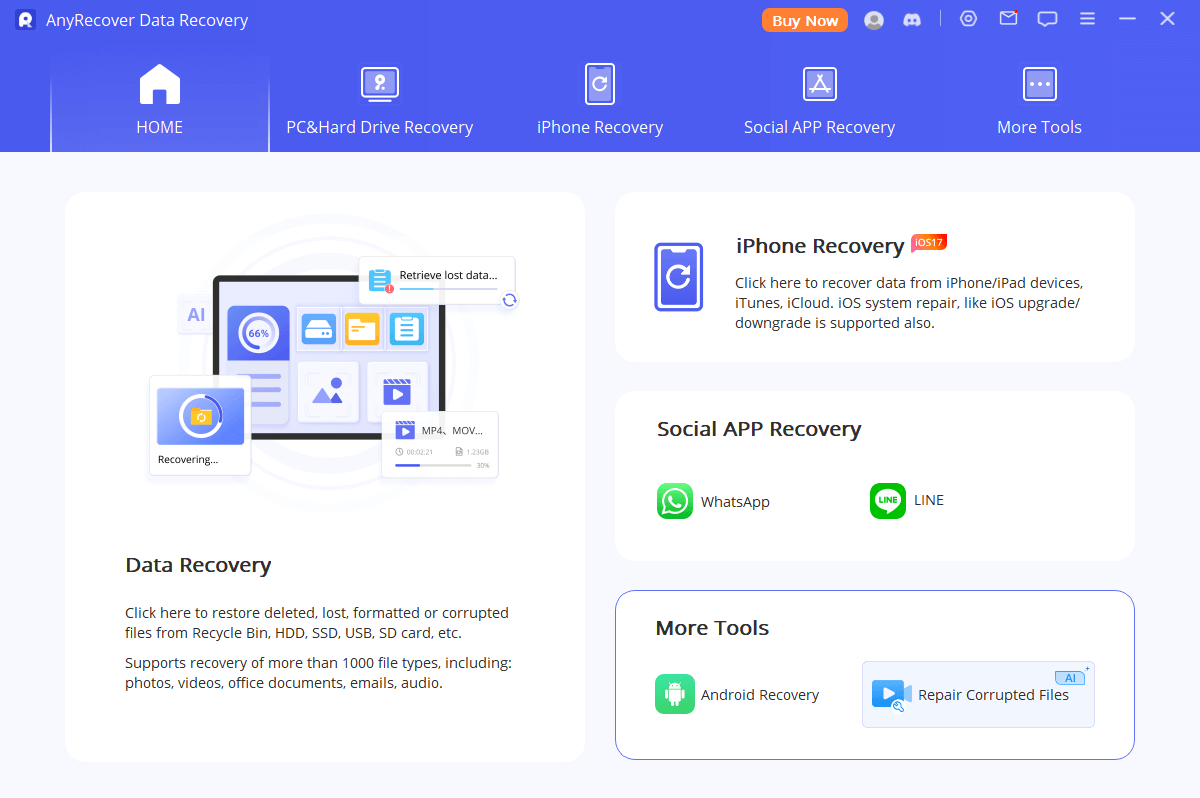 Step 2: You will see three options. Click File Repair. You will see a new prompt to download extra resources to use the tool. Click Yes.
Step 3:
Select the corrupted Word file for repair and click
Open
.The file will be uploaded and then click the
Repair
button.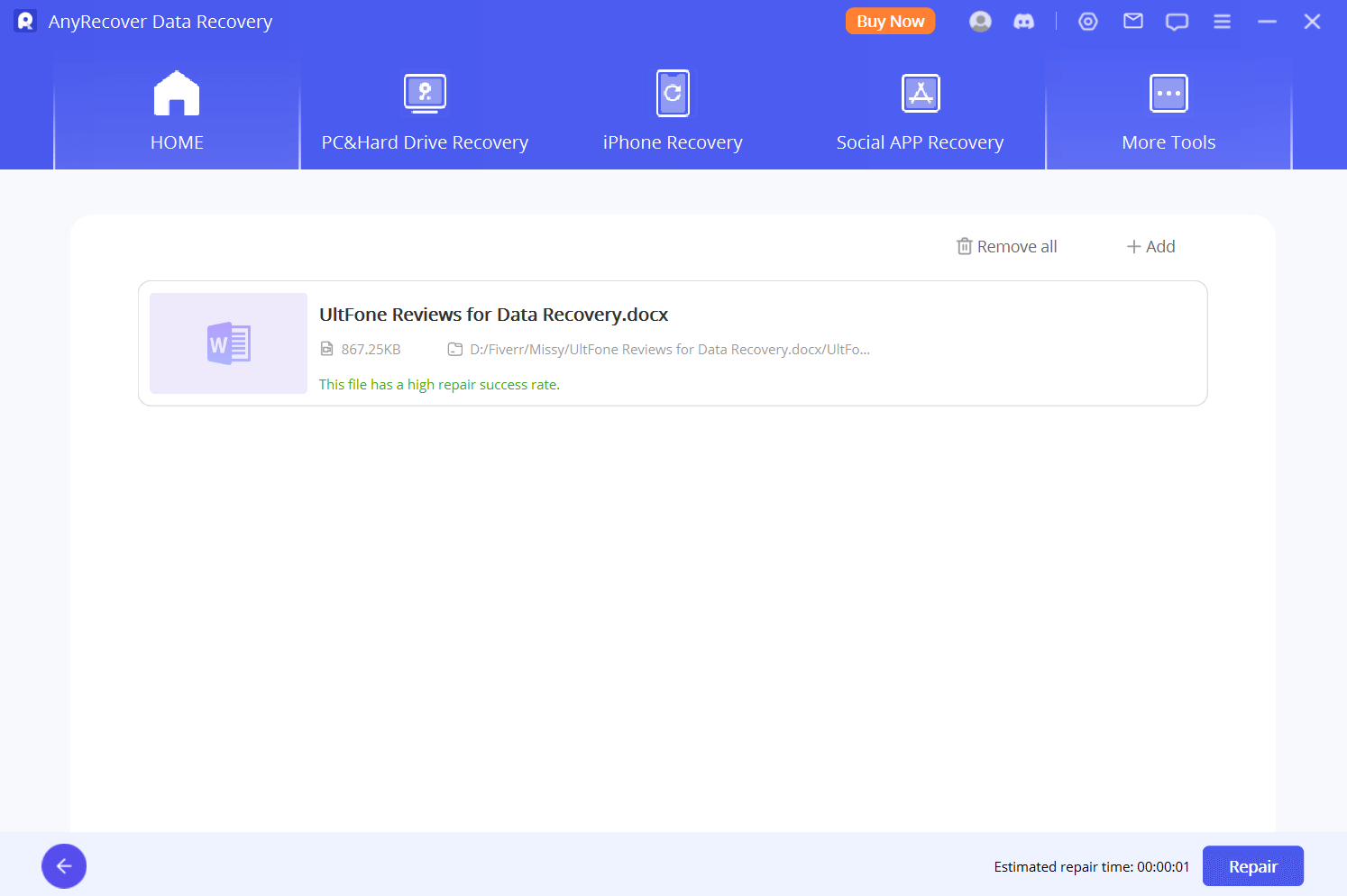 After repair, click Save as Copy. Select the destination and save the file. You have successfully repaired a damaged Word file. Now, open the file and check.
Video guide on docx corrupt file recovery
Part 2. Other 5 Common Ways to Repair Corrupted Word File
It is better to try AnyRecover in the first place. It offers incredible success results and recovers all your data.
But if you want to try other ways to fix corrupted Word file, here are a few. All these methods work in several cases, and they might not offer the results you want. However you can try them one by one, but make sure to make multiple copies of the document.
Way 1. Repair Corrupted File Through Word
Word allows you to repair files, and this can be helpful for corrupted files.
Step 1: Open Word. Click Open>Browse.
Step 2: Go to the location where you have stored the corrupted file.
Step 3: Select the file and click the down arrow on the Open button. Click Open and Repair. Word will automatically repair the file and then open it.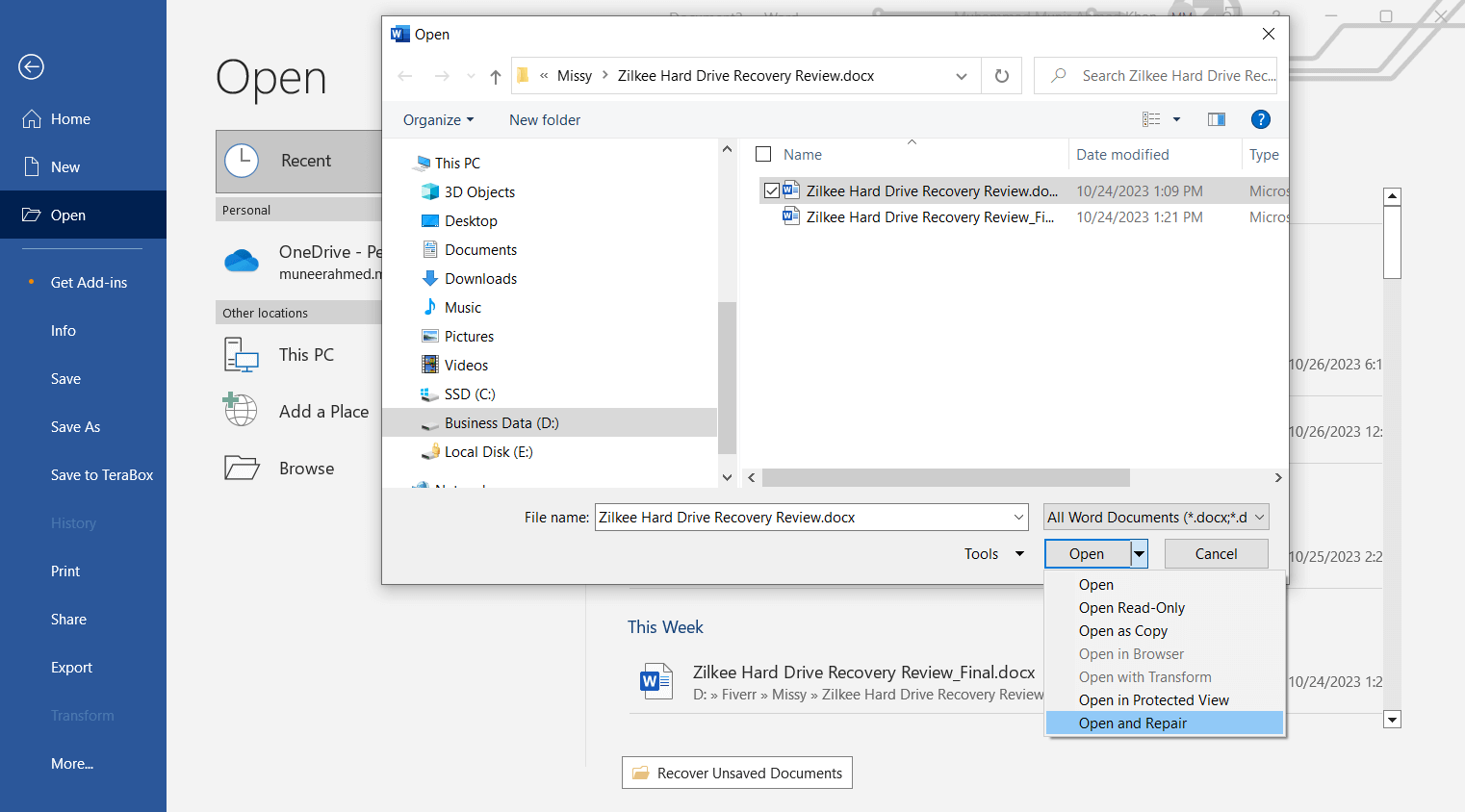 Way 2. Recover Text from the File
You can also extract the text from a Word file using the Word app. But keep in mind that it does not work in all cases. However, you can try with good hopes.
Step 1: Open Word. Click File>Open.
Step 2: Go to the file location and select the file.
Step 3: At the bottom right of the window, you will see "All Word Documents" or "All Files" just above the Open button.
Step 4: Click the down arrow and select Recover Text from Any File. Click Open. It will recover the text and show it in a new Word document.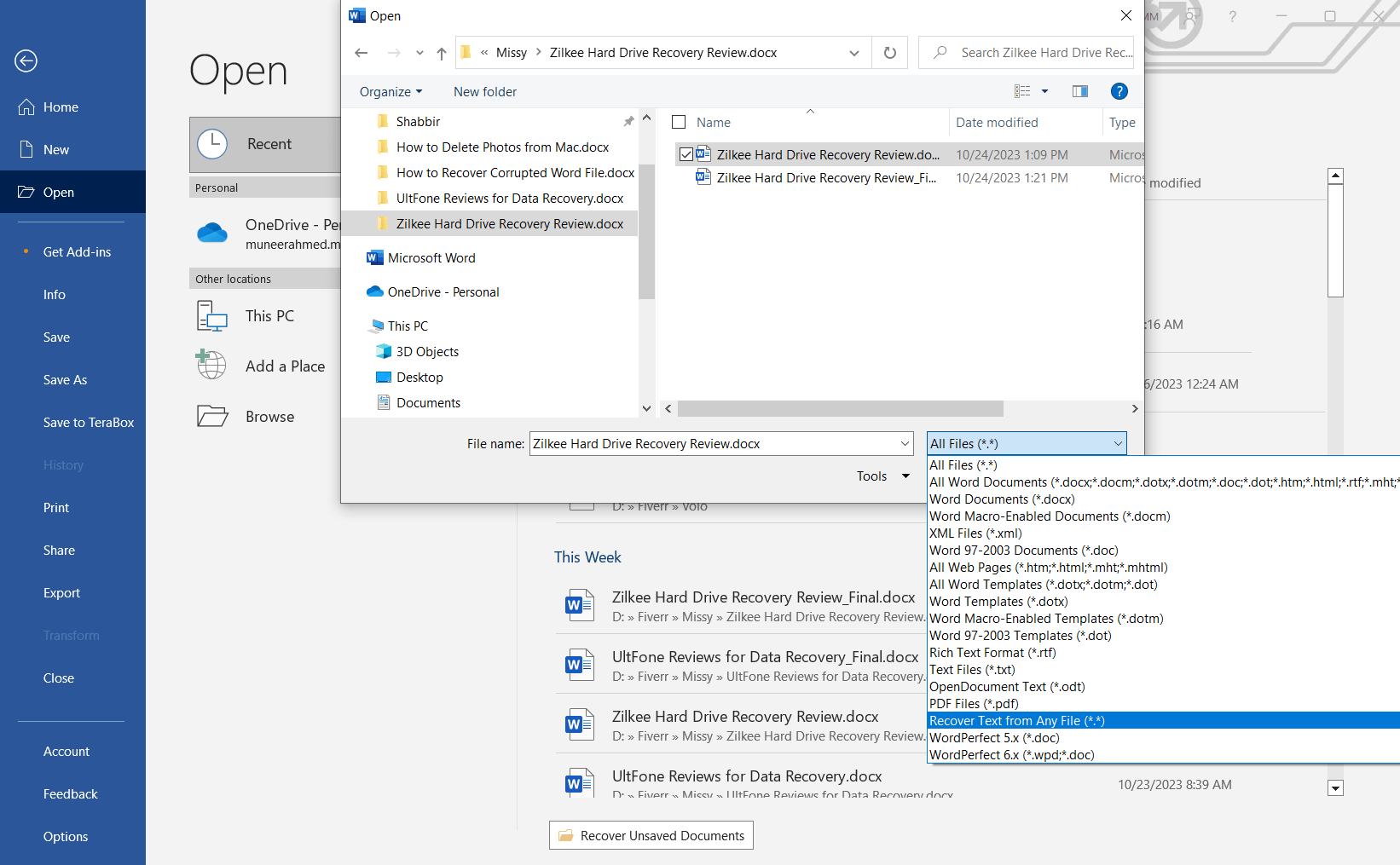 Way 3. Run CHKDSK Fix Corrupted Word File
CHKDSK is a command you can use on CMD (command prompt). It scans and repairs file system and hard drive errors. It might repair Word documents.
Step 1: Type CMD on the search bar of Windows. You will see the Command Prompt app. Click Run as administrator.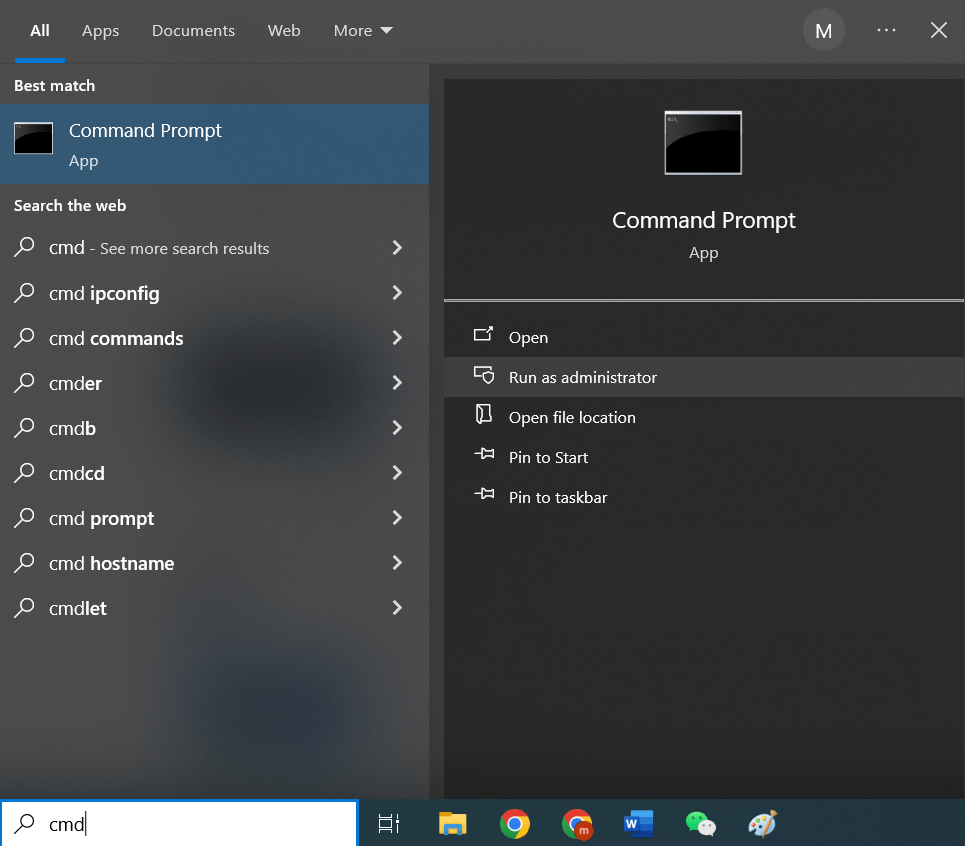 Step 2: Type "chkdsk" and hit enter. It will scan the hard drive.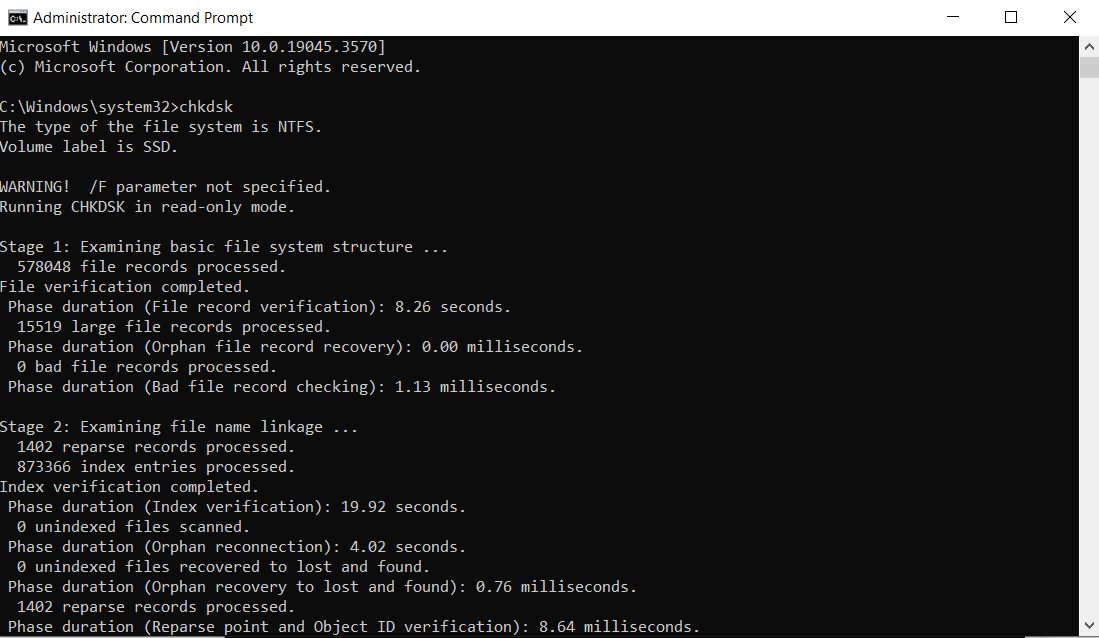 In case of any problem, it will point that out so that you can fix it through commands.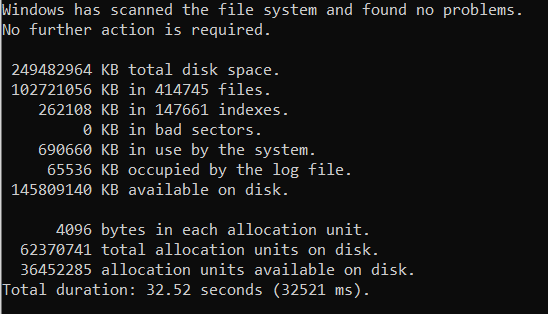 Way 4. Check the Previous Version to Recover Damaged Word File
Windows offers an incredible feature called Previous Version. It allows you to go back in time and restore the past version of the file. It can resolve the current issues with the file, but keep in mind that it only works if you have ever enabled the feature on your computer.
Step 1: Go to the folder location and open it.
Step 2: Right-click on the Word file. Click Restore previous versions.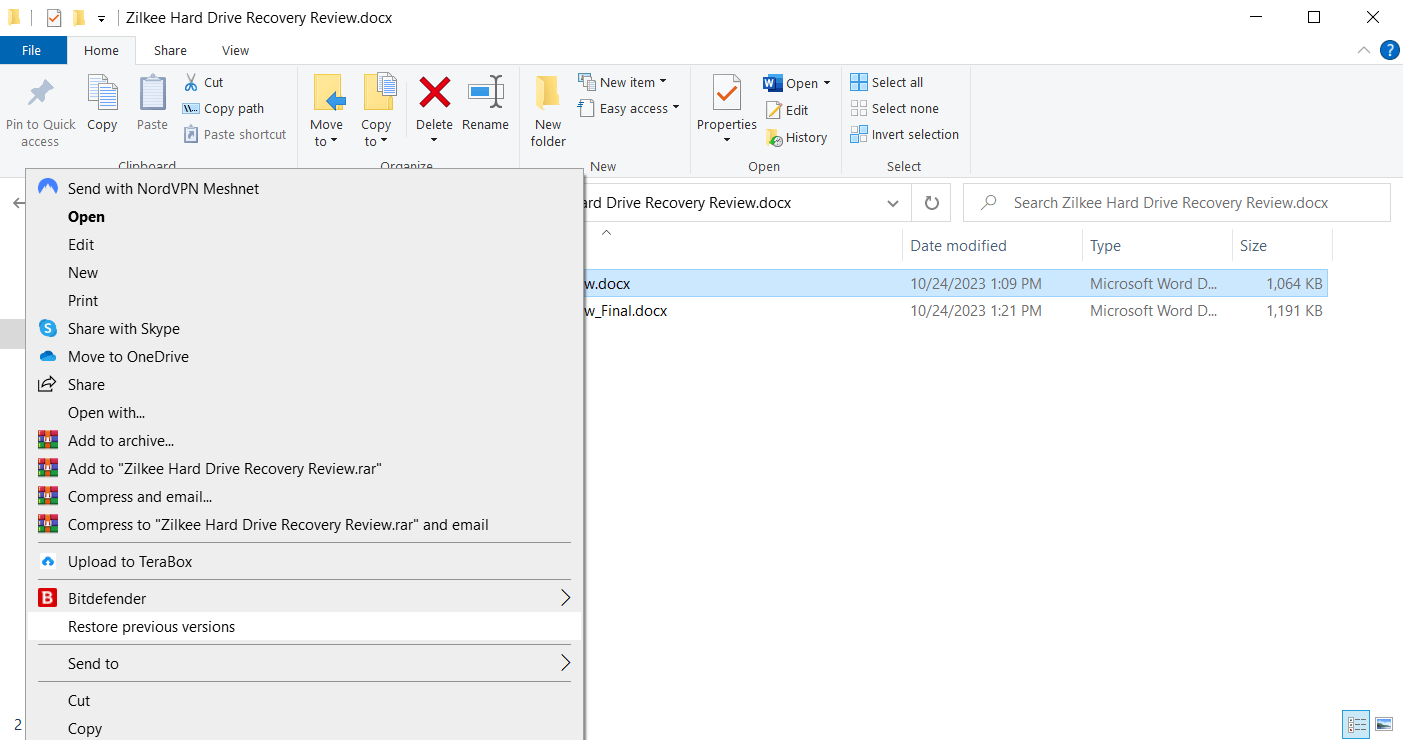 Step 3: In a new window, you will see the previous versions. Select any version you want and click the Restore button.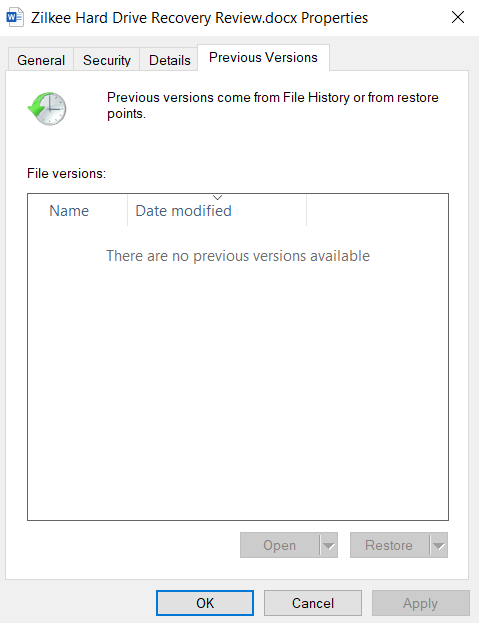 Way 5. Check Backup to Open Corrupted Word File
If you have created any backup, you can use that to recover your files. Check out the external backups on hard drives. If you have backups in the cloud, try to retrieve the files. You can also check emails and social media if you received the file through them.
Part 3. Tips for Avoiding Corrupted Word Files
Here are a few tips to prevent the corruption of Word or any other file on your computer.
If you are working on a Word, it is better to sync it to the cloud. It will automatically save the progress, and you don't have to worry about data loss.

While using a USB drive, copy the file to the computer first. Then, edit the file. If you edit directly when the file is in the USB, the disconnection will cause the corruption of the file.

Always use the Safely Remove Hardware option to eject the USB or any other external drive.

Always keep the Auto Recover feature on. It will help you recover the file if there is a power outage or issue with the computer.
Part 4. FAQs about MS Word Corrupted File Recovery
4.1 Why do Word files get corrupted?
Word files can get corrupted due to file errors, power failure, viruses, hardware failure, or any other reasons. It is better to sync the file to the cloud or use Google Docs if you want to prevent the loss of your files due to these issues.
4.2 How to Uncorrupt a Word file on Mac?
The easiest way to uncorrupt or repair corrupted Word file on Mac is AnyRecover. You can get the Mac version and download it. After installation, launch the file repair tool and solve the issue.
Conclusion
Users often face Word file corruption, which results in the loss of hard work and money. But if you know how to recover corrupt file in Word, you can solve the issue without any hassle. We have discussed different methods for corrupt Word file recovery. You can try any of them, but make sure to create multiple copies of the file. If you want to recover corrupt Word document without any hassle, try Anyrecover. It is a dedicated tool for this purpose and solves the issue in a few simple steps.