Setting up an iPhone is typically a straightforward process that can be accomplished in a few simple steps. One of the initial tasks is activating your device, but this step can become quite frustrating if you encounter the message "Unable to Activate – An update is required to activate your iPhone" on the screen. This problem can arise due to various factors, primarily linked to WiFi connectivity and SIM card issues. Fortunately, resolving this issue should not be overly time-consuming, and in this article, we will guide you on how to do it. So, let's begin.
Part 1.Why is my iPhone not activating?
Before delving into potential solutions for the "iPhone unable to activate" issue that occurs after updating to iOS 17/16, it's crucial to understand the reasons behind encountering this error. They include the following;
The iPhone activation server is overwhelmed. This is a problem that arises when numerous users are simultaneously activating their iPhones, causing the activation server to become too busy to handle the requests.
The iPhone activation server is overwhelmed. This is a problem that arises when numerous users are simultaneously activating their iPhones, causing the activation server to become too busy to handle the requests..

Your current carrier may have restrictions that prevent you from unlocking the iPhone.

Issues with your network or Wi-Fi connectivity can disrupt the activation process.

The iPhone is not being recognized and, as a result, cannot be activated for service.

iTunes fails to verify your device during the activation process.

The iPhone you are attempting to activate might still be locked to a previous user.
Part 2. 7 Ways to Fix iPhone Unable to Activate Issues
Having learnt what the problem could be, or better yet, what could be causing the problem, there are several methods which you can undertake to fix the problem. They include:
Way 1. Check Apple&'s System Status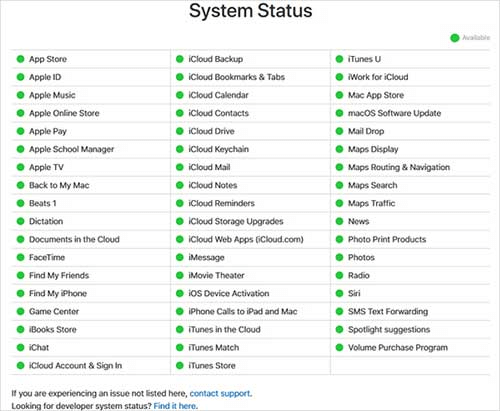 While the chances of errors being caused directly by Apple are minimal, you can start by checking the System Status page. If the iOS Device Activation switch is not showing as green, it means this function is currently offline. This indicates that Apple's activation server is currently experiencing high demand. In such a situation, all you need to do is be patient and attempt to activate your iPhone again once the system returns to its normal state.
Way 2. Reinsert your SIM card to Fix iPhone Not Activated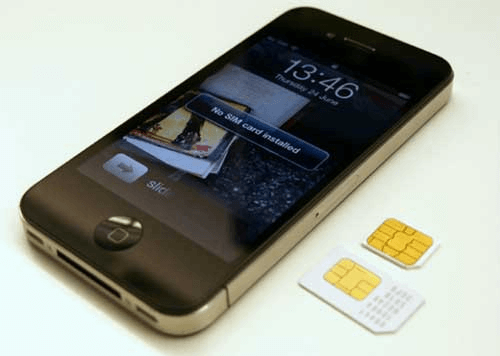 Your SIM card could also be culprit, which means that it's advisable to perform additional checks to ensure it is correctly placed. Try removing and cleaning the card with a soft cloth and inspect it for any signs of damage. After that, you can re-insert the SIM card and ensure it's properly seated. However, if the issue persists, it's recommended to reach out to your mobile carrier and inquire about the status of your SIM card, including whether it might be locked.
Way 3. One-click fix the iPhone Unable to Activate without data loss
Anyrecover is a highly effective utility designed to assist users in restoring their iPhone, iPad, or iPod Touch without the risk of data loss. In addition to repairing the device's operating system, this tool offers the capability to recover data from an iPhone that has undergone a factory reset and can even address issues such as unlocking a locked iPhone screen.
Utilizing the Anyrecover tool, you can resolve various errors that may afflict your iPhone, including situations where the device is stuck in DFU mode, displaying a black screen, frozen on the Apple logo, or encountering difficulties during the restore verification process, among others. So, how can you fix the activation problem on your device.
Step 1 – download and install the AnyRecover tool on your PC. Open it and then go to iPhone recovery.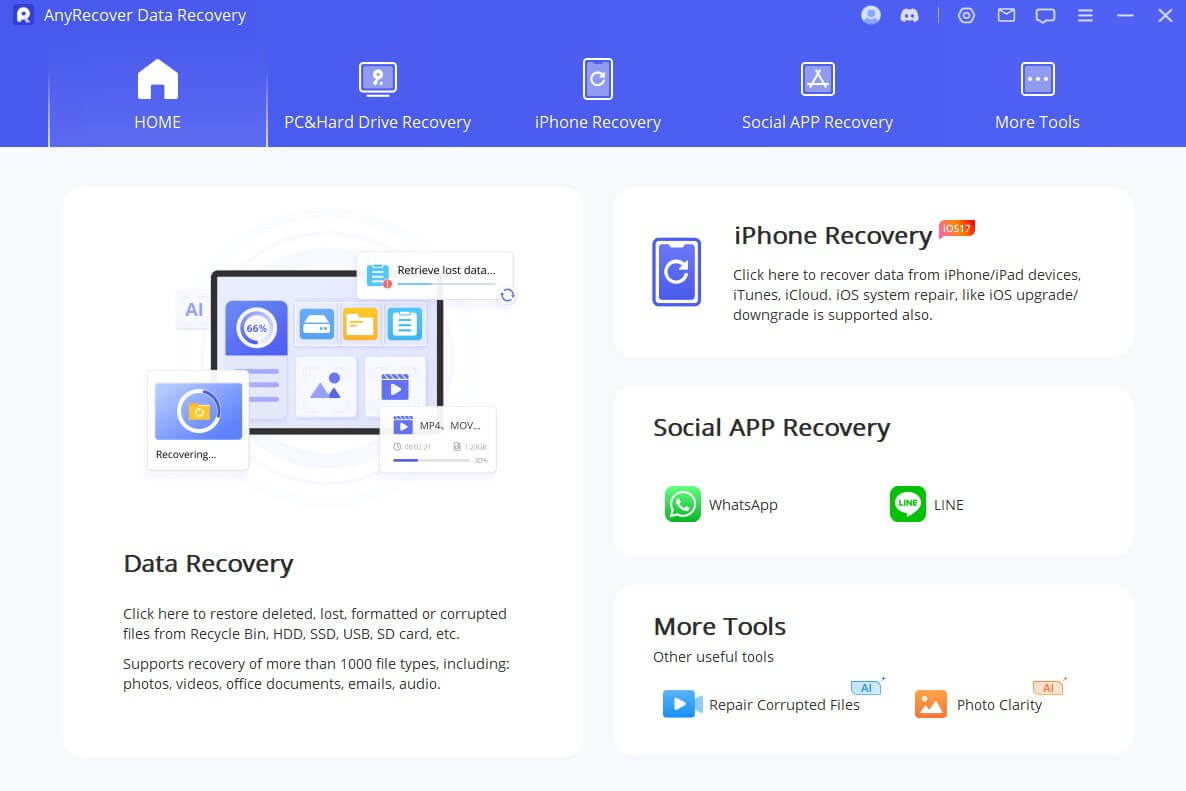 Step 2 – you will be required to connect your phone to your computer. Then select the advanced repair mode, which will help restore your device without erasing the existing data.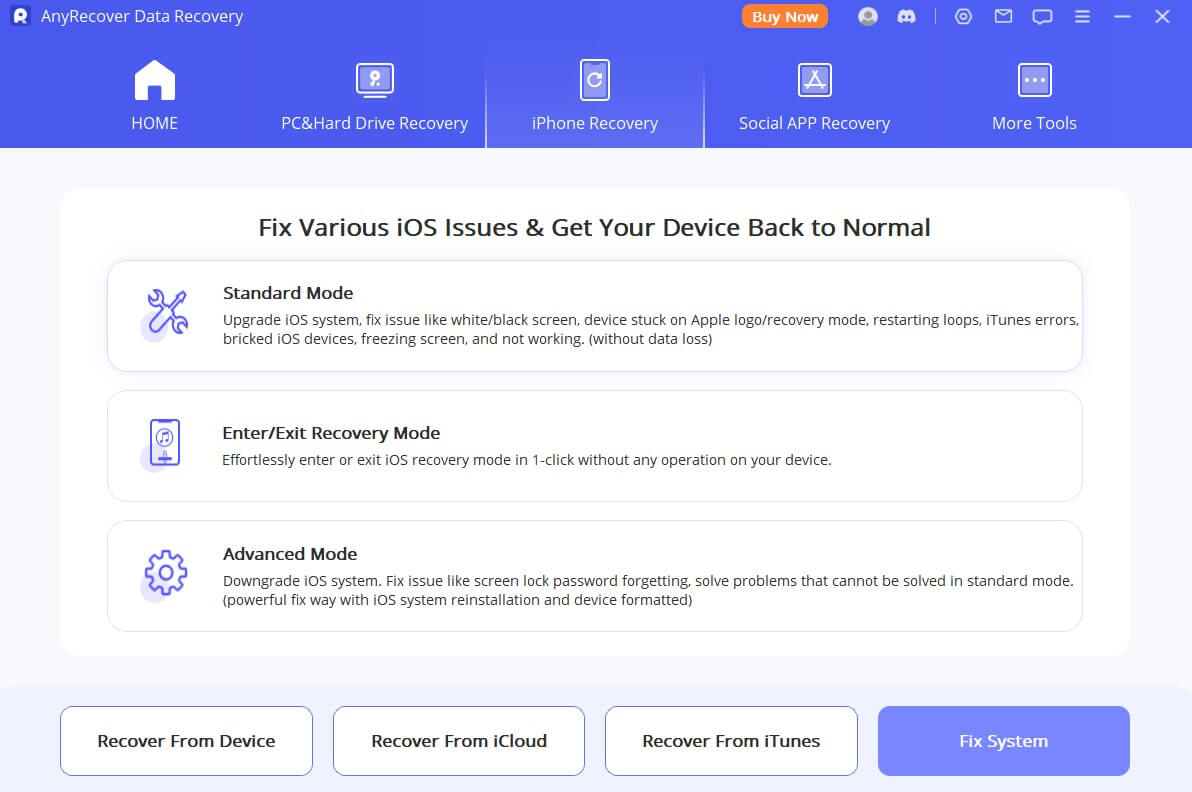 Step 3 – follow the on-screen instructions to download a matching firmware for your iPhone. After that, the tool will start repairing your phone right away. Once completed, your device should be back to normal.
Way 4. Reactivate your iPhone using iTunes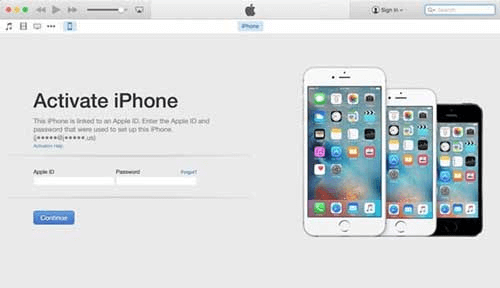 If you're still unable to activate your iPhone after updating, consider attempting reactivation via iTunes using the following steps:
Restart your iPhone.

Connect your iPhone to your computer and launch iTunes.

Identify your device in iTunes, where you will find an option that says "Activate your iPhone.

Enter your Apple ID and password.

Click the "Continue" button to initiate the iPhone activation process.
Way 5. Connect to a Stable Wi-Fi Network
If your network is obstructing access to gs.apple.com on specific ports, this can hinder the successful activation of your iPhone. To resolve the issue of being unable to activate your iPhone 7 or other iPhone models, consider these steps: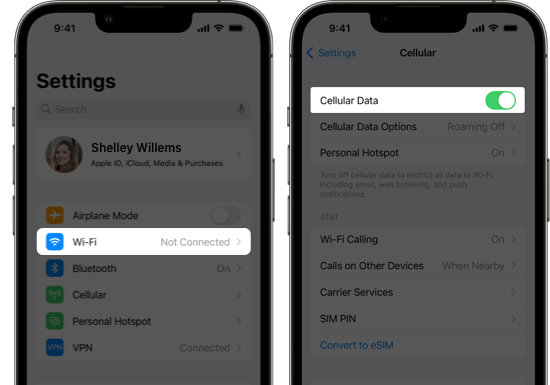 Connect to an alternative Wi-Fi network different from your current one if possible.
Alternatively, if you are currently using a cellular data connection, attempt to switch to a dependable Wi-Fi network instead. This can help rectify the activation problem.
Way 6. Restart your iPhone to Fix "iPhone 15 unable to activate
Whenever you run into some software issues, restarting your phone might resolve everything. Now, the procedures for doing so vary depending the phone model.
For iPhone 8 and newer models: Quickly press and release the Volume Up button, then quickly do the same with the Volume Down button. Next, press and hold the Power button until you see the Apple logo, then release it.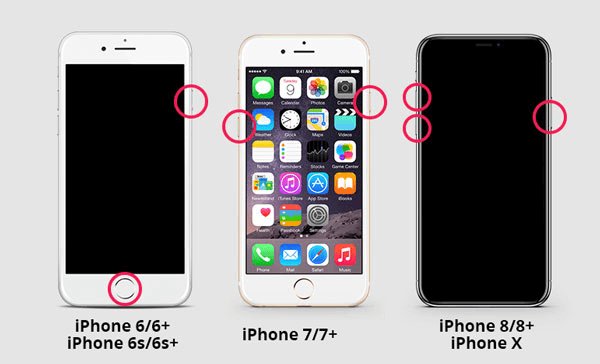 For iPhone 7: Simultaneously hold down the Volume Down button and the Power button until you see the Apple logo on the screen. At that point, release both buttons.
For iPhone 6 and the first-generation iPhone SE: Keep pressing the Power button and the Home button together until you observe the Apple logo, then let go of both buttons to perform a force restart.
Way 7. Unlock/lock SIM Status
Experiencing activation errors indicating that your SIM card is not supported? If you are attempting to activate a different carrier on a locked iPhone or have recently purchased an iPhone from your carrier, it won't activate until the carrier unlocks it. In such a situation, get in touch with your carrier and request them to unlock both your iPhone and SIM card if your iPhone is not activating.
Part 3. FAQs about an update is required to activate your iPhone
Q1. How to fix it may take a few minutes to activate your iPhone 15?
There are several ways you can adopt:
You can restart the iPhone.

You can check the system status to ensure it is okay.

You can reinsert the SIM card.

And, last but not least, you can use the AnyRecover tool, which enables you to fix the problem without erasing the existing data.
Q2. How long should it take for my iPhone to activate?
There are various factors that affects the time it will take to activate the phone. Generally though, it can take anywhere between five to ten minutes.
Conclusion
While encountering the 'Unable to Activate' message during your device setup can be frustrating, resolving this problem should not prove overly challenging. By following the aforementioned tips and guidelines, you should be able to address the issue swiftly. Additionally, for those who have exhausted all available methods without success, Anyrecover emerges as a highly valuable tool. It is easy to use and download! So, you may want to consider downloading it to fix the issue.